Estimated reading time: 5 minutes
Like it or not, potential customers do sometimes judge a book by its cover. From your small business signage and windows to the sidewalk and landscaping, customers often make judgments — and purchasing decisions — about your business before they ever step foot inside.
While "curb appeal" is a term most often heard in residential real estate, an attractive exterior is equally vital for businesses like yours. Rest assured: Your storefront can be a positive asset for your business, a powerful marketing tool and an unmistakable point of differentiation over the competition.
The case for curb appeal
Imagine two pizzerias sitting across the street from one another. The first features a well-lit exterior, benches flanked by colorful flowers, clean windows showing a welcoming interior and a chalkboard sign of drink specials near the door. At the second pizzeria, meanwhile, litter crowds the entrance, the "P" light in the pizza sign is out and a withered vinyl banner dangles from the building.
Which pizzeria inspires confidence in its operations and the quality of its product? Which one creates a higher perceived value? And which one are you more likely to visit?
Now, whether you're running a pizzeria or another business that brings customers on premise — maybe a retail store, fitness studio, entertainment venue or beauty salon — curb appeal matters. A clean, engaging exterior boosts the credibility of your operation, and signals professionalism and pride in ownership. It sets a positive tone and invites customers to come through your doors. And in many cases, it influences customers' perception of the value of the goods or services inside.
5 business curb appeal ideas that work
Creating a vibrant storefront for your business doesn't have to be an all-consuming affair. In fact, just a few savvy investments and a little attention to detail will help improve your shop's exterior look, inspire confidence in potential customers and, eventually, boost sales.
1. Prioritize cleanliness.
A clean storefront is arguably the first and most necessary step to building credibility. After all, litter gathered along the building's exterior, windows cluttered with posters and pots lined with dead flowers fail to impress.
Maintain a tidy exterior with a regular cleaning schedule. This can include daily tasks like a morning walk-around to clean up debris, weekly window and door cleanings and seasonal power washings. Take the time to spot and address any problems, like an extinguished light. Create a written plan and stick to it to ensure your exterior remains clean and inviting.
2. Light it up.
Businesses should never underestimate the power of lighting, which draws attention to your storefront and also increases safety for staff and customers. Floodlights shining down from the roof and spotlights pointing to windows or signage, for instance, create drama after daylight and enhance the physical look of your exterior. Plus, the right lighting can also create a welcoming ambiance. Think of the soft warmth that string lights can bring when hanging over an outdoor dining area.
3. Spotlight your brand with signage.
Branded signage helps customers identify your business and know what it's about. In addition to being highly visible, well-designed signage features your brand colors and clearly discernible text and imagery, such as your logo. Consistency across all of your signage (like the colors, fonts and graphics you use) will also generate positive brand impressions and show you have your act together.
Diversifying your signage can also stimulate marketing and contribute to a more dynamic storefront. While a full-color retractable banner can quickly attract the eyes of those passing by in a car, a chalkboard sign or A-frame can be a more casual and friendly way to announce new offerings or upcoming events to pedestrians.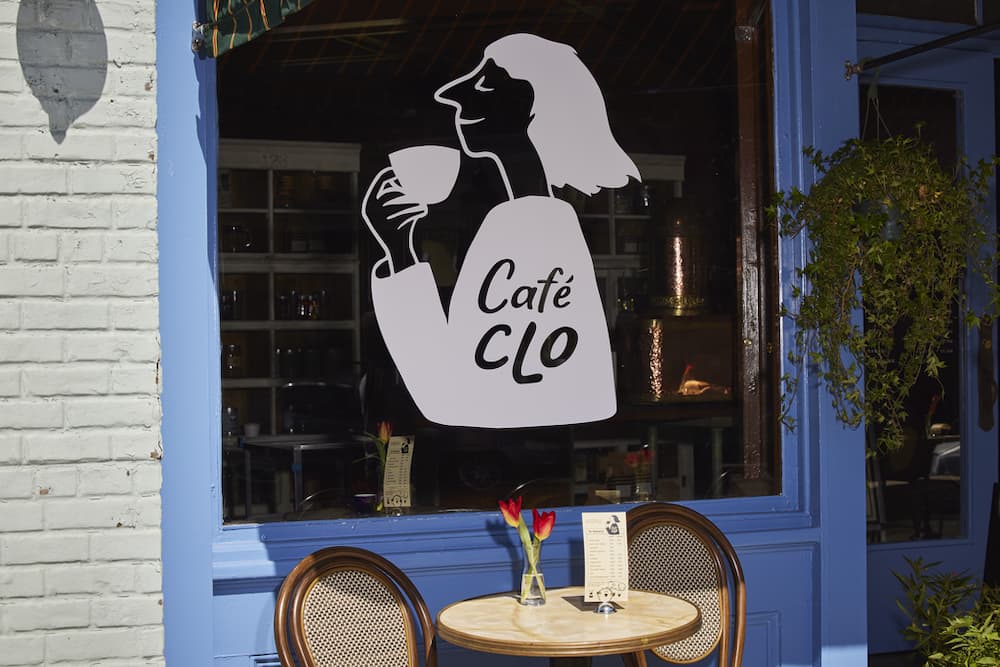 4. Make your windows remarkable.
Flagship retail stores in prime shopping districts have long invested in dynamic store windows — and with good reason. Enticing window displays draw eyeballs, pique curiosity and entice visits.
Change your window displays regularly by using a combination of signage, balloon arches, floral installations, product spotlights and more to create interest and delight potential customers. You might even create vignettes tied to the seasons, holidays or local history. As an added bonus, particularly distinct windows can also compel photos and encourage user-generated social content that will heighten community awareness for your business. Build a window calendar in advance to bring more strategy and thoughtfulness to your efforts.
Supplement your window displays with vivid and eye-catching custom window decals that promote sales, events or business hours.
5. Keep it fresh with paint and flowers.
A fresh coat of paint to the building exterior, windows and door can enliven your exterior. It helps your business look fresh and new and also protects your exterior from the elements. This way, small problems don't become bigger problems. And speaking of fresh, some greenery never hurts curb appeal. Standing or hanging flowerpots or planters bring color and liveliness to your exterior and create a more inviting visual.
Curb appeal plays an important role in building interest and confidence in your business. With attention to maintenance and wise investments in key areas like lighting and business signage, you can put your best foot forward and make your business shine on the street.