Estimated reading time: 5 minutes
Your daughter's quinceañera is no ordinary event. Make the day truly memorable by transforming this traditional celebration into a bespoke event that mirrors her unique journey into womanhood.
But, you might be wondering, how can you make that happen? With custom quinceañera decorations, you can bring the celebration to life and shower your guest of honor with love.
Creating quinceañera magic with personalized decorations
No quinceañera is complete without a burst of personality — and that is where custom quinceañera decorations come in.
From personalized invitations and balloons to signage, cups and napkins that harmonize with your theme, here's how to create an unforgettable celebration your daughter can look back on fondly for years to come.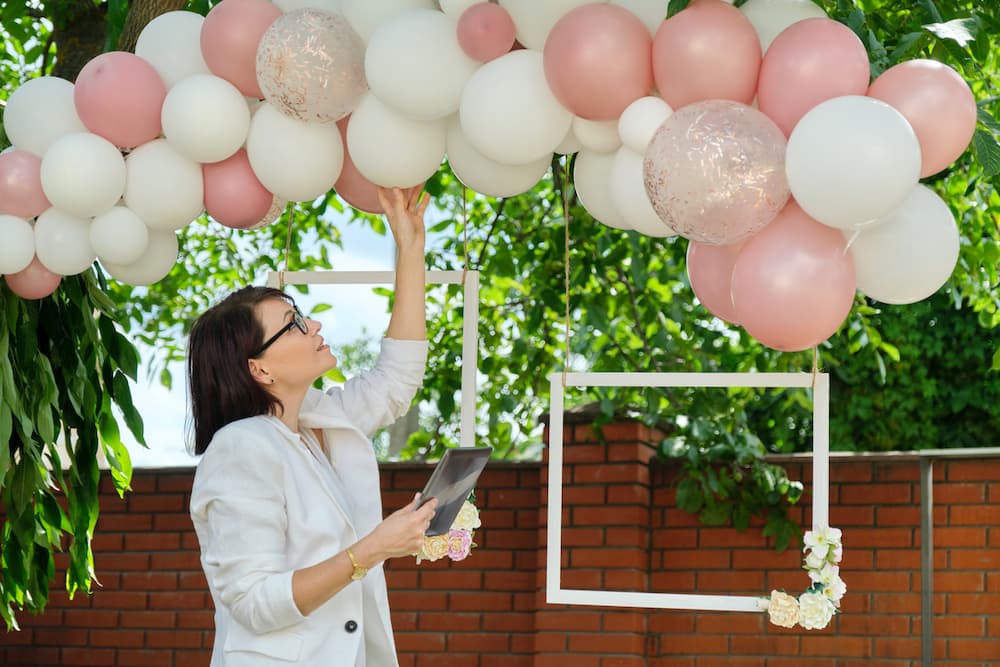 Weaving her quinceañera story
Investing in custom quinceañera decor is like stitching your daughter's personality into the very fabric of the event. Picture her quinceañera as a vibrant tapestry that showcases her evolution and growth. And each strand? Personalized decorations that tell her unique story!
Her tale begins with invitations, so why not weave her personality and chosen theme into them? They're not just mere invites; they're glimpses into the celebration to come.
From there, extend her personal narrative into every element of the event, from custom napkins graced with her name to cups adorned with her favorite designs. Think of each piece as a thread in this beautiful tapestry, creating a quinceañera that's uniquely hers.
Making design decisions
Designing personalized items and signage for a quinceañera celebration gives you the perfect opportunity to honor both your daughter's personality and her cultural roots. So, how do you begin?
The key is to let your creativity run wild: Customized quinceañera decor offers an exciting avenue for your creative genius. Picture custom drinkware featuring a quote from her favorite book or napkins printed with playful Papel Picado designs alongside her favorite superhero logo.
If she's captivated by the universe, blend Aztec astronomical symbols into a starry-themed seating chart. Does she love traditional Mexican art — and graphic novels? Adorn a welcome board with an Alebrije creature and her favorite animé character.
Your quinceañera signage, from welcome boards to seating charts, is a canvas for blending your daughter's cultural heritage and personal interests.
The golden thread: Staying on theme
Staying on theme with your custom decor is like having an invisible thread running through each moment of your daughter's quinceañera, tying together all the gorgeous details you've put together.
Here's the trick: Start with the centerpiece of your decor, meaning the banners and the signage. Once you've nailed these down with your theme, color scheme and motifs, use them as your foundation and keep referring back.
Continue to reflect these elements subtly in smaller items like napkins, cups and party favors. And for efficient design sessions, consider creating a theme mood board that includes the various colors and design elements you're using.
When each decoration — from the large banners to the small squares of cocktail napkins — echoes your daughter's chosen theme, it will all come together nicely.
Opting for high-impact decorations
When it comes to creating a memorable quinceañera, some decorations stand out — literally! Imagine a life-sized cut-out of your daughter in her stunning quinceañera dress, greeting guests as they enter. It's not just a show-stopper; it's also an excellent photo opp for guests!
How about a themed backdrop to set the stage for a dramatic effect? Let's say your theme leans toward Mexican folklore. Imagine a backdrop filled with lively illustrations of legendary characters — or beautifully designed banners with folklore motifs. It's these large, thematic decorations that give the celebration its character and leave lasting impressions.
Or, consider personalized tote bags for your guests — a perfect mix of practicality and personalization. Not only are they useful, but when designed in line with your theme, they'll serve as memorabilia from your daughter's special day.
Decorations that truly capture your daughter's spirit can leave a lasting impression. Why not add a personalized touch by creating a customized vinyl floor decal of your daughter's name?
Beyond decorations: Bonus ideas for an unforgettable quinceañera
Every quinceañera is special, but adding personal touches can make the celebration extraordinary. Here are some ideas to get your creativity flowing:
A touch of gratitude. Imagine greeting every guest with a handwritten thank you note. This small gesture can create a touching, memorable experience that adds to the overall warmth of the event.

Family tradition. Does your family have a special dance that's performed at every family gathering? Or, maybe you have a traditional dish that's been passed down through generations? Including familial traditions can make the event truly special.

Comfort stations. What are elements that can enhance your guests' comfort? For example, you could set up a designated quiet area for older guests to relax and chat or a fun interactive game area for the young ones.

Interactive experiences. Create special experiences for your guests that reflect your daughter's favorite interests. Is she a blossoming artist? Set up an art corner where guests can contribute to a large, collaborative keepsake canvas. Nature lover? Organize a tree-planting ceremony to honor her love for the environment.

Memory lane. Decorate a pathway at the venue with pictures of your daughter's milestones, and have the path lead to a giant blank "wishing wall" poster where guests can write their well wishes for her future.

Rite of passage. In addition to all the fun and games, don't forget to include traditional rituals to honor this special occasion. For example, incorporate the "changing of the shoes" ceremony into the celebrations, where the birthday girl trades her flat shoes for her first pair of high heels.
And just like that, you've woven a brilliant tapestry of joy for your daughter's quinceañera! Each thread represents a strand of her spirit, bringing the party to life in a way that's only hers. So, put on your dancing shoes, let the music play and watch as the masterpiece of her special day unfurls.