Estimated reading time: 5 minutes
Custom restaurant packaging takes a great meal and makes it unforgettable. You're already delivering delicious meals your customers enjoy. The way you package leftovers or takeout can take the experience to the next level and reinforce your brand personality for a lasting impression — long after bellies are full.
Why is custom packaging important?
Custom restaurant packaging can replace the generic containers, paper bags, receipts and inserts that you may use as a new restaurateur — or spice them up. Showcasing your brand's mission, logo and colors and offering incentives such as a discount or engagement prompt like a QR code can help entice customers to come back for more. Don't worry; already have packaging you love or have purchased? Stickers, inserts, branded tape and stationery can add a dash of magic with ease and on any budget.
Creative restaurant packaging ideas can help you:
Stand out from the competition
Remind customers of your brand each time they enjoy your food
Create specific brand experiences that extend beyond the four walls of your restaurant
Entertain, inform or reward customers through deeper engagement
8 custom restaurant packaging ideas to showcase your brand
Here are eight restaurant packaging ideas for some inspiration to create a winning dining experience that customers can take home.
1. Showcase your brand colors and logo.
Custom restaurant packaging is an opportunity to turn leftovers or takeout into a branded touchpoint. Incorporating different materials, textures, brand colors, designs and taglines helps remind diners of what they love about your restaurant. Depending on the packaging and your specific brand details, you have tons of options. Stickers with your logo, custom tape with your brand design, labels with your contact information, branded paper bags or business card stickers that also showcase the date an order was placed add creativity to any restaurant packaging.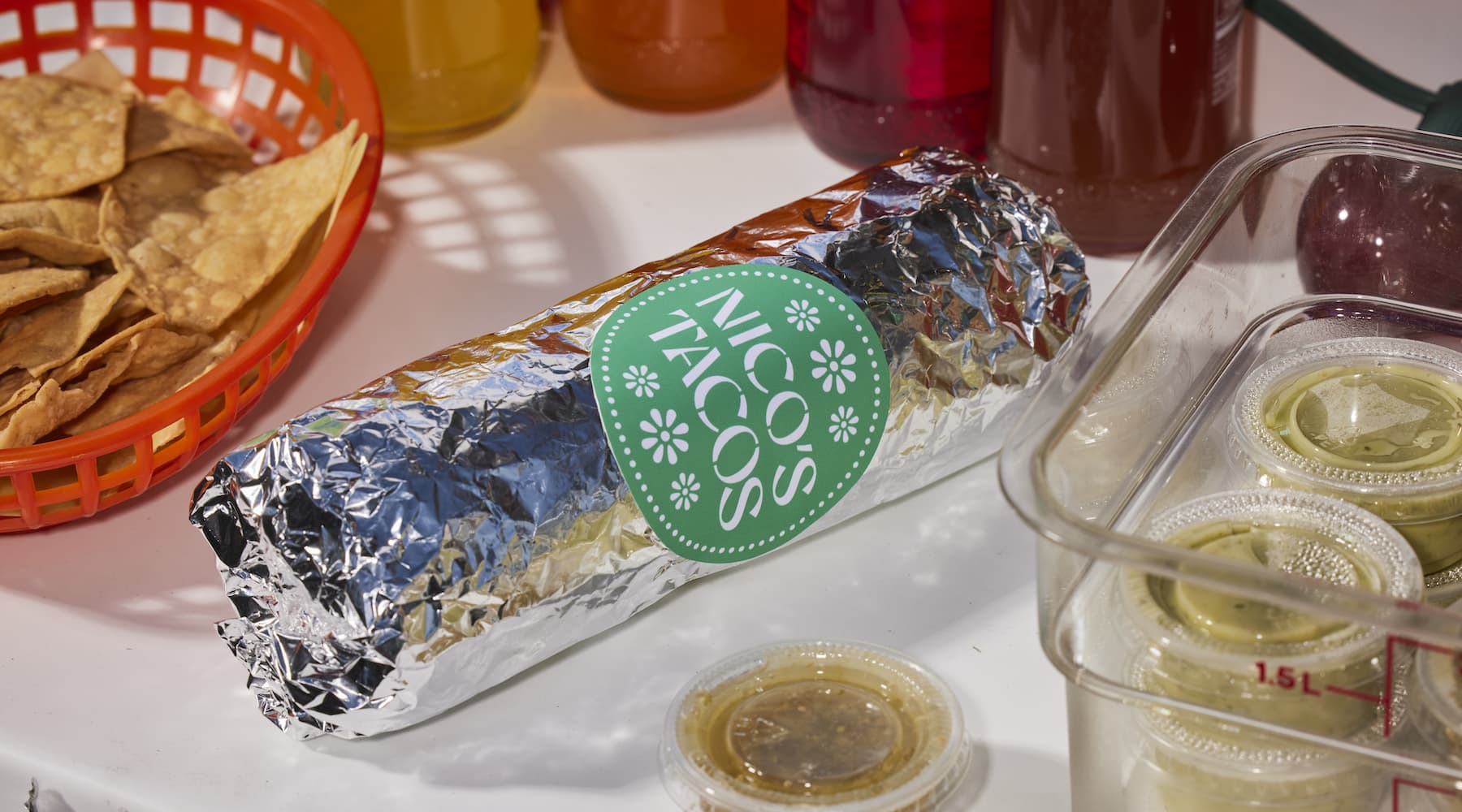 2. Get digital with QR codes.
Business cards, label or stickers with QR codes can take customers to exclusive discounts and secret menu items or invite them to sign up for your newsletter. Did you have a customer with an allergy? Take them to your gluten-free menu with a specialized QR code that you add to relevant orders. QR codes can also be a great way to share personal stories or a favorite restaurant recipe with visitors to deepen connections with your diners.
3. Add personalized notes.
Have you considered including a personalized note with each order? A handwritten note thanking people for dining with you fosters feelings of connection. Notes can also be included to help you share aspects of your brand's values, sourcing strategy or the origin of your recipes. For example, a farm-to-table restaurant could include notes with details about their menu's ingredients with every order signed by the chef.
4. Explore interactive packaging.
One of the draws of Chinese food is the fun of opening a fortune cookie. What promise or joke will today's cookie offer? Find similar ways to bring joy and engagement to your own packaging. If your placemats include jokes that are a big hit with customers, for example, consider creating stickers or takeaway fliers that feature similar puns. You could include a puzzle sticker on the top of boxes that diners can decode while they eat, riddles to solve or trivia that's relevant to your restaurant. Consider offering a discount or drawing for branded merch for anyone that solves your puzzles or riddles to keep the experience going.
5. Personalize utensils and napkins.
As takeout becomes bigger business, many restaurants are including utensils with food orders for pickup or delivery. Did you ever consider branding your utensils? You can print stickers to put on the plastic utensil bags, use custom labels to wrap around chopsticks or flatware sets and even brand your napkins for a cohesive experience.
If you're sending home napkins with takeout or leftovers, branded napkins with your logo can be a great way to showcase your style.
6. Feature social media-friendly packaging.
Creating packaging that is social media-friendly can help to create a more shareable and memorable experience for customers. For example, a restaurant could use custom branded paper bags with Instagram-worthy designs or patterns that are likely to be shared on social media. Another approach is adding stickers or a QR code that invites diners to connect with you on social media channels or to leave a review on Yelp, TripAdvisor or other relevant sites.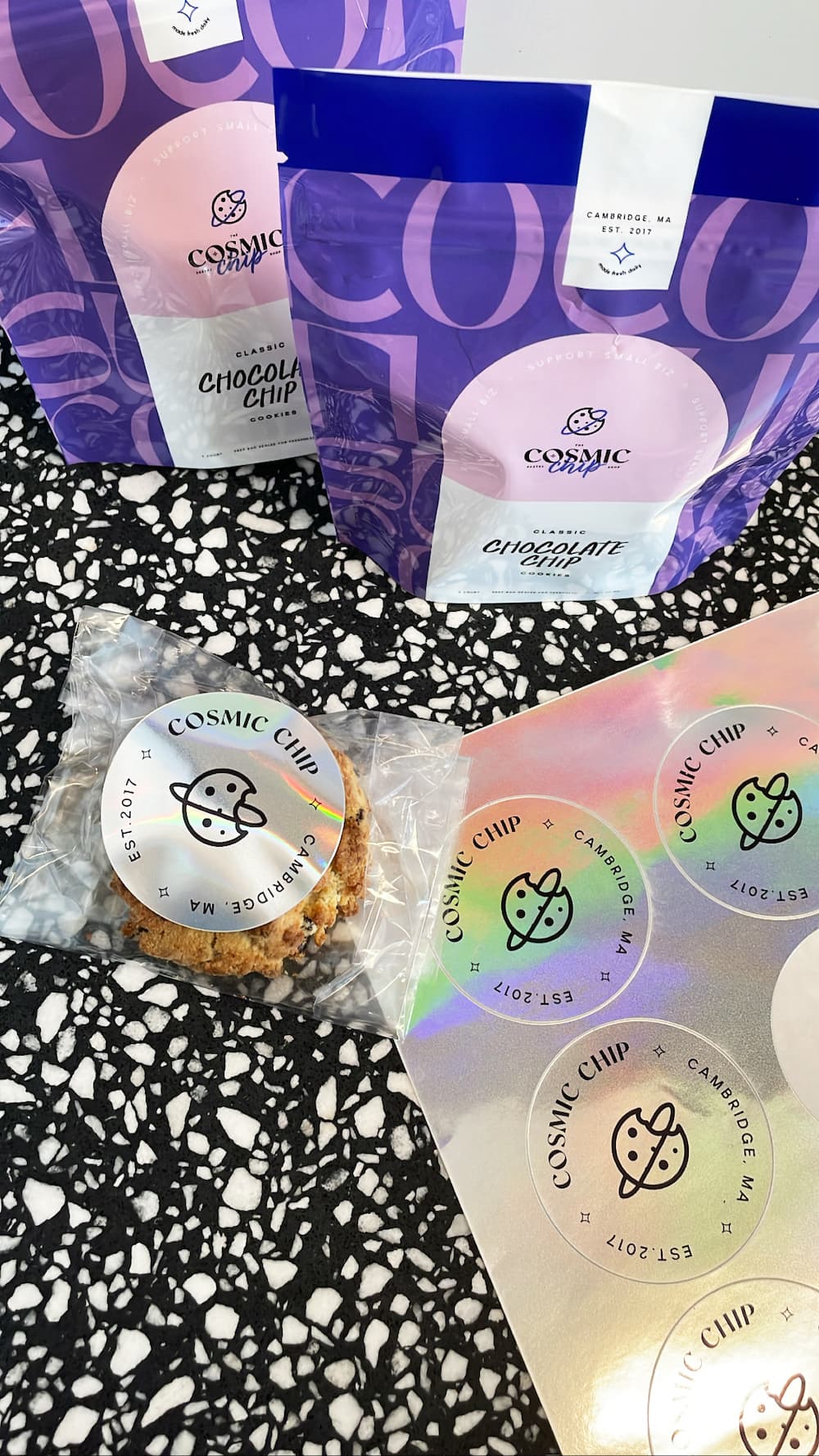 7. Brand your gift cards.
If you offer gift cards, consider packaging another opportunity to engage with recipients. Gift cards themselves, what they're mailed with and the shipping packages are all opportunities for visual flare and personalized touches.
Custom envelopes can add a branded touch to gift cards whether bought in-restaurant or shipped online.
8. Highlight sustainable packaging.
Eco-friendly packaging with compostable, biodegradable or recyclable containers is something customers will love especially if it's relevant to your brand. Help customers know that your packing choices are part of your brand's value. Consider adding a sticker with your brand details and information about the packaging, such as "100% biodegradable," to help reinforce this messaging.
Creative, custom restaurant packaging is an opportunity to bring your brand to life beyond the dining experience. Turn takeout and leftovers into a powerful brand touchpoint by adding flare and finding unique ways to engage with diners. Your brand, to go, will help you get noticed.