Estimated reading time: 4 minutes
Whether you're keeping details under wraps or just want to focus on the joy of the occasion, a gender-neutral baby shower is the perfect way to celebrate your newest arrival. Not only can you create a more inclusive celebration that's not bound by common gender stereotypes, but you also get to flex your creative muscles — choosing from various color options, themes and keepsakes — to help guests mark the occasion.
1. Decide how you'll host.
First things first, think about where and how you'd like to host. Your gender-neutral baby shower can be in person, virtual or a combination of both. Your ideal format will likely come down to where your guests live. For instance, an in-person event makes perfect sense if your family and friends are primarily local. A hybrid event could be ideal if you have family out of state who are unable to make the trip. Or, if you're across the country and everyone near and dear is "back home," a virtual shower could be the perfect fit.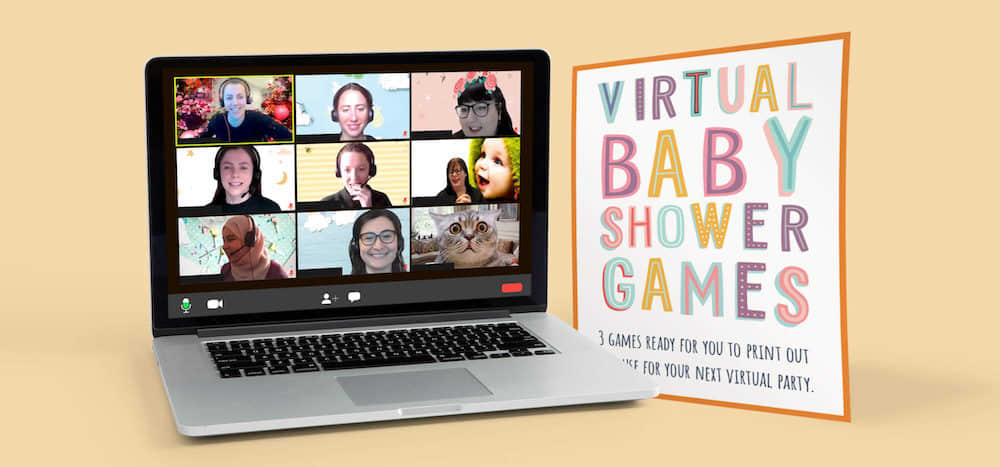 You can host a live video stream for virtual showers and send your gift registry via email. For in-person events, you can go as lavish as renting space at a local restaurant or as low-key as your living room.
2. Find your ideal color scheme.
One of the best parts of throwing a gender-neutral baby shower is choosing the color scheme! You have the creative freedom to consider new and distinctive shades, patterns and ideas. While you might want to use your theme to identify potential colors (which is covered in the next step — hang tight!), here are some ideas to help you get beyond the gender-bound blue and pink norms:
Earth tones. If you imagine a more posh affair to welcome your family's newest addition, colors like beige, cream, mocha brown, olive green and even whites could help add a layer of luxury.
Jewel tones. For an eye-catching gathering, consider saturated jewel tones like amethyst purple, emerald green or citrine yellow to liven up any environment.
Monochrome. If you have a favorite color in mind, don't be afraid to make it rule the day with a monochromatic color scheme you can carry through everything from balloons and signs to your invitations.
Metallic. For a baby shower that sparkles, consider a metallic color palette; yellow gold, sparkly silver and shiny pearl tones of any color can add just the pop and personality you crave.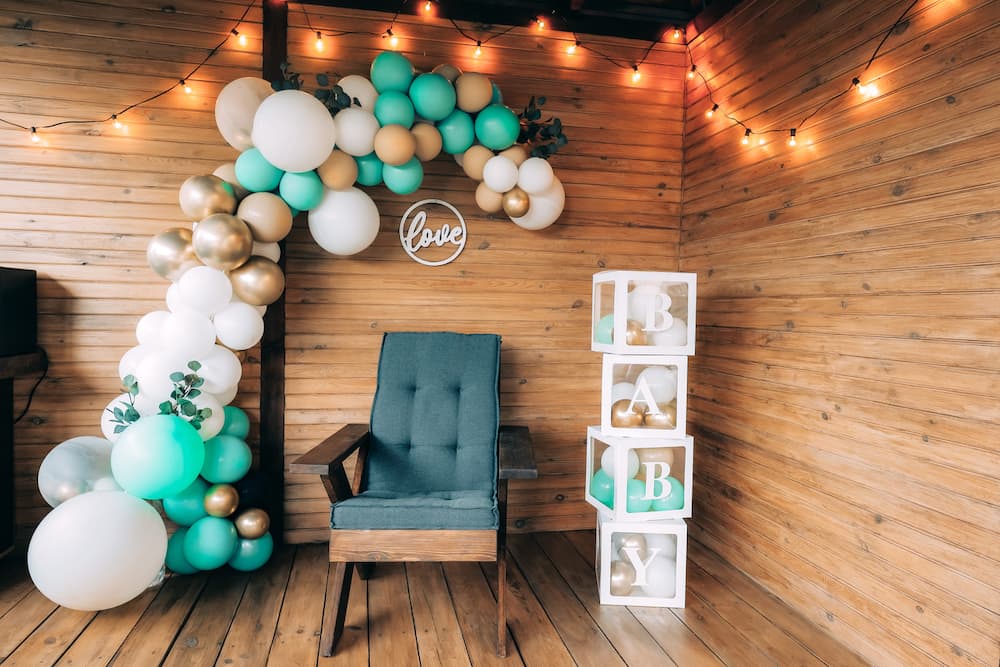 3. Choose a theme.
Do you dream of a beachside baby party or maybe a steampunk soirée? Gender-neutral baby shower themes are only limited by your imagination.
To find a theme that suits you, brainstorm and discuss your options with friends or, if possible, industry professionals. Think about your preferred venue and how different themes will let you maximize the space with decorations and favorite baby shower games. For instance, say you want a shower with a Parisian theme. The French flag's red, white and blue could be a guide for decorations on a delicious sheet cake, and a string of Eiffel Tower streamers could liven up the gift table.
Between color and theme, your decor options open up. Consider these decoration ideas to help your color and theme decisions work together for a spectacular event.
"Your Future Explorer" theme: If you love hiking and road trips, welcome your little adventurer with an earth-tone color scheme and decor that calls to the great outdoors. Create a fun banner welcoming guests to your very own national park or camp, and couple it with a backpack-shaped cake. You can even go eco-friendly with recyclable custom cardboard coasters to protect your furniture and commemorate the occasion.
"Diamond in the Rough" theme: To celebrate your new addition and honor their uniqueness, pair metallic silver and jewel tones to create your very own gem show-themed shower. You can create bubbly balloon bouquets to adorn the tables and crisp white cocktail napkins adorned with bold gem graphics. You could even create a "display case" table to show off gifts once they're unwrapped.
"What a Cutie" theme: For a sun-drenched affair, take a page from those tiny, easy-peeling oranges at the grocery store (you know, the Cuties) and lean into an orchard theme. Use your decor — from custom table coverings in the shape of orange trees to adorable fruit baskets filled with silverware and napkins — to reinforce the idea that your newest addition "picked" your family.
Now that you have the venue, theme and colors decided, you can create a digital destination for your event. With Vista x Wix, you can build a website using countless pre-designed templates to make your baby shower pop.
4. Dial up the fun!
Whether hosting in person or virtually, what shower is complete without games galore? Baby shower games or activities can help your shower shine with a variety of custom prizes. A great outdoors-themed shower could pair a to-go sunscreen with a packable bucket hat as a prize to fuel your guests' next trip on the trails.
Or, a shower built around a "sweetness" theme could reward winners with a tin of chocolates or packaged dessert treats to take home. Whatever games you choose, prizes can help your guests savor the win.
5. Invite your guests.
It's time to get the word out so your guests can save the date. Luckily, your invitation options for a gender-neutral baby shower run the gamut from print to digital, all in different styles and designs.
If you're solidly in the digital age, consider a virtual invitation. Online templates can offer a wide range of options to help quickly summon your guests with internet savvy.
That said, don't be shy if you love the feel and flair of a physical, mailed invitation. A variety of baby shower invitations as unique as your family are ready and waiting to be customized. No matter how understated or lavish, there's a design out there to bring your theme and guests together.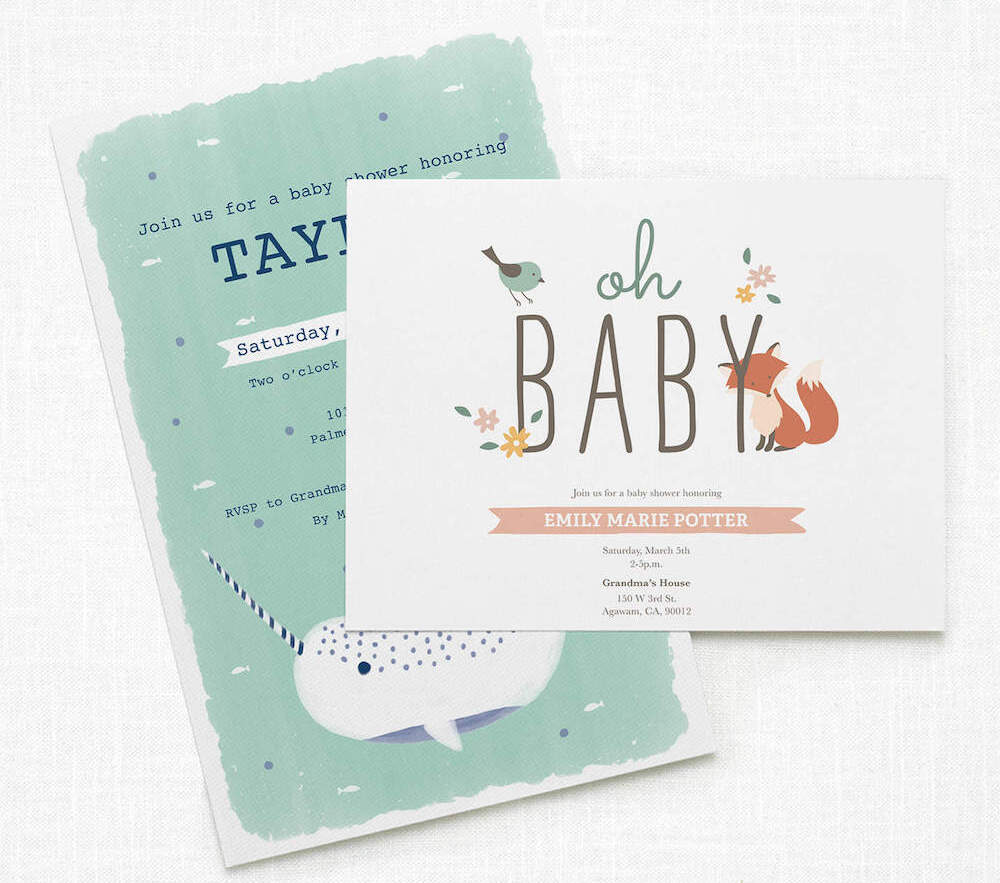 6. Decide on keepsakes.
How you envision the big day going down is entirely up to you. But, there's one more step for your baby shower that you can't forget: a keepsake to send home with your guests.
While options exist for any budget, a keepsake is your chance to thank your guests for sharing in your joy. To find the right guest gift, it helps to keep in mind the theme, time of year and individual guest. Your sports-loving family and friends might love a fleece blanket for those cool autumn nights at games. Your fellow techies may appreciate a phone charger or power bank. And if you're stuck, think about items your guests will use long after the shower.
If you want a helping hand with a custom logo for your baby shower, Vista's design team can help. Then, your guests will have a personalized reminder of your joy to keep with them after the festivities end.
Planning your gender-neutral baby shower has limitless — and inclusive — possibilities. Your family's joy doesn't have to have a fixed color scheme or adhere to norms. Instead, it can be an event ripe with creativity and potential, just like your newest family member.