Estimated reading time: 4 minutes
Imagine you open your mailbox to find a graduation invite from a loved one. Perhaps, it features the smiling graduate standing before his high school's front doors. Or, maybe it's a sophisticated party invite honoring the accomplishments of the soon-to-be college alum. It could even be a whimsical portrait of a cap-and-gown-clad student jumping up and cheering.
There are many graduation invitation examples you can follow to mark the big day. Still, you (like your graduate) can chart your own course with lively graduation invitations and announcements celebrating their achievements and showcasing their unique style.
After all, it's an exciting time for your graduate. Let them know their effort and perseverance through years of schooling is worth celebrating and that their journey into a new phase of life is important to recognize far beyond the home and the family's immediate circle.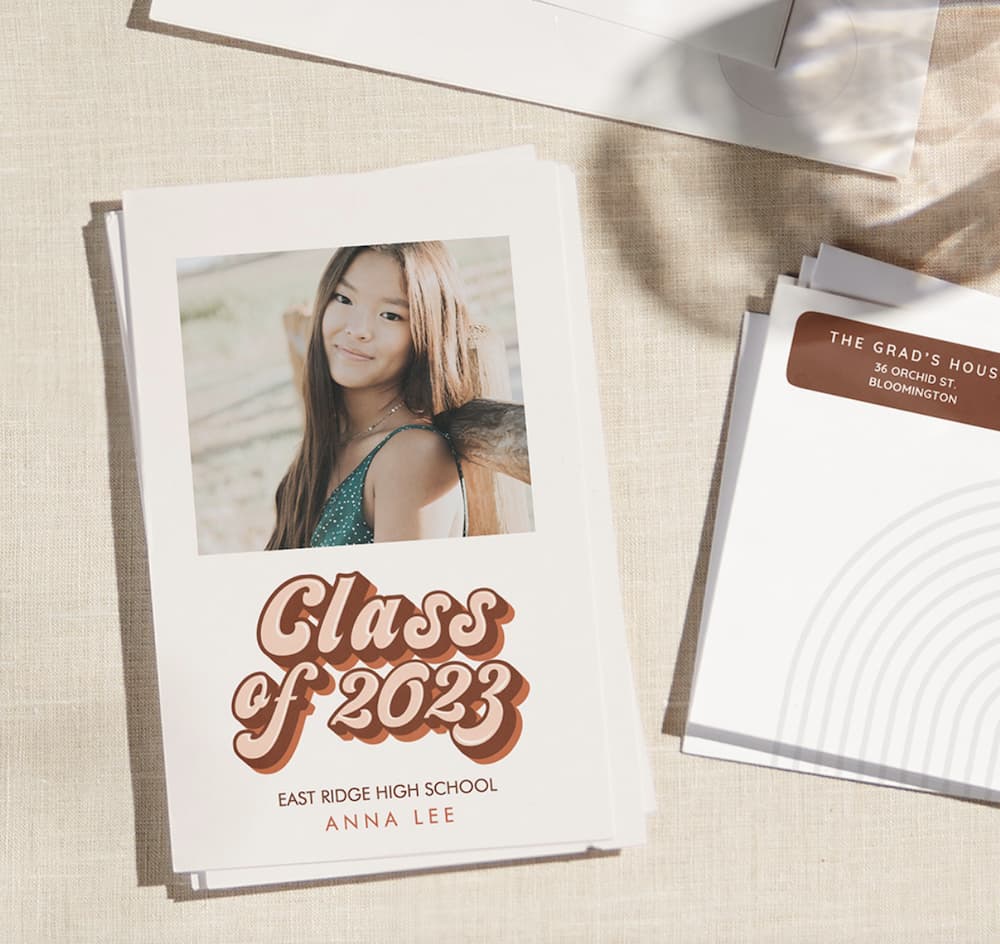 What should you include in a graduation invitation?
If you're planning a party for your graduate and have a defined guest list, those individuals should receive a graduation invitation. When it comes to what to put on a graduation invitation, you should include all key details about both your scholar and the celebratory event. Whether added on the front or the back, the following should be noted:
The graduate's name
The party date and time
The venue name and address
RSVP information and deadline
Any other pertinent event details, such as information on parking, dress code or special event activities (like swimming, for example)
Jazz up your party and enhance your graduate's big day with custom graduation party supplies, such as banners, cocktail napkins, balloons, yard signs or posters.
When would you send a graduation announcement?
In lieu of or in addition to a graduation invitation, you might also distribute graduation announcements. Unlike an invitation, which requests someone's presence at a specific event, an announcement serves more as an FYI.
As such, it does not include party details. And, unlike a graduation invitation that should be mailed weeks in advance of the party date, so guests can RSVP and plan accordingly, an announcement can be mailed either before or after your graduate walks across the stage.
Particularly apropos if there will not be a graduation party or if that celebration will have a limited guest list, graduation announcements are great to distribute to out-of-town family and old friends to provide a life update. In fact, you can use the back of the announcement to detail their achievements and next steps.
High school graduates, for instance, might pen a personal note detailing their post-graduate plans and ambitions while also expressing gratitude for the support of family and friends throughout their journey.
How to customize a graduation invitation or announcement
Designing a graduation invitation or announcement should be a fun process allowing you to spotlight your graduate's achievements and personality.
Here are some graduation invitation examples that can reflect their individuality:
If your graduate is a photogenic soul…
Select a photo grid-styled card, which will allow you to share multiple images. Photographs can range from the formal cap-and-gown photo to action shots from extracurricular activities or prom. For a more playful touch, include a past photo of the honoree, such as a toddler photo or a snapshot from their first day of kindergarten.
If your graduate is the creative type…
Play around with the design and let your creativity run. From colorful graphics to typography, from rounded corners to embossed foil, you have all the ways to craft a bold, one-of-a-kind design that speaks to their individual personality.
If your graduate is all about the details, not the frills…
Keep it simple with a more traditional invitation or announcement that strips away the photos and just shares the facts — like party details or a quick account of their accomplishment and next steps. Even here, you can add a little personalized flair by incorporating the graduate's school colors, school crest or mascot — or perhaps imagery representing their next adventure.
With VistaPrint's graphic design services, you can work with a professional designer to update an existing template or create an entirely customized graduation invitation or announcement.
Celebrate in style
It's the season of smiles and see-ya-laters, some tears and lots of celebration. Graduation is a special time to honor the culmination of one's academic journey.
Put your scholar on a well-deserved pedestal and generate excitement for their milestone achievement with custom graduation invitations and announcements. Mixing creativity and thoughtfulness, you can celebrate your graduate's big finish in style among family, friends and other loved ones.