Estimated reading time: 6 minutes
As a small business owner in the growing gym industry, it can be challenging to find a way to stand out and showcase the benefits you and your facility may offer. Fortunately, members care about more than just new machines and ample workout space; they also seek personal service, quality interactions and a place they can belong.
Here's how you can use gym branding to garner more attention and even expand your reach to those who may not have considered a gym membership before.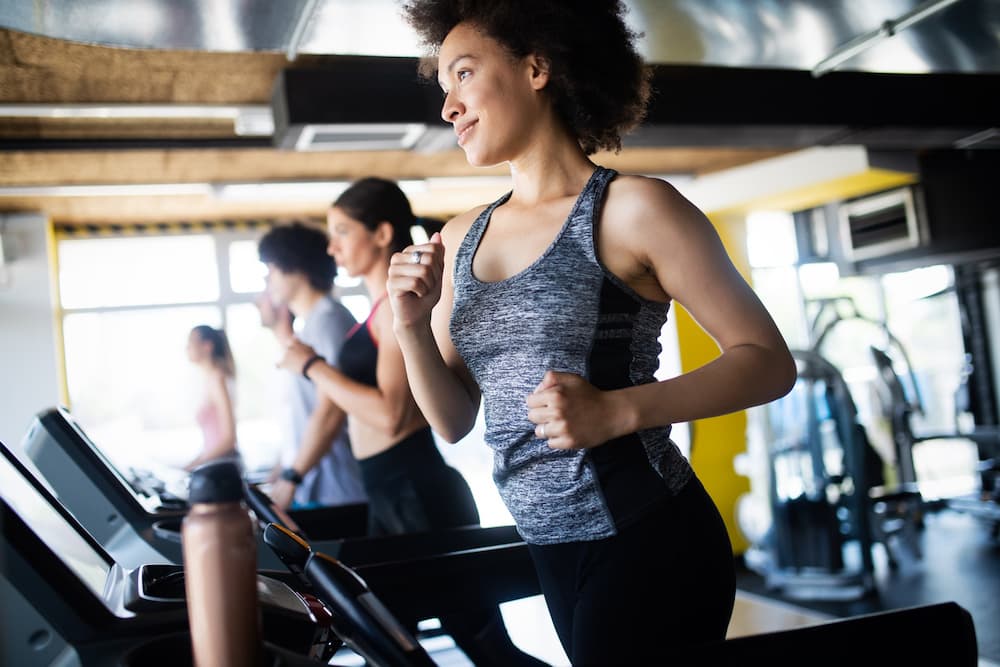 1. Design an impressive logo to enhance your swag.
Gyms may have a greater incentive to get their logo right the first time because it can potentially appear in so many places. "Swag" is just a natural part of gym life, from branded water bottles and gym bags to athletic T-shirts and towels. When customers are proud to be part of a gym community, they will want to proudly wear it all the places they go. So, spend extra time on logo creation to ensure it meets the high standards of those who'll be showing it off.
Word to the wise: Consider mockups of products you'll want to order before you settle on a logo. See how the best fitness logo ideas look on T-shirts and printed materials alike. If you find that they don't pop quite the way you wish, you still have time to make corrections before you make them official.
Want to create a stand-out logo but don't have much time or experience? VistaPrint's Logomaker makes it easy to design a custom logo — one that matches your industry and keeps your brand consistent — in just minutes.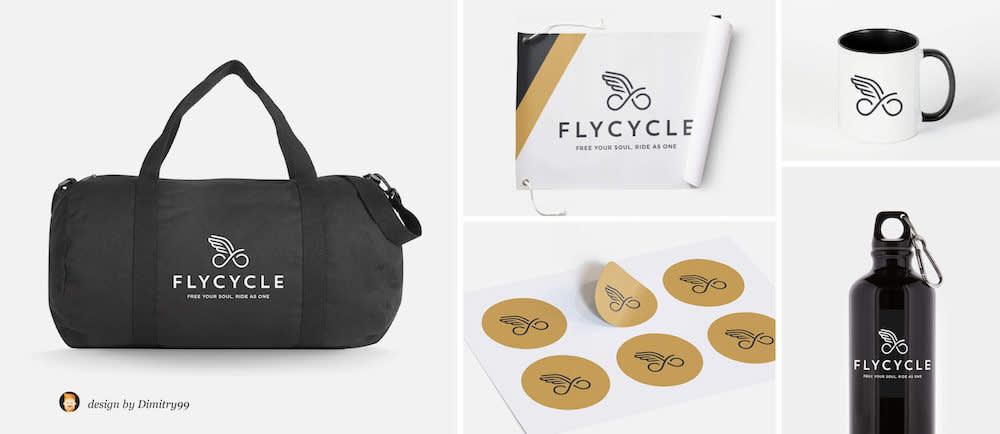 2. Focus on a relatable tagline customers will remember.
When it comes to working out and getting healthy, consumers want a brand that helps them take action. Is your tagline action-oriented and delivering on a promise to help members improve their lives in a meaningful way? By focusing on this tagline and incorporating it into all your gym branding materials, you can make your logo, design and other brand elements go further and say more to your customers with just a few powerful words.
3. Get personal with individualized products and services.
Treadmills aren't what makes a gym a gym, and people can buy one for their own homes if that's all they care about. Instead, they seek out additional products and services they can't easily access on their own, including nutritional guidance, high-quality supplements and fun classes that meet them at their individual fitness level and ability.
By taking the time to get to know members early on, with a personalized questionnaire, assessment or coaching sessions, you can better understand what their needs are, then produce programs and support resources that match that needs. Brand each of these offerings well, with your logo, tagline and printed materials that help them understand how each solution works.
Gyms can increase profits and brand reach when they resell high-quality vitamins. Consider bundling products based on individual wellness goals and using product packaging to help brand yourself as a "solution destination." For example, a pre-assembled box with all the supplies needed for a healthy post-workout, along with a branded T-shirt or water bottle, is fun for consumers to buy and makes a great gift to share with others.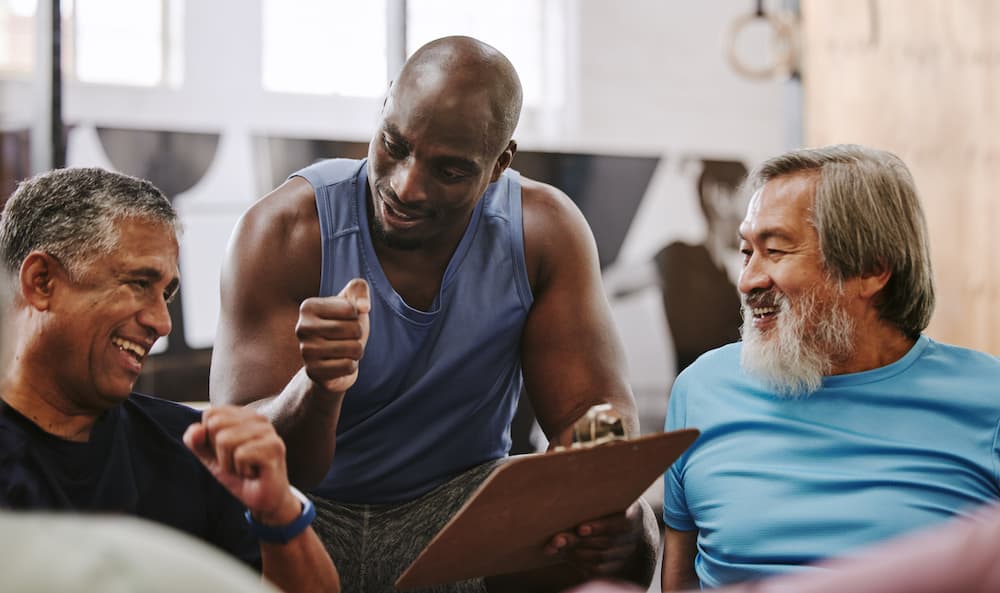 4. Ask for (and reward!) user-generated content.
Gyms are an ideal industry to share social proof. Consumers want to see that it's possible for them to experience results by watching the success of others. Get permission from gym members to share their stories on social, including a special branded hashtag that incorporates a powerful short phrase and your brand name.
Whether it's a video montage of first-time gym goers or Instagram takeovers from your most dedicated lifters, giving your audience a taste of what it's like to join can move the needle in big ways. Make sure every element you share on social is polished and contains a brand element (logo, URL or social handle). To help boost participation, consider giving out prizes to members who agree to share their photos and videos.
5. Create goal challenges and promote on social.
People love competition, whether between one another or simply to conquer a personal goal. Create challenges around objectives your members have, keeping in mind the wide variety of reasons someone may want to join your gym. Ideas for challenges include:
Prizes for those who visit the gym 20 out of 30 days
Special recognition for meeting a stated health goal
Refer-a-friend bounties to reward those who bring in new customers
Remember, it may not be appropriate to set static goals like "most weight lost" or "most pounds lifted." If you want your gym to appeal to newbies or those with modest health goals, these more lofty standards could turn customers away. However, if your gym caters to professional athletes or powerlifters, more tangible, aggressive goals could help boost morale and get people coming back. Brand your challenges accordingly.
With a challenge created, be sure to share on social, engaging influencers to help spread the word if needed. Incorporate your hashtag and logo in all communications with the press and other social accounts.
6. Elevate your signage to align with your brand.
Despite the move to digital for much of the gym industry's marketing, you are still a brick-and-mortar business with the need for well-done physical brand assets. Each and every sign in your building, from those that welcome visitors to those communicating rules, should be in your brand's font and color palette.
Make extras of signs you will use frequently or that need replacing. In this context, hand-written signage could be considered unprofessional and might cause customers to question the quality of your facility.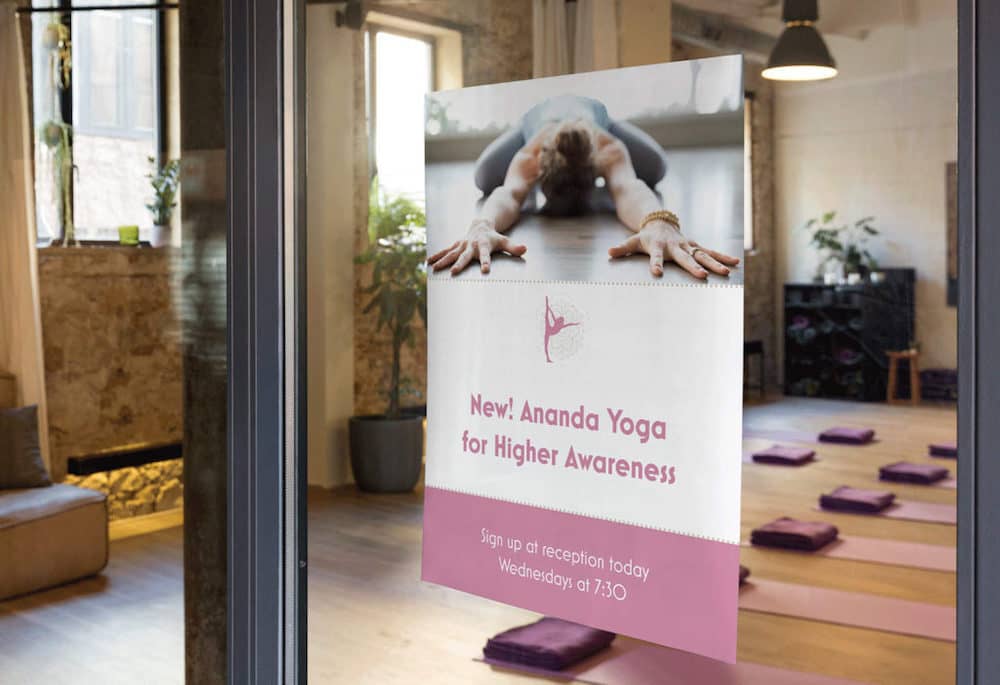 Do you have a lot to say that won't always fit on a sign? Direct customers to important rules and information through a QR code printed on a sign. With the snap of their phone camera, they can connect to updated facility information, including details about scheduled maintenance or challenges. If information will change frequently, this is a budget-friendly alternative to continually creating new signage.
Those who belong to a gym will spend many hours there, and your brand interaction can help shape how they think of their time. From the swag you sell to the way you communicate challenges, look to every interaction as a way to remind users who you are and what you stand for.