Estimated reading time: 7 minutes
Half-birthdays often go unnoticed, but these days deserve to be celebrated in their own way. Recognizing them as party-worthy is an opportunity to add some extra fun to your calendar and create lasting memories with your favorite people.
Follow along to explore some half-birthday party ideas and planning tips that are sure to inspire, whether you're celebrating your own milestone or surprising a loved one. First, let's discuss why you should consider celebrating this occasion.
Why celebrate half-birthdays?
Celebrating half-birthdays may seem unconventional, but there are plenty of reasons to party. Here are a few.
Mark milestones and achievements.
Half-birthdays offer an opportunity to reflect on accomplishments and milestones that were achieved since the last official birthday. It's a time to celebrate personal growth, achievements and progress made over the past six months. Whether it's reaching a fitness or financial goal, excelling in academics or advancing in a career, half-birthday parties can be a meaningful way to recognize and honor these major life moments mid-year.
Party in a different season of the year.
Lean into the delight of half-birthdays by creating an occasion to celebrate in the opposite season, with different weather and different activities. Individuals with birthdays in the winter can switch it up with a summer half-birthday, embracing the sunshine, outdoor activities like swimming and warm-weather treats like ice cream cones. Or, for those used to the same summer party every year, you can throw a winter half-birthday where guests dress up in ugly sweaters, play in the snow (if you get any!) and sip hot cocoa by a cozy fireplace.
Bond with loved ones.
A half-birthday party allows you to gather friends and family together for a joyful occasion. It's a chance to strengthen relationships, create special memories and enjoy quality time with your loved ones. Half-birthdays provide a unique and intimate setting for celebrating and fostering connections with those closest to you. Why not make the most of it?
Now, let's explore some half-birthday party ideas and planning tips that will make your celebration truly special.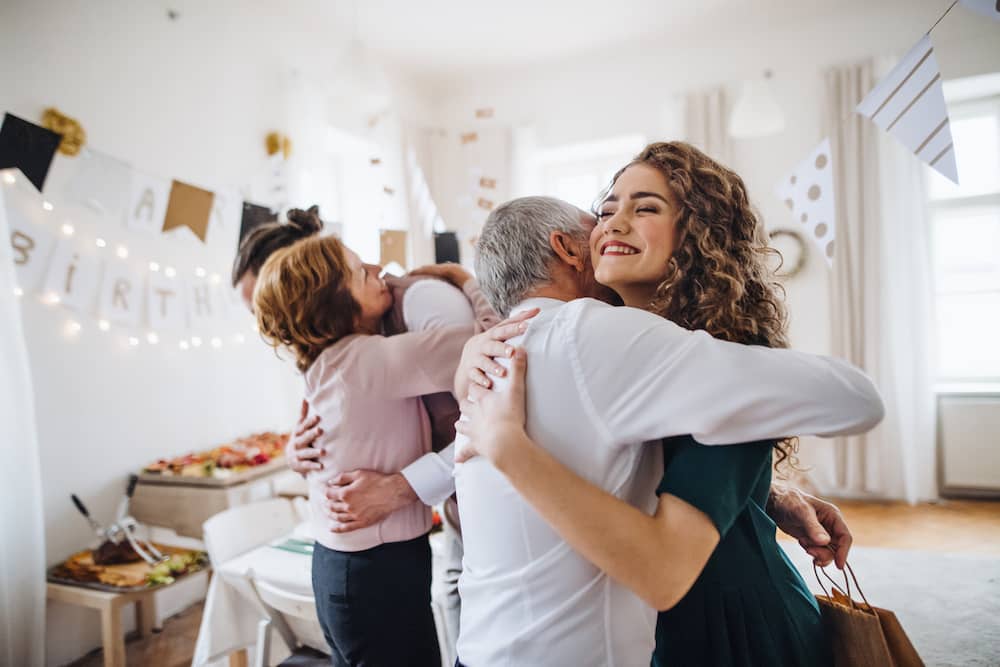 6 tips for planning a half-birthday celebration
With less pressure to conform to the typical birthday plan, you have the opportunity to include unexpected activities and memorable gifts that will make the occasion truly unforgettable. Here's how to get started.
1. Determine your motivation.
Before planning, take a moment to identify why you want to celebrate. Is it to mark a significant milestone or accomplishment? Or, is it to take advantage of better weather?
It could also simply be a way to create an opportunity for family and friends to get together and do something special when they normally wouldn't meet up. Whatever it may be, knowing your motivation can help guide your party planning decisions.
2. Select a theme and plan specific activities.
Choosing a captivating theme for your half-birthday celebration can add depth and cohesiveness to the event. Consider the guest of honor's interests, favorite movie, book or hobby when selecting a theme.
Here are a couple of half-birthday ideas to spark your creativity:
Tropical luau: Transport your guests to a tropical paradise with a luau-themed celebration. Decorate with vibrant colors, tropical flowers and tiki torches. Serve Hawaiian-inspired dishes and refreshing tropical beverages. Encourage guests to dress in their best Hawaiian attire and plan entertaining activities, like a limbo contest or hula dancing lessons.

Superhero adventure: Unleash your crew's superpowers at a superhero-themed party. Decorate the venue with hero logos and colors, and encourage guests to dress up as their favorites. Plan adventurous activities like an obstacle course, superhero training challenges or a "design your own superhero cape" station.
3. Make creative invitations that set the tone.
Kickstart the excitement for your half-birthday party with creative and personalized invitations. Consider using customizable invitation templates that allow you to add photos, choose from various designs and include all the important details.
Here are some ideas to make your invitations stand out:
Theme-integrated invitations: Incorporate elements of your chosen theme into the invitations. Use colors, fonts or images that reflect the overall atmosphere of the party. For example, if you're hosting a tropical luau, design invitations with vibrant tropical patterns or images of hibiscus flowers.

Personalized messages: Write a personalized message in each invitation to make the recipients feel special. Mention something unique about them or reminisce about shared memories. This personal note sets a warm and welcoming tone that your guests will appreciate.
4. Decorate with custom party elements.
Elevate your half-birthday celebration with custom party supplies that tie in with the theme. Start with balloons featuring the guest of honor's name or a festive message. Hang streamers and get custom cocktail napkins and paper coasters to add a festive feel to the party space.
Then, consider creating a custom banner that aligns with the theme and mentions the guest of honor. These custom party elements will make the celebration feel unique and tailored to the individual being celebrated.
Elevate your half-birthday celebration with personalized photo balloons from VistaPrint, featuring the guest of honor's name, image and/or a special message, adding a unique touch to your decorations.

5. Personalize gifts (and party favors) with a touch of thoughtfulness.
When it comes to half-birthday gifts, personalized options are a wonderful way to showcase your thoughtfulness. Consider the recipient's interests and hobbies when choosing a gift. Here are a few ideas:
Custom mugs: Design a custom mug with a photo or a message that holds significance to the recipient. Whether it's a picture of a loved one, a favorite quote or an inside joke, personalized mugs add a thoughtful touch to their daily routine.

Personalized T-shirts: Design a custom T-shirt that reflects the recipient's personality or interests. Choose a design or slogan that resonates with them, whether it's related to their favorite hobby, a memorable quote or an illustration that captures their uniqueness. This personalized gift allows them to wear their individuality with pride.
Make your half-birthday celebration extra fun with customized party favors from VistaPrint. Personalize keychains, mini notebooks or treats to reflect the theme or interests of the celebrant.
6. Capture cherished memories.
Document the moments of your half-birthday celebration with a designated photo booth area with props where guests can take fun and candid photos. Encourage everyone to use their smartphones to capture moments throughout the event, and consider giving out disposable cameras for a retro feel, if that fits your event.
You can also hire a professional photographer to ensure that every important moment is captured. These photographs will become cherished memories and can be shared with guests as a keepsake to remember the good times shared during the celebration.
Impress with creative half-birthday party ideas
By following these tips and being thoughtful in your approach, you can put on a fun-filled event that will leave a lasting impression. Whether it's for you or a loved one, a half-birthday party's vibe can be elevated to loftier heights with a dash of personalization and creativity.
So, mark your calendar, start planning and gather your crew together to start celebrating half-birthdays year-round.