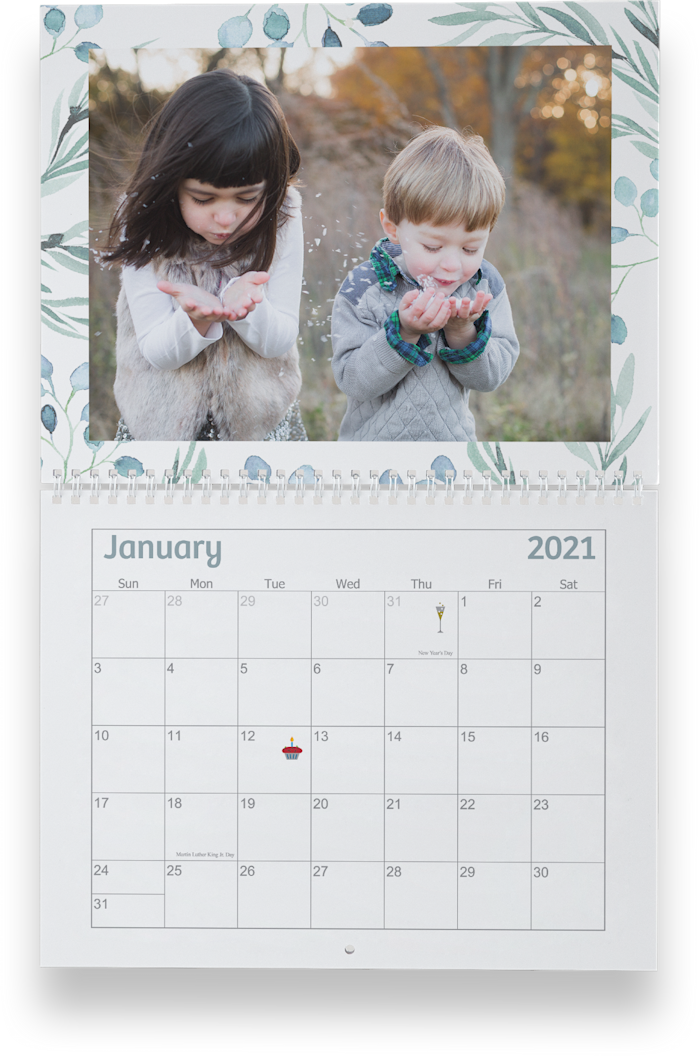 After the year we've had, custom cards and gifts can mean even more. Explore our 2020 favorites.
Holiday Cards
Explore hundreds of flexible designs, each ready for your special touches.
Global Artist Collection
Send something memorable through the mailbox with these limited-edition cards.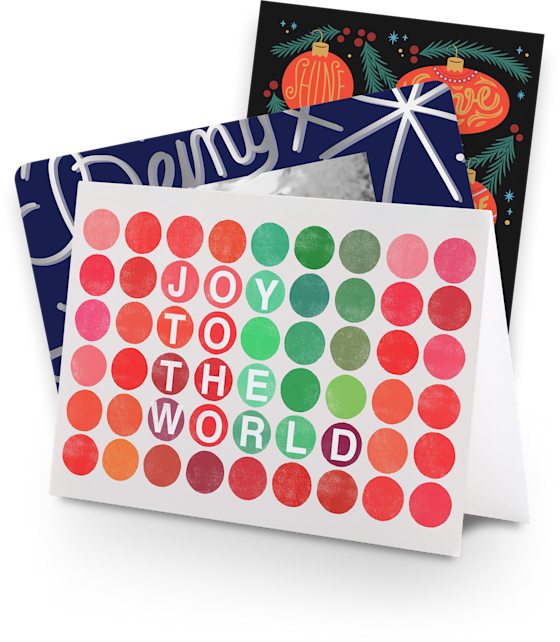 Photo Gifts
Discover even more custom gift ideas you can make unique.
Custom Mugs
1 Starts at $12.99
Find more favorites
Browse our full catalog for more designs you'll love.
View all designs
Find more favorites
Browse our full catalog for more designs you'll love.
View all designs
Start customizing
About the artist
Jessica Hische is a lettering artist, illustrator, author and self-described "avid internetter" working in Oakland, Calif. She is actively involved in the design, illustration and type communities and is a prolific public speaker. Her Daily Drop Cap project produced hundreds of illustrative letters that appear in all sorts of places, from postcard sets to iPhone cases. She has also released several commercial typefaces which are available in her store.
Jessica's clients include Wes Anderson, The USPS, Tiffany & Co., The New York Times, Penguin Books, Target, Starbucks, American Express and Wired Magazine.
Cody Hudson is a Chicago-based artist, also known for his graphic design contributions under the name Struggle Inc. His graphic work and paintings have been exhibited throughout the U.S., Europe and Japan at places like the Museum of Contemporary Art (Chicago), V1 (Copenhagen), Hellerau Art Center (Dresden), MU (Eindoven), Joshua Liner (New York) and Andrew Rafacz (Chicago).
Cody is also a partner in the James Beard award-winning restaurant group, Land and Sea Dept.
Sophia Chang hails from Queens, New York. As a multimedia storyteller creating lucid and inspirited imagery, she's expanding market boundaries and defining a new vivid, visual vocabulary. Sophia is passionate about people's stories and listens to and interprets them to empower the community she loves and propel her friends and clients to greatness.
Sophia has collaborated with companies like Samsung, Nike, Refinery29, Adidas, Apple, Footlocker, HBO and the NBA, to name a few.
Melanie Lambrick is an illustrator living in Montréal, Canada, whose work bridges 20th-century illustration traditions and contemporary digital techniques. By using a visual language tinged with comic and children's book references, Melanie draws the viewer into a fresh conversation with complex subject matter.
Melanie grew up on the west coast of British Columbia. Her past clients include The New York Times, The Atlantic, Volkswagen, UNESCO and Man Repeller.
Garima Dhawan is an alumna of Rhode Island School of Design. Her work combines traditional printmaking techniques and digital technology to create a dialogue between the two worlds. She loves the beauty of the printed mark and the technique of collage, and consistently returns to the theme of the garden as a field of infinite potential and unlimited possibilities.
Garima sells at stores like Anthropologie, Urban Outfitters, Target, Nordstrom, and Kohl's, and online at Deny Designs, Society 6, Artfully Walls, Displate and Eastend Prints.
Lakwena Maciver creates painted prayers and meditations that include elements of popular culture. With their use of acid-bright color and bold typographic text, her panel paintings, iconic murals and installations subtly subvert prevailing mythologies.
Lakwena has installations at Tate Britain and other locations in London, as well as a juvenile detention center in Arkansas, a monastery in Vienna and the Bowery Wall in New York City.
Koralie is a contemporary artist.
Painter, visual artist and muralist, she draws inspiration from her travels, different cultures and traditions from around the world: folkloric and traditional costumes, emblematic monuments, and animist rituals, which offer a rich aesthetic, a variety of symbols . She likes to break down borders by mixing elements of these different origins, traditional and contemporary, and wishes to create a dreamlike multicultural harmony.
Koralie has exhibited in galleries in New York, Paris and San Francisco, art fairs like Salon du Dessin (Paris) and Bridge Art Fair (NY), and museums such as the Museo del Juguete Antiguo México (Mexico) and The Museum of World Culture (Gothenborg). She has collaborated with brands like Posca, Kidrobot, Ray Ban, Carhartt, Ikea, Chevalier Edition, Reebok and many more.
Cynthia Kittler is an illustrator from a small village near Stuttgart, Germany, and is currently based in Offenbach/Frankfurt am Main.
Cynthia's clients include the New Yorker, the New York Times, Bloomberg Business Week, Die Zeit, Süddeutsche Zeitung and Der Spiegel. She has illustrated four books and is working on her fifth one, "Planet Fashion," which will be her first children's book.
Tor Brandt is an illustrator and comics artist based in Denmark. He has released a number of comics and books, and has worked for various magazines, websites and national brands.
Tor studied fine arts and philosophy and says his work is inspired by New Age culture, spirituality and general "Weltschmerz," (a German term describing a mental depression or apathy caused by comparison of the actual state of the word with an ideal state). Tor's work is minimalist in nature, consisting of few yet powerful lines and bold color surfaces.
Dermot Flynn was born in Dublin and moved to London to work at the world-renowned StudioAKA before setting up his own practice. His natural drawing talent in illustration and animation has allowed him a diverse client base, from children's fiction to animation to drawing in Marmite on national television.
Dermot has won many awards – including the Macmillan Prize for Children's Book Illustration and a Silver Lion at Cannes Advertising Festival – and he's worked for 100's of international clients, like Pentagram, Adidas, Vodafone, New York Magazine, Conde Nast, Dentsu Japan, Winkreative, GQ, the Guardian, BMW, Francfranc, SwissAir, Nickelodeon and the Irish Times.
Lynn Bremner is a Scottish Illustrator based in Melbourne, Australia, who works under the pseudonym 'Salty Shoppe'. Lynn often combines digital and traditional techniques of painting and printmaking, and utilizes hand-generated textures to create a welcoming, tangible feeling to her pieces. Her work is bold and colorful, relying on warm hues inspired by nature and vintage advertising.
Recently she's worked on murals, beer labels and magazine covers, and has taken part in numerous group and solo exhibitions.
Nina Fuga is an artist born in Venice and based in London. She works across various media, ranging from drawing to painting large murals for interiors. Her images are influenced by the natural world and inspired by her travels and restless search for beauty.
A graduate of the Royal College of Art, Nina has illustrated for Bompiani, Faber & Faber, Harper Collins and Random House NY. Along with editorial clients, she's also worked with American Express, Bulgari, Ferrari, Max Mara, Qantas, Stella Artois and Wallpaper*.
Zosen Bandido uses bold, flat color in patterns and shapes that interlock like a mosaic. He presents a universal view of society that can be traced back to ancient cultures through indigenous stories and iconography, and is drawn toward age-old symbols such as those used by pre-Columbian cultures of the Americas.
Making public art is essential to Zosen, driving him to be creative, but he also creates across all kinds of media, from print-making to textiles, illustration, ceramics, sculpture and even performance.
Malin Rosenqvist is a Swedish illustrator known for her colorful and unique artworks that are all drawn by hand. Using lines and dots, Malin builds up an almost 3-D image, which is given texture through her rigorous approach. Using just a black pen, she then collages and colors the images in post.
Malin studied at the Lucerne School of Design and Art and the Royal College of Art, Design & Craft in Stockholm.
Mister Adam (aka Adam Oostenbrink) is a graphic designer, printmaker and design educator from Amsterdam, The Netherlands. In his studio/printshop he creates multi-disciplinary works for a wide range of clients. Using both digital and analog techniques, his type-o-graphic style is unstrained, colorful, lively and outspoken.
Mister Adam has been working for global brands like Nikon, TNT Worldwide and Adidas, but also initiates personal projects that are all about experiment, research, collaboration and high-quality handmade limited editions. His work has been included in a number of publications and exhibitions.
WRK is a young designer duo – Damoun Tamir and Andrea Weber – based in Iserlohn and Krefeld, Germany. Using a variety of materials and techniques, including paper, papier-mâché and food, WRK's studio creates playful, concept-driven, tactile images, mostly for advertising and magazines.
WRK's work is colorful, unconventional, often very detailed, sometimes bold and always charming. Their pictures are conceived and constructed worlds of images from diverse materials. After the objects have been built for the respective illustrations, they are photographed and then post-processed on the computer. Then they become "real" images and can be used as desired.
Kate Gibb has worked as a printmaker and illustrator from her print studio in London for over 20 years. Her practice is predominantly self-taught, intuitive and continually evolving. Commercially, she's known for her music-related sleeve artwork, notably her long-standing relationship with The Chemical Brothers. Non-commercially, she continues to explore the silkscreen process, highlighting its tactile nature and subtle nuances.
For this holiday project, each card design has been originally created as a screen-print on paper – a unique print application that is then scanned, edited and enhanced digitally to create the finished illustrations.
Owen Gildersleeve is an award-winning, London-based artist specializing in handcrafted illustration, set design and art direction. His unique style, honed over the past 10 years, brings graphic designs to life through carefully hand-cut layers and a playful use of light and shadow.
Working with an array of international clients, Owen creates everything from the most intricate paper illustrations and animations shot in his East London studio, to dramatic, large-scale sets, window displays and installations.
Handle & Inside Color
Color
Need help designing
Just send us the photo(s) you want to use and our design team can create some options and email them to you.
4" x 8"
5.5" x 5.5"
4.6" x 7.2"
6" x 9"
Great choice.

Let's start creating your perfect card.

Adding photos and text comes next.
A handy choice.

First, pick your size and colors.
A memorable choice.

These are available in 7 different sizes.
A timely choice.

These are available in 3 different sizes.
8" x 12"
12" x 12"
12" x 16"
16" x 24"
24" x 36"
8" x 12"
12" x 12"
12" x 16"
16" x 24"
24" x 36"
50 x 70 cm
An artistic choice.

Let's create your perfect canvas.
4" x 8"
5.5" x 5.5"
4.6" x 7.2"
5.5" x 4"
Great choice.

Let's start creating your perfect invite.
A comfy choice.

Take your pick of 2 sizes.
A cozy choice.

First, pick your size and orientation.