Estimated reading time: 5 minutes
Sip of Hope Coffee, a Chicago-based coffee shop that donates all of its proceeds to mental health education and suicide prevention efforts, is on a mission. And it is actively pursuing that mission with the help of its branded coffee shop merchandise.
Sip of Hope sells a variety of branded items on its website and in its café, including a ceramic coffee mug, a tote bag and a ringer tee featuring the café's trademark "It's okay not to be okay" reminder. The branded goods enable the company to spread its message in dynamic ways, deepen its ties with supporters and generate added revenue to support mental health.
While this is just one example, there are many coffee shops that use branded merch in similar ways to not only boost their business, but also support their community or greater goals.
The case for creating branded coffee shop merchandise
From apparel to drinkware, coffee shops have significant opportunities to drive marketing, loyalty and sales with branded merchandise.
Unlike, say, a bridal boutique that a woman might only visit once in her lifetime, or a car dealership someone might only interact with every few years, consumers tend to visit their favorite coffee shop regularly, if not daily. Sipping that cup of joe becomes a part of their life, or even their identity — and as such, they're more willing to purchase branded merch that shows their affinity for your shop.
To be certain, coffee shop merch brings an added revenue stream to your business. While coffee and other beverages traditionally boast a rather appealing profit margin, a coffee shop can grow its revenue further by selling more to its existing customers. By offering $25 branded tees or $15 ceramic mugs, you can add revenue to your balance sheet and increase overall sales beyond your core product.
That branded product, then, serves a marketing role. A customer wearing your coffee shop's T-shirt out and about on a Saturday generates brand awareness for your business — drawing eyeballs and sparking curiosity, if not conversation. With branded merchandise, your customers become your local brand advocates, which is so vital in a competitive environment.
You can also leverage coffee shop merch to spur repeat business and further deepen customer loyalty. For example, your coffee shop might sell a reusable travel mug it then refills at a 10% discount. Or, you might give customers a free cookie with their beverage purchase anytime they visit wearing your coffee shop's apparel. Those who purchase your coffee shop's branded gear are already fans, and you can use those items to increase traffic and boost sales even more.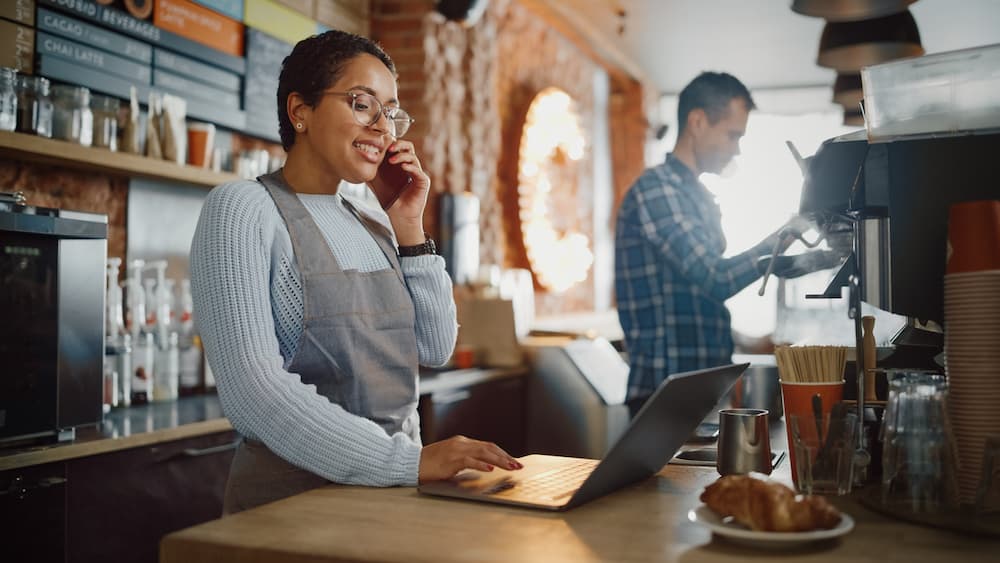 4 steps to create and sell coffee shop merchandise
It's clear to see how creating branded merch can be beneficial for your coffee shop. But, how exactly do you go about it? Here are the steps to creating and selling merch that your customers will love.
Step 1: Choose useful, complementary products.
Consider your customers and what would be of most interest to them. For a coffee shop, ceramic and travel mugs, cozy apparel, custom bags and even household items like fleece blankets make sense. By contrast, a toiletry bag or flashlight misses the mark.
Also, remember that your coffee shop merchandise speaks to your brand. Choose carefully and invest in well-designed, high-quality items that will last. An ill-fitting beanie hat or faulty travel mug will often find its way to a donation bin or the trash — and that's not an association you want for your brand.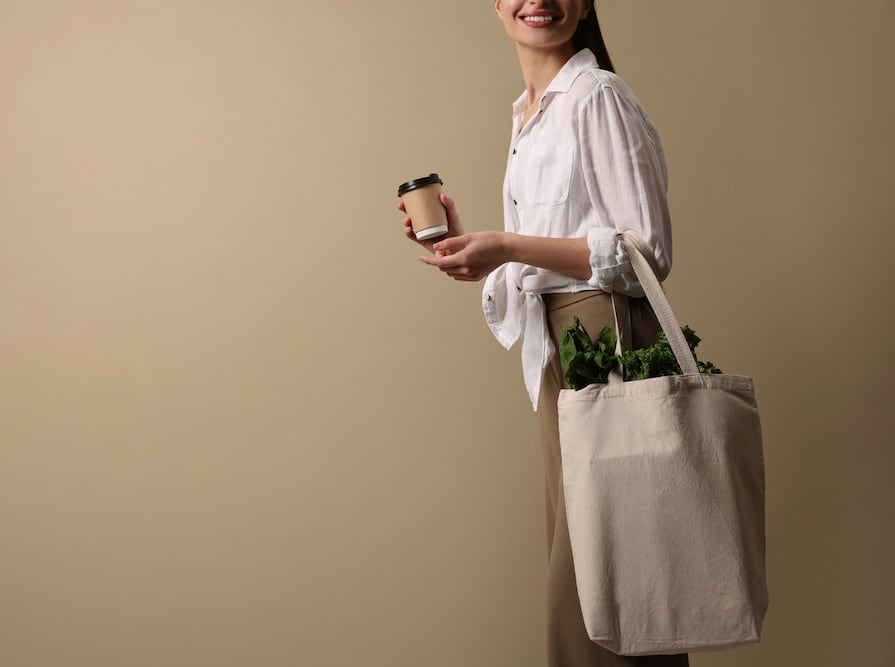 Step 2: Design with thought and care.
You want your brand logo or wordmark on the product to be clearly visible. You don't want items too wordy or busy with graphics. If you use text, keep it simple and on brand. Clean and polished is best, though you shouldn't be afraid to get creative and show off the uniqueness of your brand.
Collaborate with a VistaPrint designer to strike the right balance between creative and crisp. Once you choose your product, you can fill out a brief sharing project details and work with a designer to craft a one-of-a-kind item ready for printing.
Step 3: Make your branded merchandise accessible.
Make it easy for people to purchase your merchandise by selling it both in store and online. Also, price items competitively so people are not dissuaded from buying. To prompt sales of branded merch, you can always bundle it with other items, like providing a free 12-ounce bag of coffee with the purchase of a hooded sweatshirt. You can also use branded merchandise as a promotional offering, such as gifting a free T-shirt to those who sign up for your coffee shop's monthly subscription service by a specific date.
Ordering items in bulk can save money and increase your profit margin. Let's assume five large cotton tote bags cost $15 per unit. But, by purchasing 25 of those same bags, the cost per unit decreases to $11. This bulk order ultimately leads to about a 27% savings.
Step 4: Promote your merchandise.
Proudly display branded items in your store and tout your branded goods on social media, noting any special offers or deals. Link branded merchandise to other grassroots marketing efforts, such as entering anyone who posts a photo of themselves wearing your branded T-shirt or using your branded mug into a raffle for concert tickets or free coffee for a month.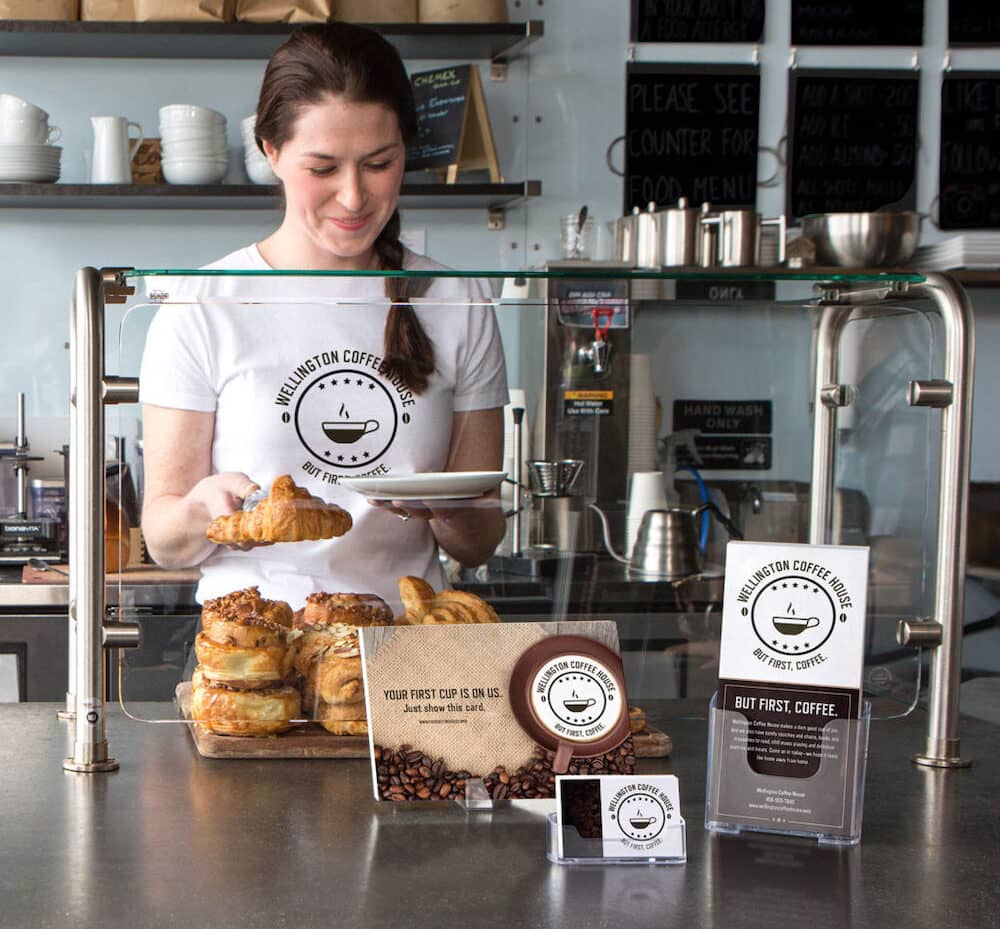 Using coffee shop merch to reach your goals
With the right mix of thoughtfully selected, well-designed products, branded merchandise can drive your coffee shop's marketing, heighten brand awareness, spur loyalty and boost your shop's bottom line. And remember: The more you earn, the more you can give back.
With every transaction at your coffee shop, customers prove their affinity for your business. You've earned that with quality products and friendly service. Now, take the next step and offer branded merchandise so your fans can celebrate their connections to your coffee shop and promote it in the community. Doing so will benefit your brand, your team and your ultimate goals.