Estimated reading time: 7 minutes
You're confident your kitchen crew cooks up the most creative cuisine. And, you know that people flock to your restaurant for the freshest fare. Yet you're still always looking for new ways to stir up interest within your community and cement your spot as the No. 1 place to be.
One creative way to make your establishment stand out from the competition is to set up a streatery, and in this article, you'll discover how to build one and create an unforgettable epicurean experience.
What is a streatery?
A combination of "street" and "eatery," streateries are experiential outdoor dining areas (typically in spaces that used to be reserved for parking vehicles) that serve as an extension of your indoor dining room, where guests can eat and get the same service they would inside.
Streateries became popular during the COVID-19 pandemic because they provide a safer dining experience, and they're becoming more of a regular thing in urban areas as a way for restaurants to expand their outdoor seating capacity.
What are the benefits?
When done well, streateries can draw in customers, create a unique atmosphere and set your establishment apart from others in the area.
Here are the main reasons to consider adding a streatery to your space:
Increased seating capacity. Streateries allow you to expand your outdoor seating capacity, which can be particularly valuable for smaller places. By creating additional seating areas outside, your restaurant can accommodate more diners and potentially increase revenue.
Enhanced ambiance. Streateries can create a more inviting and attractive dining environment. Outdoor seating can provide customers with a unique and pleasant dining experience, especially if your space is well-designed and incorporates features like greenery, lighting and outdoor heaters.
Improved safety. When the COVID-19 pandemic was running rampant, outdoor dining became increasingly important as a way to reduce the risk of transmission. These days, your restaurant can still provide a safer dining experience for customers and staff by allowing for greater social distancing and fresh air circulation.
Marketing and branding opportunities. Upscale or unique-looking streateries can serve as a marketing tool by creating a distinctive and recognizable brand image that may even lure in new customers who are drawn to a special dining experience.
Special events and activities. Streateries can be used for special events, such as outdoor shows, parties or local gatherings. This can help build community engagement and generate positive publicity for your restaurant.
Wondering how to create a successful outdoor dining experience for your restaurant? The right location, equipment and design elements can help you achieve your goals.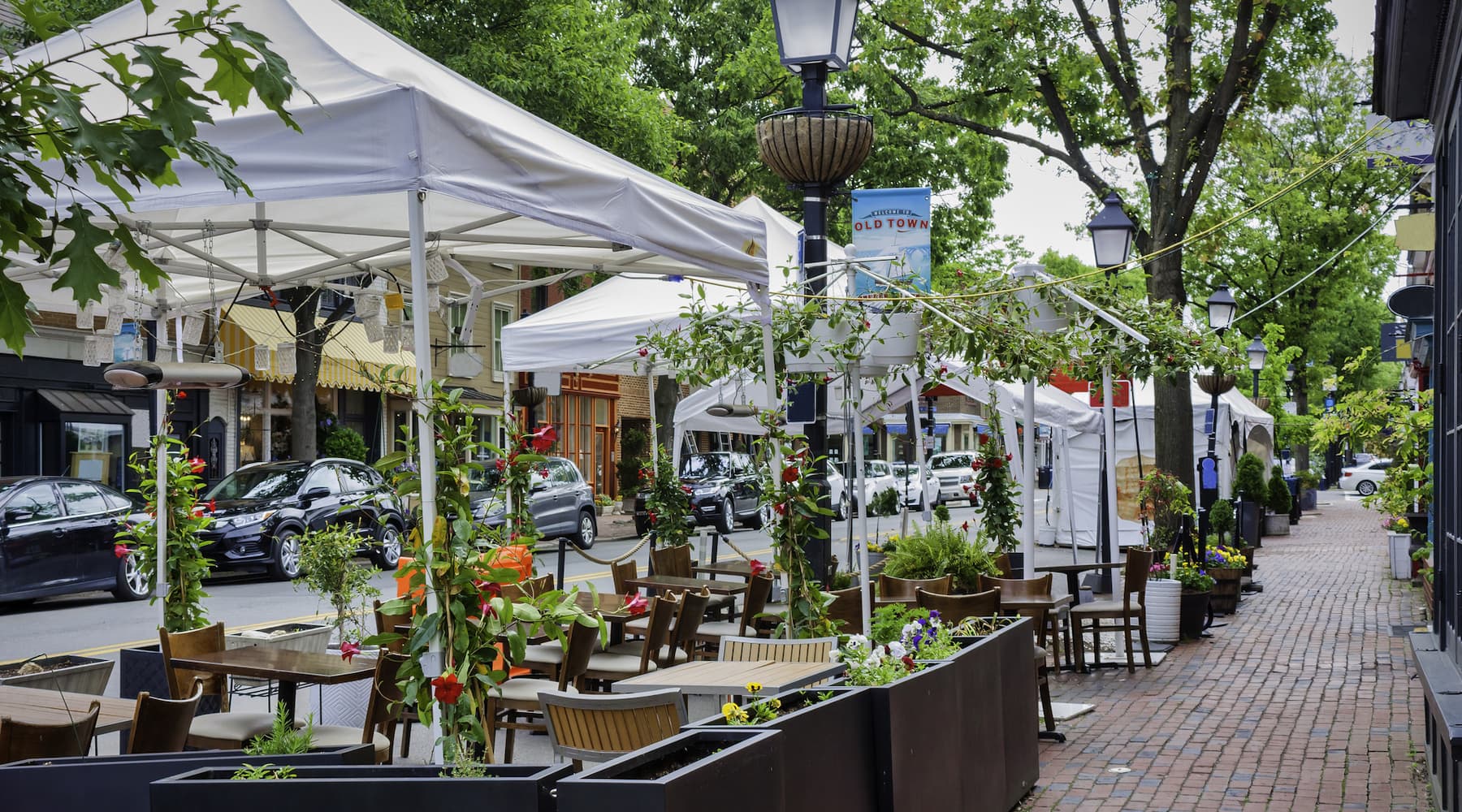 Choose a prime location.
The first thing to consider when setting one up is the location. Do you want to place your dining area out front on the street where foot traffic is heaviest, or would you prefer a more secluded, quiet patio in the back of your restaurant?
Depending on your restaurant's layout and available outdoor space, you may be able to create outdoor dining spaces in multiple locations. This would be ideal for drawing in passersby and also providing a private outdoor dining area for customers who don't want to sit on the street with passing cars and onlooking pedestrians. The key is to choose a spot that's visible and accessible to customers while also being functional and comfortable for dining.
Before you do anything, though, it's vital to research your locality's rules and regulations on streateries, as certain locations have laws and license requirements that you may not expect.
Source the necessary equipment.
Once you've chosen a location, it's time to consider what major equipment and materials you'll need. This may include:
Tables and chairs that are sturdy but easy to move or break down at the end of the night
Outdoor lighting such as string lights or overhead lights
Power outlets and extension cords, plus rubber covers so patrons don't trip on any cables
Space heaters or fire pits for cooler days
Tents, umbrellas or canopies for protection from the elements
Investing in high-quality equipment and materials can help create a comfortable, inviting space for diners and set your restaurant apart.
Create a budget that contains all of the above that are necessary for your location, and consider where you might be able to source unique seating and tables for a discount so you can give your outdoor dining space some personality without breaking the bank.
Create the perfect ambiance.
Successful streateries are more than just places to eat. They're dining experiences that engage all the senses — from the food and drink to the ambiance and atmosphere. To create the perfect environment, consider adding elements like outdoor music, decorative lighting and live entertainment. You might also want to add outdoor plants and other natural elements to create a warm, inviting atmosphere for diners.
Custom outdoor signage like banners and flags can help draw attention to and create a unique brand identity for your restaurant. Consider adding window decals, retractable banners or A-frame signs to highlight your restaurant's name, logo or special deals and menu items.
Custom tabletop signs, menu cards and other printed materials can help tie together the overall look and feel of your outdoor eating area. There are many sizes, types and stocks that can be tailored to your restaurant's unique brand identity.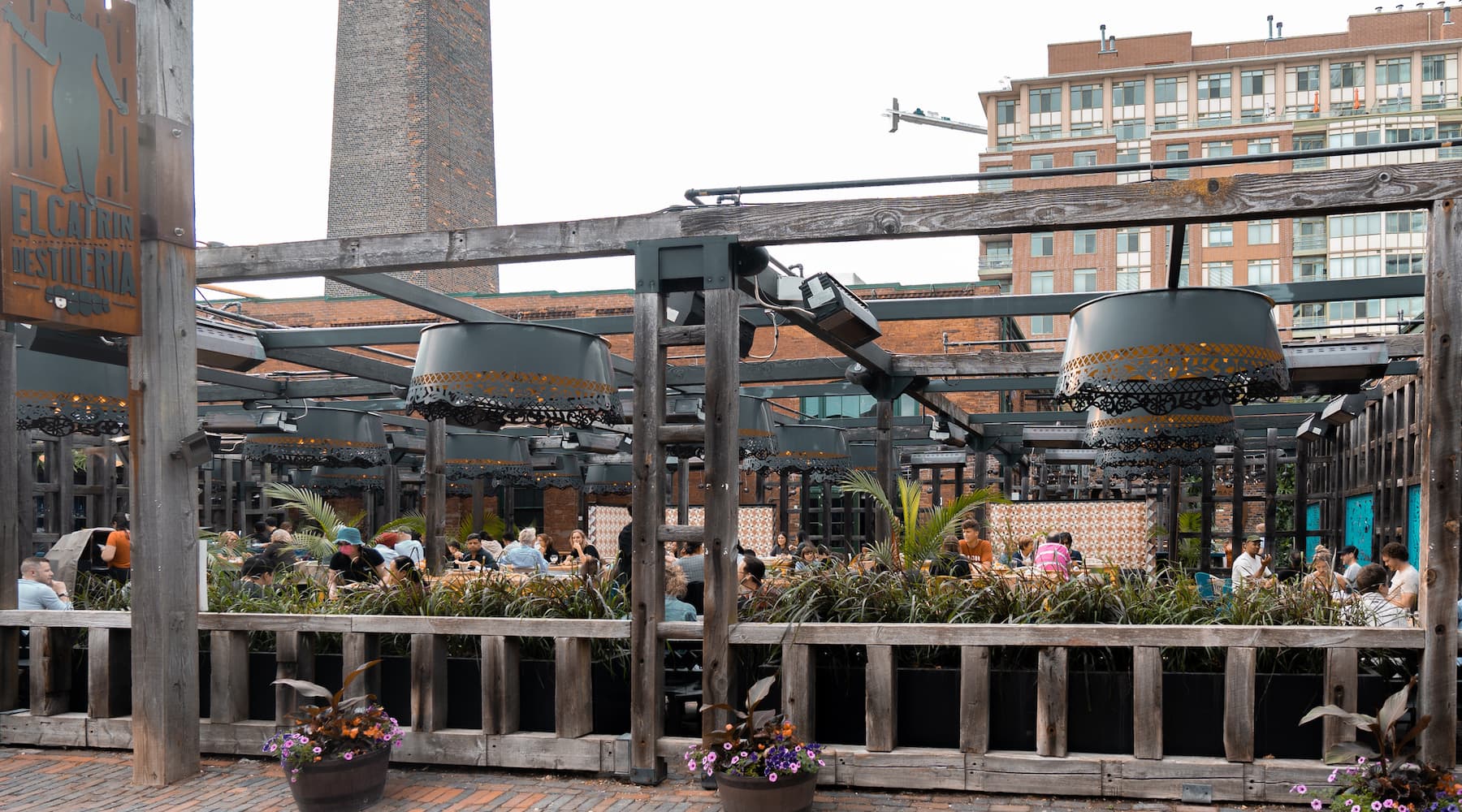 Generate excitement.
Once you've got your streatery set up for success, there are several strategies that you can use to promote and generate excitement for it.
Social media. Showcase your outdoor dining areas, share photos of your food and drinks and post updates about special events and promotions taking place in the new space.
Email marketing. Promote your new space to email subscribers and encourage them to come and dine outside.
Collaborations. Partner with other local businesses, such as breweries or wineries, to create special events or promotions that encourage customers to dine outside.
Influencer partnerships. Work with local influencers to generate interest by inviting them to dine in the outdoor area and share their experience on social media, which can help to attract new customers.
Unique offerings. Develop innovative and exclusive menu items and drink specials only available outside to generate excitement and encourage customers to try out the outdoor dining area.
Take inspiration from successful streateries.
To help inspire your setup, here are a few examples of successful streateries from around the country:
Rangoon in Brooklyn, N.Y., has an outdoor dining section made of pre-finished aluminum, designed by architect and inventor Drew Seskunas of the firm Saw.Earth.
Dystopian State Brewery in Tacoma, W.A., has umbrellas, red velvet ropes, wood beams, barrels and orange traffic cones surrounding its street dining area. It also features A-frame outdoor signage.
Washington Street in Hoboken, N.J. is lined with streateries, each vying for the constant influx of commuters from the PATH train. They utilize a variety of outdoor signage and equipment, like colorful umbrellas and fashionable furniture, to capture people's attention.
No matter what kind of outdoor dining experience you choose to create, the key is to engage all the senses and create an inviting atmosphere for diners.
Build a memorable experience.
Setting up a streatery can be a great way to draw attention to your restaurant, cultivate a special dining experience and engage with customers in a new and exciting way. With the right location, equipment and design elements, you can create a successful outdoor dining concept that distinguishes your restaurant within your locale.
By making the most of custom signage, outdoor banners and other products, you can ensure your outdoor dining area is eye-catching, memorable and fully aligned with your restaurant's brand identity.