Estimated reading time: 7 minutes
If you enjoy working outside in the sun and derive serious satisfaction from seeing dirt disappear before your eyes, you may have wondered how to start a pressure washing business. After all, restoring dingy driveways, filthy fences and other soiled spaces into pristine places with shiny, sparkling surfaces can be a gratifying experience — especially when getting paid generously for your services.
Whether you're looking to clean residential neighborhoods or unsightly commercial sites, the feeling of rejuvenating part of your community and the potential for financial success make this an exciting opportunity. If you're ready to embark on a new journey, let's explore the pros and cons of a pressure washing business along with why and how to launch your own.
Benefits of starting a pressure washing business
There are myriad reasons why you may want to enter this lucrative entrepreneurial arena, including the following:
Flexibility and growth potential. These businesses often begin as part-time or seasonal endeavors, providing flexibility in scheduling and workload. Once you establish yourself and the demand for your services grows, you can scale your business and expand.
Small initial investment. Starting a pressure washing business requires a relatively low upfront cost. The initial expenses include your basic equipment, such as your primary pressure washer, hoses and nozzles. As your business grows, you can invest in additional equipment and resources.
High demand. During the warmer months, there is an increased demand for pressure cleaning services as homeowners and businesses seek to wash off winter's remnants and maintain tidy and attractive exteriors. This kind of business can cater to both residential and commercial clients, providing a steady stream of work.
A wide range of services. You can offer a variety of various services, including cleaning driveways, patios, decks, sidewalks, fences and building exteriors. This diversity allows you to tap into different markets and expand your client base or specialize in one part of the market that you prefer.
Low overhead costs. Pressure washing businesses typically have low overhead costs, as you can operate out of your home and use your personal vehicle for transportation. This helps to keep your expenses low and maximize your profits.
Easy to learn. This endeavor does not require extensive training or certifications. With practice and experience, you can quickly become a pro at operating the equipment and providing high-quality service.
Satisfying results. There is a sense of satisfaction and immediate gratification in witnessing the transformative effects of power cleaning on various surfaces. This can make the job enjoyable and rewarding, contributing to the overall appeal.
Other important considerations
With all of the positives that come with this business, there are important elements to consider beforehand.
Seasonal demand. Depending on your location, the demand for this cleaning service may be highly seasonal. Warmer months typically see an increase in demand, while colder months may result in less work available, potentially affecting your income stability.
Physical labor. Pressure washing is a physically demanding job that involves long hours of standing, bending and lifting. The work can be tiring and may not be suitable for everyone, particularly those with health issues or physical limitations.
Safety risks. This service involves working with high-pressure water, chemicals and potentially slippery surfaces, which can pose safety risks to both the operator and the property being cleaned. Proper training, safety equipment and adherence to safety guidelines are crucial to minimize these risks.
How to start a pressure washing business
Now that you know the pros and cons of a pressure washing business, let's talk about the steps to getting started.
1. Develop a solid business plan.
A clear, strategic business plan will guide you as you establish and grow your company. Include information about your target market, pricing strategy and plans for expansion. This will help you stay focused on your goals and make informed decisions.
2. Invest in the right equipment.
The next step is investing in the right equipment. You'll need a high-quality pressure washer, hoses, nozzles and other accessories. It's crucial to purchase equipment that can handle heavy-duty tasks and withstand daily use.
3. Get insurance and licensing
Investigate the necessary insurance and licensing requirements for your pressure washing business. Depending on your location, you may need specific permits, licenses or insurance coverage to operate legally. Make sure you research and comply with all local regulations to protect your business and clients.
4. Establish your brand.
Creating a strong brand identity is essential for setting your business apart from competitors. Consider using a professional service for logo design, custom business cards and other marketing materials to ensure your brand is consistent and professional.
Use bold colors and unique designs on your business cards and signage to grab attention and make a lasting impression. Or, opt for cards with rounded corners to stand out.
5. Create an online presence.
A strong online presence is critical for any small business. Look for website builders for small businesses and create a professional website, which will allow potential clients to easily find your pressure washing services. Additionally, be sure to create social media profiles for your company and engage with your local community online.
6. Leverage in-person marketing.
While an online presence is crucial, don't forget the power of in-person marketing. Attend local events, network with other small business owners and distribute your eye-catching business cards to get the word out about your services.
7. Promote and grow your business.
Of course, there are a variety of products and services available to help you start and grow your business. From signage and banners to promotional products like pens, mugs and water bottles, you can use a variety of eye-catching marketing materials to boost your visibility and attract clients while giving out branded merch to spread awareness.
Since you'll be working outside, you can also create custom-branded T-shirts and hats to wear on the job, along with totes displaying your business logo and website address. In addition, consider placing yard signs with your contact information next to your setup and leaving promotional door hangers on neighboring houses when working on residential projects.
Your car, truck or van is going to be a major part of your pressure washing business. Consider using custom vehicle decals or magnets with your logo and contact information to turn your work vehicle into a mobile advertisement.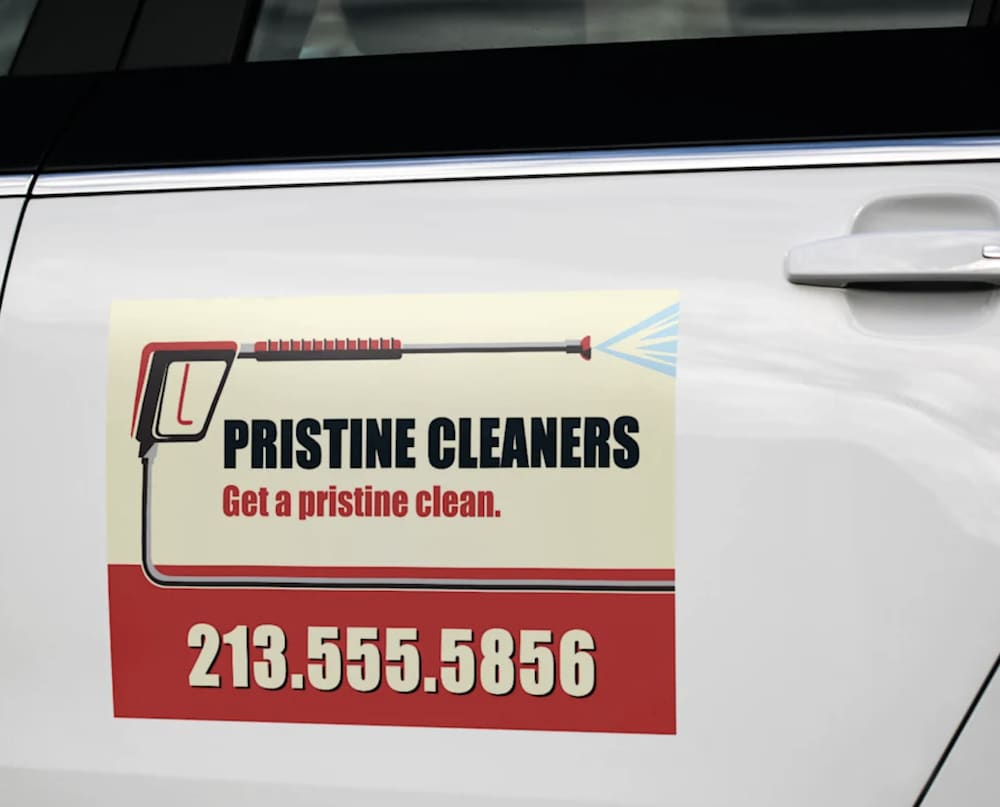 8. Build a loyal customer base.
One of the keys to any successful business is delivering exceptional service to create repeat customers. Offer promotions, referral incentives and loyalty programs to encourage recurring business and word-of-mouth referrals. Maintaining excellent customer communication will contribute to building a strong reputation in your community.
Key takeaways for your new business
Starting a pressure washing business can be a rewarding and profitable venture. As the weather gets warmer and demand rises, it's a great time to get started!
With the right equipment, a solid business plan and a strong marketing strategy that includes both online and in-person efforts, you can make the most of the season and watch your business grow.
Remember to establish your brand, leverage marketing materials and cater to your customers' needs to ensure your success. Now, take these insights and get going with your new gig.