Estimated reading time: 5 minutes
You've spent weeks or more setting up your brick-and-mortar small business. You're incredibly proud of what you've accomplished…and you should be, go you! But beyond your physical business space, you've also been building a great website and ramping up your social media presence. So how do you connect these in-person and digital efforts to create a cohesive brand experience?
Customers nowadays expect a seamless experience with your brand on the internet and in real life, whether they're perusing your website and social media posts or examining an eye-catching storefront display. That's why connecting your in-store experience to the internet is crucial in attracting and retaining customers while enhancing their experience with your brand. Thankfully, your business signage can help bridge your brand's physical and digital worlds.
Let's explore how you can use indoor and outdoor digital signage to connect your in-person store experiences to your online ones, and why doing so makes sense. You'll also find some tips and inspiration to help you get started.
Enhance your customer experience with digital engagement.
In-store customers are bound to check you out on social media, and may even buy products online that they saw in-store but weren't sure about in the moment. Connecting your physical location to your online sites offers limitless opportunities to market your physical store to previous customers. If people follow you on social, they'll start seeing your posts and promotions, allowing your brand personality to shine every time you publish something new.
Doing so also opens up a world of opportunities for customers to engage with your brand and learn more about your products and services. This, in turn, enables you to build off that engagement by learning more about their preferences and gaining insights for new and improved offerings. The best part? There are plenty of easy and affordable ways to make it happen.
It may feel natural to consider TVs and digital displays for your storefront marketing or indoor signage. But, although these pricier options offer benefits like custom interactive displays, there are ways to include digital links on printed signage and other more wallet-friendly materials, like banners, posters, business cards and product tags.
Including URLs, social media handles and/or QR codes on your printed signage allows customers to access additional information about your products and services, and even make purchases, all from the convenience of their mobile devices.
Don't miss out on the power of QR codes.
URLs and social media handles are familiar to pretty much everyone, but the simplicity of QR codes (and their commonness as a hands-free menu option during pandemic lockdowns) make these scannable squares a powerful tool for small businesses. QR codes can enhance your product tags and other printed signage by making it super easy for customers to access information and engage with your brand online.
Rather than relying on customers to input an exact URL or search your business name on Instagram, simply create a free custom QR code and include it on your signage to link directly to your website, social media profiles or other online resources. This allows customers to quickly scan the code with their mobile device and instantly access the information they need.
Here are a few examples of how business owners might digitally enhance their in-store customer experience:
A clothing boutique might include a URL on their storefront signage that leads to their e-commerce website or social media handles.
A coffee shop might utilize a small sign next to their cash register to display a cashless payment option so customers can scan and pay with their phone.
A day spa that sells its own skin care products might include a small tabletop sign or hang tags with QR codes that provide additional product information, such as ingredients, directions or customer reviews.
A craft brewery might showcase posters throughout their bar area that link customers to an email list sign-up page. Followers will be able to subscribe to see the latest beer releases and upcoming events, or even join a loyalty program for special discounts.
A real estate business might use a window decal with a QR code that passersby can scan to find current listings or even virtual tours.
Tailor your signage to your business and how customers move through, or pass by, your location. While a restaurant might opt for an A-frame sign or tabletop displays, a gym might be better served by a bold vinyl banner or posters in workout spaces.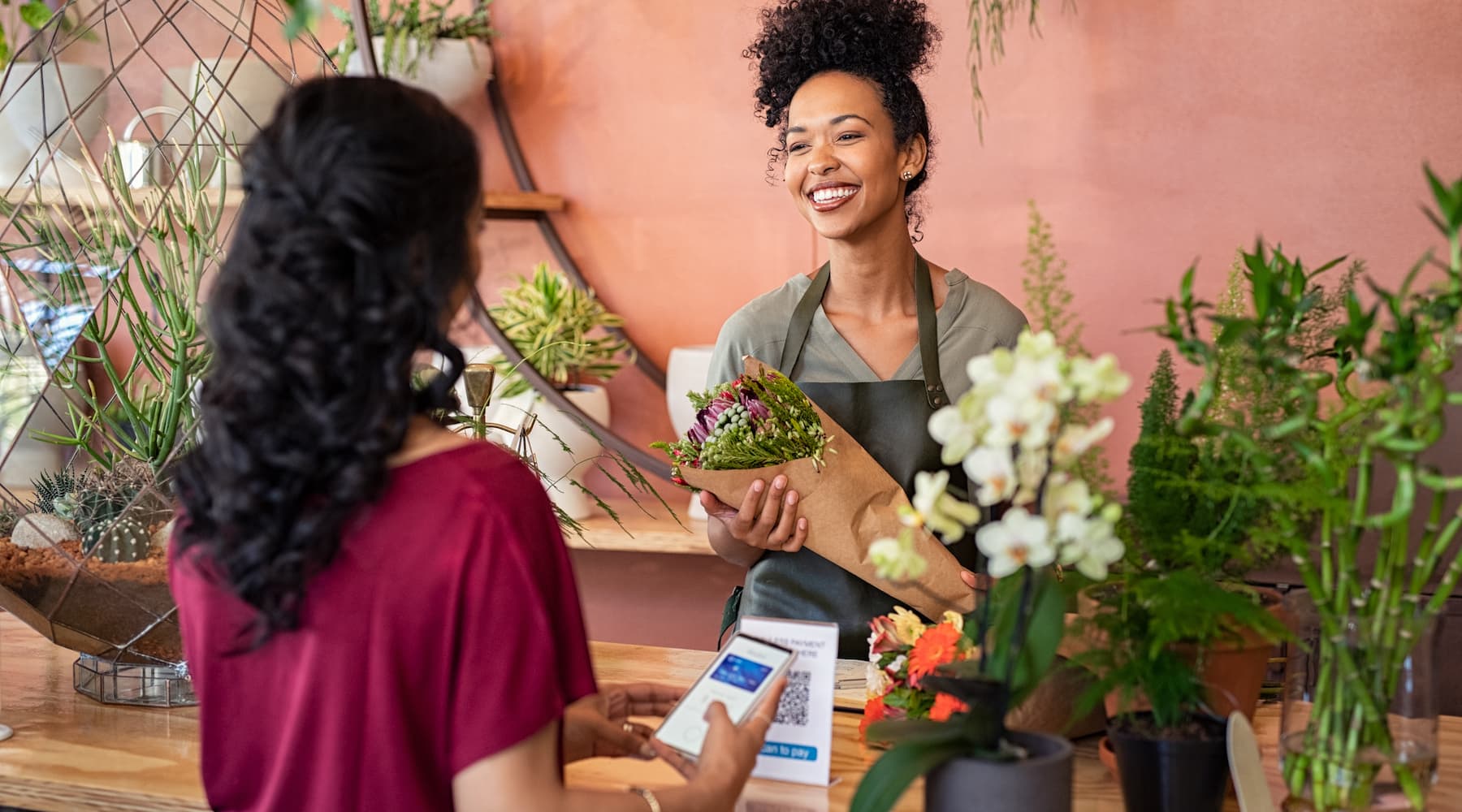 Make the most of your business signage efforts.
Another great way to connect your physical and online experiences is by using digitally enhanced business cards — which are kind of like little portable signs if you think about it. Business cards can include links (ideally as QR codes as noted above, but URLs work, too) to your social profiles, product demos, service request forms and more. It's all about giving customers a fast, easy way to access information about your offerings or even make purchases or appointments.
No matter what type of digital signage solution you choose, it's essential to make the most of your efforts. Here are a few tips to help you get the most out of your signage:
Use simple and straightforward messaging so people know what you offer and what action they need to take if interested.
Make signage visible and accessible to all customers.
Use high-quality, eye-catching and professional images and graphics to showcase your creativity.
Keep branding consistent across all signage, from digital displays to business cards.
By incorporating digital signage solutions that bridge the gap between your physical and digital properties, you can build an engaged following of happy customers. Whether you're showcasing interactive content on digital displays, enhancing your printed signage with QR codes and URLs or complementing your efforts with digital business cards, there are endless possibilities for success. So, why wait? Start exploring the world of digital signs and watch your business take off!