Estimated reading time: 5 minutes
The holidays are right around the corner. And if part of your family's holiday tradition is sending Christmas cards, now is the time to start thinking about which photo you want to include on this year's holiday card.
You can, of course, use a photo you already have. But a holiday-specific photo can really elevate your seasonal cards—and make them even more fun and festive for your loved ones when they get them in the mail.
What kind of photo should you take for this year's photo shoot? Let's take a look at a few Christmas card photo ideas to inspire you this holiday season.
Dress up in coordinated holiday outfits.
Steal a kiss under the mistletoe.
Create your own winter wonderland.
Pose as your favorite Christmas characters.
Snap a pic of your favorite holiday activity.
Recreate a photo from holidays past.
Celebrate the New Year.
1. Dress up in coordinated holiday outfits.
When you're sending out a holiday card, you want you and your family to present a united front. And one of the best family Christmas card ideas to create that sense of unity from a visual perspective? Festive, coordinated outfits.
How you coordinate your outfits is totally up to you, whether you go with identical outfits or a broader clothing theme. For example, you and your family might snap a photo in matching pajamas, a variety of fun Christmas sweaters, or in the clothing of your choice—maybe in a seasonal palette of red, green or gold.
VistaPrint Tip
It's important for your Christmas outfits to coordinate, but it's also important for those outfits to work with your Christmas card design—and we've got you covered. VistaPrint has teamed up with Carter's to create a line of customizable cards and matching pajama prints. So rock those coordinated holiday PJs and choose the coordinating design for your holiday cards.
2. Steal a kiss under the mistletoe.
It wouldn't be Christmas without sneaking a kiss with your partner underneath the mistletoe. So, why not create that sweet (and iconic!) holiday moment for your card? It's so easy to set the stage…all you need is a sprig of mistletoe, your partner and a camera. Add a comedic element by getting your pet involved—there's nothing like a slobbery dog kiss for Christmas, right?
3. Create your own winter wonderland.
For many people, Christmas means snow, twinkling lights, sleigh bells and anything 'Winter Wonderland.' This year, consider incorporating that theme into your Christmas card photos. If you live in a place that resembles an actual wonderland, pack up your camera, head outside and look for opportunities to snap some Christmas-y images with your family. Think: sledding down a snowy hill, cutting down a Christmas tree or enjoying hot chocolate around a fire. If your surroundings *aren't* covered in snow, stage your own winter wonderland with some fake flakes, twinkly lights and other holiday-inspired props.
4. Pose as your favorite Christmas characters.
Christmas is full of plenty of iconic, memorable characters…so why not use those figures as inspiration for your photo? Dressing up as your favorite holiday characters is one of the more funny holiday card photo ideas—and an idea that can be a ton of festive fun for you and your family. Kids can dress up as Christmas elves, parents can don a Santa Claus or Frosty the Snowman costume…you could even slap some antlers on your pup and pose them as Rudolph!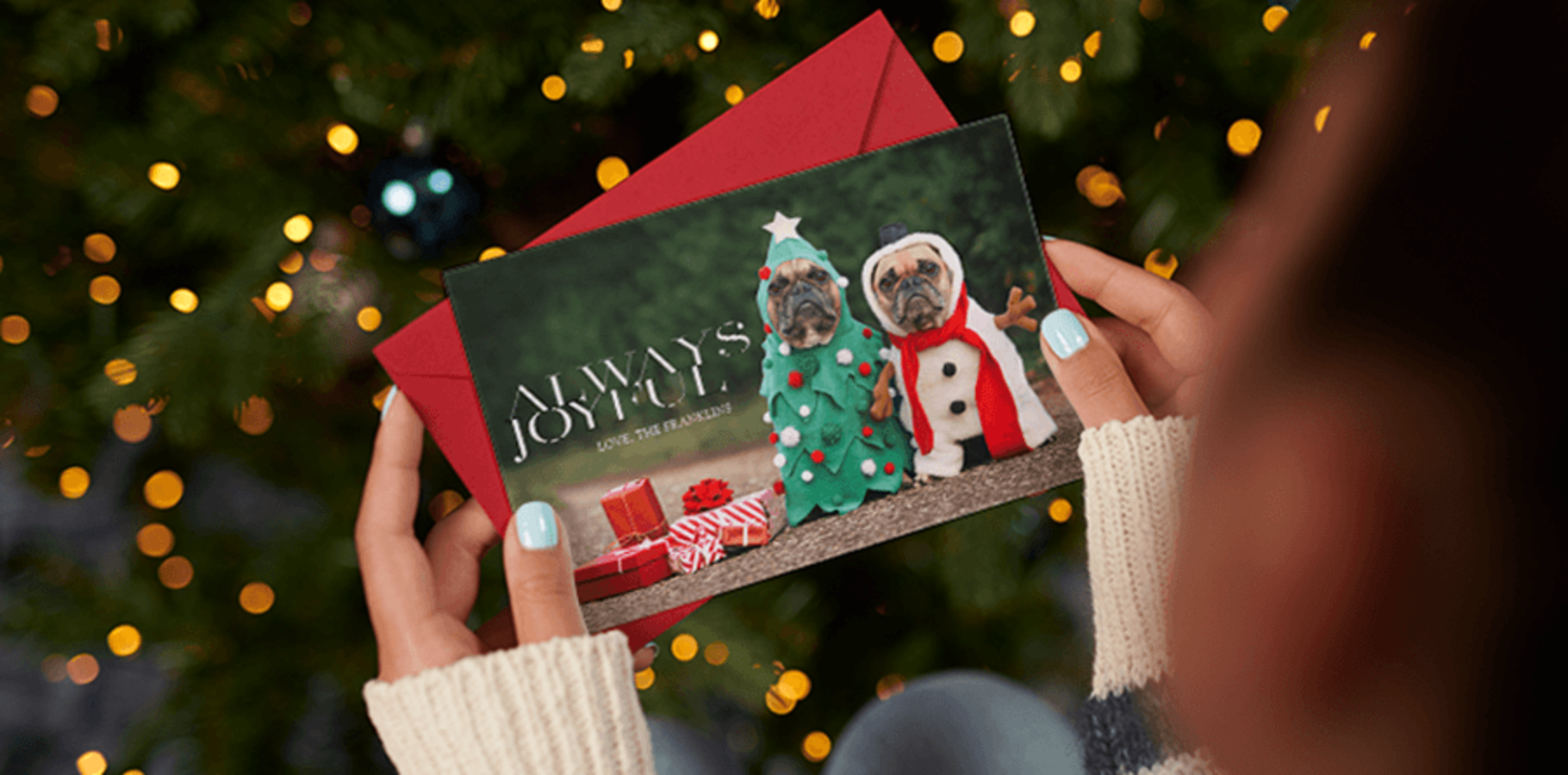 5. Snap a pic of your favorite holiday activity.
When you think of the holidays, what's the first activity that comes to mind? Is it baking cookies? Wrapping gifts? Dancing around your living room to your favorite holiday tunes? Whatever your favorite holiday activity, use it as a photo op for your Christmas card!
6. Recreate a photo from holidays past.
If you have a favorite photo from a previous holiday, recreating it could be a fun photo op for your holiday card. Maybe you have a favorite holiday photo from when you were a kid—recreate it as an adult, and use a collage-style holiday card to feature both photos side-by-side. Did you get your dog as a Christmas gift a few years ago—and have a photo of your puppy with a bow on their collar, sitting in a wrapped Christmas box? Snap that same photo of your now-grown-up dog and use it as the centerpiece for your Christmas card design.
7. Celebrate the New Year.
The holiday season culminates with the celebration of the New Year. And while New Year's isn't necessarily the most common theme for a holiday card, snapping a New Year's-inspired photo for your card could be a great way to try something different.
Try staging an early ball-drop and include a photo from the celebration, don yourself in fun New Year's memorabilia (like 2022 sunglasses or hats) or dress up in your New Year's best and pose in front of a banner…and don't forget to have fun with it!
VistaPrint Tip
Worried your Christmas cards won't arrive by December 25th? Swap in a 'Happy New Year' message instead to buy yourself a few extra days.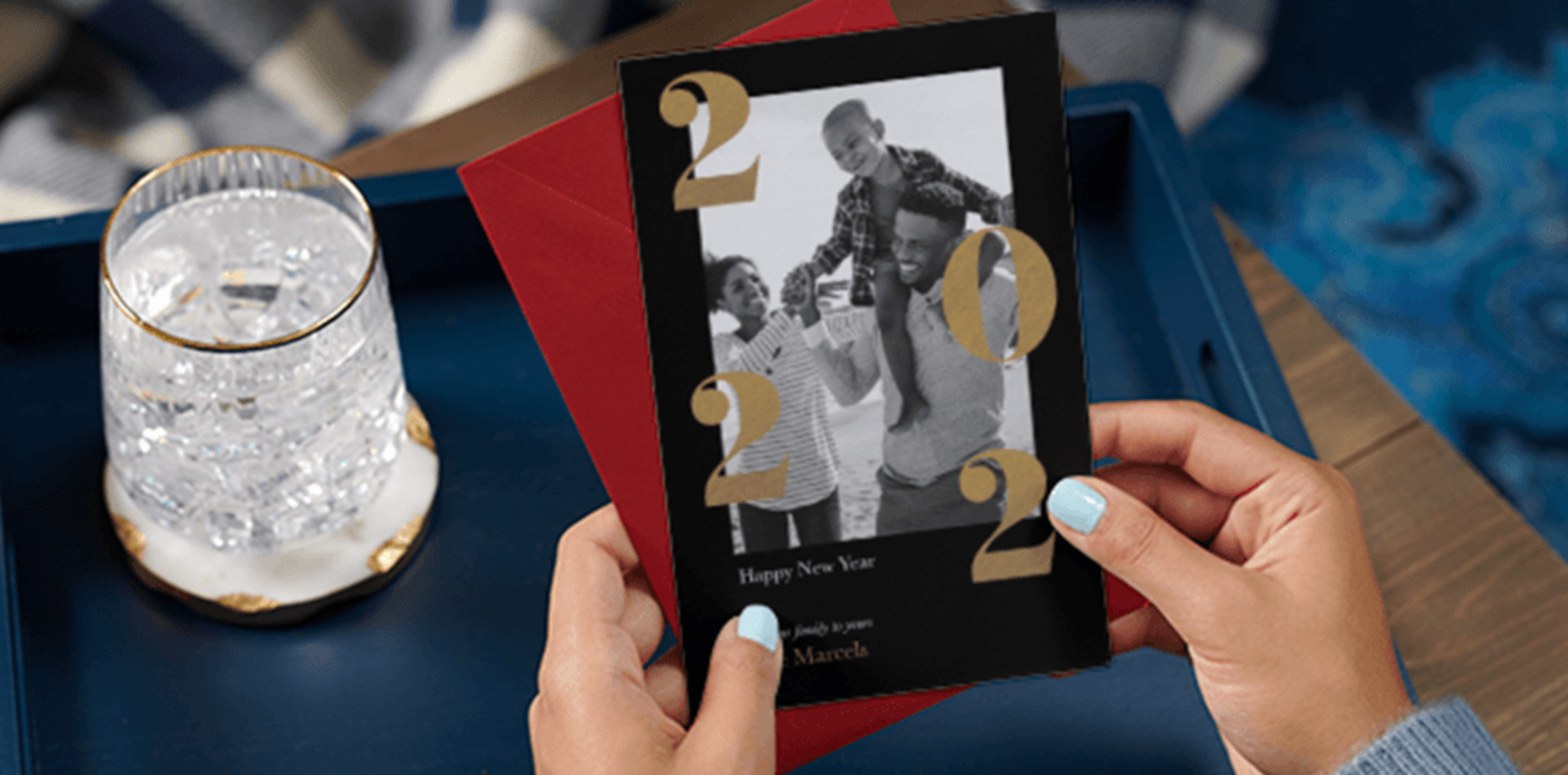 How to choose the best photo for your holiday card
These Christmas card photo ideas are a great jumping-off point for deciding what kind of photo you want to take for your Christmas card. But once you choose a theme and snap your photos, how do you pick the right picture to feature on this year's holiday card?
Gather all your photos. You can't choose the best photo for your Christmas card if you don't have all the photos in front of you. Before you start narrowing down your options, make sure you have your entire gallery of photos available, organized and ready for review.
Pare down the less-than-perfect options. There are all sorts of things that can go wrong with photos. For example, the photo might be blurry—or one of your family members might have their eyes closed. Scan through your photos and eliminate any that have obvious issues.
Narrow it down to the photos that make you smile. Christmas cards are all about spreading joy for the holiday season—you want your loved ones to smile when they open your card. Keep that in mind when you're looking through your photos and choosing one for your Christmas card.
Consider your Christmas card layout. When choosing which photo to feature on your Christmas card, it's important to consider the card's layout. Is it portrait or landscape? Is there a front side and a back side? While you have the option to crop your photo to fit the space, generally, it's easier to choose a photo that already matches the card's layout.
Get your family to sign off. You may have a photo you love for your Christmas card. But if you're sending the card on behalf of your family, you want to make sure they love the photo just as much as you do. Before you choose a final photo, make sure all your family members are on board—and, if not, ask them to help you choose a better alternative.