Estimated reading time: 5 minutes
There's no denying that the COVID-19 pandemic proved to be a challenging experience for many small business owners. But as the impact of COVID has decreased, many are feeling optimistic that things will (finally!) go back to some pre-pandemic level of normalcy in the coming months—including for businesses.
And that means that small businesses are in the perfect position to take advantage of this economic summer and have an incredible summer—with the right strategy, that is. Let's take a look at the business and marketing steps you can take to have the best small business summer:
Plan and prep for summer holidays.
Host an event for your customers.
Offer seasonal incentives.
Connect with the small business community.
Spruce up your space.
Target seasonal visitors.
Take advantage of outdoor events.
1. Plan and prep for summer holidays.
A lot of people like to engage with businesses on and around holidays, including summer holidays. And while that fact is always true, it's especially true this summer, when many people will be getting together to celebrate those holidays together for the first time in more than 2 years. So, if you want your small business summer to be as successful and lucrative as possible, make a plan.
Think of ways that your business can capitalize on summer holiday activity. For example, if you own a food retailer, you might put together "holiday picnic baskets" filled with your most popular picnic or grilling foods—then sell them to customers to enjoy on the summer holidays. Or, if you own a clothing store, you might have a Fourth of July sale where you give customers 10% off everything—and an additional 10% off all your red, white, and blue items.
2. Host an event for your customers.
As summer approaches, many of those people are finally ready to get out, re-engage with their community and attend events. So, why not host an event this summer? It'll give you a great opportunity to market your business, connect with customers and drive sales this summer.
The kind of event you host will depend on your business and your customers—but whatever you decide, make sure it grabs people's attention and entices them to attend. For example, if you own a restaurant, you might host a summer tasting event where customers can sample all the dishes on your new menu. Throw in some live music, specialty cocktails or a gift card giveaway to make it extra-memorable. Or, maybe you own a sporting goods store. Host an event where you offer discounted water sports lessons (like paddle boarding or kayaking) for customers.
People are ready to get out and have fun this summer—and if you create fun events for your customers, they'll get out and engage with your business.
Your event can only be successful if your customers know about it. Promote it on posters and flyers, in an email newsletter or with a social post. Include all the important details, like the date, time, cost and location.
3. Offer seasonal incentives.
If you want your customers to engage with your business this summer (or anytime, really), you need to incentivize them to do so. For example, if you want to get more customers into your retail location, offer a monthly freebie, like a free sticker or water bottle for everyone that comes in during July. Or, offer summer-specific specials—like a discount on summer items or a two-for-one special on your summer menu—to get people excited to do business with you during the summer months.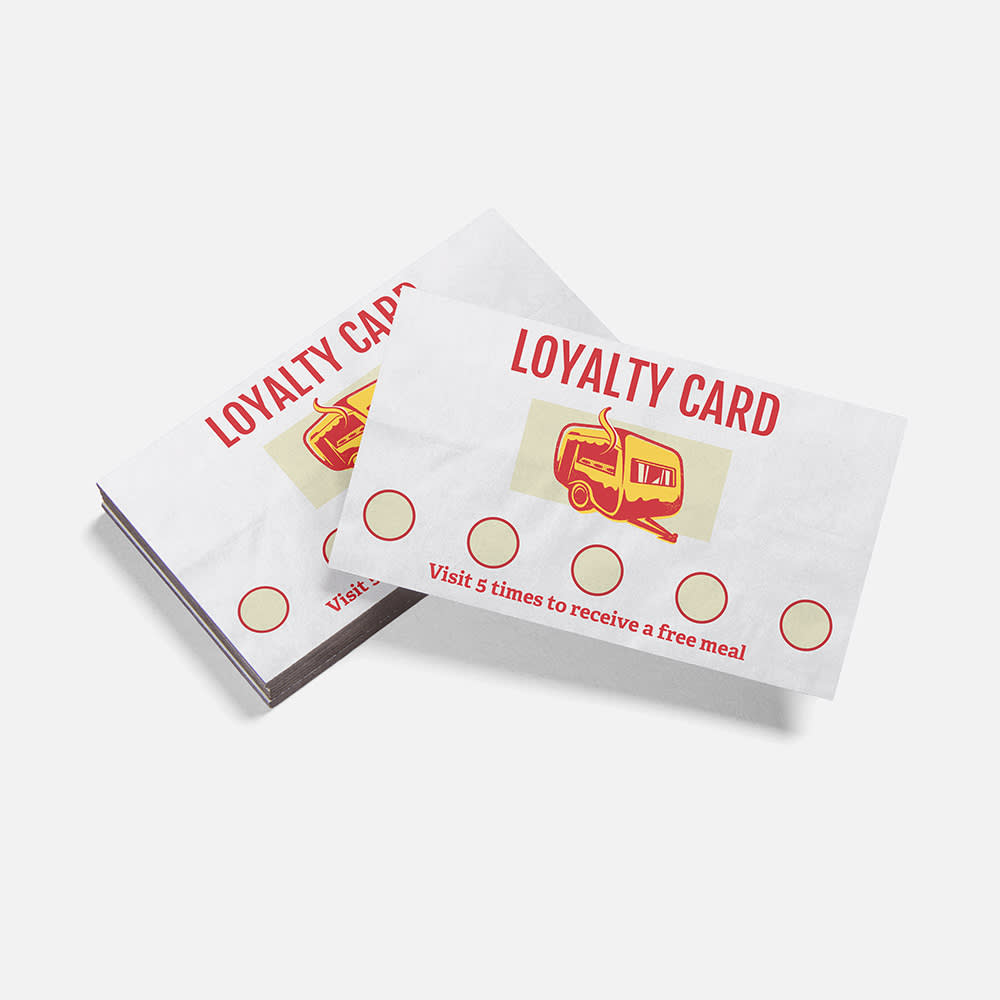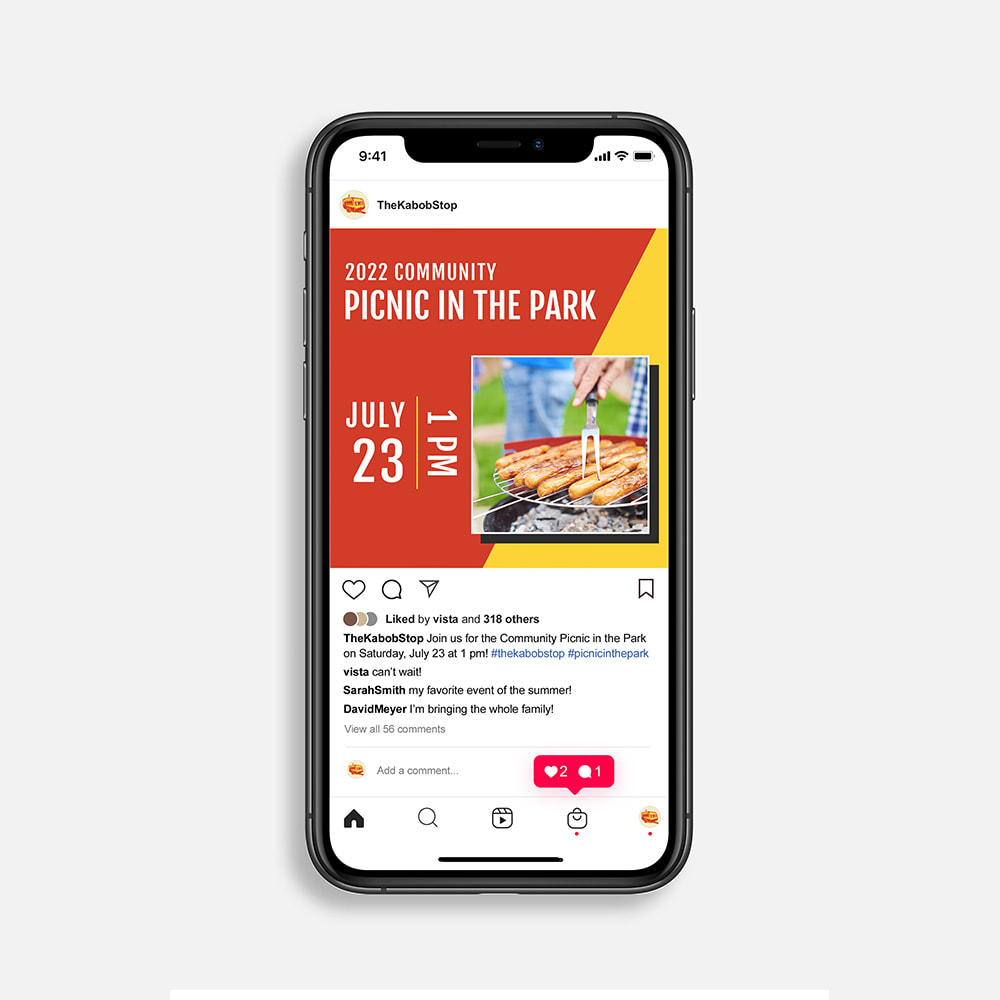 Loyalty programs encourage repeat shopping, making them a great way to incentivize your customers this summer (and year-round!). Use custom loyalty cards to track purchases—then offer a special deal, discount or freebie once your customers complete the card.
4. Connect with the small business community.
Your business isn't the only one that's emerging this summer ready to re-engage with customers and drive major results. Consider partnering with other small businesses to make the most of the season.
Connect with other small businesses in your community and look for ways you can work together to offer value to your customers—and drive sales and revenue in the process. For example, if you own a fitness studio, you might partner with a local juice bar for a pop-up event where customers can workout and enjoy goodies from the juice bar. Or, let's say you own a bakery. You might partner with a local coffee shop for a breakfast event—and offer all attendees a percentage off their order.
It's not just customers that will be looking to get back into the swing of things this summer. Other local businesses will also be looking for ways to reconnect with customers and drive sales—so look for mutually beneficial opportunities to partner with these businesses.
5. Spruce up your space.
Whether you have a brick-and-mortar space or operate entirely online, get your business—and your customers—in a summer mood with new decor or a fresh color scheme. For example, you could add summer-inspired animations to your social posts, hang a colorful banner (complete with your favorite summer hues!) in your store window or incorporate summer illustrations into a chalkboard sidewalk sign to draw in customers.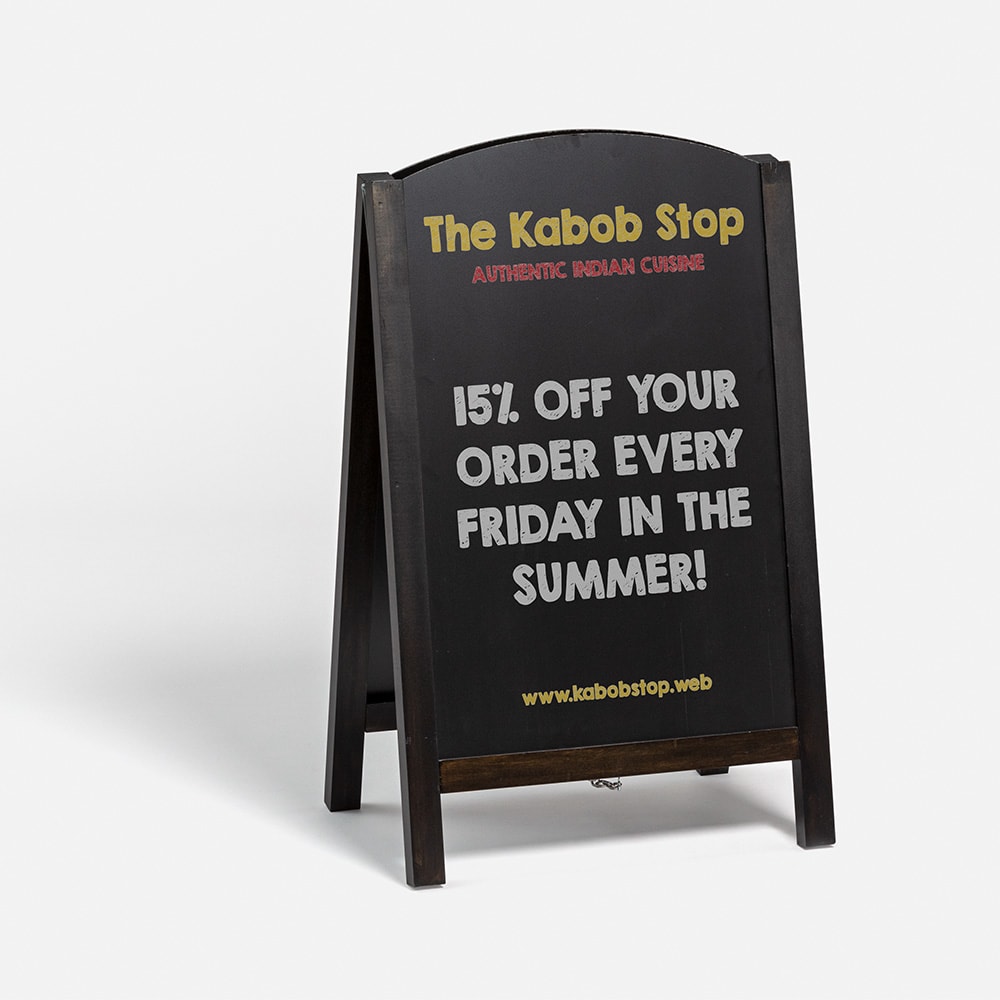 6. Target seasonal visitors.
If you live in an area that attracts tourists in the warm-weather months, you have the opportunity to connect with an entirely new customer base during the summer season—so, make a plan to target them.
Let's say you own a bakery or coffee shop. Reach out to local inns and ask if they'd be willing to include your baked goods or use your house coffee blend as part of their continental breakfast. Drop off your product with a tabletop sign or stack of business cards so customers know where they can get more of those amazing pastries or a midday caffeine fix.
Or, maybe you own a service-based business, like a doggie daycare. Connect with dog-friendly hotels and pet shops in the area and ask them to include your brochure in their welcome packets or display your flyers at their check-out counter.
Is there a particular attraction or event in town that draws in tourists—like a food festival or art museum? Reach out to the Chamber of Commerce and ask if they have any partnership opportunities that would get your business in front of their patrons. Maybe you can purchase ad space in the local guidebook, or find out where to offer free samples.
7. Take advantage of outdoor events.
With the warm temperatures and long hours of sunshine, summer offers the perfect backdrop for outdoor events. And if you want your business to thrive this summer, those outdoor events offer the perfect place to connect with potential customers and offer them summer swag and merch items. Research any outdoor events in your area where you think your customers might be—and then figure out a way to get involved. Think: farmer's markets, craft fairs, music festivals and parades. Whether you demo your newest ice cream flavor at a nearby art fair or sell branded tote bags at the local flea market, participating in summer events is a great way to build local awareness and boost business.