Estimated reading time: 6 minutes
Promotional clothing can work wonders for your brand, especially with unique or creative T-shirt quote ideas. Do a quick mental inventory. Do you have a favorite branded T-shirt that you love to wear? What does it say or look like?
For businesses, custom-designed shirts offer increased brand awareness and customer loyalty, among other benefits. In fact, statistics show that when a business gives people a useful promotional product, like a T-shirt, those people are more likely to consider purchasing from that business and stick with them, compared to competitors that didn't offer branded merchandise.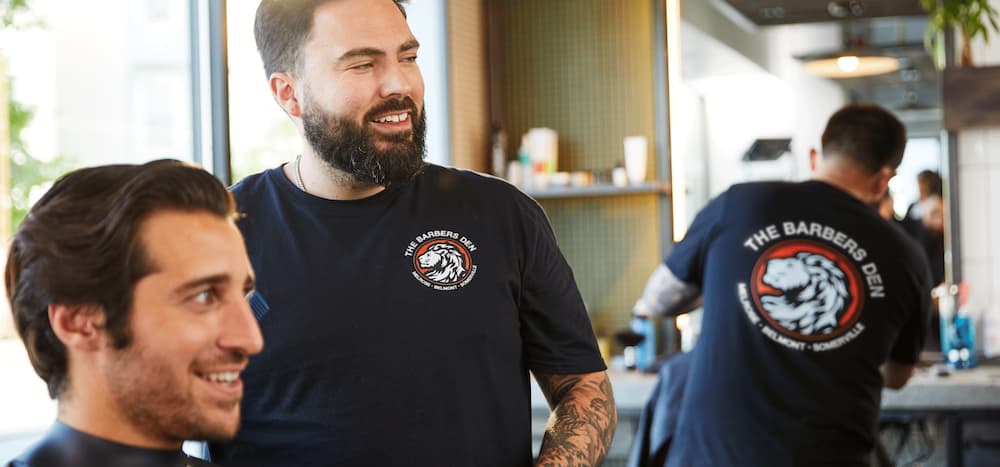 When small business owners design and distribute a branded T-shirt, these products can:
Nurture engaging relationships with your customers

Show appreciation to employees

Boost awareness of your brand when employees and customers wear it

Buoy your brand identity by becoming part of the wearer's lifestyle

Add opportunity for revenue if you sell your custom-designed T-shirt
Ready to create your own branded shirt? Continue reading for T-shirt quote ideas and tips that practically guarantee people will wear your brand around town.
You can use Vista's design templates when ordering your branded T-shirts or give your T-shirt quote a 100% unique look by uploading a custom design from the available design services.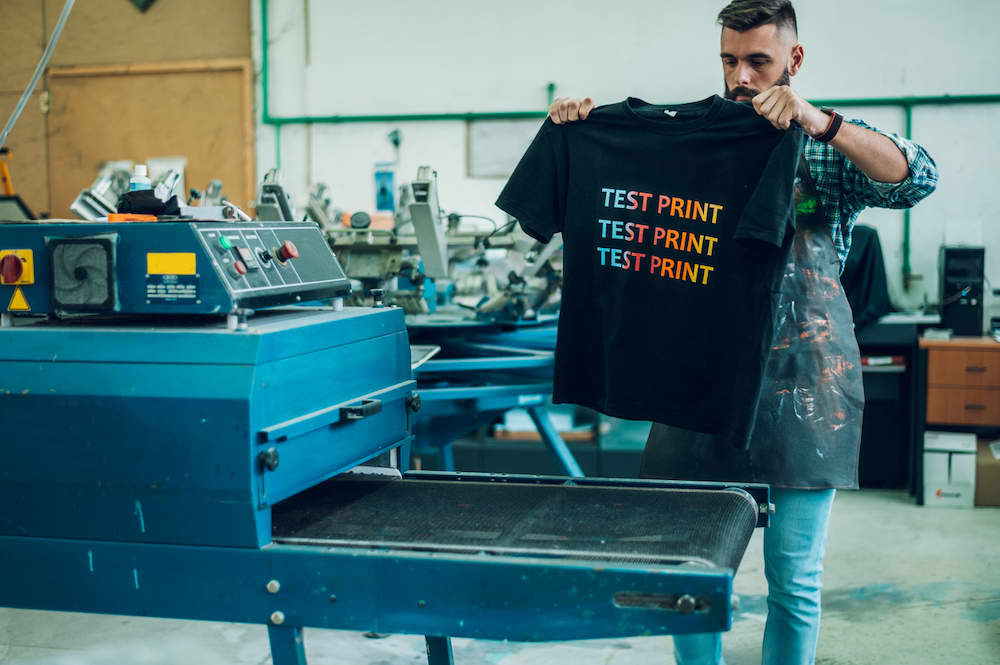 10 ideas for your next T-shirt quotes
Use these T-shirt quote ideas to create a custom shirt design that you're excited about and your customers will love.
1. Capitalize on trending lighthearted memes.
Use an engaging phrase that's common on social media. People will recognize the trend and pleasantly make the connection.
Example: A local nursery prints, "The perfect house plant doesn't exis—" followed by their logo and an image of a plant that requires very little maintenance and is ideal for new plant owners.
2. Flatter your customers.
Write a phrase that flatters the wearer (in this case, your customer or employee). Bonus points for a surprising and entertaining twist.
Example: A Mexican restaurant prints its logo and says, "Not all heroes wear capes. Some eat tacos."
3. Tap into your customers' lifestyles.
Consider what your typical customers enjoy and find a way to tie in your product or service. When you can, relate to them on an insider level.
Example: A surf shop prints its logo alongside the line, "When you're ready to ditch Ankle Busters for A-Frames."
4. Borrow quotes from a movie, celebrity or song.
Print a funny or inspirational quote from a famous song, movie or celebrity. While simple, this tip is effective. Extra points for printing unique variations of a well-known quote that tie in even more with your brand.
Example: A mechanic prints a shirt with, "Don't worry. Drive happy."
5. Draw on your values.
If your business is founded with strong values front and center, you likely attract like-minded customers who would enjoy a T-shirt displaying these shared values.
Example: A sustainable women's fashion brand prints shirts that say, "Ladies first," with "ladies" being represented by Mother Earth.
6. Look for entertaining double entendres.
Double entendres include words that have multiple meanings. This usually makes for a playful sentence.
Example: A technology repair company prints shirts that say, "We've got the memory of an elephant."
7. Connect with a cause.
If your company supports a specific cause either through donations or volunteer hours, support the cause further with your T-shirts.
Example: A florist donates proceeds to buy wildflower seeds and organizes group planting days. The business owner prints shirts with, "Save the pollinators" under their logo and a flower, bee and butterfly design.
8. Channel a historical figure who aligns with your mission.
Consider your mission statement and think of individuals from history who've championed related causes. If possible, use a meaningful quote from one of those people.
Example: An independent bookstore sells shirts with this quote: "Once you learn to read, you will be forever free." — Frederick Douglass
9. Use your existing slogan or tagline.
Perhaps you already have a tagline or slogan that's strongly associated with your brand. If you do, run with that. Sometimes, even well-known logos can get the job done.
Example: Dunkin' Donuts T-shirts say, "America runs on Dunkin'."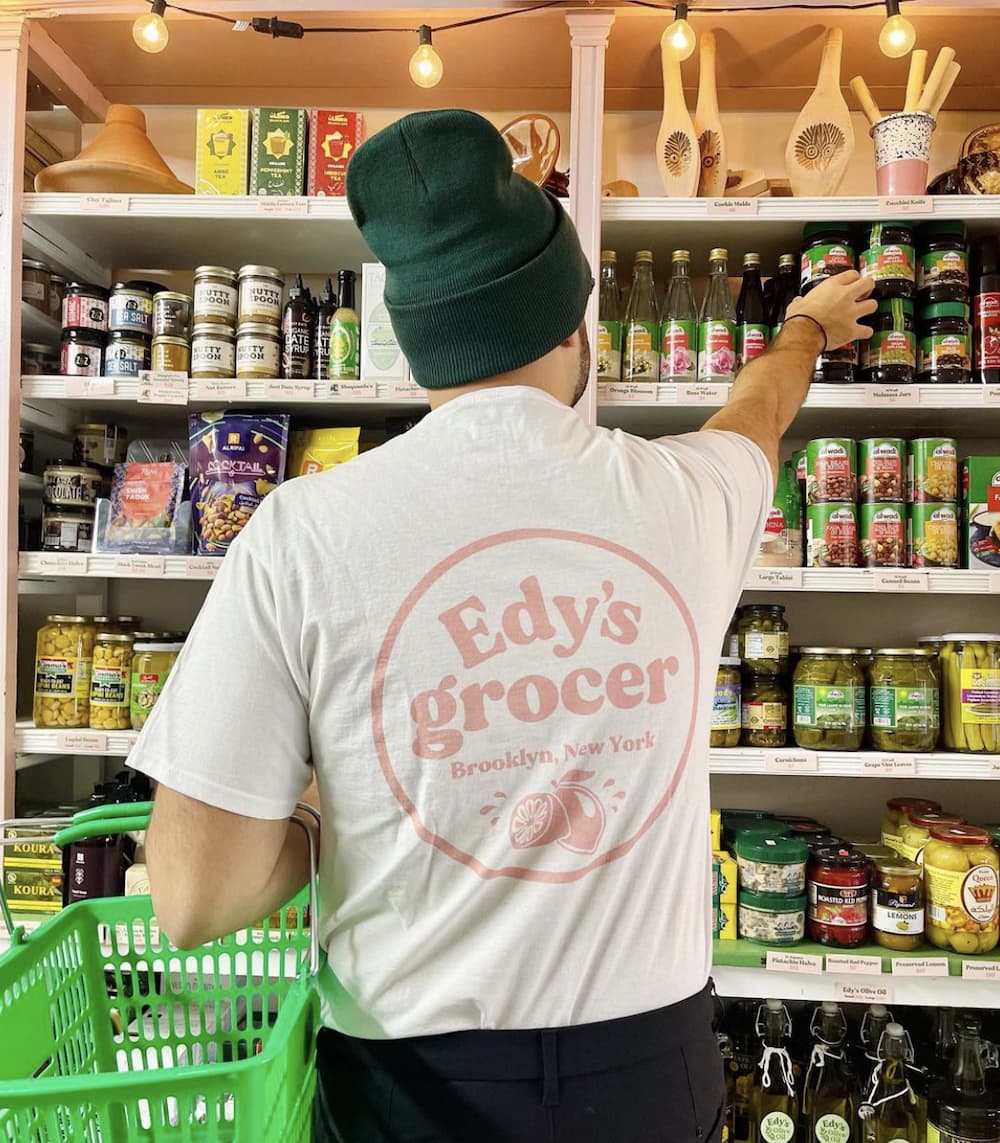 Source: @edysgrocer on Instagram
10. Be "punny."
Who doesn't appreciate a good pun? Consider whether there are any puns that tie into your company name, products or services. Keep in mind what's appropriate and relatable for your customers.
Example: A craft store prints a T-shirt saying, "Sorry. Can't make it. I'm sew busy."
Purchase T-shirts in bulk for a better return on investment and to keep stock on hand.
Custom T-shirt design tips
When you're investing in T-shirts, make sure people will want to wear them. Here are some quick design tips to help you create a shirt people will hold onto and proudly wear for years:
Order samples of several shirts to assess fabric comfort and the cut of each shirt. Then, go ahead and choose your favorite!

Create a design that vibes with your brand. Keep your brand colors, fonts and personality in mind. That said, if you're creating a limited edition design, feel free to break the mold a bit, especially around holidays.

Don't skimp on print quality. If you do, your design may crack or wear off over time.

Choose a shirt color that complements your design and lets it pop. Light print needs a dark fabric color and vice versa.

Remember, it's fashion. Ask yourself whether you would wear the design. If you don't fit into your target customer base, then ask a couple of people who do for their opinions on the design aesthetic before you get your T-shirts printed.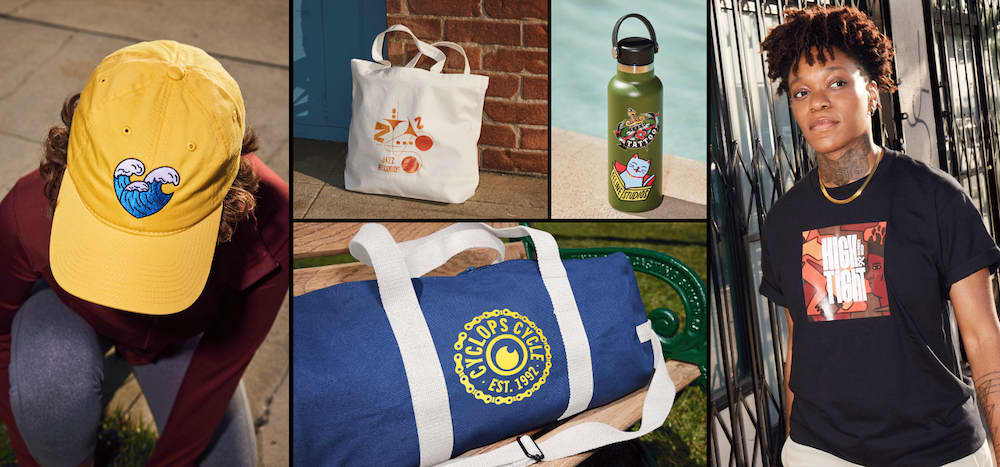 Let your T-shirt quote ideas and custom designs multi-task. Try them on a reusable branded tote bag or other promotional products.
Printing unique T-shirts that your customers and employees love helps them to help you! As they wear them, your brand not only remains at the top of their mind but will also spread greater awareness.