Estimated reading time: 5 minutes
It's always exciting when someone you love announces they're expanding their family — and doubly as exciting when they're welcoming twins. As a close friend or relative, you want to do everything possible to ensure the family feels celebrated and loved. Hosting a baby shower offers the perfect opportunity to support the parents-to-be and ensure they're stocked up on the necessities before their babies arrive.
Of course, planning and hosting a shower for a loved one takes a lot of creativity and logistical consideration. Fortunately, with inspiration from a few practical twin baby shower ideas, double the babies doesn't have to mean double the stress.
Here are a few tips and ideas to help you throw a festive and memorable twin baby shower on any budget.
Choosing a twin shower theme
Coming up with a theme for a baby shower can be challenging. Fortunately, there is no shortage of adorable twin baby shower themes to choose from. Jumpstart your creativity with the following suggestions:
1. Tea for two.
A tea party is a charming way to celebrate any occasion, especially a baby shower for two little ones. Lean into this theme by serving up platters of finger foods — like tea sandwiches, fruit tarts, macarons, petit fours and crumpets with jam. Brew a variety of teas to serve in delicate cups and saucers, and decorate with whimsical colors and bright floral bouquets.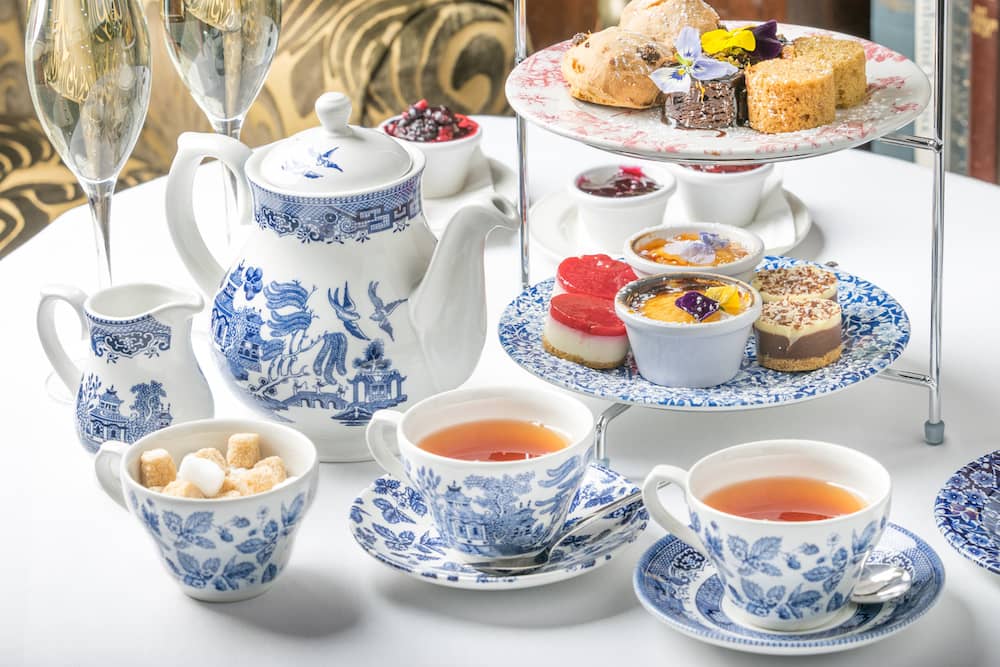 2. Two peas in a pod.
If you're looking for cute gender-neutral twin baby shower ideas, "peas in a pod" can be a fun option. Choose a soft green color palette and opt for lots of gardening or farmer's market style decor, like checkered tablecloths, wooden crates filled with snacks and fresh preserves in tiny jars as party favors.
3. Seeing double.
Having a set of twins means doubling everything. So, why not make that the theme itself? For this idea, set up everything in twos — two identical balloon arrangements, two charcuterie boards or snack tables, two small cakes instead of a larger one and arrange all decorations in pairs.
Creating a guestlist and sending invitations
Next, work with the parents to create a shower guest list. The size of the shower depends entirely on how many people the parents want to invite, but keep your budget and venue capacity in mind.
Some showers only include immediate family and close friends, while others are larger affairs with extended family, neighbors and co-workers. Because parents of twins often need twice the items, you may want to err on the larger side for this event. (After all, the more people you invite, the more gifts the new parents should receive.)
Once you've solidified the guest list, it's time to select baby shower invitations. Be sure to choose invites that reflect the theme. This helps maintain a cohesive aesthetic and ensures people know what to expect. For example, if you're hosting a high tea, guests may want to dress differently than if you're having a more casual affair.
There are plenty of opportunities to get creative with your invites. But, to save time, consider customizable designs and templates.
Not sure where to start when it comes to baby shower invites? VistaPrint offers hundreds of professional designs for nearly any theme or style. Simply select a design or upload your own, make your edits, choose custom finishes and your invitations will be shipped right to your door.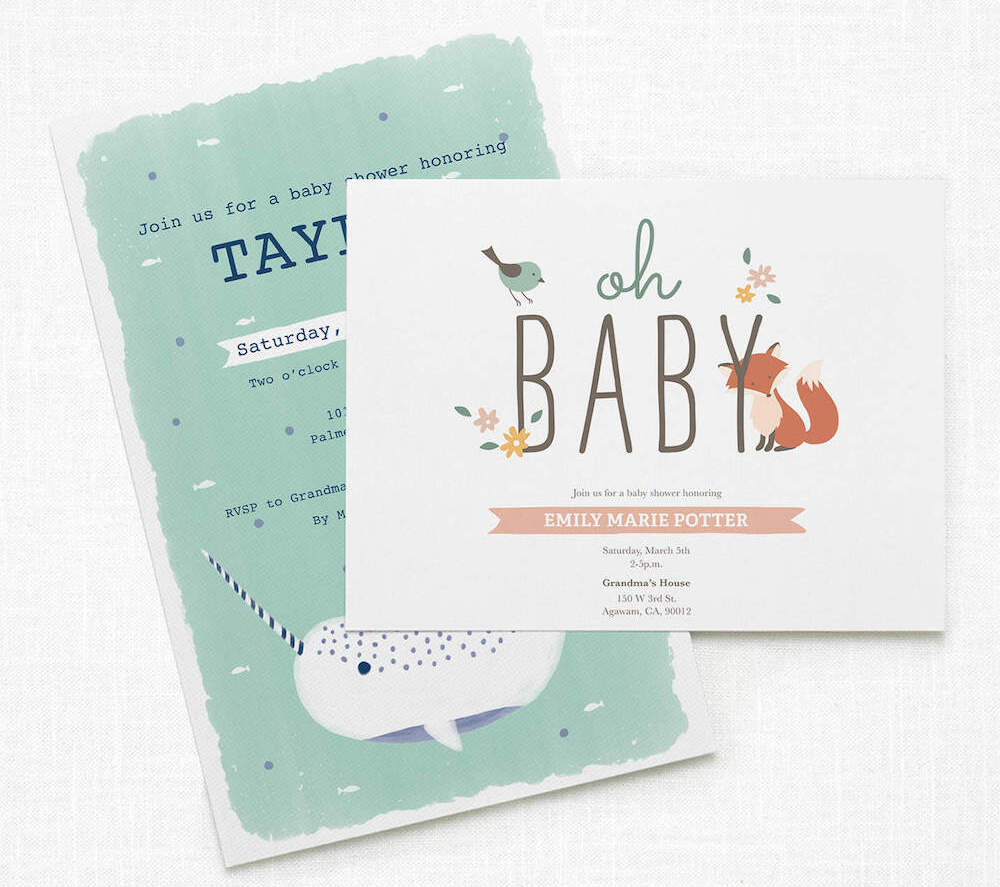 Planning games and activities
While activities aren't required, planning a few baby shower games can help break the ice and make the event a more memorable experience.
For example, you could host a twin trivia game with stats and facts about twins or questions about famous twins in pop culture. Or, you could play gift bingo, where guests write down all the gifts they predict the parents will receive and mark them off as they're opened. Whatever games you select, just be sure to choose prizes any winner can enjoy — like a gift card, potted plant or coffee mug.
In addition to games, ask everyone to sign a guestbook or fill out designed cards with well-wishes for the babies.
Picking decorations to reflect your twin baby shower ideas
Baby shower decor can run the gamut — from minimalist and simple to extensive and elaborate — depending on the style of the event and how much you'd like to spend.
If you're working with a smaller budget, stick to DIY options like tissue paper pom-poms, crepe paper streamers and local wildflowers in glass jars. If you have a larger budget, you might incorporate themed photo backdrops, balloon arches and custom floral arrangements. Decorations can add up quickly, so be sure to set a clear budget ahead of time.
A custom vinyl banner brings a unique, festive touch to a twin baby shower and can fit into almost any budget.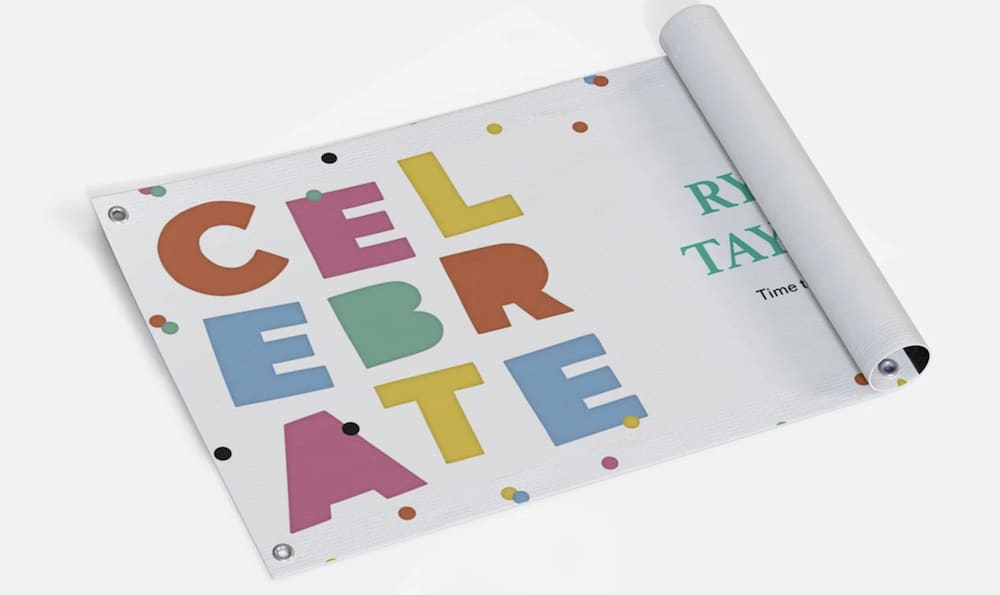 Whenever possible, consider incorporating items you already own or purchase reusable decor — like fabric tablecloths and runners, glassware and standard tableware and cutlery. Not only is this more environmentally friendly, but it can help you save money. And you can keep reusable decor for the next event you host.
Overall, throwing a shower for twins doesn't have to be an overwhelming or stressful experience — especially when you let your creativity take the wheel and have a little fun. By leveraging these twin baby shower ideas and considerations, you can make it an extra-special day for the parents and those who love them.