Swoon-worthy invite themes
Skip to Make it a date
Defining your wedding vision is the first step. From timeless to trendy designs, find the invite that brings yours to life.
Make it a date
Skip to Stationery & wedding suites
Send save the dates showcasing tender moments and details that perfectly match your style. It's like you and your sweetheart, in stationery form.
Stationery & wedding suites
Skip to next section
Discover all the stationery you'll need to spread your happy news and keep guests informed – with oh-so-many ways to customize.
All the fun before "I do"
Skip to Delightful day-of decor
There are so many reasons to celebrate ahead of the big day. Shop cards, invites and more for every pre-wedding party.
Delightful day-of decor
Skip to next section
Here's how you create a breathtaking scene – with gorgeous signs, matching menus and more.
Get inspired to plan a magical day
We've gathered the best advice and insider tips to help guide you through this exciting (and busy) season.
Let's make your wedding stationery look beautiful, and feel authentically you.
Whether you've just begun wedding planning or are ready to order your wedding cards online, our wedding collection makes it easy to be 100% yourself. Our wedding card designs draw from the most popular trends and themes, so it's easy to find something that feels fresh and fits your vibe (and yes, your budget too). In our design studio, embrace your style even more by customizing any template with your pick of luxe details – think pretty papers, glistening foils and scalloped borders.
For a truly personal touch, consider a custom illustration. Working with our Design Services, you can request a one-of-a-kind illustration of your wedding venue, you and your SO, your pet and more. Once your illustration is done, we'll print it on your wedding stationery. And if you have any questions along the way, our support experts are here to help. After all, saying "yes" was easy. Every step of wedding planning should be too.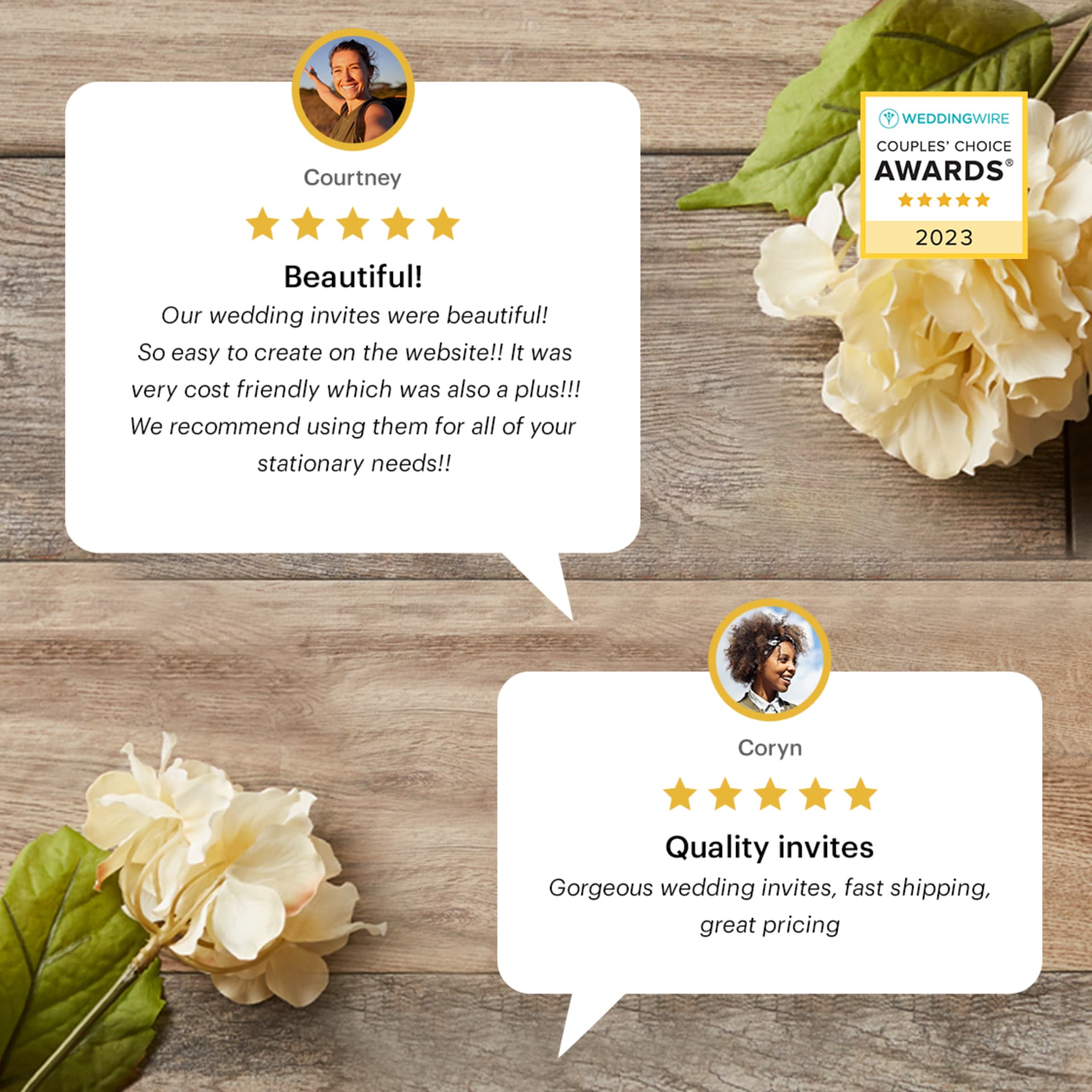 Made by you, #MadeWithVista
We love to see your custom creations. Post a photo on social media and add @VistaPrint and #MadeWIthVista for a chance to be featured here.
Frequently asked questions
It depends. If you're kicking off wedding planning by sending out save the dates, check out these examples for inspiration. For wedding invitations, we recommend including a request to attend, the couple's names, the location, the date and time and the reception details. Basically, all the details your guests will need to come and celebrate your love. And if you want to send a token of appreciation to your guests after the party's over, these thank you card wording tips are sure to help.
For wedding invitations specifically, a few details are better left unsaid. We recommend leaving out mentions of gift registries and pre- or post-wedding events – this information is best shared by word of mouth. Also, if you're planning on having an adults-only celebration, it's best to communicate this subtly. One way is by addressing your envelopes only to the individuals who have been invited.
That's up to you! Whether you're looking to include florals, rustic borders, classic fonts or even a custom illustration of your venue, our wedding collection has plenty of design options for you to choose from. And if you already have an idea in mind, filter our personalized wedding cards by style, size or color to find your favorite.
Not necessarily. While it's common to coordinate colour palettes and designs across save the dates, wedding invitations, thank you cards and more, there's no pressure to match everything. However, if you do want to create a coordinating look, you can easily extend your wedding invitation design to match all of your paper essentials.
Yes. Addressing your own wedding invitations by hand is definitely an option. However, if your guest list is long, this can take a good chunk of time out of wedding planning. With our custom envelopes, you can design and print addresses directly on high-quality paper stock and send them to everyone on your list.
There are no rules as to what wedding stationery you need for your big day – that depends on you and your SO! However, we recommend a couple of different combinations:
A classic wedding stationery suite including a save the date card, wedding invitation and RSVP or enclosure card. Also, wedding programs and menus for guests to hold on the day of.
A digital-friendly option that features a QR code on your physical wedding invitation, linking to your wedding website. With Vista x Wix, you can easily create a beautiful website that can be the home for all your nuptial correspondence – think online RSVPs, gift registries, reception details, your punny wedding hashtag, you name it. With this option, we recommend adding on a save the date card (or even one of our customizable save the date magnets) to send ahead of your invite. Wedding programs and menus are always good to have, too.
As an addition to either of the above, we recommend including wedding thank you cards to show your guests just how much you appreciate them being a part of your special day. (A chance to show off those stunning wedding photos, too.)
Ordering our free wedding sample kit is a great way to explore a variety of stationery and determine what works best for you.
---