Estimated reading time: 5 minutes
Picture this: One of your loyal customers goes to collect their mail and is delighted to find a package from your business adorned with custom labels. Instantly, they recognize your brand and are excited to reveal what's inside. That brand recognition and positive customer experience can go a long way. In fact, different types of labels can help take your business branding to the next level.
Let's take a closer look at the different types of labels available and how they can be used effectively in your marketing mix.
Roll labels
If you're ready to go a little sticker crazy, roll labels are perfect for high-volume situations, such as giveaways, product mailings or stickered check-out packages. They're a great choice when your goal is to maintain professional consistency on bags, boxes, jars and custom packaging in a cost-effective way.
There are a lot of ways to personalize roll-style labels with your brand colors, logo, contact information and more. Labels are often available as round, square and rectangular stickers in various sizes and finishes, ranging from paper and plastic to the high-end feel of gold foil.
A beauty retail and spa business, for example, might add a sticker to every bag they pack with products, carrying the serene experience beyond their doors. Fitness classes can offer stickers to die-hard customers to affix to their water bottles to stay top of mind and benefit from additional exposure.
Product labels
Product labels are a flexible option branded to your business. While they add a certain flourish, they also make it easy for customers to find everything from product names and ingredients to usage details.
With a wide range of options in sizes, colors and finishes, product labels can show customers that you bring the same level of care and professionalism to everything you sell.
Use product labels in a store setting to make your handcrafted products instantly discoverable and recognizable. A vivid, crisp label can help bring candles, food products and dry goods to life. A gardening business can affix every pot or plant they sell with a custom label that tells buyers what they're getting and remind them of best practices for plant care.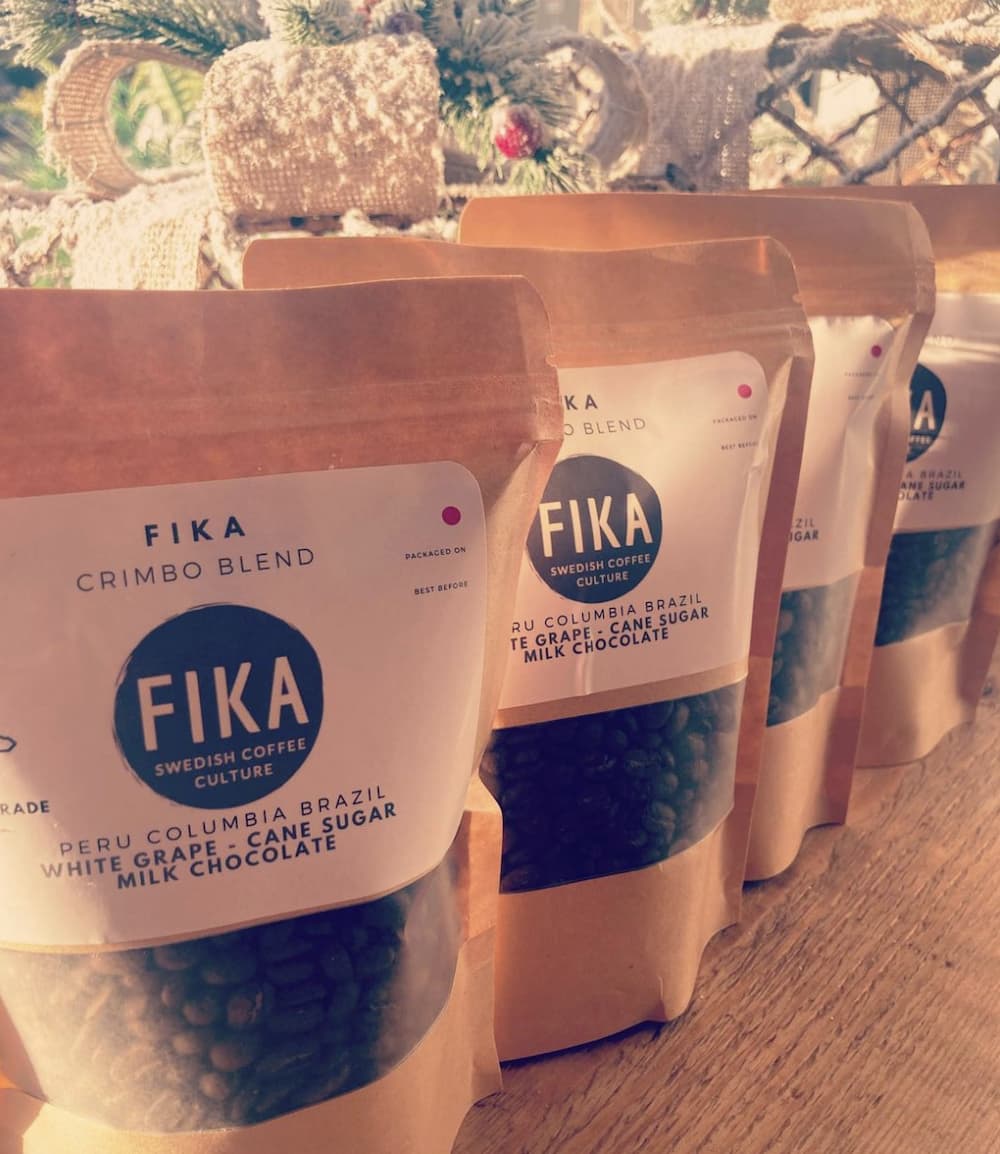 Source: @fikacoffeeliverpool on Instagram
Food and beverage labels
Whether you're a specialty shop making locally sourced food and beverages or you simply carry snacks as part of a wider inventory, food and beverage labels help bring your offerings to life.
Food and beverage labels can be customized to the type of packaging, including jars, bottles, cans and more. Brands can design stickers that stand out with their logo and colors and further drive home their customer experience with touches such as a glossy or matte finish.
Businesses can be creative in how they use food and beverage labels. An organic brand might choose food packaging labels that highlight their certified organic status and ingredients to speak directly to their customers. An events firm that's hosting a dinner might choose branded wine labels for a pulled-together experience that extends to the event's food and beverage.
Source: @byrdsnestbox on Instagram
Mailing labels
Don't let your packages and letters get lost in the mail! Custom mailing labels help you save time and effort while keeping a cohesive, branded look on all your outgoing marketing, mailings and packages.
Return labels make it easy to get mailings out, while branded mailing labels feature your logo or color and can be easily hand-addressed or printed for a professional flair. An envelope seal or packaging label adds a personal touch in unexpected places.
E-commerce businesses can have a full packaging experience so that every element of the products they send out creates a sharp, unforgettable brand experience. Real estate firms, lawyers and other high-volume marketers can put their brands front and center on mailings so they don't get overlooked.
Choose a labeling option that stands up to weather conditions with waterproof labels.
Hang tags
Get an upscale, flexible look for your products, displays and packaging with hang tags. Add your own touch by customizing the shape, size, paper and finish of tags to match your brand.
With custom hang tags, it's easy to feature what makes your products special. They let you display care instructions, pricing, product names and more while adding a special touch to packages or products that customers won't miss.
Draw the eye to specialty products in a sports and fitness setting, or make it easier for customers to navigate through fashion items on their own with carefully placed hang tags. Businesses that want to add custom touches to bags with gift certificates or small purchases — such as nail salons or pet grooming companies — will find a hang tag to be an easy, classy addition.
Leveling up with labels
In the world of branding, attention to labels can help bring your business to life. Different types of labels allow you to sprinkle brand magic at every customer touch point, from the packages you mail to the products you feature. Explore how labels are a cost-effective way to level up your customer experience.