Estimated reading time: 4 minutes
Most people today spend a significant chunk of their waking hours looking at screens. They rely on digital devices to communicate, order goods and services, keep themselves entertained and so much more. So, when you hear print marketing is still one of the most reliable methods for broadening your customer base and expanding your brand, you might be skeptical.
But if you're wondering how to promote your business locally and get the most bang for your buck, the numbers don't lie. Consumers are 1.7 times more likely to recall print messaging than digital messaging, according to Newsworks, and 152% more likely to pay attention to a print ad than a digital one.
Plus, when you're looking to promote your business locally, leaving flyers around town or putting up posters in high-traffic areas can show that your business is invested in the community and reaching out as a friendly neighborhood establishment. Of course, that's not to say digital efforts don't also yield impressive results — but leaving print out of your marketing mix can significantly limit your reach.
Here's why print remains a powerful force and how you can use it to grow your business.
Why print is still prime
For decades, experts have been predicting the death of print — and they're almost always wrong.
For example, when e-readers exploded in popularity throughout the early 2000s, many anticipated the imminent death of physical books. Yet, U.S. publishers continued to successfully sell books, even seeing a notable uptick in sales.
So, why do people continue to choose print when digital media is so easily accessible? It may be because people tend to comprehend information better when it's presented in print than in a digital format and because print typically comes with fewer distractions than digital media. Not only that, but a printed brochure or custom business card has a more personal, human element to it that helps make a lasting brand impression on a potential customer.
In other words, using print to communicate with your audience can help ensure prospective customers understand your message and remember your brand.
5 steps to promote your business locally with print
Here are five ways you can engage your audience and earn new customers using printed materials:
1. Hand out custom business cards.
People usually ask four questions when they meet a business owner:
What's your name?
What do you do?
What's the name of your business?
How can I find you?
Well-designed business cards succinctly answer all of the above while also offering a glimpse of your visual brand. A business card also serves as a physical reminder for a prospective customer to visit your website or storefront, connect with your brand on social media or take another action based on your conversation. By keeping a few business cards handy at all times, you can help transform more chance encounters into professional relationships.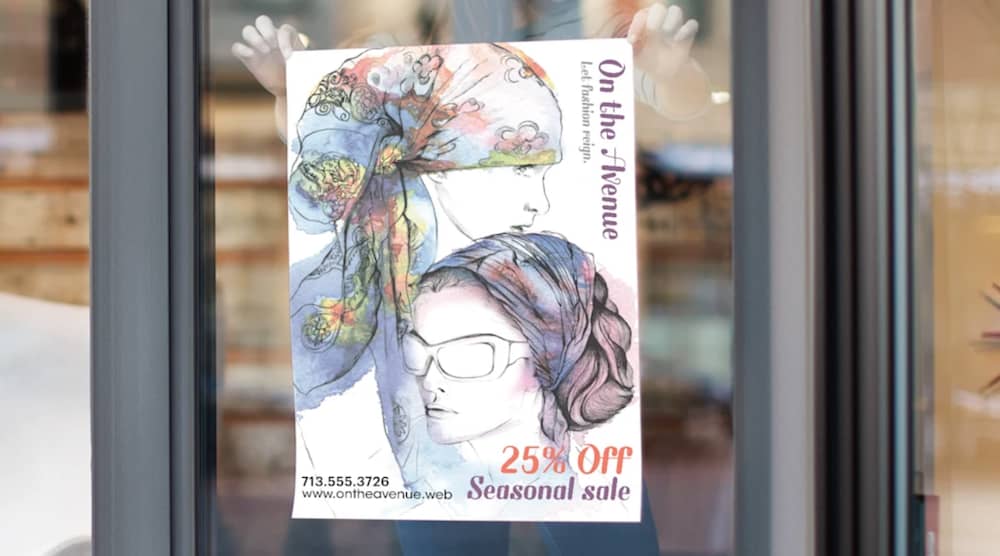 2. Hang posters ahead of events or sales.
Whether you're hosting an event, getting the word out about an upcoming sale or preparing to launch a new product, posters are a simple and cost-effective way to grab your audience's attention and communicate short messages. You can easily hang posters in your storefront windows or other high-traffic spaces and swap them out as needed.
Aside from posters, other signage options like window decals, A-frame signs and bumper stickers are all some of the best ways to promote your business and what it has to offer.
3. Pin flyers to community bulletin boards.
Bulletin boards are an excellent place to connect with people who need your products and services — especially those new to your area. Consider printing several flyers with details about your offerings or events, and keep them on hand for the next time you come across a public bulletin board in a community center, clubhouse, supermarket or library.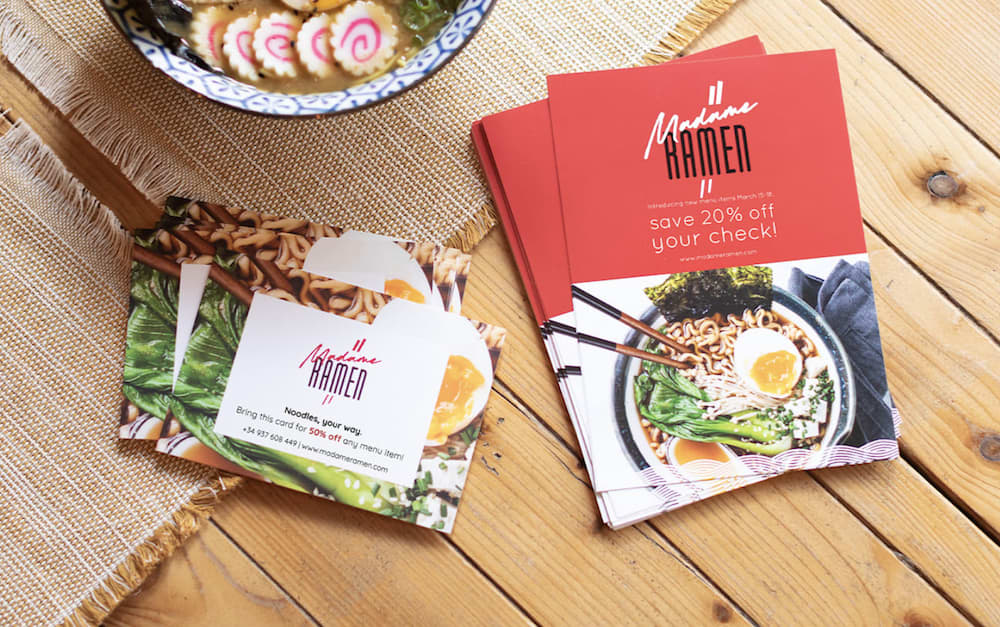 4. Pass out pamphlets or brochures.
From menus and service lists to cost breakdowns, processes and product details, sometimes you need to convey more information than you can reasonably fit on a poster or flyer. Brochures and pamphlets allow you to present everything you want to share in a compact format that people can easily slide into a pocket or bag. This print asset is great to pass out at job fairs and expos, stack near your checkout area or stuff inside mailers.
5. Reach out to local print publications.
Have you contacted a local publication and asked them to share your story or write a feature on your business? If not, you could be missing out on a significant opportunity to establish brand recognition within your community. Think about what makes your business unique and attractive within your neighborhood — for example, you might operate as a zero-waste company or donate a portion of all profits to a local nonprofit — and tell your story for all to hear.
If you're considering how to promote your business locally, it's time to prioritize print media in your marketing strategy. By spreading your budget across print and digital marketing, you can capture a broader audience and foster good vibes within your community that will help keep your brand top of mind.