Estimated reading time: 5 minutes
You've put in the work, made investments and taken steps to launch your small business. Now, it's time to make sure customers can find you. Like most small business owners, you want people to discover you both in person and online.
In their moment of need, most people use their phones, tablets or computers to search for products and services. One of the most effective ways to get found online is through search engine optimization (SEO). The term may sound complicated, but the concept is simple: Make your website easy for search engines like Google to find. Small business SEO skills will help you grow into a more successful business owner by increasing relevant traffic (i.e., potential customers) to your website. Follow this guide, and you'll be well on your way to helping customers find your business online.
How SEO works
When you look for something online, chances are you use a search engine. Search engines take the words you entered into the search box (your search term) and, with lightning speed, serve up relevant websites as search results. To do this, search engines must constantly index websites. Their bots, often called spiders because they crawl the web, follow links between pages and index website content to use for search results.
Your job as a small business owner is to make sure your website is discoverable and easy to crawl so it can be indexed by search engines. You can do this manually by creating and submitting what's known as a sitemap, but many of today's small business-friendly website builders come with built-in SEO tools.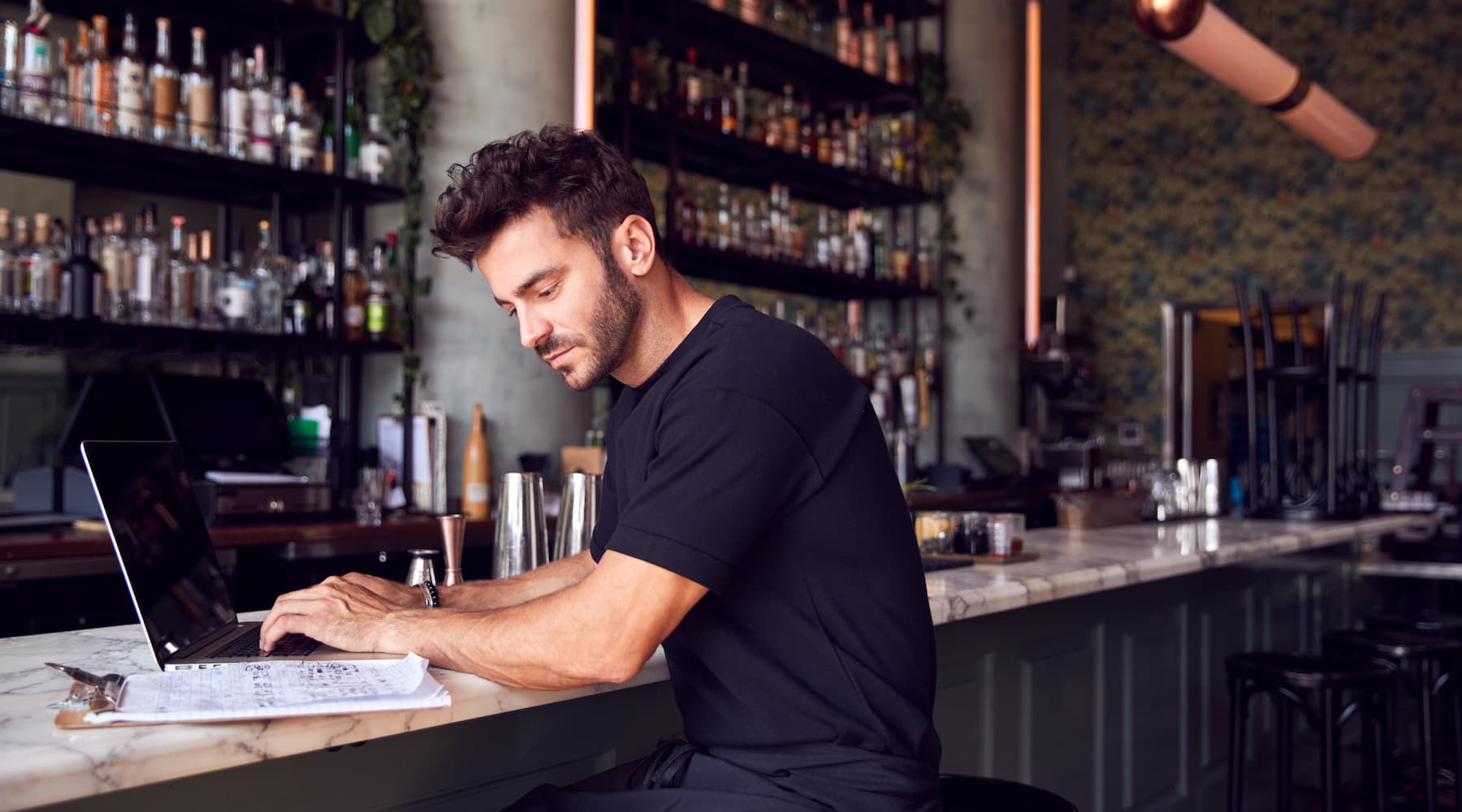 Before diving into SEO tips for small business owners, it's important to understand "rankings." This term relates to your website's location in search results for specific search keywords. You want to rank for search terms, or keywords, that are relevant to your business. Let's say you're a plant nursery. You might want to rank for the keyword "where to buy plants." To get more relevant visitors, you can get more specific. For instance, if you're a tropical plant nursery, then you'd want to rank for "where to buy tropical plants." And by targeting keywords that include your specific location, such as "where to buy tropical plants in Austin," you'll reach the best potential customers in your area.
Simply put, the higher you rank for a keyword, the higher your website shows up in search results. Ranking on the first page is likely to boost your website traffic and yield higher-quality site traffic.
6 best practices for small business SEO
These are some easy ways any small business owner can boost their online presence and generate more web traffic using SEO — even when first beginning their digital journey.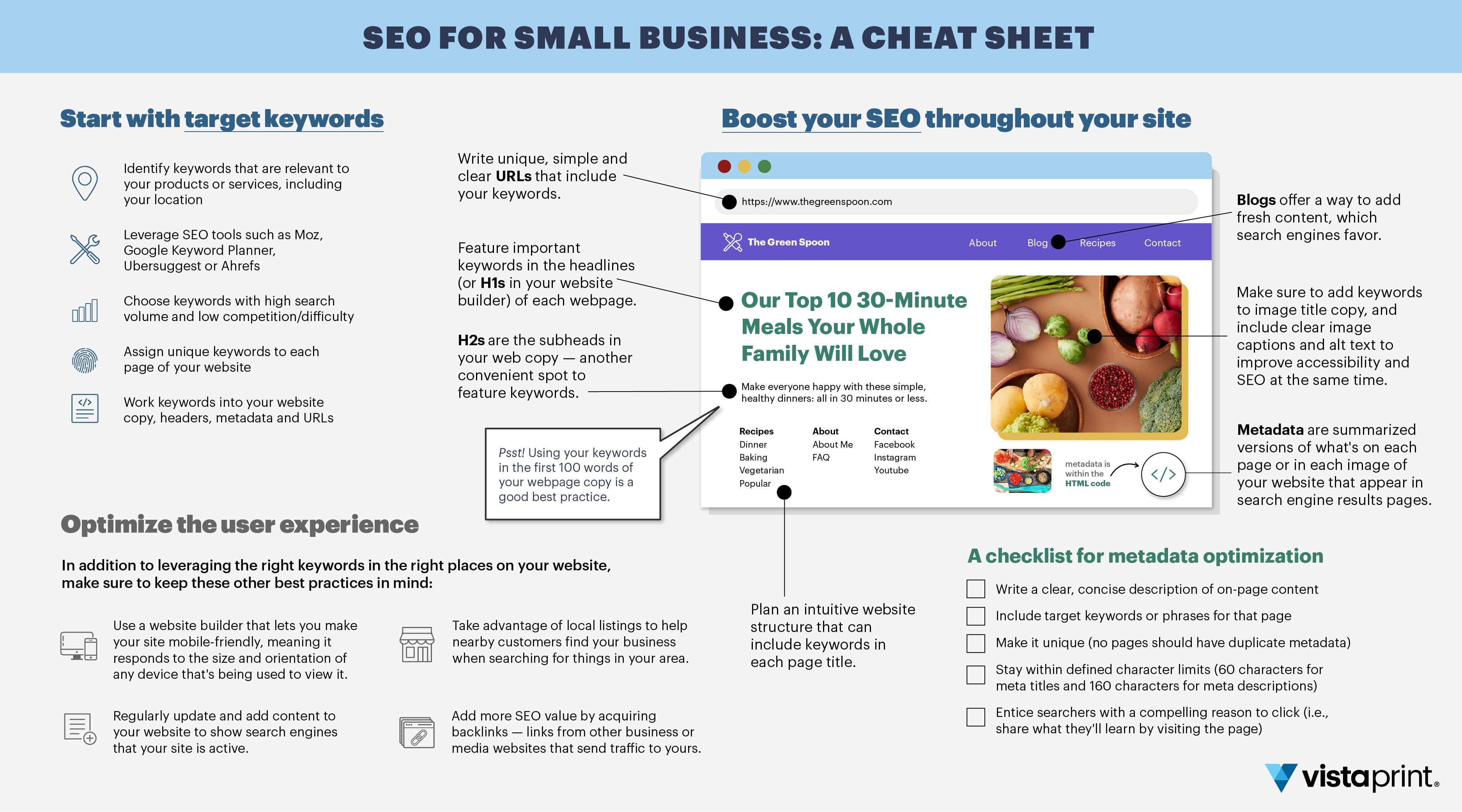 1. Add target keywords to strategic areas of your site.
Consider which words people would use to search for your products and services. Write down a list and add similar phrases that relate to your industry, services, products and related topics like "how to's." Then, use an online keyword tool to look up their search volume, see how popular each term is and weigh the competition. Common SEO tools include Moz, Google Keyword Planner, Ubersuggest, Ahrefs, Answer the Public, Google Trends and more.
Once you identify your most important keywords, you can use this information to boost SEO. Work these phrases into your web copy on various pages of your website — especially as part of your URLs and in headers (you'll see these referred to as H1, H2 and H3 tags in your website tool). As you research relevant keywords, you may even realize there's an opportunity to add more helpful pages. As you do, make sure each new URL is clear, concise and contains your keywords.
2. Optimize your metadata.
Metadata are summarized versions of what's on each page of your website. As a web user, you often see these as search results. To make it more likely that a search engine will serve up your website and that a user will click on the result, include your most important keywords in the meta title and meta description of each web page. You can also add image descriptions to boost these efforts. All of the above is available to edit within most popular website builders today.
Also look for "image alt text," which is not only an opportunity to improve the accessibility of your site for those who are visually impaired by describing what the image shows, but also another chance to include keywords. Here's a brief checklist for writing your metadata:
Write a clear, concise description of on-page content
Include target keywords or phrases for that page
Make it unique (no pages should have duplicate metadata)
Stay within defined character limits (60 characters for meta titles and ~160 characters for meta descriptions)
Entice searchers with a compelling reason to click (i.e., share what they'll learn by visiting the page)
Don't get bogged down by SEO terminology. Vista x Wix lets you answer simple questions about your website, location and keywords to receive a personalized SEO plan.
3. Make your site mobile-friendly.
Today's consumers shop any time and any place, often via their smartphones, so mobile-friendly websites are essential. To be mobile-friendly, a site design must be "responsive." This means it adjusts to the size and orientation of any device that's being used to view it. Responsive sites are easy to navigate whether using a phone, computer or tablet. Not only will a mobile-friendly website make your business more accessible to customers, but it can also improve your SEO. Search engines like responsive websites because they typically load more quickly, so use a website builder that allows you to edit your mobile view.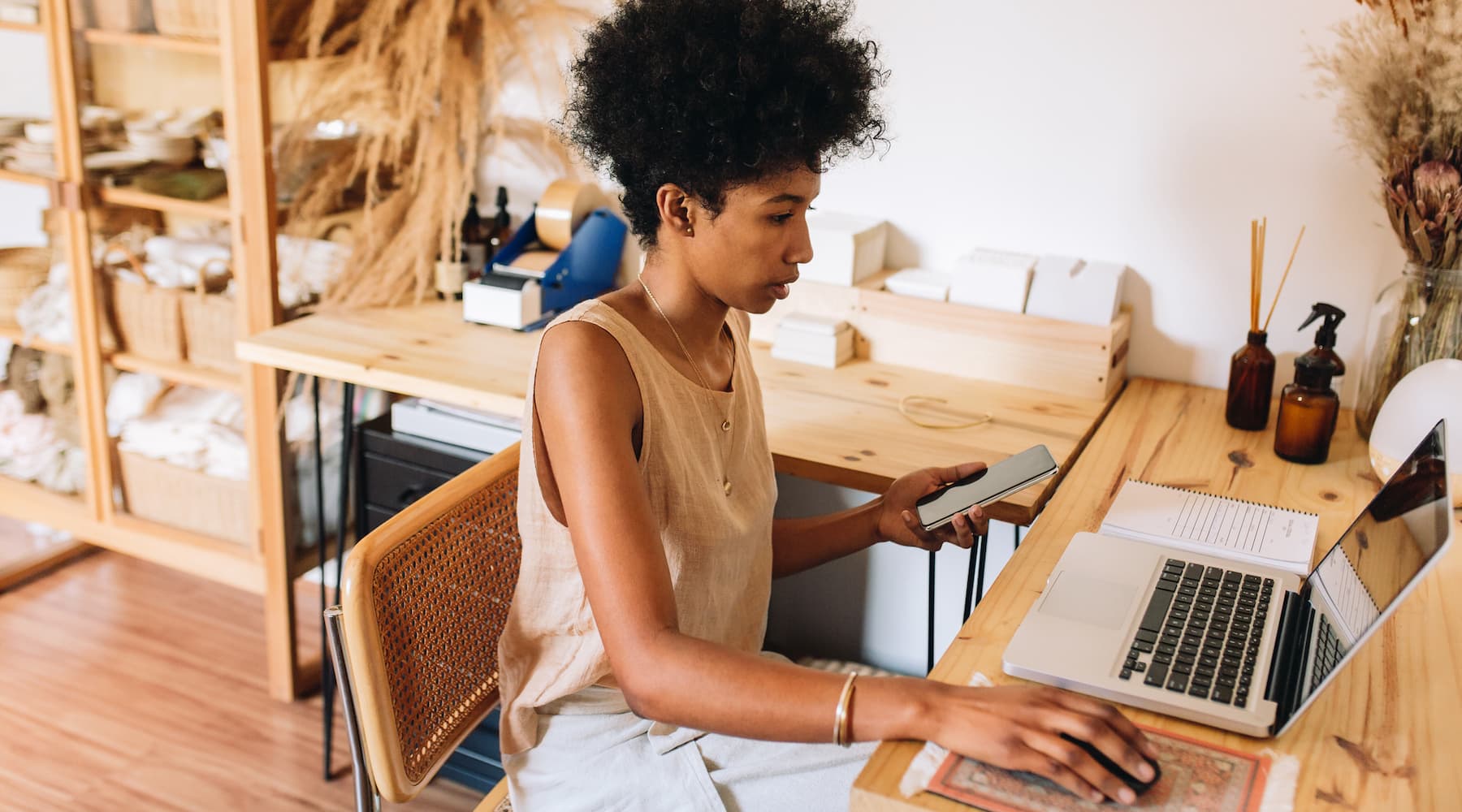 4. Take advantage of local listings.
Another way to boost SEO for small business is by managing your local listings. This will help local customers who are near you find your business when they're searching for things in your geographic area. Although small business owners can set up their own local listings, the process can be time-consuming — especially when you need to make updates. Make sure this important task doesn't get forgotten among competing priorities.
5. Regularly update and add content to your website.
New content shows search engines that your site is active. This gives them confidence in serving it up to searchers. Plus, as you add content, you likely include new links, which weaves a more intricate web for bots to crawl. Including a blog on your website is a good way to simplify regular updates. Remember to use your keyword research to optimize new web and blog content.
6. Add SEO value by acquiring backlinks.
Backlinks are links from other websites that send traffic to yours. As you build relationships with other businesses and media sites, ask them to share links to relevant pages of your website (and consider reciprocating). As more websites add links to yours, search engines can use those links to crawl your site. Plus, you're proving to search engines that your site has value, which can boost your rankings.
Congratulations on learning these new SEO skills! Now put them into practice to take your business — and your success — even further.