Estimated reading time: 5 minutes
You know you're more than willing to go that extra mile for your customers. But do your customers? Luckily, there's an easy, affordable way for you to show your fans how much you care about them: small business thank you cards.
Think about the last time you received a handwritten note in the mail. From the moment you opened the envelope, you knew the time and care that went into that heartfelt message. Small business thank you cards enable you to tap into those feelings of closeness to grow stronger customer relationships.
Intrigued? Let's take a look at why thank you cards work as an effective post-event follow-up strategy and how you can use them to enrich your customers' experiences with your brand.
Why you should use small business thank you cards
Whether you've just attended a local event or landed a new customer, thank you cards are a great way to remind people of your brand while taking the opportunity to express your appreciation. Plus, they also pave the way for future opportunities to engage with customers.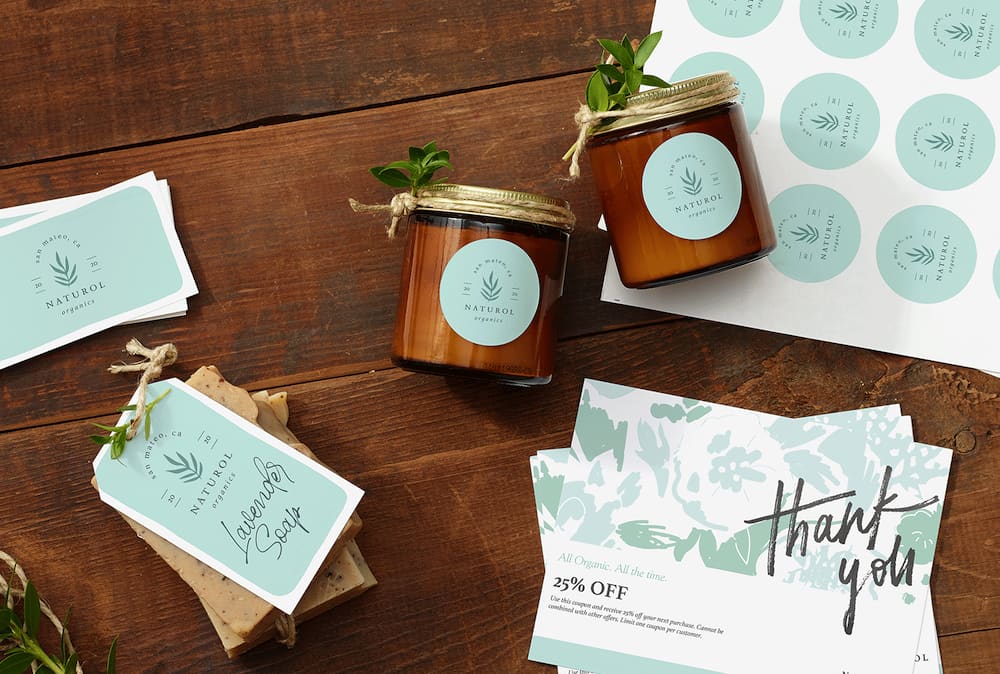 With small business thank you cards, you can:
Build brand loyalty. A loyal customer is a valuable customer. In a recent survey, 56% of consumers said they'd spend more on a brand they're loyal to, even if there were cheaper options. Thank you cards show that you care, which will increase the changes of building brand loyalty that lasts.
Add a personal touch. Everything's digital these days. A personal, hand-crafted thank you card will go a long way in helping your brand stand out from your competitors. Plus, your customers or event connections will feel more appreciated than if they receive a generic thank you email.
Enhance the customer experience. A personalized experience with your brand can leave a lasting impression that event attendees or customers will remember or share with their friends and family. When your thank you cards include discount codes or links to your social media profiles, that branded experience grows even further.
3 ways to use thank you cards after an event or purchase
Ready to reap the benefits of using thank you cards as part of your marketing or event follow-up strategies? Here are three ways to leverage the power of the small business thank you card:
1. Build connections with a tangible sign of appreciation.
In an increasingly digital world, consumers everywhere enjoy receiving physical mail. It's exciting, after all, to receive "snail mail" that's not a bill or an invoice!
Small business thank you cards let you tap into this enjoyment, all while building your connection with event attendees or customers in an unexpected way. With a physical keepsake, your brand can still be top of mind in the weeks after they've attended your event or purchased your products or services.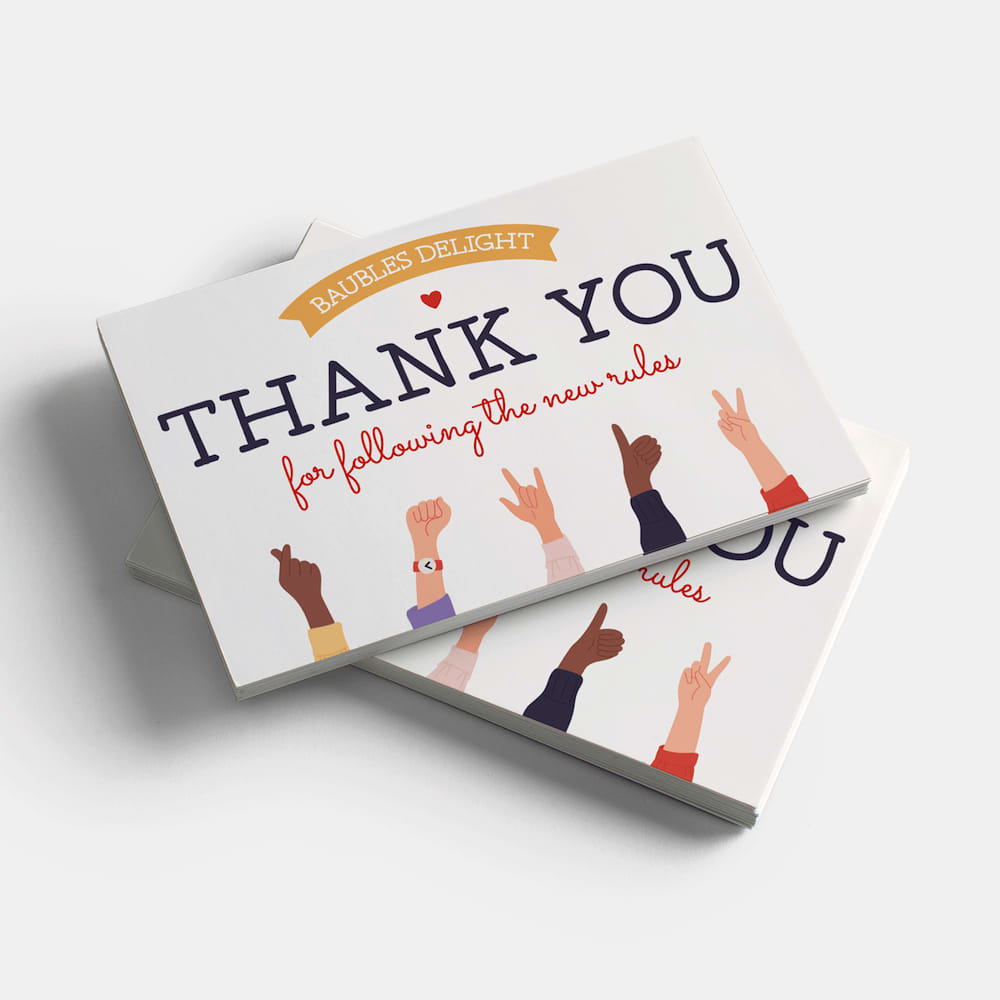 However, just because your thank you cards are physical doesn't mean you can't connect them to your digital presence. For example, after a "pamper party" event, a beauty spa could include thank you card with a link that leads to an online tutorial for creating an at-home spa moment.
To make it easy for customers or event attendees to follow up with you, use QR codes on your thank you cards that can be instantly scanned to visit a branded experience.
2. Use postcards to tap into connection opportunities.
Postcards have made a real comeback in the world of marketing. For good reason, too: Custom postcards are highly collectible and evoke a sense of nostalgia that appeals to customers across all demographics. With cheaper mailing costs, and the ability to create visually appealing designs that are on brand, a thank you postcard can be an effective way to connect with your customers post-event.
The more eye-catching your design and thank you message, the more likely your customers will create social media posts featuring your postcard (and your brand).
Postcards also provide a great opportunity to include special promo offers on one side. For example, a bakery could send customers a postcard after a cupcake-tasting event that includes a discount code for the featured baked goods on one side, and an irresistibly mouth-watering image on the other.
3. Handwrite your note for an extra- special touch.
If you want to make an extra special impression, handwrite your post-event thank you notes. Consumers don't receive a lot of handwritten mail anymore. This means your handwritten thank you card will stand out from all the other mail your customers receive.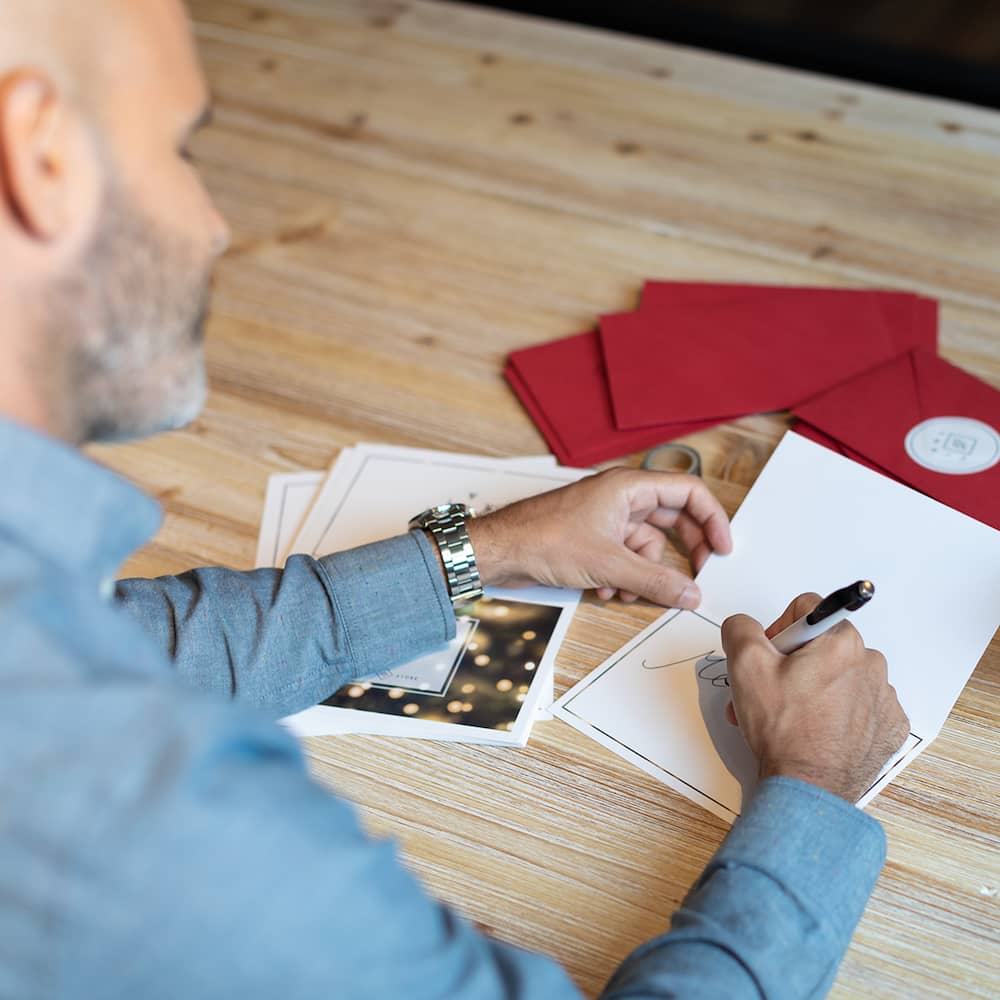 A handwritten note also adds a highly personalized touch to your messaging, and for today's customers, personalization has a tremendous impact. According to Epsilon, 90% of consumers find personalization "very or somewhat" appealing, and 80% say they're more likely to purchase from a brand that offers them a personalized experience.
Turn your customers into lifelong fans
Small business thank you cards are a simple but powerful way to stand out from your competition and make meaningful connections with your customers. Harness the power of thank you cards to go that extra mile and create a memorable post-event experience for your most valued fans. In doing so, you'll also build a loyal following who are passionate about your brand and excited to spread the word to their family and friends.