Estimated reading time: 6 minutes
Unique business cards can stop recipients in their tracks. The texture, design and how they weave together can instantly evoke feelings that a brand is the pinnacle of personality and professionalism — ready to deliver nothing but the best. If you've been searching for unique business card designs that can do the same for your brand, you're in the right place. Get ready to elevate your brand with premium business card options that separate the best (that's you) from the rest.
Know that materials matter.
A business card's very foundation is the material on which it's printed, so why not begin with luxury materials that make an impression from the very first touch?
Do you run a CPA firm with a no-nonsense, streamlined approach to small business taxes? Consider a business card with a matte finish for a no-nonsense approach. Or, do you own a custom body shop known for its restoration work on classic cars? Go for an extra thick business card that's as durable as your work. Perhaps, a fashion outlet might find a linen business card perfectly captures its understated yet elegant image.
From cards with a soft touch to those with a bright and glossy finish, unique business cards start with the very paper they're printed on.
For example, Loulette Bride, a bridal boutique in Brooklyn that focuses on sustainability, uses their recycled paper business cards to reinforce their eco-conscious brand story. For every gown sold, a tree is planted in that bride's name.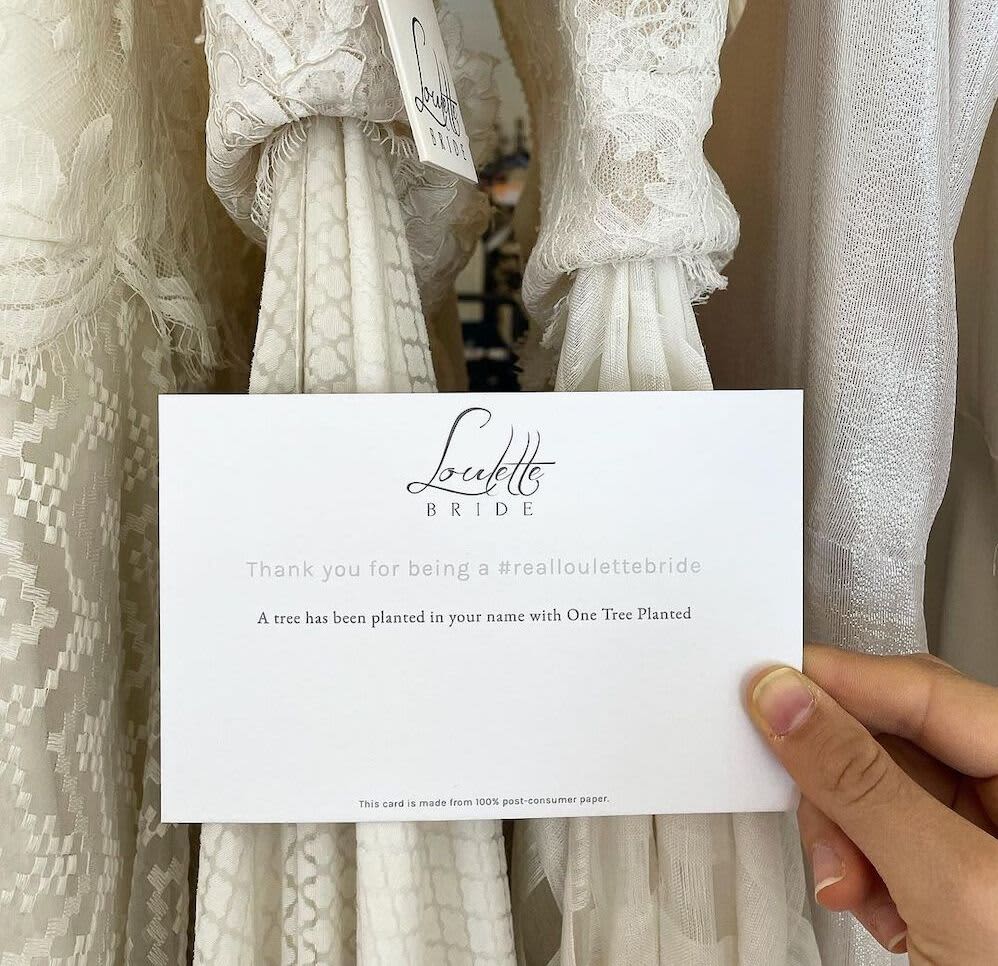 Source: @loulettebride on Instagram
Make the most of digital destinations.
Ready to make this tech-rich world work overtime for your brand? Leverage one of the newest digital-savvy and unique business card designs to complement your next-gen brand.
Using QR code or near-field communication (NFC) technology, you can transform your business card into a gateway to a digital destination. For example, say you run a boutique computer and smartphone repair shop that's all about educating and empowering your customers. You could create an NFC business card that customers scan with their phones that takes them to your customer-only online education hub. Or, maybe you're a metal artist who crafts one-of-a-kind lawn sculptures. You could use a QR code business card that, when scanned, takes fans to a photo gallery of your currently available pieces for sale.
If you've ever wished your business card worked as hard as you do, it's time to transform it into the digitally enhanced destination your brand deserves.
Speak volumes with vibrant colors.
If your brand is all about bright colors and good vibes, you can infuse that same vibrancy and energy into your business card. Whether you're all about the bling or prefer tiny bursts of brilliance, you can bring your brand to life with unique business cards designed to illuminate.
If you're the proprietor of a posh hair salon, a business card with a gold foil overlay can deliver an air of opulence. Or, perhaps you're a clothing designer who works in textured fabrics and bold colors. An embossed business card can give prospective customers a highly visual and tactile experience before they enter your boutique. Finally, a painted-edge business card could perfectly complement your decor if you're an ultramodern bookstore with a sophisticated air.
Go beyond your competitors and create a business card as alive as your brand.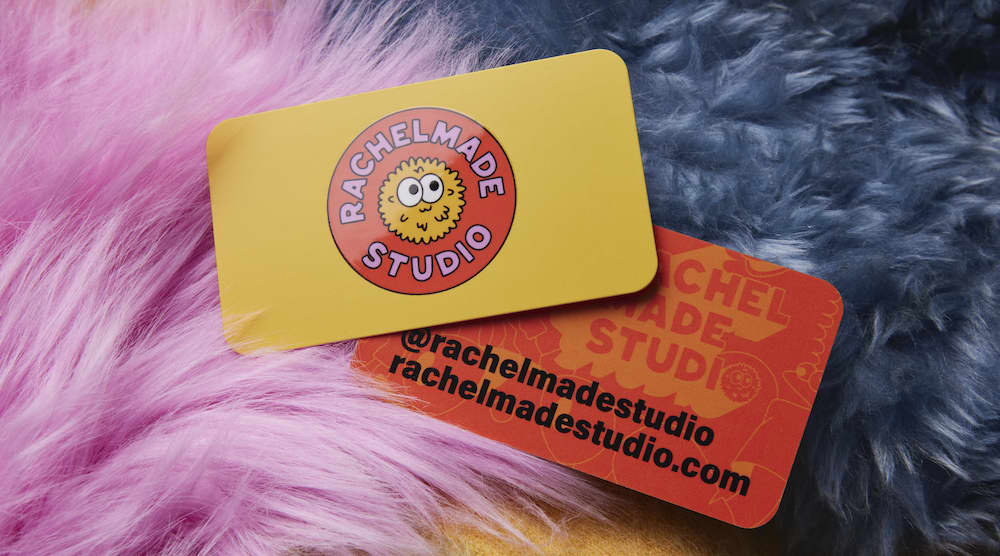 Get in shape.
Your business card deserves to stand out in the stack. It doesn't matter if you're all about clean lines or smooth curves: A business card with a head-turning shape can get you noticed.
If you run an art gallery with an angular logo or decor, a square business card can complement your brand identity and in-person experience. Perhaps you're a plumber and think upscale isn't your thing. Well, a rounded-edge business card is here to prove you wrong, with curves as on-point as the pipes you fit. Sometimes, it doesn't take much to make a lasting impression, so don't leave unique business card shapes off the list of possible ways to up-level your marketing.
Go graphic.
While "a picture paints a thousand words" is undoubtedly a cliché, it's also true. And if stunning illustrations or imagery are part of your brand's personality, you can put those visual elements to work to create an array of unique business cards.
If you run a tour company with trips through breathtaking mountain vistas, snap a photo and make it speak for you on your business card. Not only will people ask where the picture is from, but you'll also be able to say they can see it for themselves on one of your tours. You could even create a business card collection featuring images of your top five awe-inspiring destinations.
Or, perhaps you run a local daycare with a custom mural on the side of your building. You could ask the artist for permission to use that mural on one side of your business card. Those receiving your card might see the image and say, "Oh! I drive by you all the time!" Or, your one-of-a-kind image can also give those new to town a perfect way to spot you when they come for a tour.
Imagery and illustrations can always add an additional wow factor.
To make landscape photography shine, consider glossy business cards. Their high-sheen finish keeps photo details and colors crisp.
Find your type.
You don't expect your customers to settle for ordinary, so why should you? Go beyond the fonts of your favorite word-processing program and find a typeface for your business card that captures the essence of your brand.
Choose fonts that complement your overall card design. For instance, if you have an intricate background design or are using textured paper, a simple sans serif font will be easier to read. Or, if your logo or business name demands an ornate font, consider a card with a solid background and larger font to keep it readable.
Your font and business card material can also work hand-in-hand to create a cohesive brand identity. For instance, a local nursery could pair eco-friendly paper with an elegant script font that hints at the trellised vines surrounding its entrance.
Check out design services that can help you dial in the perfect fonts to make your brand personality and business card pop.
Add personality with a touch of personalization.
Finally, it's time to add a personal touch to your business cards to highlight the "you" in your brand. Using images or other only-you elements can perfectly balance personality and professionalism.
If your name is your business, you have so many options to create a high-impact impression with your business card. If you're an artist, transform your signature into a graphic that matches your mark on every piece you create. Performers, realtors and others in industries where your face is your calling card, let a professional photo take center stage on one side of your card. And if you're a hair stylist or aesthetician, why not create a business card with one side left blank? Then, you can write down appointments and post-treatment instructions tailored to each client.
Business cards made from uncoated stock are easy to write on with a pen or pencil.
Now that your creative gears are turning, always remember that a business card is an opportunity for your brand to shine. You can use a custom combination of elements — from tech and materials to fonts and imagery — to leave current and potential customers with a professional and personality-packed piece of your brand.