Estimated reading time: 4 minutes
Over the past few years, QR code usage has exploded. Contactless payments and restaurant menus have become commonplace, and forward-thinking businesses have been exploring other creative ways to use QR codes, too. Nowadays, you've likely seen these codes used all over — at restaurants, on retail websites, on television ads, on marketing brochures — as they enable a quick and easy way for people to access a wealth of digital information via their smartphone.
One particularly useful space for QR codes is on your business cards. These branded pieces of paper often serve as a customer's first impression of your company, and a gateway to the products and services you offer. By adding a simple QR code to your business cards, you can bring people straight to your company's website, social media profiles, product demos, appointment booking system or whatever other digital environment you'd like.
Bridging the print to digital divide, QR code business cards are a powerful way for small business owners to convert new connections into happy, satisfied customers.
5 uses for QR codes to boost your small business
If you're looking to take advantage of digital business cards to grow your company, consider these five creative ways to use QR codes.
1. Direct customers to your digital world.
A great way to generate brand awareness and increase sales is to drive people to your website and social media pages. You know your stuff, so why not monetize your knowledge? Create something one time, such as an educational course, YouTube series or podcast, then offer it to many. Create a QR code that directs people to your premium content page, a sign-up list that provides free access or your social media profiles — whatever works best for your business and personality.
For Liv, owner of Innara Handmade, a sustainable earring and accessory shop, QR code business cards are a must for in-person events. She's noticed an increase in web traffic and Instagram follows after attending markets by simply adding a QR code to her business cards and encouraging customers to explore her business online.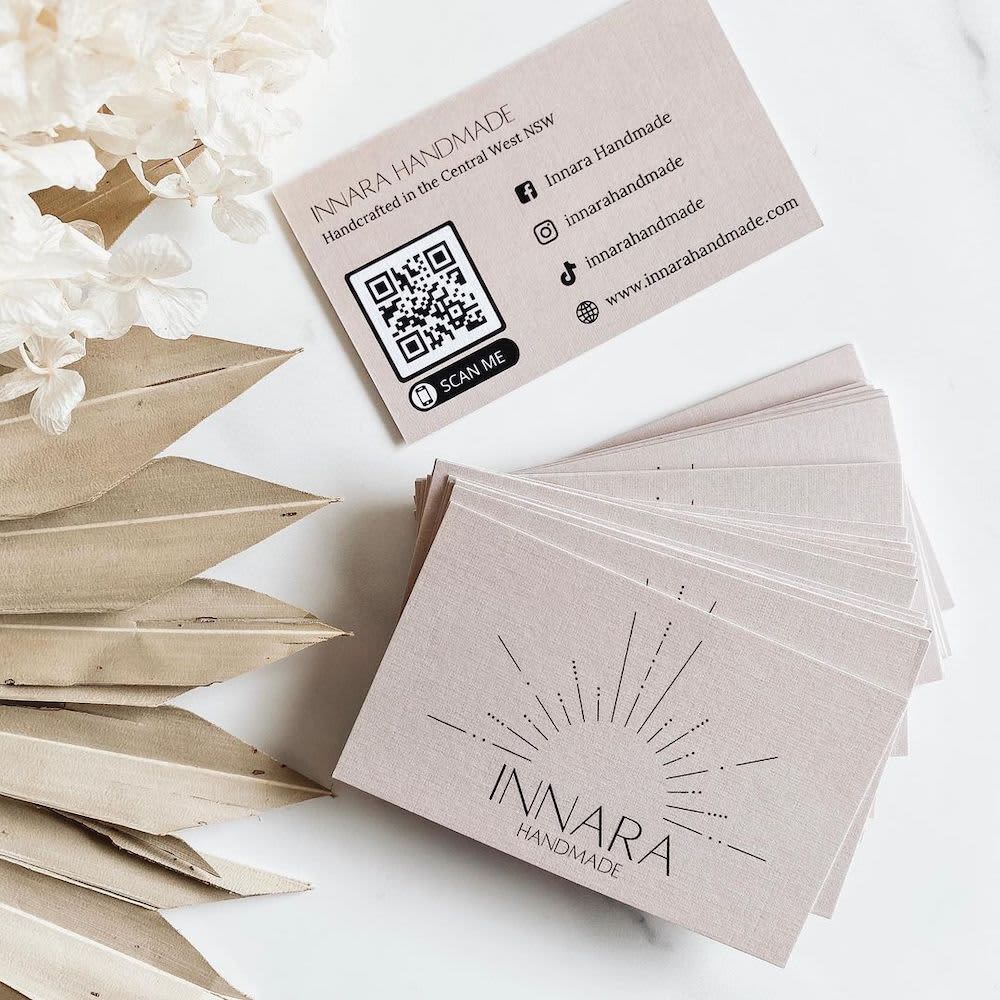 Source: @innarahandmade on Instagram
2. Show people the way.
If you lease or own a firm in a hard-to-find commercial or industrial area, you may need to help people find it. Phone map applications are notorious for getting close to such areas but missing the mark. Make it easy for everyone to find you by embedding a link to a map or detailed directions to your location. This works well for other types of businesses as well, such as tour providers (showing a map of a tour route or starting location), travel agencies (showing potential destinations or street views) and real estate (showing available locations).
For example, when Boo's Toy Shop moved locations in 2022, they designed business cards to give out to customers with the new address on them, including a QR code that directed people straight to the new shop.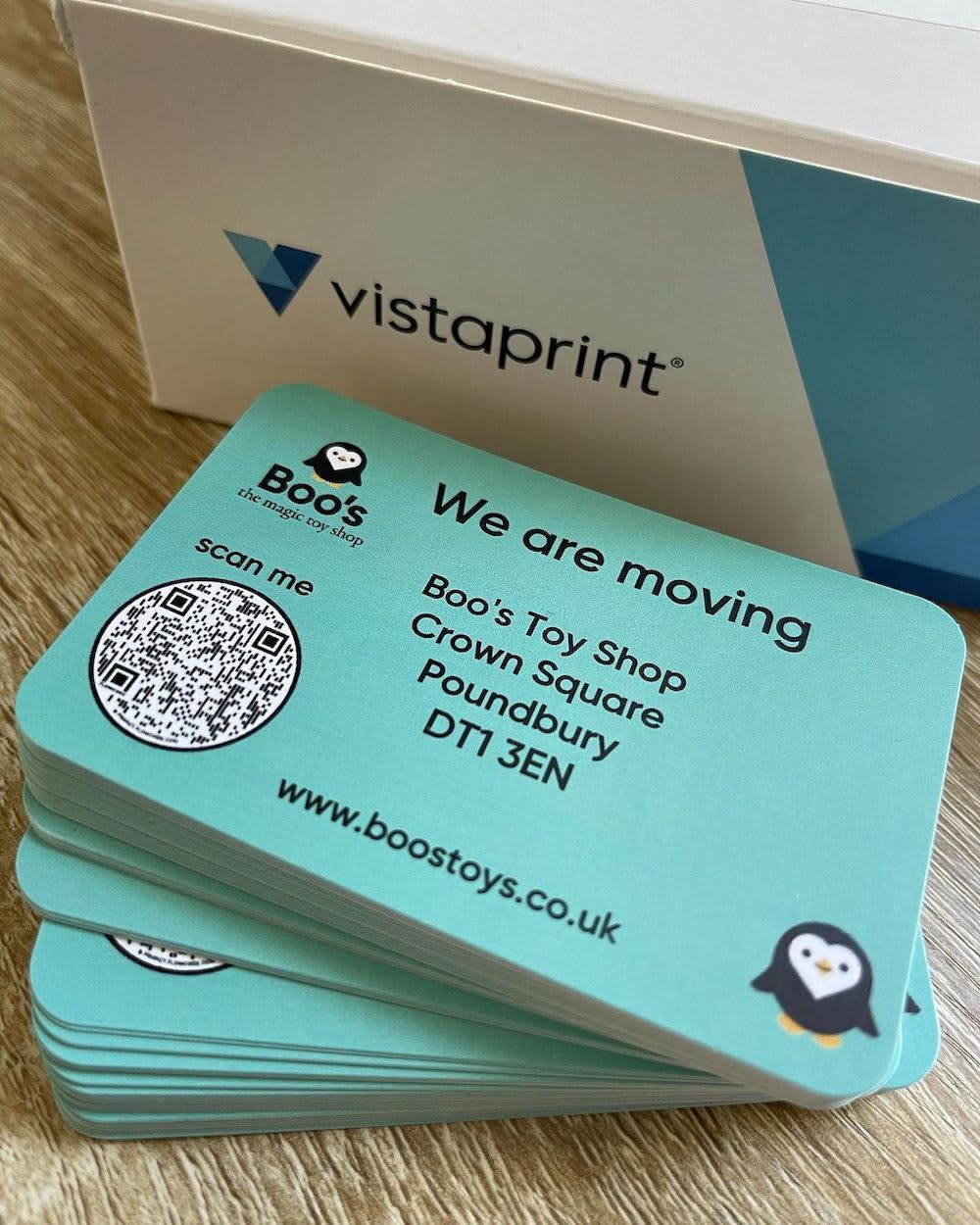 Source: @boostoyshop_poundbury on Instagram
3. Drive downloads.
It seems like someone is talking about some amazing new app every day. You can create your own app or interactive mini-site, or hire a web developer to do so, then embed the link to your digital experience in a QR code business card. Pass out these cards to friends and family, at networking events, at tech conferences or wherever your target clients will be. Use your business card to help drive up the number of downloads and extend your brand visibility.
4. Differentiate via expertise.
Many small business owners tout their expertise on their websites. Make your expertise stand out by using your business card's QR code to send prospects directly to a key content piece, such as a blog article, local news interview, white paper or e-guide. This tactic would work well for health and wellness businesses, educational service providers, business consultants, architects, designers and more.
For example, Byrd's Nest Box offers specialty products, garden workshops and consultations, all accessible via beautifully designed QR code business cards.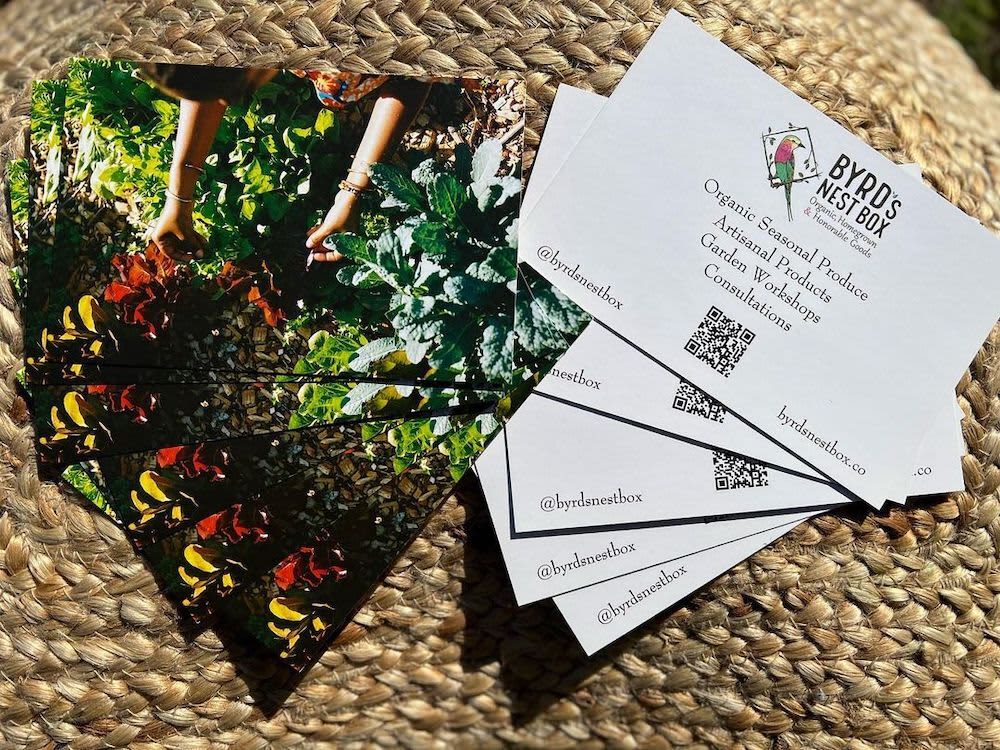 Source: @byrdsnestbox on Instagram
5. Promote customer loyalty.
You know your customers love you. Reward them with easily accessible loyalty benefits. Display your business cards prominently at in-person locations and encourage all who enter to take one. Then make them play double duty by embedding access to your loyalty program sign-up, rewards, coupons or discounts via a QR code. Beauty salons and barber shops, spas, pet care providers and many more can leverage business cards in this way.
Bon Me shares the love by including QR codes on flyers and in-store signage that let customers scan to easily access gift cards and bookings for private event catering.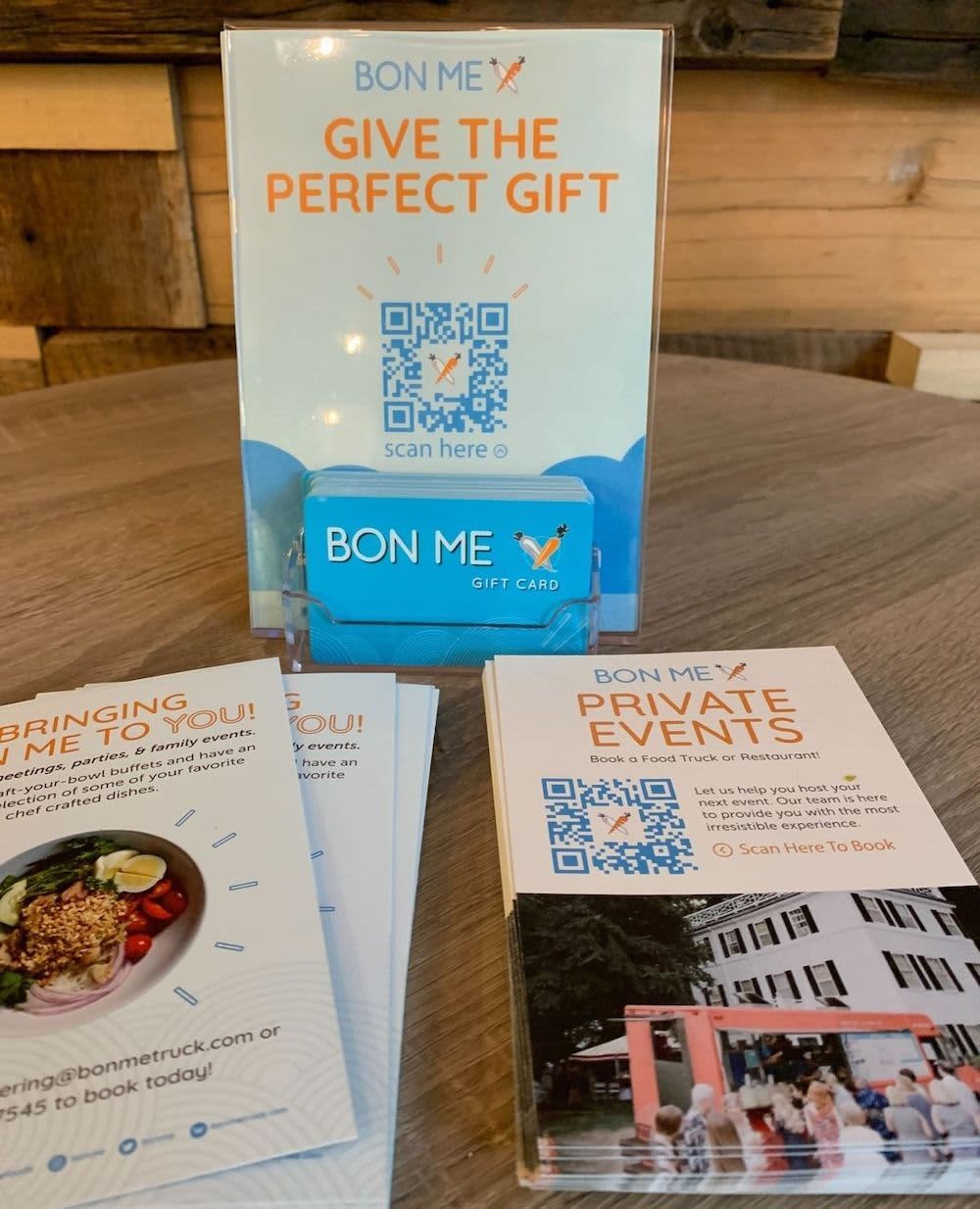 Source: @bonme on Instagram
Enhance your business cards
While there are many ways to leverage the creative functionality of QR code business cards, you can also get creative in how you design these little marketing powerhouses. Instead of a simple black and white design, add QR codes in your brand colors, embed your brand logo or an icon in the center of the code, or incorporate a QR code into a even more expressive design that shows off your unique brand personality.
Our free QR code generator comes with DIY options such as colors, stock images and usage prompts so you can customize your codes for any scenario.
Lastly, before you start passing out your QR code business cards, make sure to confirm that they work properly and that the landing page you're driving to is engaging and user-friendly to ensure customers follow through with your desired action.
With all of this in mind, it's clear how creative QR codes can help you support your customers and grow your business in many different ways. Whatever special experience or value-add you can provide to customers, make it accessible and remarkable with custom QR code business cards that make your brand unforgettable.