Estimated reading time: 4 minutes
Imagine a business card that customers can simply tap with their smartphone to access any online page you're looking to promote. It could link to your website, social media, portfolio, product demos, an interactive menu and much more. Well friend, the future is here.
When it comes to promoting your brand and your business, standing out from the rest of the competition is the name of the game. This is why digital business cards that leverage near-field communication (NFC) technology can be the ultimate game-changer for your small business.
Business cards with innovative NFC tech let you stay well ahead of the curve by turning traditional business cards into a fun, engaging experience for potential customers. Cutting-edge features such as video and audio messages, endless customization options, and even animations mean customers can easily interact with your brand — while still keeping a tactile touch.
What are digital business cards?
NFC-enabled digital business cards are physical business cards that can link to an entire digital experience. Unlike other types of electronic business cards that are entirely virtual, an NFC business card reaps the benefits of both the digital and the physical.
Near-field communication is a short-range scanning technology. An NFC business card is a smart business card that contains an embedded NFC chip. Your customer scans this NFC chip by simply tapping their smartphone on your card — and voila! The online experience you've custom designed for them opens up on their phone.
Harness the superpowers of NFC business cards.
With an NFC business card, your print business card does double duty as a digital information hub, letting you seamlessly share not only your contact details but a wide array of customizable interactive features, too.
NFC business cards are successful because they are:
Convenient. Your NFC-enabled digital business card is like a mini-website that can be carried in your pocket. Using your card, customers can easily access the online experience you've created for them with one quick tap of their phone.
Noteworthy. You know what they say: First impressions are lasting impressions. And NFC tech is still new enough for your NFC business card to make quite an impressive first impression with both existing and potential customers.
Creative. With an NFC business card, you're limited only by your imagination. This means you can create an online experience for your customers that goes far beyond just your contact details (you can see how below!).
Cost-effective. At first glance, NFC cards might seem expensive. But in the long run, they can actually be more cost-effective. This is because your NFC business cards are reusable — plus, you can easily update your information at any time, and make changes to your customers' online experience on the fly.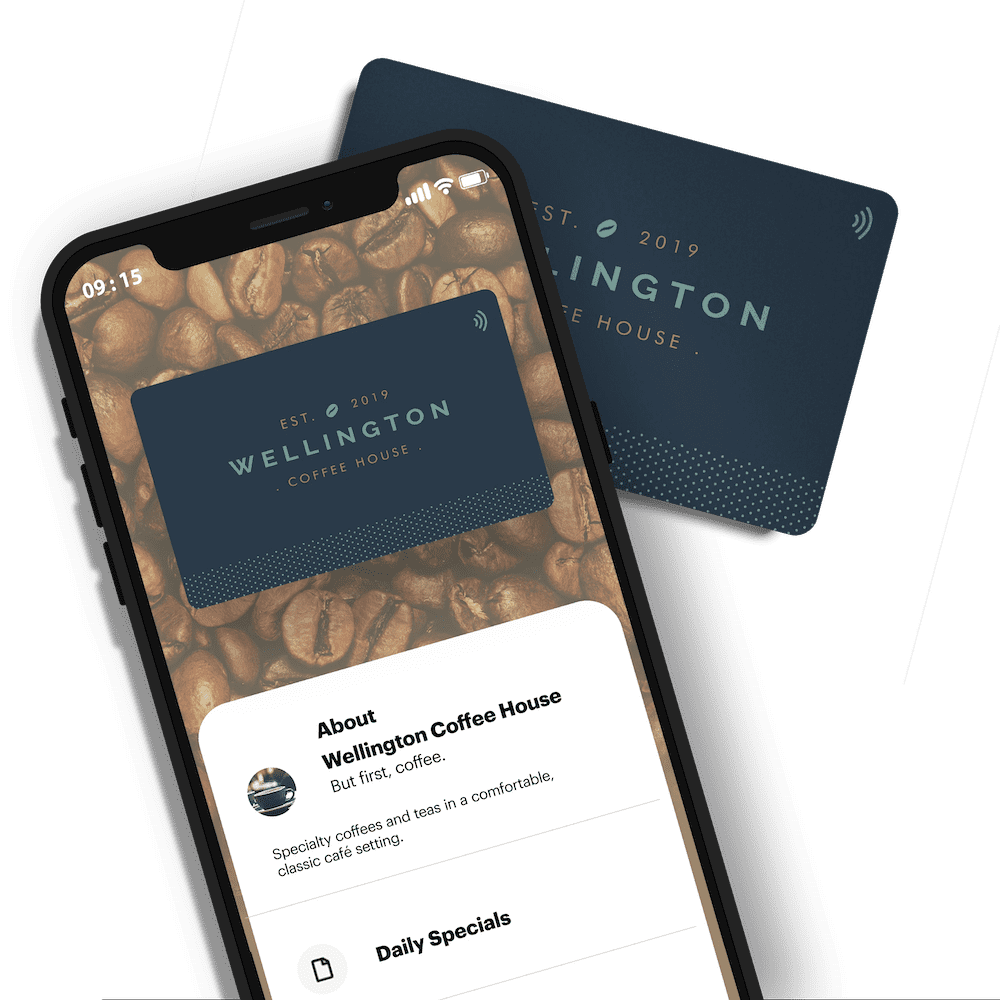 Create an online experience that wows.
Ready to get in on some NFC fun? Here's how to design the perfect NFC-enabled online experience for your clients.
Keep it simple.
From multimedia features, like video and audio, to interactive components, like links and buttons, it's tempting to throw in everything but the kitchen sink when designing your brand's NFC experience. And you can! Just remember to keep it simple, so your customers enjoy an easy-to-use experience.
Consider creating engaging in-the-moment experiences for your clients, all while keeping it simple. For example, an interior design consultant could offer clients an NFC-enabled inspiration space that includes links to personalized mood boards and a virtual room visualization platform. They could also offer a visual portfolio showcasing the designer's latest work.
Get social.
There's nothing quite like the power of word-of-mouth marketing. And that's all the more reason to incorporate social sharing into your brand's NFC-enabled experience. Social sharing buttons and links make it easy to encourage customers to share their experiences about your products or services on their own social media profiles.
NFC business cards are a great way to use social media to get more eyes on your brand. For example, a financial advisor could use the NFC experience to promote their monthly social media challenges, such as a #budgetingchallenge where clients create and stick to a new budget for a month, and share how they're doing on their social media platforms.
Content that keeps giving.
The NFC experience is super easy to update — which means it's a no-brainer to keep adding value with your content. From exclusive promotions and time-limited discounts to behind-the-scenes looks and upcoming events, your value-packed extras will keep your customers coming back to the experience you've created for them.
Is there news about your industry that's constantly changing? Use your NFC business card to keep customers in the loop. For example, a hair stylist could inspire customers to try out new looks by updating their brand's NFC experience with the latest hairstyle trends, including tips and video tutorials showing users how to put those trends into action.
Whatever your industry and current or future business goals, take your company to the next level with NFC-enabled business cards.