Estimated reading time: 5 minutes
Reddit is now a digital juggernaut, and it got there, in part, because it knew where to put stickers.
Hold it. Stickers?
"Yes, stickers: the soundest investment I ever made," Reddit co-founder Alexis Ohanian confirmed in his book, Make Something People Love: Lessons from a Startup Guy.
Ohanian credits Reddit's early $500 investment in branded stickers with building awareness and affinity for the startup. Ohanian himself placed Reddit stickers on signs, poles and other advertisements during his travels while he also personally distributed stickers at events and meetups.
For Reddit, the stickers generated attention and helped people "show their allegiance" to the fledgling brand, Ohanian said.
And whether you're an independent restaurant, a Main Street retailer or a local beauty salon, custom stickers can do the same for your small business.
The value of stickers
Sticker marketing is a unique way to elevate your brand. Stickers can:
Accelerate brand visibility: Bright, creative stickers can pique curiosity and put your small business in front of people unfamiliar with it.
Help fans pay homage to your brand: When loyal fans place your sticker on their car bumper or travel mug, they grow awareness for your small business and also signal their affinity for your brand to others. This is remarkably valuable social currency in today's world.
Communicate key business details: Stickers can fuel interactions by sharing key business information, such as your website URL, your physical address or your Instagram handle.
Drive customer action: Stickers can invite customers to order or make an appointment. A QR code on stickers, meanwhile, can entice folks to learn more about your business or peruse products and/or services on your website.
Make sure your sticker is on brand by using elements like your primary business logo and your brand's defined color palette. Such consistency builds a stronger, more recognizable brand.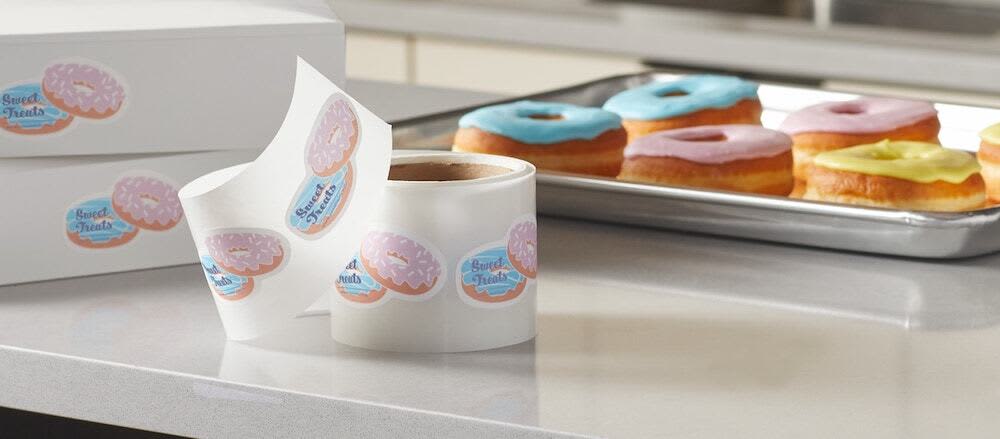 Where to put stickers: Getting into the marketplace
While stickers can prompt some enticing results, printing them is only half the battle. The next step is thinking about what to do with stickers and where to put stickers so that you drive awareness, engagement, loyalty and results. Here are four ways to put your stickers to work:
1. Attach stickers to vehicles.
A car with your sticker on its window or bumper becomes a moving billboard for your brand. Attach stickers to your personal vehicles and certainly to any business vehicles on the road.
The Federal Highway Administration reports that Americans drive more than 14,000 miles per year on average. With your sticker on just a few vehicles, thousands of eyeballs will see your brand in their direct eyesight at stoplights, stop signs, gas stations, parking lots and so on. For as little as a penny, one sticker alone might generate a thousand impressions each year. That's cost-effective advertising.
2. Add stickers to your products.
Adding stickers to your own products and materials can dress up otherwise bland surfaces and communicate key information about your business.
A restaurant, for example, can put its stickers on takeout baggage or containers. A fitness studio might place its sticker on a folder containing information on its services and classes. An organic beauty shop making handmade soap can use stickers as a snazzier alternative to tape on its product packaging. The possibilities are seemingly endless.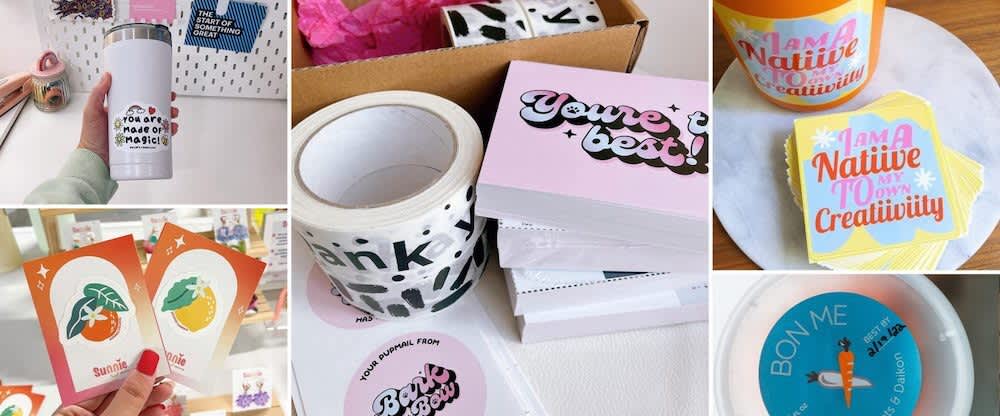 3. Put stickers in public places.
Putting stickers in public places, so-called "sticker bombing," is one way to put your stickers to work, but be mindful of rules. Some municipalities have ordinances against placing stickers on public property, such as street signs or telephone poles, and your sticker — emblazoned with your business name — will make you easy to locate and potentially fine. Before stickering yourself, reach out to your local municipality and get clarity on what's permissible.
Now, even if you cannot place your sticker on a bus stop bench, there are still plenty of public venues to post your sticker. Some cafes, grocery stores and libraries, for example, have community bulletin boards that welcome stickers, business cards and the like. Some bars and restaurants even make sticker bombing a part of their décor.
Having your sticker in public places can stir awareness for and intrigue in your business.
4. Give stickers out to distribute and display.
Your stickers can be especially valuable when placed in the hands of others. Distribute your branded stickers to family, friends, employees and customers and encourage them to apply the stickers to their laptop, phone case, water bottle, travel mug, luggage, notebook or the like. But remind them to sticker responsibly and respectfully, so your sticker doesn't end up in places it shouldn't.
Having others use your stickers boosts your brand's visibility and multiplies the potential marketing impact. What's more, their display is a clear vote of confidence in your business. It's a powerful word-of-mouth recommendation even if they don't say a word.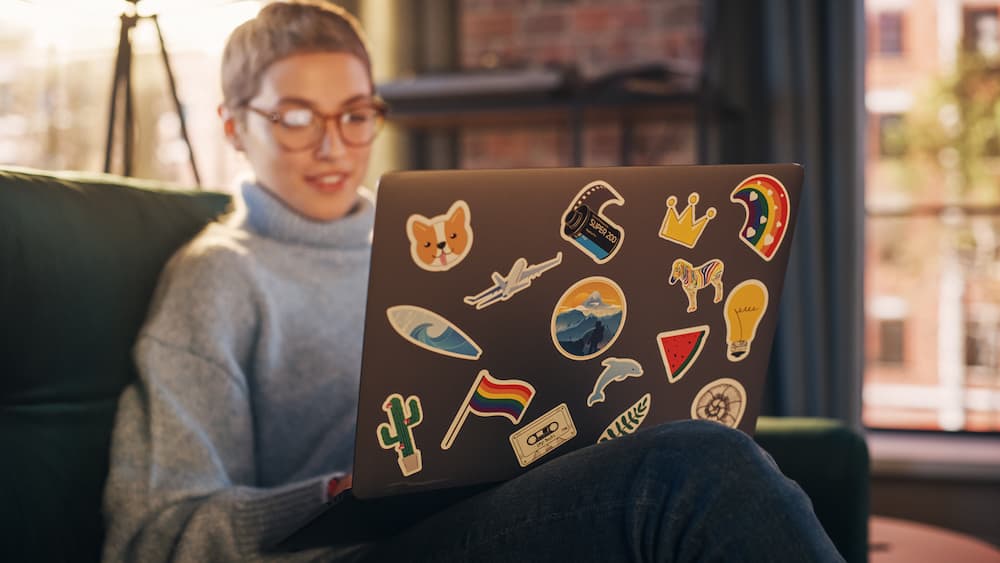 Stickers with a purpose
Even if your business never becomes a global phenomenon like Reddit — though we can hope, right? — you can nevertheless follow the news site's branding lead and use stickers as a cost-effective tool to build brand awareness, spark curiosity and expand your tribe.
Bring stickers into your marketing arsenal to attract attention, inspire connections and extend your reach. And as Reddit's Ohanian can attest, you might achieve some compelling results.