Estimated reading time: 5 minutes
How do you want to tell your brand's story?
In today's competitive marketplace, brand storytelling plays an important role in driving performance. A well-crafted story positions a business to build rapport with customers and stir positive emotions. It also inspires confidence that a small business is a professional operation eager to connect with its customers.
While a business card is unlikely to be the first storytelling vehicle that jumps to mind, it is nevertheless a potentially powerful one. Your business card is more than just a piece of paper holding your contact information. It is a brand storytelling opportunity and a tangible invitation for others to understand who you are, what you do and why you do it.
Sharing your story on branded business cards
Through the use of materials, imagery and text, you can create a stylish business card that shares a rich, enticing story about your small business. You can provide deeper insight into the purpose and character of your business, share your values and set customer expectations.
For example, EMI Creations tells their story with soft, square business cards made from linen that mirror the crocheted art they create.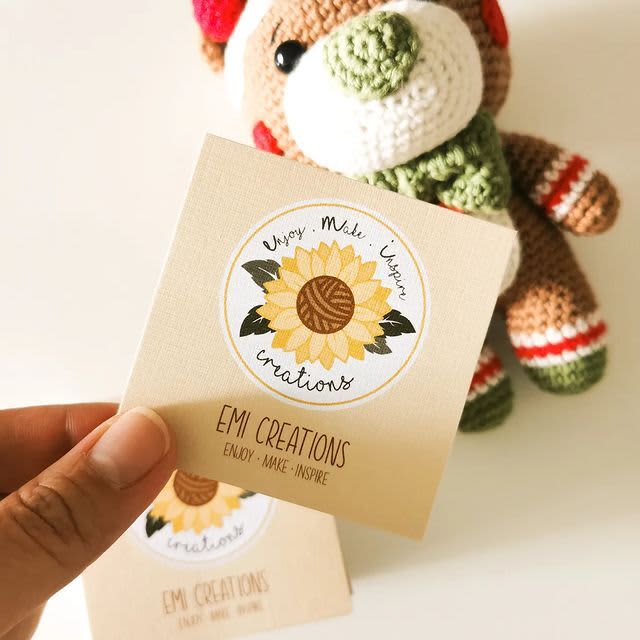 Source: @e.m.i_creations on Instagram
Here are seven different ways you can use a business card to elevate your brand storytelling:
1. Share a fun fact.
Adding a fun fact to your business card gives prospective customers a glimpse into your personality and enables stronger connections. This can be particularly valuable for one-man or one-woman businesses in which the individual is the business itself.
Storytelling in action: A wedding photographer might recount a particularly memorable professional experience on the back of her business card, such as "I once took photos of a bride and groom while I was dangling from a bungee cord. True story." For added punch, the photographer might then provide a QR code leading directly to that photo on her website.
2. Write your mission statement.
While the front of your business card might provide key business details like your business logo and contact information, you can use the vacant space on the back of your card to share your mission statement. This lets customers know you bring genuine purpose to your work.
Storytelling in action: A fitness studio might lay its mission statement — perhaps one talking about empowering clients to take charge of their personal health and to live their best lives — over a black-and-white image of an enthusiastic group fitness class.
3. Include your slogan.
A bit like a mini-mission statement, a concise slogan describes the essence of your business in just a few words. Are you about competitive prices? A sophisticated experience? A hassle-free service? A slogan can quickly and effectively communicate your brand story.
Storytelling in action: In large, bold font, a fast-casual café peddling healthy breakfast foods might drop its slogan — "Fuel Your Day the Right Way" — on the back of a loyalty business card.
4. Use imagery.
The right photo or image describes the experience customers can expect to have with your business, which helps cultivate credibility and understanding. This works particularly well for creative industries, such as photography, illustration and design, as well as those that provide a service that can be easily shown via imagery, such as personal training.
Storytelling in action: ASHLEE studio's square business cards double as a mini art print with one of her favorite illustrations printed on the back.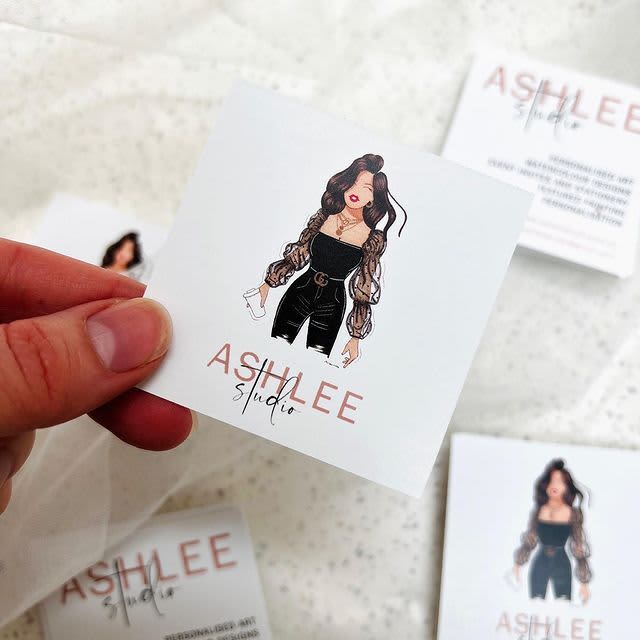 Source: @ashlee_studio on Instagram
5. Let the paper speak.
The material of your business card says a lot about your business. A heavy, 32-point paper stock speaks to a serious operation. It feels weighty and established. Meanwhile, a kraft paper business card underscores a sustainability-minded focus. With various papers, textures and weights available, select an option that aligns with your business.
Storytelling in action: By selecting a heavier paper stock, a high-end restaurant can spin a tale of sophistication and highlight the elevated service it provides to diners.
6. Lean into technology.
There's more opportunity than ever to pair the good old-fashioned business card with modern technology to enhance your brand storytelling. QR codes on a business card can lead customers to a personal welcome video, whereas NFC business cards use near-field communication technology to take smartphone-toting customers directly to a digital environment of your choosing. There, you can share more about who you are and what you do.
Storytelling in action: Benkendreams adds a QR code to their recycled paper business cards that connects people to their social media.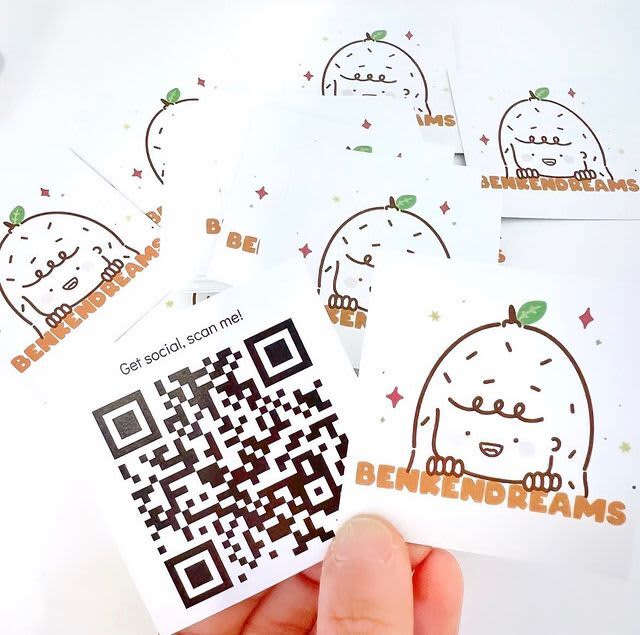 Source: @Benkendreams on Instagram
7. If the shoe fits, get a little creative.
Some businesses happily reject convention. If that's you, your business cards can reflect this by rejecting the traditional rectangular orientation and landscape layout. Get creative with different shapes, edges and finishes to show just how special you and your business are.
Storytelling in action: A women's clothing boutique carrying small batch items from up-and-coming designers can highlight its uniqueness with square business cards and rounded corners, as well as metallic accents. There are many ways to add a bit of flair and personality.
Tell an energizing story with your business cards
Brand storytelling is important to connect with customers. A thoughtfully crafted business card pairing the right copy and imagery with deliberate selections of paper, finishes, shapes and colors can undoubtedly help you create a compelling narrative.
Moving forward, you can use branded business cards to spotlight the distinct vibe of your small business and effectively communicate who you are and what you provide your customers. It's all possible with a prudent blend of creativity, strategic design choices and a clear vision of your storytelling goals.