Estimated reading time: 9 minutes
Much like the impact of photography on the art world in the 19th century, we find ourselves in the midst of a profound change in the world of graphic design trends. Artificial Intelligence is at the center of this creative shift, altering both our methods of creation and our visual styles.
To help us predict the next big things in design, we spoke to the global community of creatives that work with thousands of small businesses every year through VistaPrint's design services, including 99designs by Vista. And this year's graphic design trends reveal an artistic revolution in the making, from 3D hyper-surrealism and digital destruction to bento box grids and garden cutouts.
Let's take a look at how businesses are using these design trends, and discover how to make them work for your own branding in 2024.
The top 10 graphic design trends for 2024:
Or view our collection of trends predictions over the years, picked by the global community of creatives that work with small businesses every year through VistaPrint.
1. Future fusion
Amidst the backdrop of rapid technological advancement that both excites and unsettles many, it's crucial for brands to strike a balance between futuristic, cutting-edge designs and a relatable and grounded feel, a theme that's reminiscent of cyberpunk aesthetic, but with a twist.
This 2024 design trend, Future Fusion, is all about juxtaposition. The color palette shifts dramatically, with deep browns, blues and blacks as the foundation, punctuated by vibrant neon purples and pinks to infuse vitality into your brand within the digital realm.
"Farewell to the cyberpunk era and say hello to the dawn of Future fusion. The cyberpunk aesthetic, once synonymous with Skynet, AI and robotic takeovers, has matured into a versatile fusion style that can be integrated into logos, photography, advertising material and any other design you can imagine."

Justin Hamra, Art Director at VistaPrint
Source: Design by Rozart ® via 99designs by Vista
Textures embrace a gritty, dark aesthetic incorporating glitchy elements, sharp edges and digital fonts that are balanced with vibrant colors. This approach harmonizes the cutting-edge with the human, making your brand more relatable and approachable in the ever-evolving tech landscape.
Source: Elecharge design by multiple designers via Behance
2. 3D hyper-surrealism
In the realm of design trends for 2024, we find 3D hyper-surrealism—an intriguing style that seamlessly blends hyper-realistic and surreal 3D designs. It incorporates abstract and organic shapes, vibrant colors and experimental fonts.
"With recent advances in 3D design technology, it's going to be exciting to see how far designers can push visual experimentation boundaries to explore new themes, color combinations and fonts that challenge our perceptions of what is reality."

Tristan Le Breton, Creative Director, Digital and Design Services, VistaPrint
As we grapple with challenges in the world, 3D hyper-surrealism leans into bold self-expression and serves as a form of believable escapism and excitement for what's possible.
Brands can use it to create designs that excite and provide a welcome distraction from the challenges of the world, whether that's through fun and vibrant mascots and characters or engaging infographics. It's a means to cultivate positivity and find solace in creativity, offering a breath of fresh air.
"I'm drawn to this design style because it combines abstract shapes, vibrant colors, gradients and organic forms with some really cool experimental fonts. I also think that intricate 3D hyper-realistic and surreal designs, along with botanical themes, will be popular choices."

Valeriia_h, Designer at 99designs by Vista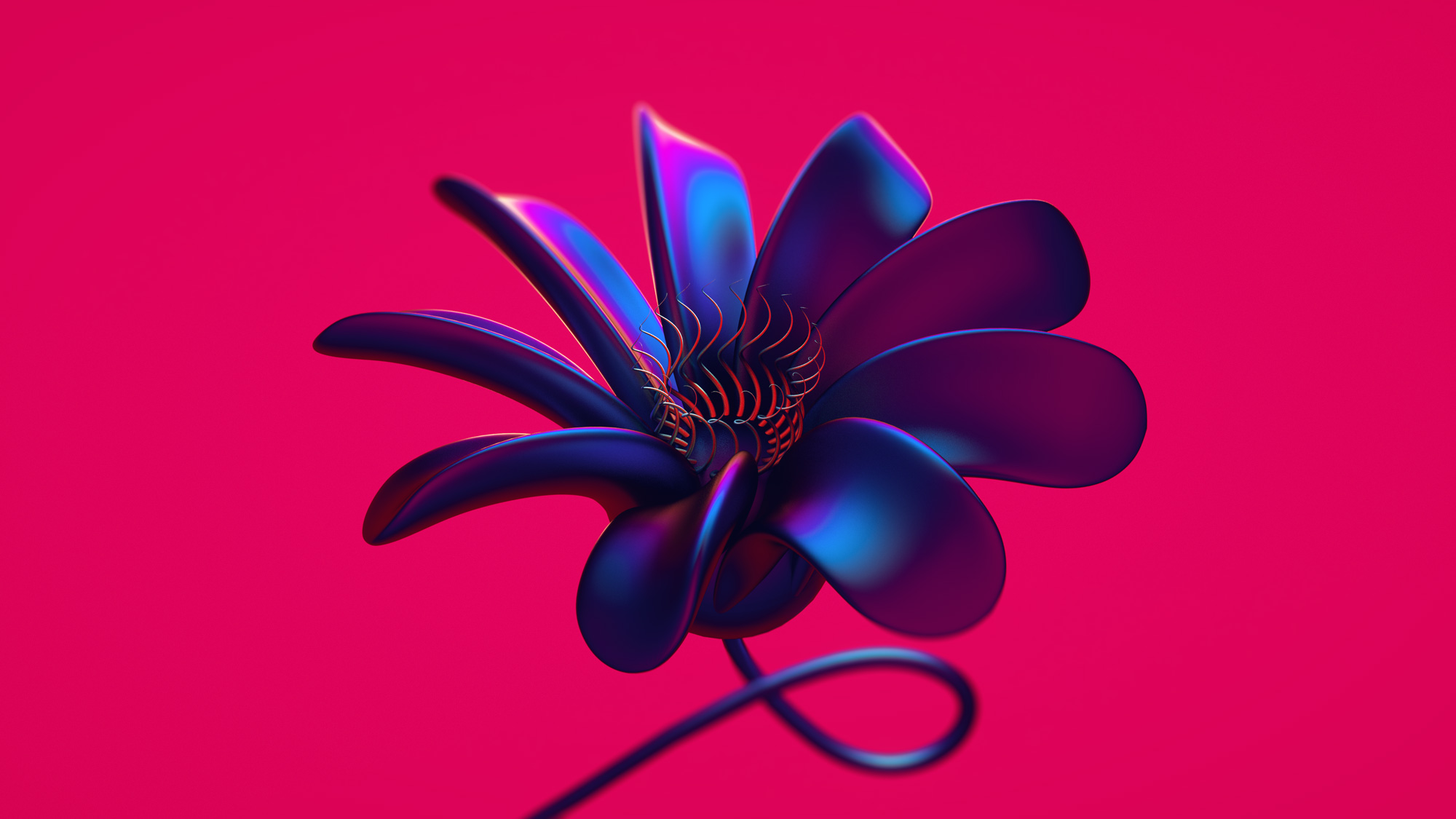 Source: Design by resineux via 99designs by Vista
3. Bento box grids
The Bento box grid trend in graphic design revolves around the artful arrangement of boxes in varying sizes to house fragments of information or graphics. When these pieces come together, they form a cohesive larger box, resembling the compartments of traditional Japanese bento boxes.
"This trend is characterized by elements such as minimalism, contrasts, geometry, textures and narrative, which collectively contribute to its distinctiveness and creative appeal."

A n a s t a s i a, designer at 99designs by Vista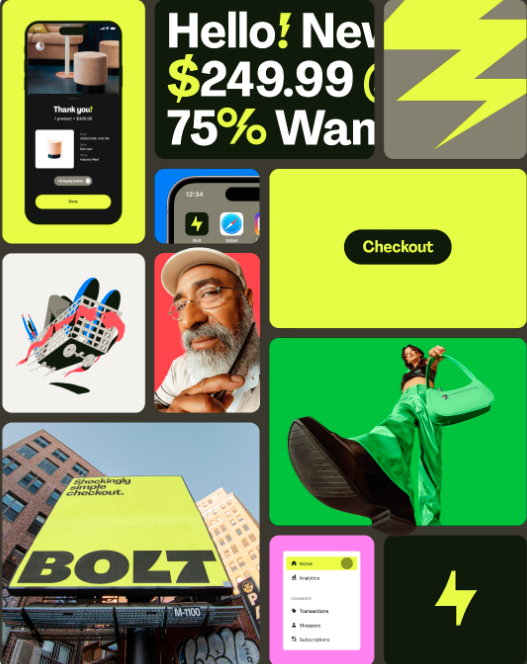 This design approach finds its applications in diverse formats, from flyers and brochure layouts to digital, web and mobile design. The primary emphasis lies in establishing information and visual hierarchy, as well as structuring and organizing content to guide users or highlight specific elements. This style offers a dynamic way to showcase numerous elements in a small space.
It's an experimental and expressive method akin to storytelling, where information is presented in snippets, similar to the experience of reading comics.
4. Cluttercore
Much like maximalism, cluttercore shares the same underlying principle of self-expression but takes it to a whole new level—a bolder, louder and more colorful way of asserting one's individuality. It thrives on grabbing attention and embracing excess and extravagance.
Source: Ben's Best Blnz by Pentagram
This design trend for 2024 celebrates thick strokes, vibrant colors, and the deliberate overlap of graphics as a form of self-expression aimed at fostering positivity.
Essentially, cluttercore is a liberating celebration of mess, one that highlights artifacts and clues that resonate with identity or passion. It can be seen as a reflection of the broader disorder in the world, offering a unique form of self-expression in response to external chaos and something we all can relate and connect with.
"Who would have thought my teenage bedroom would one day be on trend? Cluttercore can take a brand to the next level using loud and expressive organized chaos to make it shine. Use it to express yourself and your brand in the most authentic and artistic way possible."

Justin Hamra, Art Director at VistaPrint
Source: Design by Makenzie Young via Behance
5. Inflatable 3D
Continuing the exploration of 2024 design trends that embrace 3D-heavy visuals and the international quest to use colors to improve mood (as shown by the rise of 'dopamine dressing'), we delve into the whimsical world of inflatable 3D.
Source: via ManvsMachine
This graphic design trend serves as a playful nod to the 2000 era of bubblegum pinks, blues and iridescent color schemes. It harnesses nostalgia to help brands establish a heartfelt connection with their audience by crafting feel-good designs.
​​In the realm of inflatable 3D, bubbly fonts and shapes take center stage, creating a playful and bouncy design aesthetic that's bound to leave a memorable impression.
"With 3D tools seamlessly integrating into the daily creative toolkit, inflatable 3D becomes a priceless asset for designers and businesses. It injects realism, energy and a playful spirit into artwork and typography, unlocking previously uncharted realms of expression."

Justin Hamra, Art Director at VistaPrint
6. Digital destruction
In a world where AI has become increasingly proficient at generating flawless digital art, digital destruction emerges as a captivating rebellion. It draws inspiration from the fragmented and chaotic world of computers, transforming these imperfections into intriguing and visually striking compositions. Pixelation, fractured typography and distortion are a bold counterargument to clean and tech-centric design trends.
At its core, digital destruction serves as a bold declaration that perfection isn't the only path in art and design. Instead, it embraces the concept of "broken destructive art," a deliberate departure from the pursuit of flawlessness. This trend revels in the visual tumult of digital anomalies, embracing pixelation, glitch effects, distorted lines, high-contrast color palettes and vibrant neon hues.
7. Freehand revival
Drawing inspiration from the profound Japanese aesthetic philosophy known as wabi-sabi (a world view centered on accepting transience and imperfection), the freehand revival graphic design trend finds beauty in the imperfect, the impermanent and the incomplete. It invites us to explore the world of hand-drawn lines, characterized by their delightful imperfections and gentle wobbliness reminiscent of delicate sketches.
The color palettes chosen for the freehand revival trend are carefully curated to create a sense of harmony. They often feature analogous tones or complementary hues, creating a soothing and visually pleasing effect. Whether the colors blend seamlessly or create contrast, they share a common trait: they are easy on the eyes, inviting viewers into a world of tranquil design.
"In a world filled with AI-driven creations, I have a deep appreciation for all things handmade. These handcrafted elements infuse warmth and uniqueness into the design, making them truly special."

jullyromas, Designer at 99designs by Vista
8. Anime bold
In recent years, the captivating allure of anime has permeated the designs, bringing with it a vibrant burst of creativity. This graphic design trend embraces the hallmark features of anime, from exaggerated characters to expressive energy and eye-catching visuals.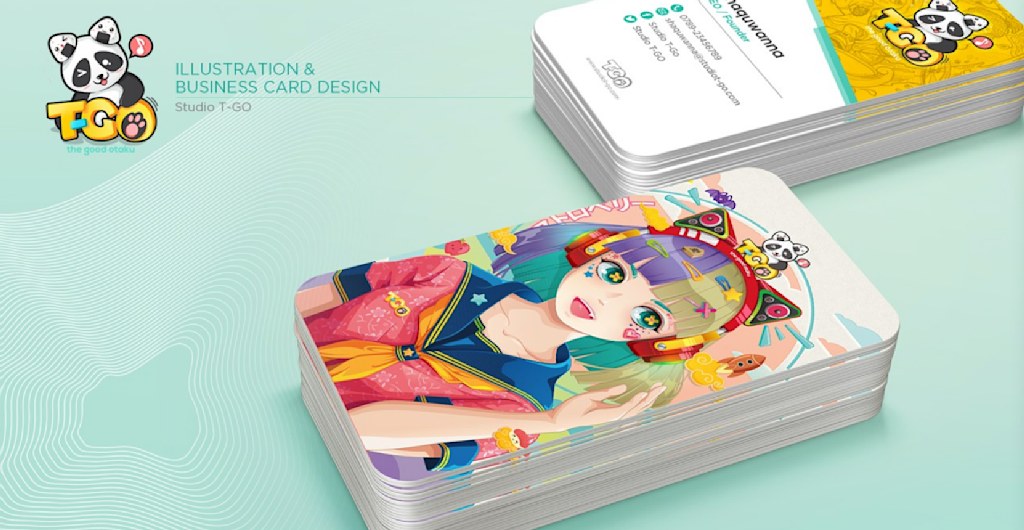 Source: Design by bubupanda via 99designs by Vista
What sets anime bold apart are the bright, bold and vibrant colors that infuse life into the animated and exaggerated anime style. These illustrations often employ a unique line style, marrying the charm of hand-drawn art with the playful and cartoony, creating a visual feast for the eyes.
Whether you run a cafe, a clothing store, or a local bakery, this design trend can be applied across various design and marketing materials, including social media graphics, posters, flyers and even packaging. It's versatile enough to adapt to your specific needs.
9. Garden cutouts
Garden cutouts is a charming graphic design trend that draws inspiration from the beauty of nature, using shapes and colors reminiscent of plants, flowers and leaves to create a serene and botanical design.
Inspired by the work of Henri Matisse, particularly his cut-out art, this trend gives the impression that the designs have been carefully crafted by hand, with edges that appear slightly uneven and natural.
Source: Design by Vipaluk S. via 99designs by Vista
This design trend offers a refreshing break from our digital lives, providing a tactile experience that appeals to our senses and our longing for a connection with the tangible. In a world increasingly dominated by screens and technology, the garden cutouts trend invites us to embrace the soothing power of nature and the charm of handcrafted design.
"In an age where AI-generated visuals dominate the digital world, we often find ourselves gravitating to the natural world for inspiration and reminding ourselves of the value and beauty in imperfection. It brings us back to that hands-on, hand-made feel we all know and love of using real paint, texture and paper cut-outs to create a truly authentic and nostalgic feel."

Tristan Le Breton, Creative Director, Digital and Design Services, VistaPrint
10. Graphic graffiti
Graphic graffiti is all about crafting a modern aesthetic by drawing inspiration from the vibrant world of graffiti and the neon-soaked energy of the 80s.
This design trend is about more than just buying a stock graffiti font and being done with it. It seamlessly blends industrial elements, evokes the raw charm of "urban decay," features spray-painted text and symbols, revels in distortion and grunge, and embraces the collage/sticker book aesthetic. The result is a visual explosion that boldly celebrates individualism and self-expression, much like the dynamic world of graffiti tags.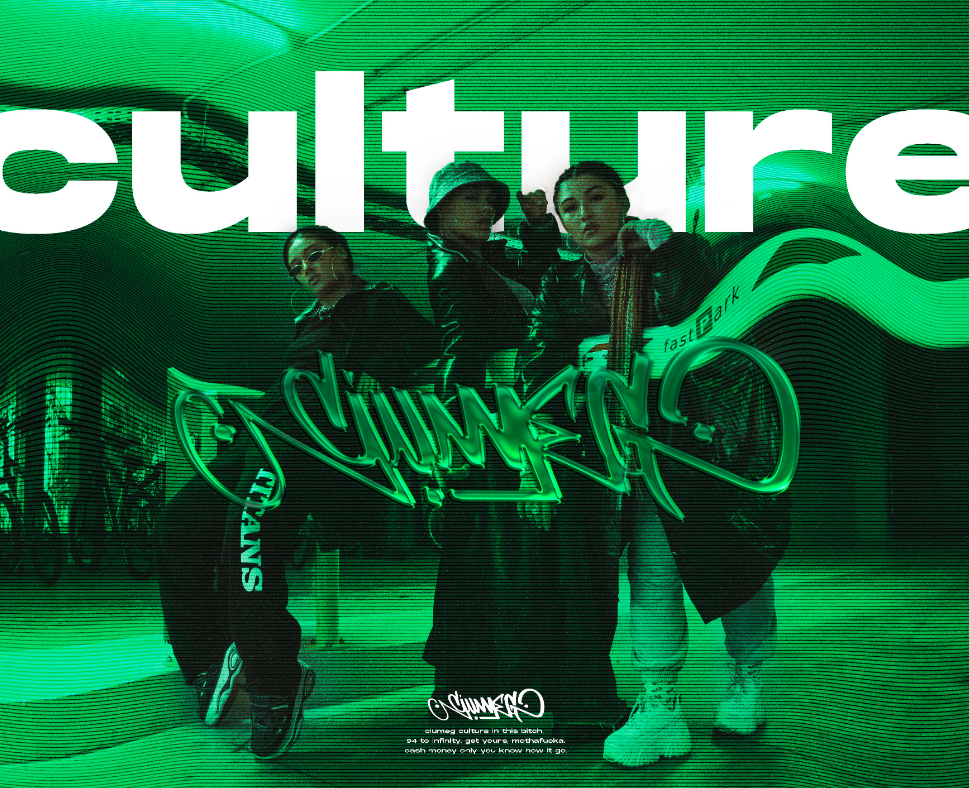 Source: Design by Bogdan Preda via 99designs by Vista
These designs serve as a resounding testament to the human touch and boundless creativity, standing in stark contrast to the relentless advance of AI technology and design software.
When applying the graphic graffiti trend, brands need to align the design elements with their identity and target audience. When done effectively, this trend can convey a sense of creativity, individuality and urban energy, making a lasting impression.
Source: Design by Slaykei via Behance
Ready for the biggest 2024 graphic design trends?
In a world where change is the only constant, graphic design is both a mirror and a canvas for our hopes, fears and aspirations.
Whether you're a small coffee shop embracing the cozy cluttercore vibes, a local boutique diving into the digital destruction design trend or an online startup finding solace in the serene world of freehand revival, remember this: Design isn't just about aesthetics; it's about storytelling, connection and making your mark on the world.
You don't have to follow these graphic design trends exactly. But if you're a small business, you can use them to infuse creativity into your branding, tell your unique story and connect with your audience in a new way.