Estimated reading time: 4 minutes
Have you ever found yourself daydreaming about getting into the wedding industry? Perhaps you have the talent and the desire to do so, but you just don't know how or where to begin. For those wondering how to start a wedding business or side hustle, you're in luck — now may be the perfect time.
Starting a wedding side hustle today
If you've been attending more weddings than ever, you can thank the wedding boom that's been happening in the last year or so. What's more, many engaged couples aren't just contending with overbooked wedding venues; they're also competing for wedding vendors. Despite being nearly overwhelmed with business, those vendors aren't complaining. But the demand is outstripping supply. That makes now a great time to launch your wedding side hustle.
Planning a wedding involves countless details — and vendors. From caterers, photographers and DJs to wedding planners, florists and bridal boutiques, the wedding industry offers many avenues to use your talents. Evolving consumer preferences yield even more business opportunities. For instance, many couples have reprioritized their wedding needs, focusing their budgets on smaller weddings packed with thoughtful details and experiences. Enter: The micro-wedding vendor.
You may be wondering less about how to get into the wedding industry and more about how to balance your schedule with the demand. Who knows? You could grow it more profitably than you ever thought possible and even get to leave your day job.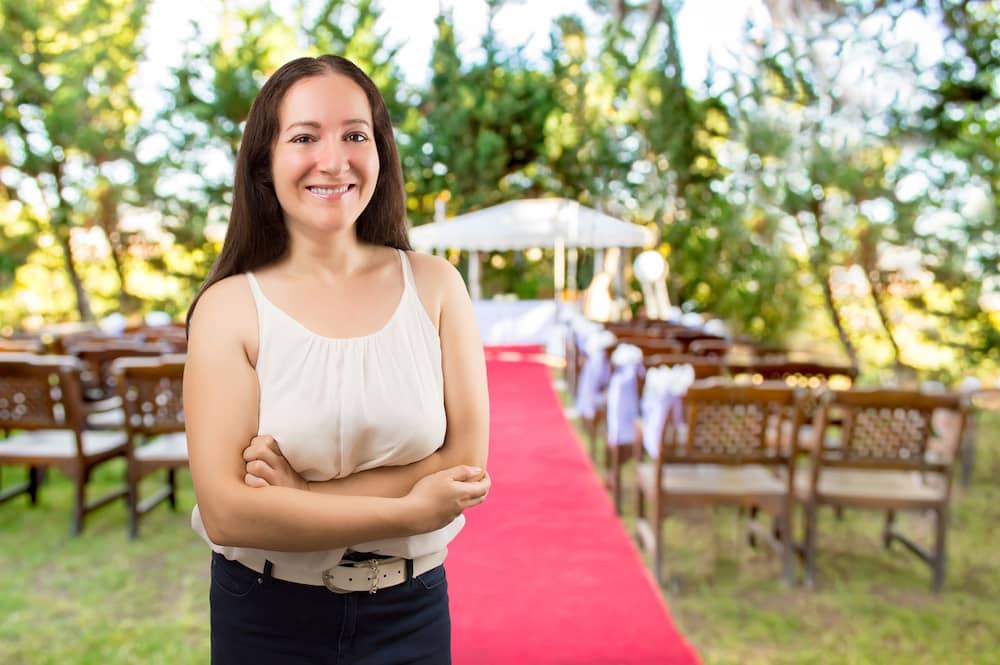 How to market your wedding business
Consider your own talents and interests to help you discover the wedding business that's right for you. If you're not ready to launch yourself into business ownership full-time, you can join the many people who've started part-time side hustles. When it comes to your marketing efforts, let your goals be your guide. Consider the following ways to spread the word about your business, scaling up or down as needed.
1. Build your online presence.
Most small businesses launch with a website, but some simply use business pages on social media channels. Whether you publish a website for your business or stick to relevant social media, create and maintain an online presence. Spread the word by sharing helpful content and examples of your work on social media. Ask for and monitor customer reviews, aiming to respond to both good and bad in a helpful, positive way. Finally, use digital advertising and add QR codes to print marketing materials to direct people to your online properties where they can learn more about your products and services.
Use professionally designed templates on the Vista x Wix website builder to create a beautiful website with ease and speed. Then, direct people to your online properties by including QR codes on your business cards and print marketing materials.
2. Legitimize your business with print materials.
Flyers, postcards and business cards can help add credibility to your venture. Keep some on hand wherever you go. You can post them on community boards, start a small local mailer campaign or share them at in-person events. Anytime you print marketing materials, make sure to keep your brand imagery consistent and include either a QR code or a web address so people can find your business online.
Starting a small business takes a lot of effort. Getting help from a professional designer not only takes things off your plate but also helps you build an attractive brand from the start.
3. Network with other vendors and meet engaged couples.
Weddings are relationship-focused events, and you can use your relationships to build your business. Once you decide to launch, share the good news with your friends and family — and dedicate time to build your professional network. Many engaged couples appreciate referrals from the first vendors they hire, so make sure you have people recommending your business. Next time you're at a wedding or an industry event, introduce yourself to vendors who offer complementary services. Get to know more about their business and, if you've seen them do good work, recommend them whenever you can. They'll likely return the favor. You may even begin to build partnerships that bring more customers to both your businesses.
Offer useful branded freebies at wedding expos and to potential customer meetings. For instance, every engaged couple can use thank you cards. Order them in bulk and give them out in packs of five.
Weddings are a time to celebrate with hope for the future. Who wouldn't want to be in the wedding business? If you've got a skill for making a wedding more memorable and are wondering how to start a wedding business, it might be as simple as finding the motivation to make your side hustle into a reality. We're rooting for you!