Estimated reading time: 4 minutes
It's nearly that time of year again… we'll soon be decking the halls, wrapping presents and celebrating with loved ones. So, it's time to start thinking about holiday cards. Christmas cards are all about spreading warm wishes and cheer during the festive season, so whether you're sending them out to family or friends, here are some ideas for what to write when you're staring at that blank page.
Here, we'll cover:
Holiday card messages for family & friends
Funny Christmas card messages
Holiday card messages for pet parents
New Years-inspired messages
Tips for signing your holiday card
Holiday card messages for family
When sending cards to family members, making it personal is what's important. The holiday season can be an emotional one, so it's a good time of year to come together and spread messages of love and cheer. This means it's also okay to be a little cheesy – because when else can you get away with it?
Modern life means that families may be spread further apart, so sending a holiday card is an opportunity to catch up, reconnect and let people know you're thinking of them. Here are some Christmas card messages your family members are sure to love:
Thinking of you this Christmas. Wishing you a Merry Christmas and a Happy New Year.
It's time for mulled wine, candles, cakes, songs, reindeer, carols, laughter – and most importantly, LOVE.
Sending love and wishes, even from far away.
Family like you is the greatest Christmas gift of all.
Together is our favorite place to be. We can't wait to see you soon!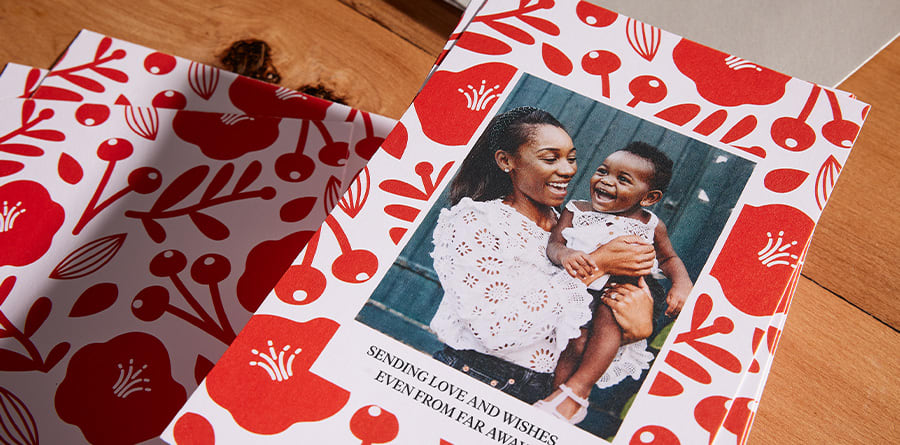 Holiday card messages for friends
Cards sent out to friends can be the most fun to write. If you're wondering how to write a Christmas card to a close friend, include a fun message or something that's tailored specifically to them. If you're sending cards to colleagues or acquaintances, you can keep your message more generic.
May your holiday be joyful.
Joy and peace to you and yours.
Peace in your world. Love in your home. Joy in your heart.
Wishing you a happy & healthy holiday.
Wishing you a holiday that's merry and bright.
May the season bring you the music of laughter & the warmth of friendship.
Joy to you and yours.
Source: Family Christmas Card design by sam2021 via 99designs by Vista.
Source: Happy Holiday card by Sonagi via 99designs by Vista.
Funny Christmas card messages
Want to make someone smile the moment they open your holiday card? Include a funny Christmas message that's lighthearted, personal and sure to elicit a chuckle. Here are some ideas to inspire your funny holiday card:
Merry Christmas! I hope Santa left you some wine.
Merry Christmas! I hope Santa brings you a new puppy.
Eat, drink and be merry!
The holidays are a time to cherish what's important – friends, family and Christmas cookies.
Christmas is the season when you buy this year's gifts with next year's money.
We tried our best.
Getting this picture was a Christmas miracle.
Dear Santa: We can explain.
Sorry we dropped the ball this Christmas. Happy New Year!
Source: Business Christmas card by Brierly
Holiday card messages for pet parents
If someone on your holiday card mailing list is a proud parent to a cat or dog (or any other animal!), add a note that nods to their furry friend.
Santa Claws is coming to town.
Happy Pawlidays!
Meowy Christmas!
Merry Woofmas!
May your days be furry & bright.
Happy Mew Year!
Bark Humbug!
Cold noses, warm wishes.
Peace, love & belly rubs.
Unleash the joy of the season!
May your days be meowy and bright
We "Woof" You a Merry Christmas
Barkin' around the Christmas tree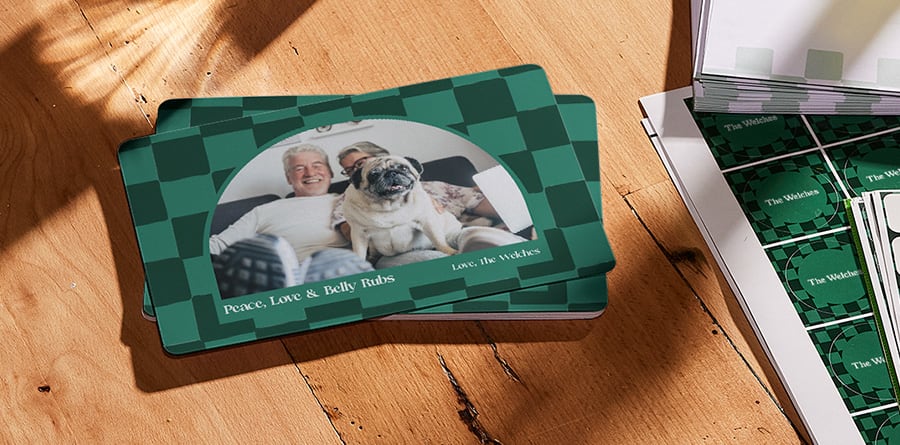 Holiday card wishes for the New Year
Maybe you were a little late sending out holiday cards this year…but not to worry! Include a message about the New Year and no one will be the wiser. Here are some to give you some inspiration for your New Year cards:
Love, cheer and happy New Year.
Wishing you a New Year filled with peace and love.
May your New Year be filled with cheer.
Cheers to the New Year.
Milestone holiday card messages
A lot can happen in a year. And if you celebrated a major milestone in 2023, share it with your loved ones with a holiday card message. Whether you welcomed a new addition to your family or moved to a new city, here are some sample messages to inspire you:
Married Christmas
Merry & Married
Married & Bright
Warm holiday wishes from the future Mr. & Mrs.
Merry, bright & engaged!
Even more to be grateful for this year! Warmest wishes from our growing family to yours.
Santa came early! Happy holidays from our newest addition
The more the merrier! Baby's first Christmas
There's a new name on the nice list!
A new home for the holidays.
There's 'snow' place like (our new) home!
Oh, what a year!
How to sign Christmas cards
Once you've made sure your message is free of spelling and grammar errors, sign off with an appropriate closing. Here are a few sign-off phrases you can use:
Wishing you joy,
Love always,
Warmest wishes,
All our love,
With love,
Thinking of you,
Peace and joy,
Love always,
Stay cozy,