Estimated reading time: 5 minutes
You know that feeling when you're expecting a delivery and hear your doorbell ring? Or, perhaps you're more of an in-person shopper, and find comfort seeing your new purchase carefully wrapped in tissue paper with a fun sticker holding it all together.
As a small business owner, branded packaging that shows off your company's style and professionalism, and quality shipping components that keep customer purchases safe, can help you create these kinds of memorable experiences that shoppers will keep coming back for.
Whether making sales in-person or online, packaging's most functional benefit is that it protects your products from the potentially damaging hustle and bustle of our world. But packaging that prominently displays your logo, brand colors and fonts and other elements of your business's personality acts as a crucial branding touchpoint that customers will remember.
What's more, unique packaging options can turn customers into brand ambassadors who will spread the word about your business. With unboxing videos on social media, the right packaging choice can get your brand in front of thousands of potential customers.
Sounds promising, right? To reap these benefits, however, you'll need to become familiar with the various types of small business packaging and how you might build up your own inventory.
Enhance your sales with small business packaging
Packaging for small businesses comes in so many shapes, sizes and materials, and no matter your product, your shipping needs or your budget, there are plenty of options for you. Here are the most common categories of packaging you'll want to consider.
Shopping bags, plastic pouches and other flexible packaging are ideal for in-store purchases. Sending customers home with a thoughtfully packed purchase is a great continuation of the in-store experience.
Cardboard boxes and poly mailers are your best bet for shipping success. These items will keep your products safe and sound and offer plenty of branding opportunities as well.
Plus, you can explore a range of inserts, labels and stickers, postcards and other add-ons like packaging tape that are important for a quality presentation.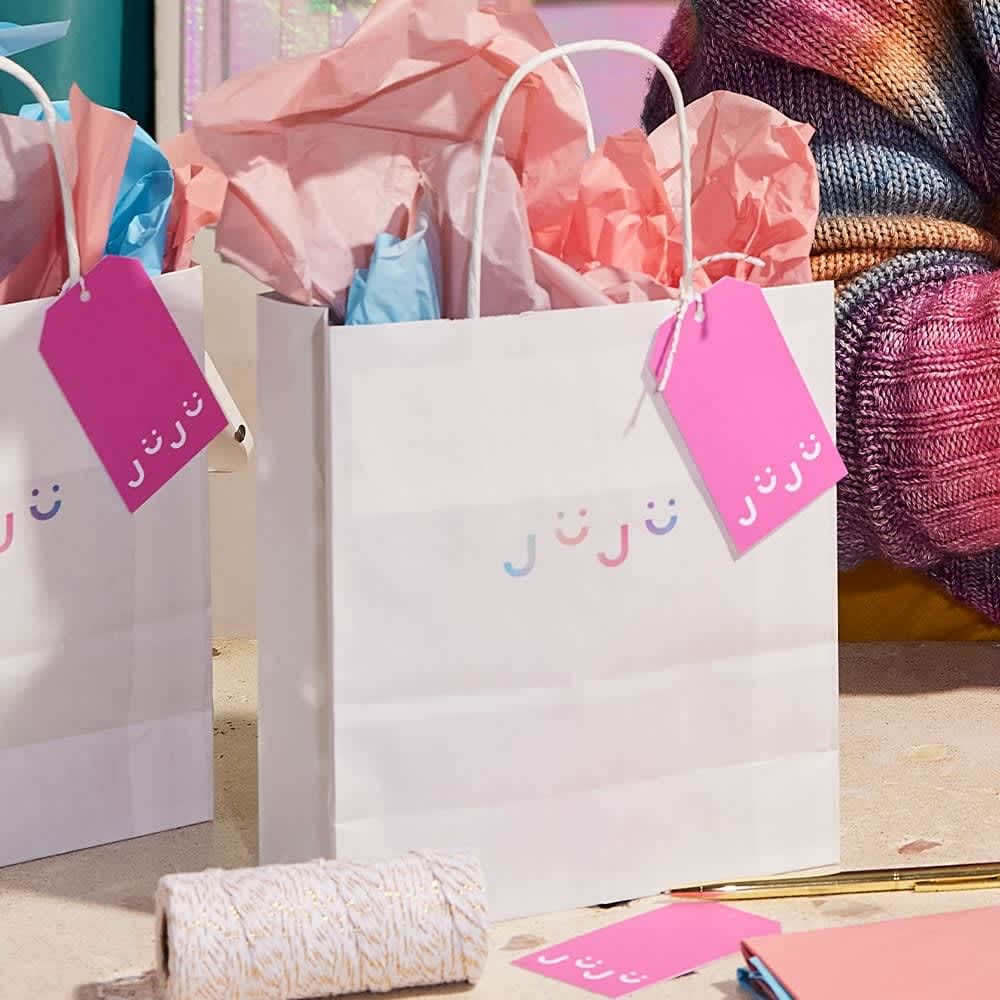 Each of these categories has a range of customization and pricing options, so it's important to weigh any costs with the overall value you're getting. Skimping on packaging can have costly consequences, so try to avoid poor-quality materials if at all possible. And many of the benefits we mentioned earlier rely on incorporating your brand identity to your packaging — an investment that will build lasting relationships and increase your brand awareness.
Here are some tips for using these tools effectively.
1. Know your product.
What you sell is what you'll package, whether you're stocking shelves at a retail shop or shipping from an e-commerce store. While this may seem like common sense, it may not be as straightforward depending on your business. Companies with just a few product options, all around the same size and shape, will have an easier time finding the right supplies than someone who packs unique items that don't follow a consistent packaging pattern.
For example, if you ship framed art with a maximum size of 8 x 11 inches, you can find a few boxes that will work best for orders of 1-3 items. Someone shipping barn finds or reselling from estate sales, however, will have a different item in every order, and planning for size and weight variances will be more difficult — but not impossible at all.
Make a master list of all your items (or possible items), including maximum sizes and weights. Add several inches to each dimension, as well as up to 11 ounces for packaging weight. This will be the guideline you use to shop for adequate packaging.
2. Protection is key.
Do you sell throw pillows? If so, you'll have little chance of your product breaking inside packaging, and you can get away with a branded paper bag or box. If you sell fragile items, like glassware or beauty products, however, you'll have to consider bubble wrap or foam to add inside your boxes.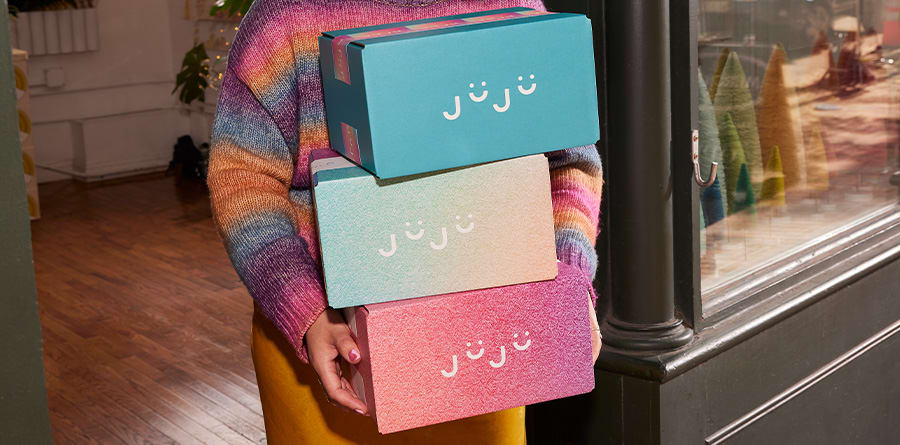 In addition to an external box, think through what internal product packaging and materials you'll need to keep contents from shifting during travel, without putting too much pressure on your precious wares. Make it fun, too, with crinkle paper or tissue paper in your brand colors.
3. Pay attention to adhesives.
When you get a package, what's the first part that you notice? In many cases, it's the packaging tape that covers the seams of the box and keeps everything sealed tightly against the elements. Not only does tape serve this function, but it's a great place for business owners to add their logo or a fun slogan.
You have several options for tape, including sustainable, paper-based and water-activated tapes that can include your branding. Consider how much strain your tape can take, especially with heavy shipments where the seams of the boxes will shift.
You'll also want to look at tapes that help your package arrive safely (and legally). "Fragile" or "hazardous materials" tape can do double duty of communicating how the package should be handled and also keeping your shipment in one piece.
4. Spruce things up with a sticker.
Who doesn't love stickers? Whether you include them on an external shipping box, on the product itself or as an added touch to invoices, stickers can bring out your brand personality in an affordable way. Go simple with stickers of your logo or slogan, or use larger labels to include extra instructions or say "thank you" for a purchase.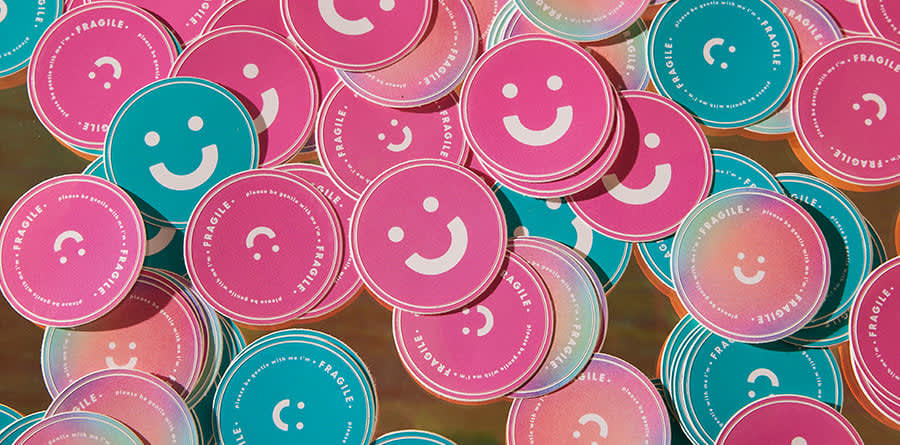 For a modern touch, QR code stickers make it easy to say a lot in a little bit of space. Use them to direct shoppers to your website or social media pages where they can find more information about the product they purchased, read your company story or even leave a review.
Consider adding sticker singles or die-cut stickers as a fun freebie for brand enthusiasts who may want to put them on their laptops, phone cases or water bottles.
5. Add the right inserts.
Use promotional inserts in every package to engage with customers who may not be on your mailing list or have another way to connect after their purchase (such as when the item was received as a gift). Provide a QR code or short URL on inserts that helps them sign up and stay digitally connected. Or include a thank-you postcard that has your website and social handles on the back.
To encourage repeat sales and build trust, include a discount code or free shipping promo, or ask customers to leave you a product review. And for eco-conscious consumers, you can include printed instructions for reusing or recycling your packaging right on the box or pouch itself.
Plan ahead for packaging success
There's certainly some planning involved in deciding your packaging needs, and it's likely that your plans will change over time. Start out with a few options that best fit your budget and your products, then listen to your customers and track what seems to be making an impact over time. Whether it's a simple bag with your company logo or a complete suite of branded shipping supplies and promo materials, small business packaging can help you stand out, boost brand recognition and increase customer satisfaction.