Estimated reading time: 5 minutes
Recurring customers represent the holy grail of business. Sure, reaching new eyes and ears is important. But knowing how to keep customers coming back helps ensure a steady and reliable revenue stream, not to mention the potential for many years' worth of value from these loyal buyers.
Plus, a devoted customer base serves as a key competitive advantage and can be the impetus for further business expansion.
Why are recurring customers so important?
There are numerous reasons why you should foster repeat customers. Consider the following:
Marketing costs are less with dedicated customers. Encouraging existing customers to buy again from your business is significantly less expensive than the process of new customer acquisition. According to Business.com, gaining new customers "costs 5 to 10 times more than selling to a current customer — and current customers spend 67% more on average than those who are new to your business."
Loyalty fosters a lifetime of value. With recurring customers, there's a greater likelihood of gaining a lifetime of customer value. After all, satisfied customers often return to a business that meets their needs and exceeds expectations. All those repeat orders, and opportunities for upselling, can generate far more revenue than a new or one-time buyer might spend. By maintaining the right approach to customer loyalty, your business can undergo more consistency and reliability in terms of ongoing sales. This method takes some of the guesswork out of the best marketing strategy to employ for your business.
A satisfied customer base is a great source of referrals. Nothing beats word-of-mouth marketing, and that can only come when happy customers share their buying experience with family and friends. It's important to make sure loyal customers understand the benefits of your business so they can refer you to the right people. And no business will likely succeed if they only regard customers as "numbers" that bring in money. With repeat customers, there's the opportunity to strengthen your ongoing relationship and offer the high-quality customer service that keeps them coming back again and again.
Make it easy for customers to spread the word about your small business. Keep business cards and postcards well-stocked in your store and in product packaging, and remember to thank customers if they successfully refer a new client to you.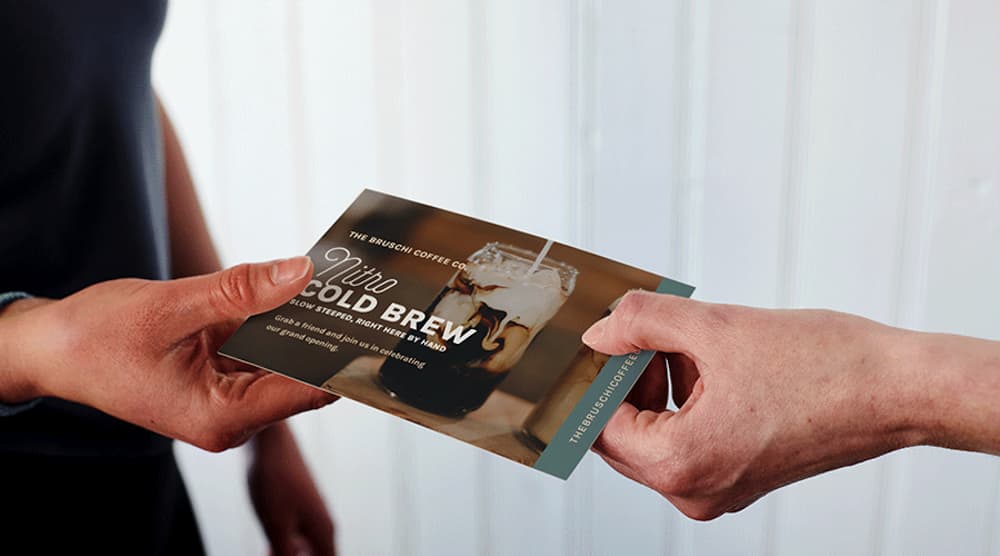 Converting happy customers into brand advocates
Regular customers are often willing to advocate on behalf of your business, which is not necessarily the same thing as providing a customer referral. Share branded merchandise with these customers to keep your business top of mind — everything from office supplies and tech accessories to clothing and food items, such as candy, snacks or gum.
And in the age of brand advocates (many of whom live and breathe on social media) online influencers are more motivated to promote your business if they have the right tools on hand. When influencers share posts with your brand incorporated into their daily life (like a walk in the park with a branded water bottle), it may be more effective than a paid placement and a true testament to the quality of your promotional merchandise.
A committed customer base can favorably impact your employee retention, as well. Employees certainly prefer interacting with satisfied buyers than with a barrage of unhappy (and loudly complaining) buyers. When a business keeps a strong base of customers, employees may feel more inclined to stay with a "winning" company.
Share your appreciation for customers who send you referrals with a personalized email or handwritten thank you card. It's a small gesture, but it can make a big impact on your clients.
How to leverage the power of repeat customers
With a loyal customer base, there's a potentially huge return on investment. Here are some steps to achieve this goal:
Solicit online business reviews. When customers post upbeat reviews of your business online, get their permission to reuse their reviews in your marketing flyers, or as testimonials posted on your website and social media platforms. Highlighting the authentic experiences of real clients can help build trust with new customers and strengthen your small business credibility.
Offer loyal customer discounts. Repeat customers deserve special treatment. From time to time, send them discounts and other promotional incentives that make it worth their while to come back again. Or create a loyalty program that leverages the back of your business cards, so customers can collect stamps or punches for a reward down the road.
Celebrate special occasions. If you have the right data on hand, make note of a recurring customer's birthday or the anniversary of their first purchase from your business. On those special occasions, enlist them in a rewards program or send a discounted offer on your products or services along with a personalized note.
Given the advantages — less marketing costs, more dependable revenue streams and valuable word-of-mouth referrals — it's easy to see the inherent value of recurring customers. Knowing how to keep them coming back will give your business the boost it needs to stay strong for years to come.