Estimated reading time: 8 minutes
Trade shows can be a complete goldmine for new customer connections and expanding your reach as a business. That's why you deserve a trade show marketing strategy that's as savvy as your brand. But, how do you craft an effective strategy that reaps the biggest rewards at any event?
To start, think of trade show marketing as a long game. It's less about the days in the booth and more about making those days count — before and after the event. You can do that with the seven-step process outlined below that takes you from pre-event planning to post-event follow-up. Here, we'll go over everything you need to know to level up your small business trade show game.
1. Invest in research.
Every trade show you attend is an investment, and a healthy bit of research can help you build a marketing strategy that generates above-average returns. And if "research" sounds intimidating, rest easy. This research is a pleasure because it'll help you choose the best events, set clear objectives and maximize your presence.
Research trade shows. You can start with the must-attend events for your industry and area. Gathering information on exhibit costs, attendee numbers and competitor participation can help you identify events that fit your budget and business goals.
Research your chosen events. Once you identify the best events for your business, dig a bit deeper. For example, consider hotel costs, event timing and whether peak travel times (like spring break or major holidays) could escalate costs. You can also explore individual event statistics, like qualified customer attendance and attendee demographics.
Research available booth space. Look for booth space that will maximize your visibility and foot traffic. You may even be able to get an exhibit hall map from a prior year to see where competitors had their booths. A good rule of thumb is that early exhibitor registrations tend to get the best booth locations, while late sign-ups are left to pick from what's left.
2. Set event objectives.
Businesses attend trade shows for many reasons, including developing business leads or partnerships, promoting new products, boosting direct sales or just connecting with customers on a personal level. Whatever your reasons for attending, your trade show marketing plan should reflect those objectives.
To set objectives for any show, assemble your team and use this step-by-step process:
Why this event? Discuss how this event and its attendees make sense for your business.
Why now? If you're launching a new product or moving into a new market, all the better.
What do you hope to achieve? Use the "why now" to establish your primary objective for the event.
Here's an example to put the above into action. Say you're a boutique coffee roaster with a brand-new blend about to launch, and there's a trade show filled with restaurant owners on the horizon. Your event objective might be to launch your new blend and sell a certain number of units — or even land a long-term deal.
Now, you know that your team and marketing strategy must align around this goal. And, of course, you can have additional objectives. Still, your primary goal should lead the charge.
If your primary objective for an event is to promote a new product, consider offering samples in custom branded packaging. It could be as simple as adding a logo sticker to a paper cup or plastic bag!
Source: @mojodesserts on Instagram
3. Seek out speaking opportunities.
Remember that you're an expert in your field…and trade shows are an excellent opportunity to share that expertise. However, one of the most overlooked trade show marketing ideas is speaking opportunities.
Panel discussions, keynotes and shorter speaking opportunities can put your brand front and center with decision-makers. And it helps to think of these opportunities as a place to share ideas that support why your business does what it does. For instance, a small, fair-trade manufacturing company might join a panel about wage growth. That same company could be part of an "ask me anything" event where other attendees can inquire about operational costs.
Speaking opportunities can also be a way to transform your team's most enthusiastic evangelists into lead generators at trade shows. With every conversation that starts after a speaking event, your speaker becomes a personal invitation to a more targeted conversation at your booth.
If you score a speaking slot, consider a unique piece of swag for talk attendees. At the talk, you can hand out a postcard that can be redeemed at your booth for a higher-value item, like a tote bag or stainless water bottle.
4. Promote your presence.
The most impactful trade show marketing strategies don't leave visibility to chance. Instead, they ensure that the most important people know they'll be attending an event — plus a few other important pieces of information.
Explore trade show-sponsored outreach. Many trade shows offer exhibitors the chance to engage in paid marketing opportunities like pre-event email campaigns. While costs can be high, these campaigns can help boost awareness and generate interest around your attendance.
Consider a pre-event campaign. A lower-cost way to create awareness can be a multichannel marketing strategy. For example, one to two months before the event, you can craft an email campaign to contacts from last year's show and use social media to promote your attendance using the event hashtag. You can display signage and pass out postcards at brick-and-mortar locations to showcase your upcoming attendance. And for VIP attendees you want to connect with, you can use a direct mail campaign with personal invitations to your booth.
No matter how you promote your presence, remember to include key information on booth location, specific booth events (like product launch times) and any promotional opportunities like giveaways. And finally, remember that your pre-event promotion should support your event objectives and bring attention to the activities that will help you achieve your goals.
5. Craft your in-booth experience.
You know why you're attending and what you want to get out of the event. Now, your in-booth experience needs to bring it all home. Keep the following in mind:
Signage. Strategic trade show signage can make it easy to spot your booth and encourage attendees to stop by. Consider a combination of signage — from pop-up displays and flags to tablecloths and foam boards — that's easily seen from every possible direction. Your signage can also promote other events, giveaways and other enticing offerings to draw attention and potential leads.
Staffing. Staffing goes beyond just having bodies at your booth. Make sure all booth personnel understand your primary event goal (lead capture, product sampling, etc.) and that they know how to make a lasting connection. Great staffing also means having top-level team members consistently available to chat with any level of lead.
Swag. Remember the fun merch takeaways that will help attendees keep your brand top of mind. Consider items that will be easy to carry around the exhibit hall, fit in the event swag bag and offer attendees value during and after the event — such as pens, water bottles, tote bags or stickers.
Promotional materials. Successful marketing campaigns acknowledge the digital age while respecting tradition. For example, consider a run of printed materials like business cards or flyers, and a digital way to deliver the same, perhaps through QR codes. You can still give attendees key takeaways without adding to the weight of their swag bags.

For a truly above-and-beyond digital experience, consider an NFC business card with VistaConnect. When attendees scan your card with their smartphone, they're instantly taken to a customized web experience. Equip your booth personnel with these cards and watch engagement skyrocket.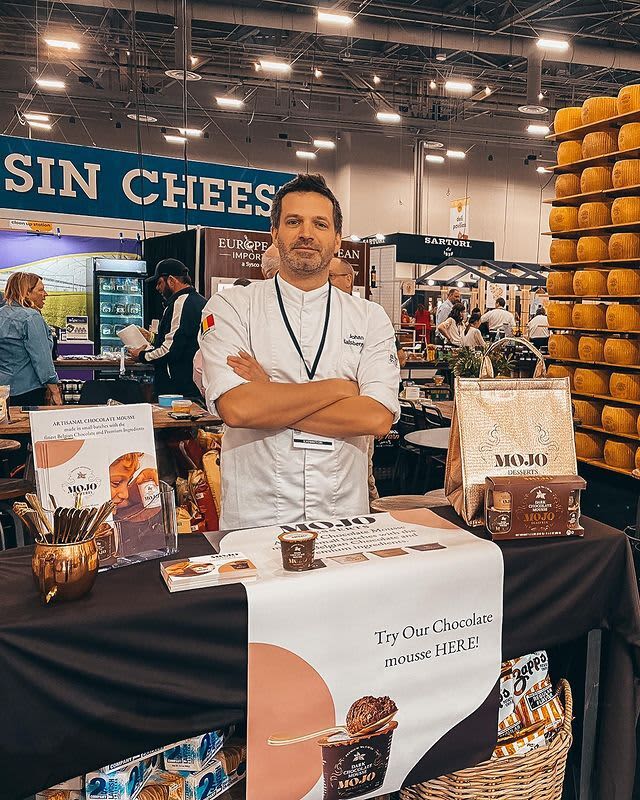 Source: @mojodesserts on Instagram
6. Explore the event.
With your booth rocking and your entire team aligned behind your key event objective, you can sneak away to scope out the rest of the event. By doing so, you can learn valuable information and generate ideas to amp up your next trade show.
Check out your competition. Check out your competitors' booths. Stop by and strike up a conversation. Don't hide who you are. Instead, absorb where they are, what they're offering, and how it all seems to be working.
Look for the crowds. There are always booths that everyone's talking about. Get the lay of the land and see what's generating the hype. Whether it's an innovative piece of swag, an interactive game or a live demo of a new product, these ideas can help you innovate your offerings.
Seek out partnerships. Walking around the exhibit hall can introduce you to companies whose offerings complement yours. You might find the ideal partnership to help your companies reach new heights beyond the exhibit floor.
7. Don't forget to follow up.
Once the trade show is over, you're just getting started. Now's the time to follow up on everything from sales to leads, so all your prep and in-event work reap the most rewards. These tips can help you stay in touch and keep the relationships going:
Be timely. Post-show follow-ups should ideally happen the week following the show. Don't give attendees time to forget you.
Track your new contacts. If you use customer relationship management (CRM) software or even just a simple spreadsheet, upload and track all your contacts in a centralized place.
Make it personal. When you reach out to contacts, try to add details about your meeting or a conversation you shared. Handwritten notes are another great personal touch. Let your contacts know that you remember exactly who they are.
Link up. Remember the power of LinkedIn to keep you connected from one show to the next. It's a powerful network to learn what key prospects value, so you connect your work and brand to what they find important.
These marketing ideas can help you master any trade show from start to finish. Moreover, they'll help you craft a unique strategy for any event that ensures your key objective is supported and met every step of the way.