Estimated reading time: 4 minutes
How important is food delivery packaging? Picture this: A delivery driver enters a hotel or apartment lobby, and the mouthwatering smell of fresh-baked bread comes in with them. You look at their bags and see the logo of an artisan bakery printed there. Your mind has already made the association; it's automatic. Suddenly, you're craving a fresh loaf. Just like that, food delivery packaging has done its magic.
You, too, can score this win for your business, but it takes a little ingenuity and planning. While you, of course, still need to provide food or beverage products people really love, the right food delivery marketing strategy can help you find more hungry stomachs.
Why food delivery packaging matters
Deciding what to eat can be a spontaneous activity. While it's possible for diners to plan a special meal months in advance, deciding where to eat often happens in the moment. How do people pick among all the choices? The power of suggestion plays a vital role.
This is especially true when people are traveling or are new to an area. They turn to flyers in a hotel lobby, Google reviews and the associated user images, the pages of visitor guides or a car door decal on a passing or parked delivery vehicle to help inform them. Fortunately, businesses can take advantage of all these opportunities with marketing materials.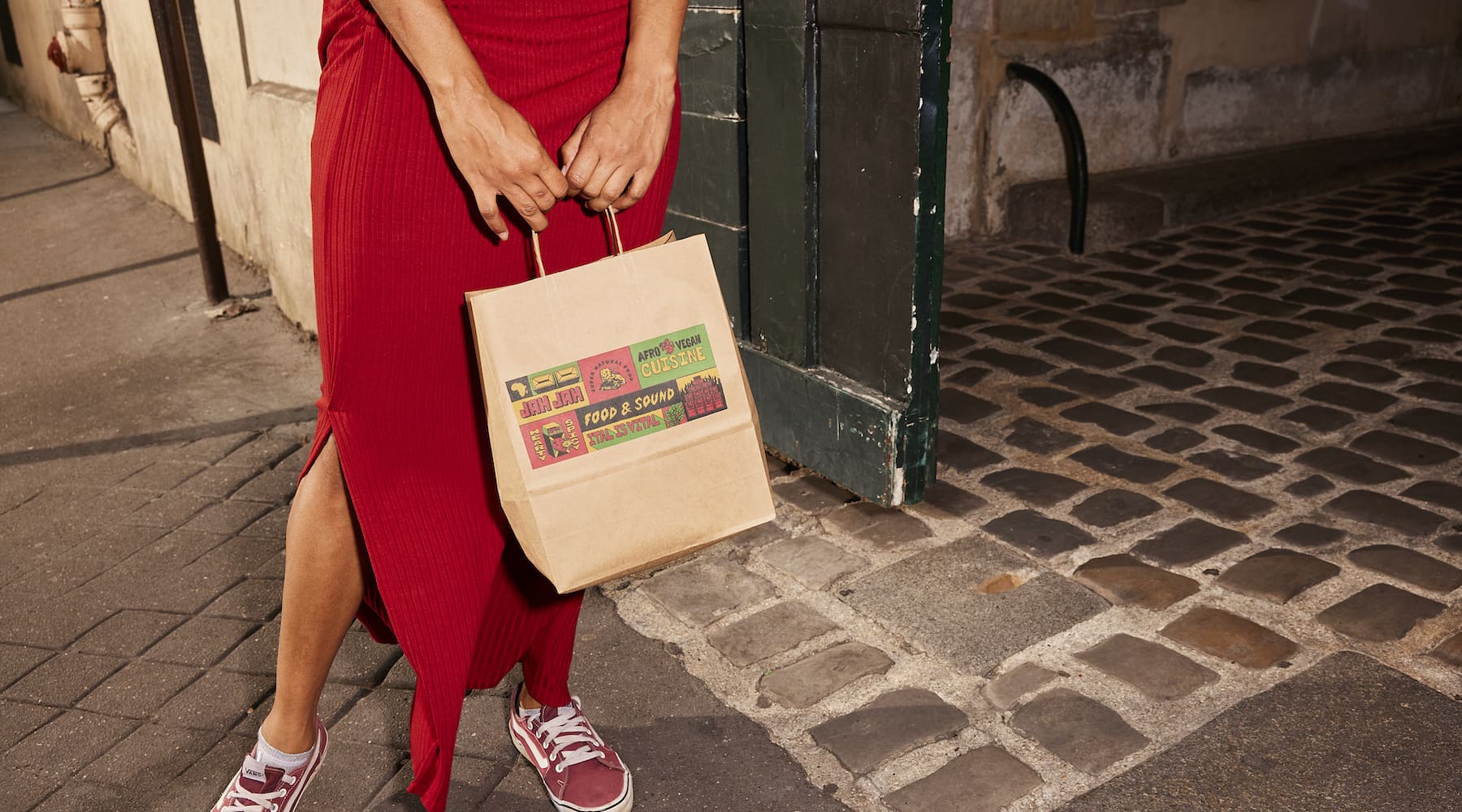 Here are some examples of different packaging options to push your food brand to the ideal consumer.
1. Consider the right food containers.
Great packaging starts with the product itself, and customers often leave online reviews for food businesses based on how well the packaging works. If your containers leak, break or make it difficult to transport food, it won't matter how great your offerings are. Customers need assurance they can get their meals without fuss or mess.
Consider containers that are ecologically sustainable or can be reheated to attract and retain even more customers. Reusable containers are especially effective for helping achieve brand recognition. Selling mocktails or fresh juices in reusable mugs or bottles gives customers something they can use again and again — and they'll see your brand each time they reach for that next drink at home.
You don't have to sell hot food to impress your customers with containers. Businesses with dry goods, such as candies, cereals or pasta, may find flexible packaging pouches a win-win for convenient packaging and effective branding. The bags are easy to hang, ship and store, and customers can see important product and business information at a glance every time they pick a package up.
2. Stick your brand everywhere with labels and stickers.
While it's difficult to find containers that fit a brand beyond color, adding roll labels, die-cut stickers or another type of custom sticker to the tops of containers can add some pizzazz and remind diners where their meal came from. Customize your labels with your logo and brand colors, or maybe even include some white space for you to write in special requests or personalized notes for a fun touch.
Other ideas include product labels or food packaging labels, which can help you differentiate between your standard brownies and the gluten-free option. And consider adding your contact information on labels to help with customer service requests or encourage future orders.
Rather than just placing labels on certain orders, such as for a request to "hold the pickles," put one on every food container for a brand boost. These labels can double as a seal to keep containers shut, giving you a savvy way to share your marketing message while also keeping food orders tidy.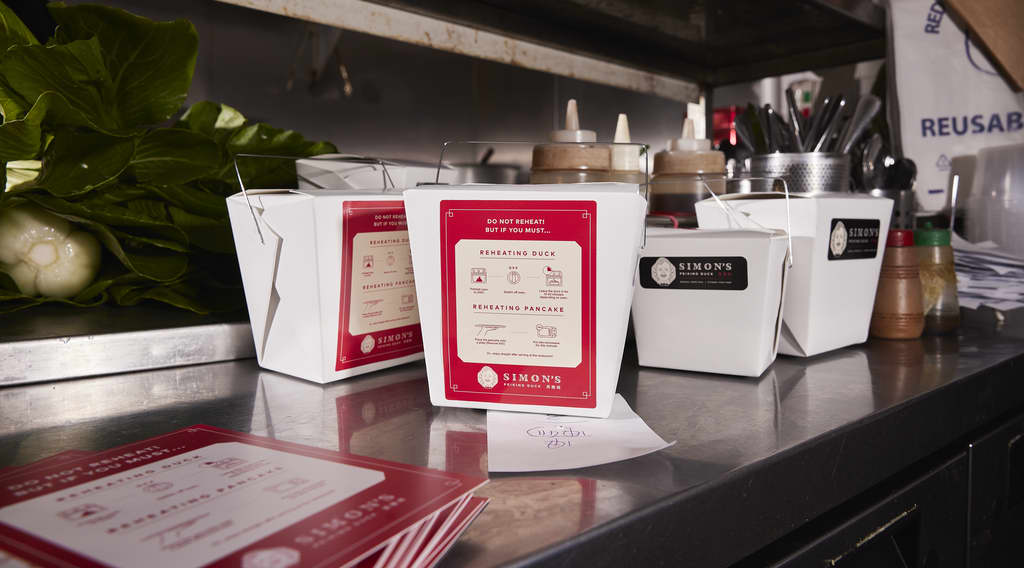 3. Brand your paper and reusable bags.
Food must be carried, and custom paper bags help customers transport goods while promoting your brand. Choose to include your logo, your restaurant's name, a clever slogan or all of the above! Text and graphics should be visually appealing, on-brand and visible from a distance for easy recognition by others.
If your customer base is both loyal and eco-conscious, switching to reusable branded totes may be the best way to go. Ideal for large orders and dry packaged goods that won't leak or spill, these bags can be used in the customer's everyday shopping life. You may also ask for them to return the bag for a discount on their future order!
4. Show off with custom beverage labels.
Breweries, wineries and small craft soda companies have many options for labels. Getting the right look for your brand, however, can be a bit tricky. You need to balance aesthetics with functionality, which is why it's best to choose labels made specifically for beverages. As the beer can or wine bottle "sweats" (drips condensation moisture), you won't want the label to peel or smudge. Choosing a durable label that showcases your logo and brand voice may be almost as important as the beverage itself.
While you may use the same beverage labels for most of the year, custom or seasonal batches might need their own special branding.
5. Don't forget the trusty business card.
If you're just starting out and need a quick enhancement to your branded paper bags, consider the humble business card. Use them to promote an upcoming event or a discount code on a future order. Just put one card inside every food order to see how simple marketing can be. Given that they are so affordable, you can keep many on hand and give them out at every opportunity that arises.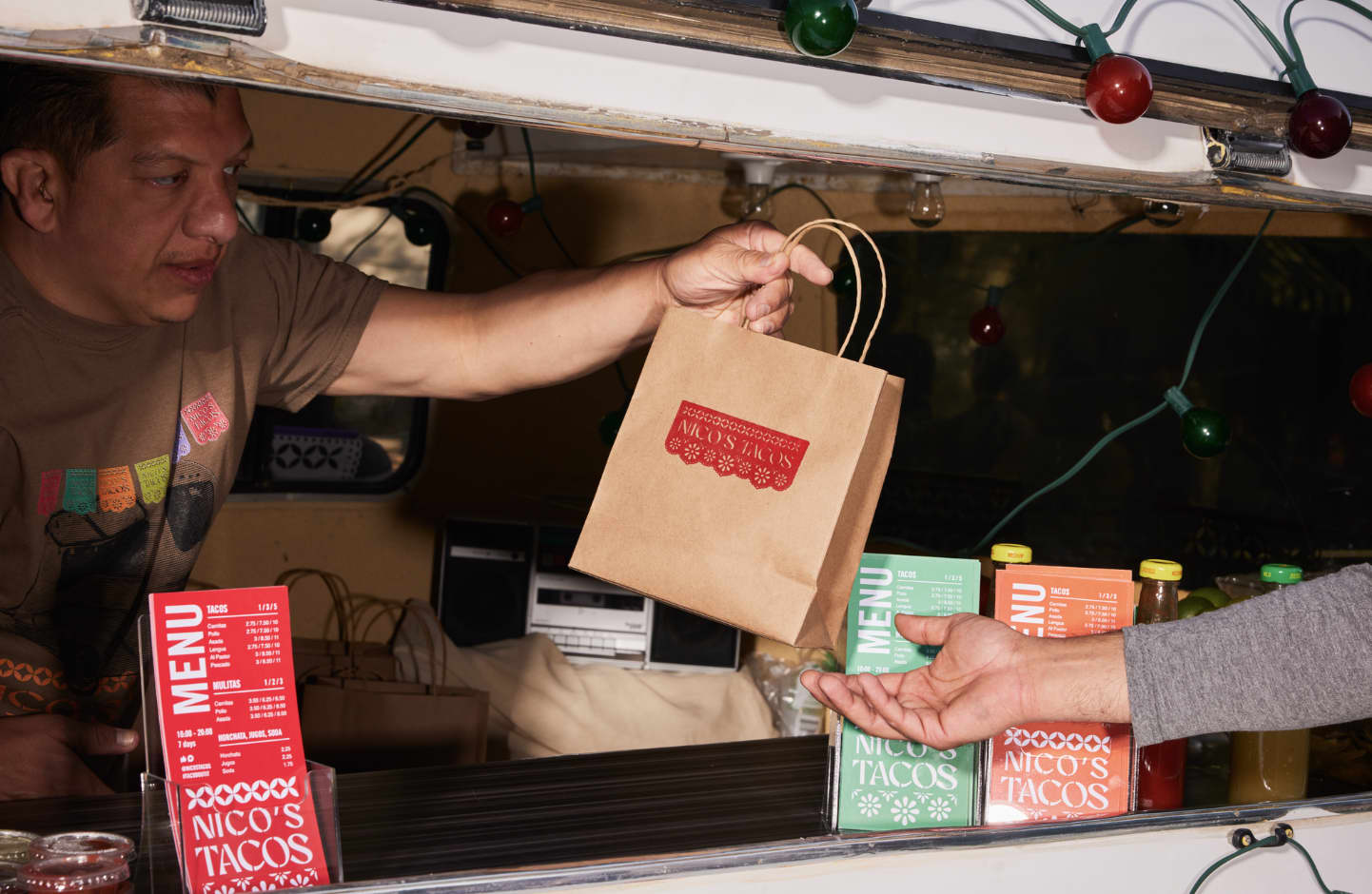 Food delivery packaging brings results
Your company likely has a number of goals when it comes to food delivery — from prioritizing cleanliness to ensuring timely arrival. Provided you have done everything you can to give diners a great experience, you'll want to ensure they remember you when it's time to order again. And hopefully, onlookers will see your brand and consider it for their own dining needs. With the right balance of creativity and practicality, you can nourish customers and inspire future purchases at the same time.