Estimated reading time: 7 minutes
Figuring out how to start a retail business is a big undertaking, but it can be incredibly rewarding to see your products loved by customers, in-person and online. If you're willing to learn best practices, work hard and find the right partners, you can find success and fulfillment. The time and investments you make during the earliest days of your business can lay the foundation for your long-term accomplishments.
If you're like most small business owners, you might feel like you're not sure where to start, have a limited budget or time or haven't developed enough of a marketing strategy. The good news is that the right knowledge and services can make it all feel a lot more manageable. With some expert guidance and tips (hint: we've got you covered below), you can open a retail store that's set up for success — without breaking the bank.
Here are 5 key steps you should follow to start turning your retail business dream into a reality.
1. Create your logo and brand identity.
Telling your story starts with the right brand identity. You'll want to stand out from your competition with distinct, clear branding that helps potential customers immediately recognize your business. Your logo is the cornerstone of this visual branding and can let you do more with digital and in-person marketing.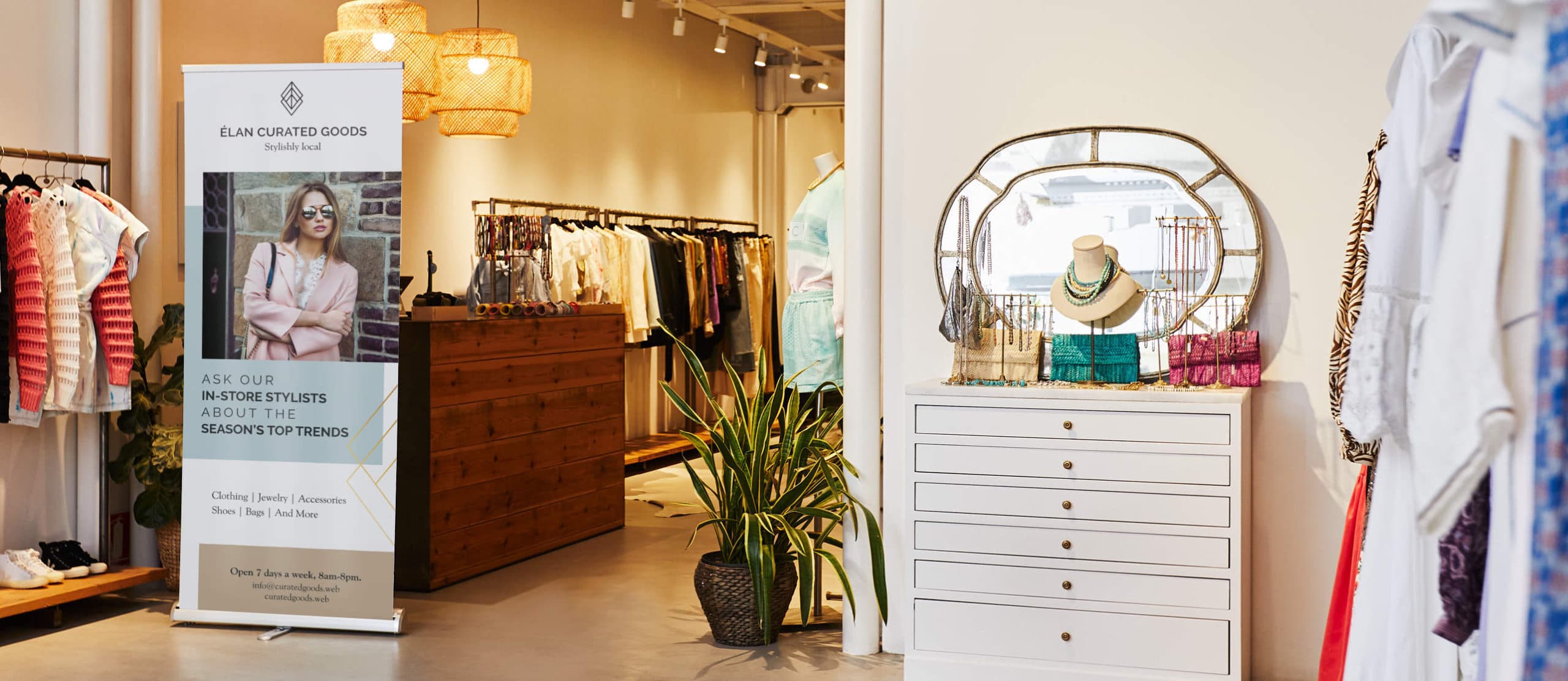 The right logo is also key to establishing your credibility and demonstrating professionalism. A strong design shows that you take your business seriously, but with fun colors and fonts you can also display your unique personality. Powerful logos include:
A look and feel that conveys your industry
A distinct (and consistent) color palette
Fonts and visual elements that are easily recognizable
A tie-in to your brand identity and elements of your unique story
When The Stephen Talkhouse bar developed its branding, for example, the owners brought key elements of the venue's in-person music experience to their logo creation. Their choices carried through to the font, color and visual elements of the design to ensure the logo reflected their larger brand story and what they wanted to communicate to customers.
Don't have the design skills, the know-how or the time to focus on creating a logo? Consider leveraging existing design templates or working with a professional designer that can craft the perfect representation of your small business in logo form.
Looking for a unique, affordable logo? Check out Logomaker by Vista to find a customizable template that works for your business. Or, find a professional designer through 99designs by Vista to create something completely one-of-a-kind.
2. Get the word out in print and online.
Once you've chosen a logo and established your brand, it's time to get the word out about your business. For retail business owners, it can be helpful to think about how you'll reach out across physical and digital spaces to increase your business's visibility. Generating interest is one of the most important aspects of opening a retail store, and it's also one of the most exciting as customers begin to find you.
Physical products like postcards, business cards and signage are a great place to start. They're easy to design and produce and have an immediate visual impact. From handing out eye-catching flyers at events to offering promotional business cards to excited customers, printed marketing materials can help you promote your brand from the very beginning of your new venture. To get started, leverage design templates and printing services to get help with everything from rounded-corner business cards to full-color "Coming Soon" banners.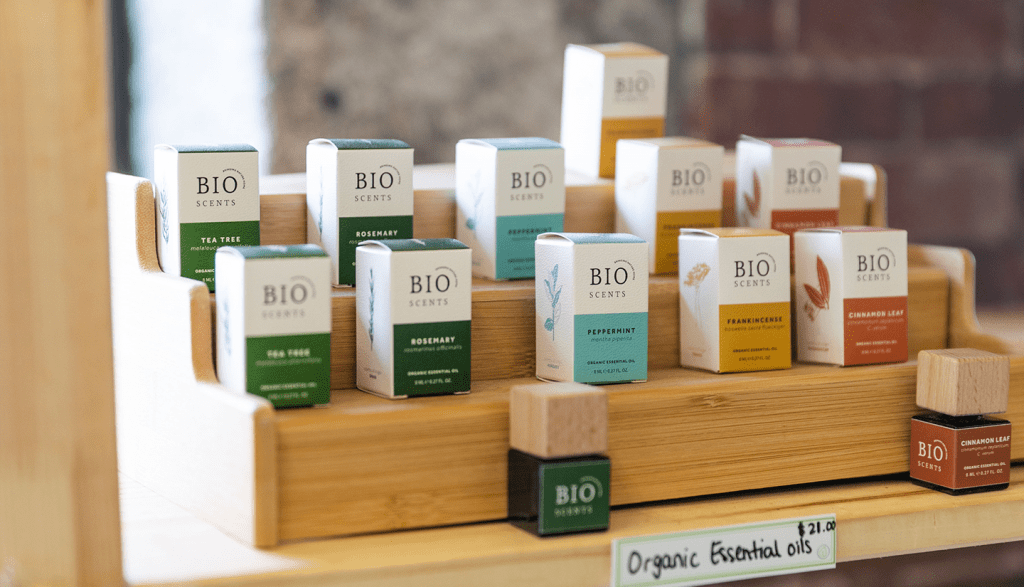 Digital marketing, on the other hand, allows you to take your brand online. From email newsletters to social media to your very own digital storefront, every brand touchpoint helps reinforce who you are, what your brand represents and how you're different from the competition. To start, create a website that can form the foundation for your online presence, then promote with the far-reaching powers of social media and email newsletters as you grow your following.
The Vista x Wix website creator lets you leverage curated themes and layouts to build a website that's professional, full of personality and easy to maintain. Plus, you can get selling fast with a powerful built-in e-commerce platform. Spread the word even further by leveraging VistaCreate's rich library of social media templates.
3. Enhance your in-person customer experience.
Another consideration when starting a retail store is ensuring consistency across your marketing — this is how you'll thread your brand through every aspect of the in-person experience. When you're selling in person, it's important to think about how you'll use signage to catch the eye of passersby and the experience you'll create once they're engaged.
Retractable banners can help you showcase key business information and full-size photography, both in your store and at events. A-frame signs allow you to feature your message outside your storefront or easily turn an event booth into a branded experience. Signage options don't stop there, so explore what's available to find signs that fit your company's needs and integrate with your larger environment.
Outfitting your staff in uniforms, like branded T-shirts, makes it easy for customers to identify who they can go to with questions while also reinforcing your brand. Bright colors with bold logo placement or understated dark colors with a tasteful logo print are both good options.
Consider offering employees a variety of clothing styles (like hats and sweatshirts) to keep them comfortable and give your brand visibility throughout the year.
When selling in-person, think through every aspect of your physical space. For example, window or wall decals can turn empty surfaces into promotional areas for your overall brand or for targeted products and information.
4. Go big on branded packaging and merch.
When it comes to the items surrounding your product (like packaging and swag) go big on branding to reinforce your business identity, build brand recognition and get customers to promote your business for you when they're out and about. Put your logo, slogan or tagline on everything you sell, and offer branded merchandise that customers will want to use in their daily lives.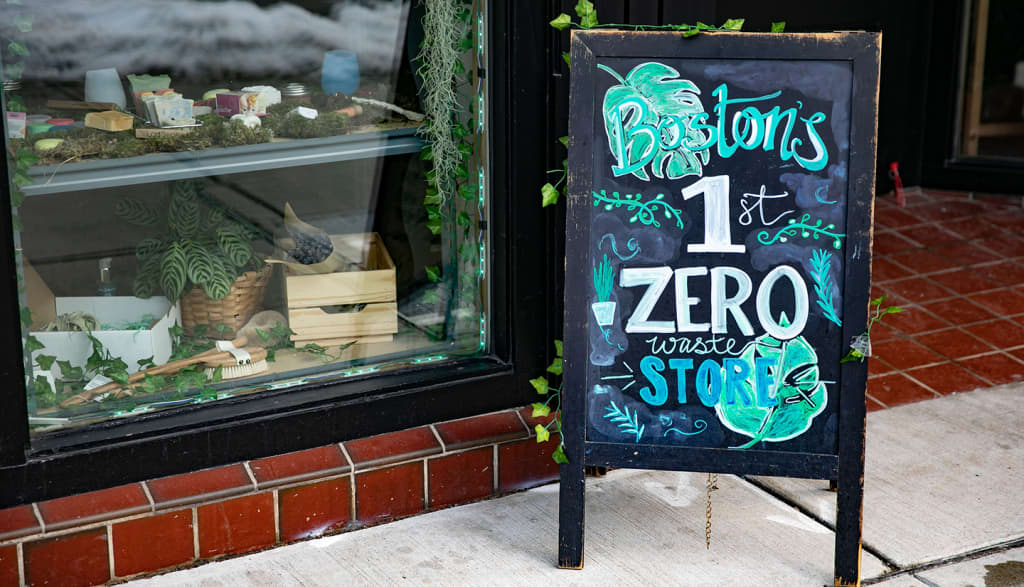 Turn your checkout experience (or shipping experience for digital orders) into a brand showcase. Roll label stickers let you seal bags and boxes or personalize receipts with your logo. Branded hang tags and paper bags are another effective way to include your brand in your packaging.
Branded merchandise can be used in a variety of ways: marketing giveaways or gifts to customers who spend a certain amount of money. Practical items like tote bags, pens, water bottles and hats are some of the best options as people will use them frequently, and they can increase brand awareness when people see them in action.
When the new owner of Saffron and Rose, an ice cream business, updated his shop's logo, he chose to use the business's old name written in Farsi as a key part of the story. Today, he routinely gets stopped by people asking where he bought the cool hat he's wearing — the one that features his shop's logo. Consider the unique stories behind your business that can be incorporated into your logo and showcase that on branded merchandise that promotes your business on its own.
5. Nurture customer relationships.
Lastly, show your customers that you recognize their support and will reward them for coming back to do business with you time and again. This can take the form of gift certificates, postcards that ask for a review in exchange for a coupon and more.
One powerful way to entice customers to stick with you is a loyalty program. With these, customers are rewarded with a free item or discount after a certain number of purchases. For example, a coffee shop might offer a program where customers who purchase 10 drinks get their next one free.
Let your business card double as a loyalty card that can be stamped or punched to log each purchase.
Other creative strategies can help you reward existing customers, such as special events or email discounts and offering small gifts or samples with purchases. Spend time personalizing interactions between associates and customers. Or, consider giving each associate a personalized business card where customers can email or call them directly to ask for assistance.
Feeling more confident about what's ahead? Remember, when you're exploring how to start a retail business, focus on the basics first. Designing a strong logo, getting the word out online and experimenting with different print marketing materials can get your store off the ground and lay the foundation for long-term growth.