Estimated reading time: 7 minutes
When you're building a brand for your small business, you're bound to face your fair share of challenges. And one of those challenges might be creating an identity for your new venture. Whether you're a first-time business owner without much marketing experience or you've been there before, creating a brand identity is not always an intuitive process. If you've had trouble getting started or felt stuck along the way, that's more than understandable — it's expected.
Finding ways to stand out in a crowded marketplace is crucial. Consistency and cohesion are key to creating a strong brand identity that resonates with customers and becomes instantly recognizable. But what exactly does that look like, and where should you start? In this article, you'll learn how to craft a credible company image with an eye-catching logo and clear brand messaging.
Ready? Let's go build your brand.
The power of building a brand identity
Whether in the form of a logo, website copy or physical signage, a brand's identity serves up the company's first impression and communicates what it's all about. That makes your branding a powerful tool that can either draw people in or turn them away.
Branded elements like business cards, packaging and apparel can help you create brand recognition, build credibility and foster connections with customers. So, decisions on how to best build your brand should always be rooted in understanding your target customer. That way, you maintain consistency across different channels and ensure that your small business branding resonates with its intended audience.
To help simplify the process of bringing your brand to life, you can break it down into four key aspects:
Creating a company logo and brand identity
Finding the best business cards for your brand
Investing in eye-catching branded packaging
Getting your brand out there with promotional products and merchandise
Let's explore how you can build your brand by covering these four essential areas and find the right products and services for you, whether that's a professional logo design or the perfect business card template.
1. Create your logo and brand identity.
Creating a logo and brand identity can be simpler than you might think, but will require an eye for design. Take a look at different types of logos to get an idea of what you like and what might appeal to your target customers. Are you drawn to text-only logos, or do you prefer something with a bold visual?
Think about your industry and your brand's personality — how can you incorporate colors, fonts and other design elements that align with your business? Perhaps a striking array of colors or a unique font could help make your logo pop out against the competition. Or, you could go for a more subdued approach if that's more your style. Review your competitors' logos for inspiration, but also to see how you might stand out with your own personal touch.
If you're having trouble coming up with ideas, try to keep it simple or consider consulting with an expert. Ultimately, you want your logo to be personal and meaningful, and appeal to your target customer with a memorable visual — all things a designer has specialized training on.
Outsourcing your logo design to a trusted design professional typically involves a one-on-one brand consultation that will uncover what makes you and your business special, and translates that into a fully custom logo that will carry your brand forward for years to come.
Get a customizable logo quickly (and for free) with Logomaker by Vista. Or, start a design contest with 99designs by Vista, in which designers will go head-to-head to create the best logo and brand identity for you. You'll get full copyright for the design, digital print and web files, the original, editable logo file and a money-back guarantee.
2. Find the best business card for your brand.
Now that you have your logo, it's time to show it to the world…and one of the first places you'll use your logo is on your business card. Having unique business cards that reflect your brand's personality is one of the simplest and most effective ways to make a lasting impression on potential customers, partners and collaborators.
You can snag standard business cards in the traditional size and rectangular shape with pointed corners. Or, you can opt for upgraded designs that immediately elevate your brand's value. Instead of going the traditional route, consider rounded corner business cards for a confident, stylish and modern look. For those who want to (literally) shine, foil accents add an extra bit of metallic flair — perfect for creative entrepreneurs or luxury brands seeking a sophisticated signature look.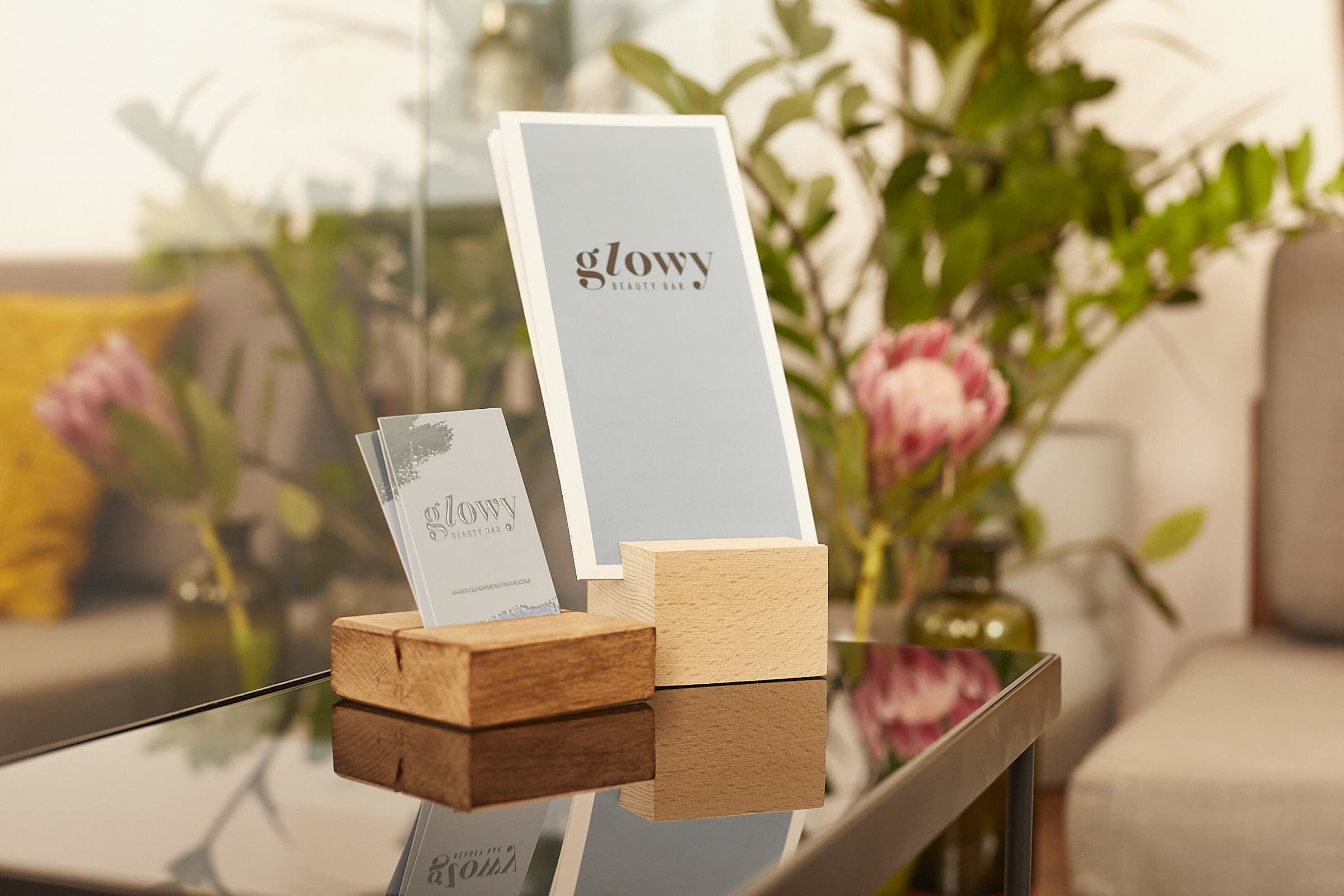 There are also painted edge business cards, a special enhancement for thicker cards that can give a splash of your brand's most prominent color to the edges. These additions provide you with another way to make your statement with an unexpected pop.
And if you want the most durable option, plastic business cards are waterproof and tear-resistant and available in both flexible and rigid materials. At the same size as a credit card, they're a bold and lasting way to represent your big-personality restaurant or retail shop.
3. Go big on branded packaging.
Another effective way to solidify your brand identity is with branded packaging. Think roll labels to stick onto packaged bakery treats, branded paper bags for retail or restaurants and private label e-commerce products in boxes, bottles or jars. Or, consider postcards for promoting your products at retail points-of-sale or for slipping into shipping parcels.
Items like water-activated packing tape, shipping boxes and mailer boxes are e-commerce essentials for getting products to customers. There's no reason not to let these shipping necessities double as marketing opportunities by customizing them with your brand logo design and company colors.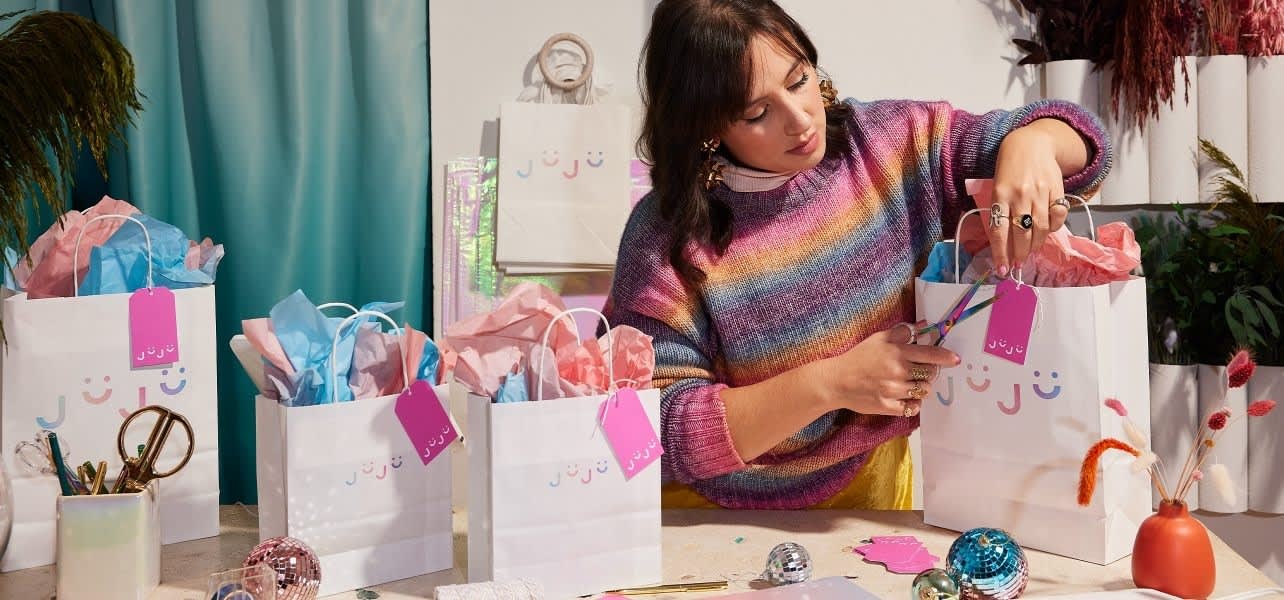 Investing in high-quality packaging embellished with your branding adds delight to your customer experience. These materials not only protect products during shipping and transit, but they can create memorable unboxing experiences. Customers may end up sharing clips of your products on TikTok, Instagram or other social media platforms, extending your brand reach and recognition and showing people you're committed to delivering a top-notch experience.
If you're starting a retail brand, then custom hang tags are a must-have. They're the perfect place to include pricing, material info and care instructions on your merchandise…in an on-brand way.
4. Get your brand out there with promotional products and merch.
Branded promotional products and merch can provide customers with useful products while simultaneously getting your brand noticed in your community and online. After all, you'll be turning your current customers into walking brand ambassadors for your business. Choose promotional products that align with your industry and your audience's lifestyles, such as totes for retail businesses, drinkware for coffee shops or water bottles for fitness studios.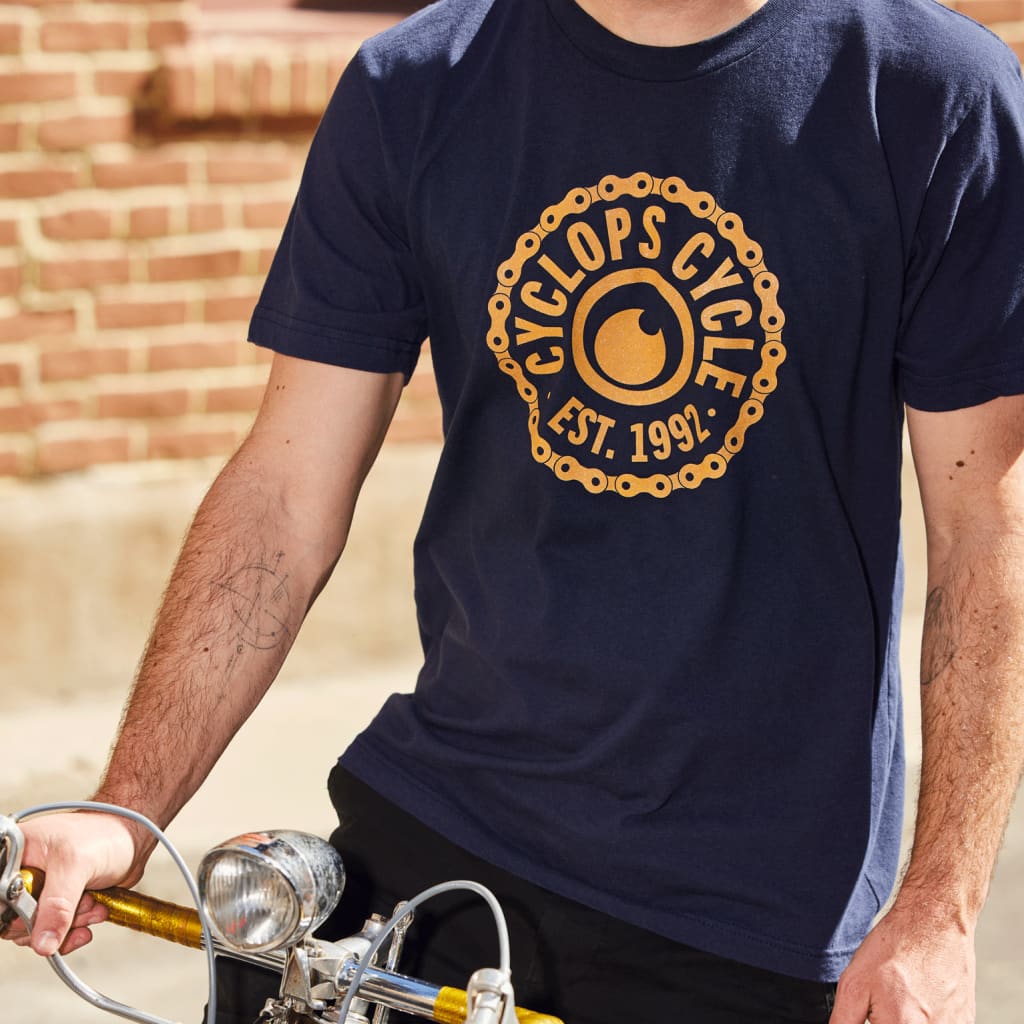 Branded T-shirts and tote bags are some of the most popular promotional products and are customizable in a range of colors and styles. These are practical items that your customers will use again and again — showing support for your business and boosting your brand exposure. Customizable drinkware, including tumblers and mugs, is another popular promotional product category because of how practical these items typically are.
You can give away branded merch at events or as part of promotional campaigns to build brand awareness and recognition. Plus, you can also add items to your retail store shelves or e-commerce listings to generate sales with your most loyal fans.
Building a brand identity: The bottom line
With such an important role to play in marketing your small business, creating a personalized logo and brand identity that resonates with your target customers is a critical step for all entrepreneurs. Leveraging that brand consistently across all your marketing materials and merch, from business cards to packing supplies, will create a memorable experience for your customers and attract new ones, too.
Whether you work with a designer or DIY your logo and brand identity, focus on expressing your personality, professionalism and credibility. Doing so will help you stand out from your competition and cement your legacy for years to come.