Estimated reading time: 4 minutes
Picture your bold and unique business card pinned up on a bulletin board, grabbing the attention of passersby who have been looking for the exact services you offer. Or, imagine meeting a business associate who refers you customers after another small business owner finds your professional business card at an event. Fortunately, there are many ways to get your business cards and contact info into the right hands.
While there are a handful of tried-and-true places to leave business cards, finding new and creative places to do so can get your brand in front of a whole new audience. Here are 10 ideas and tips to get you started.
1. Get more out of your co-working space.
Turn co-working into an opportunity to connect your business with up-and-coming entrepreneurs. If you offer services or products that target small businesses, co-working spaces and entrepreneurship centers are filled with your prospects. These spaces offer a gathering place for your potential customers, so drop off some business cards and get ready for the word to spread.
2. Step up your packaging.
Each time you close a sale, ship a product or send out direct mailers is an opportunity to share your business cards. Many companies overlook this. Infuse your brand style into your packaging and mailings for a splash of unforgettable color and to build name recognition. Consider stapling business cards to invoices, adding sticker-style business cards on packages or slipping a business card in with regular receipts or gift cards.
Help your business cards stand out by choosing non-standard designs. A business card with rounded corners or foil accents will catch people's attention.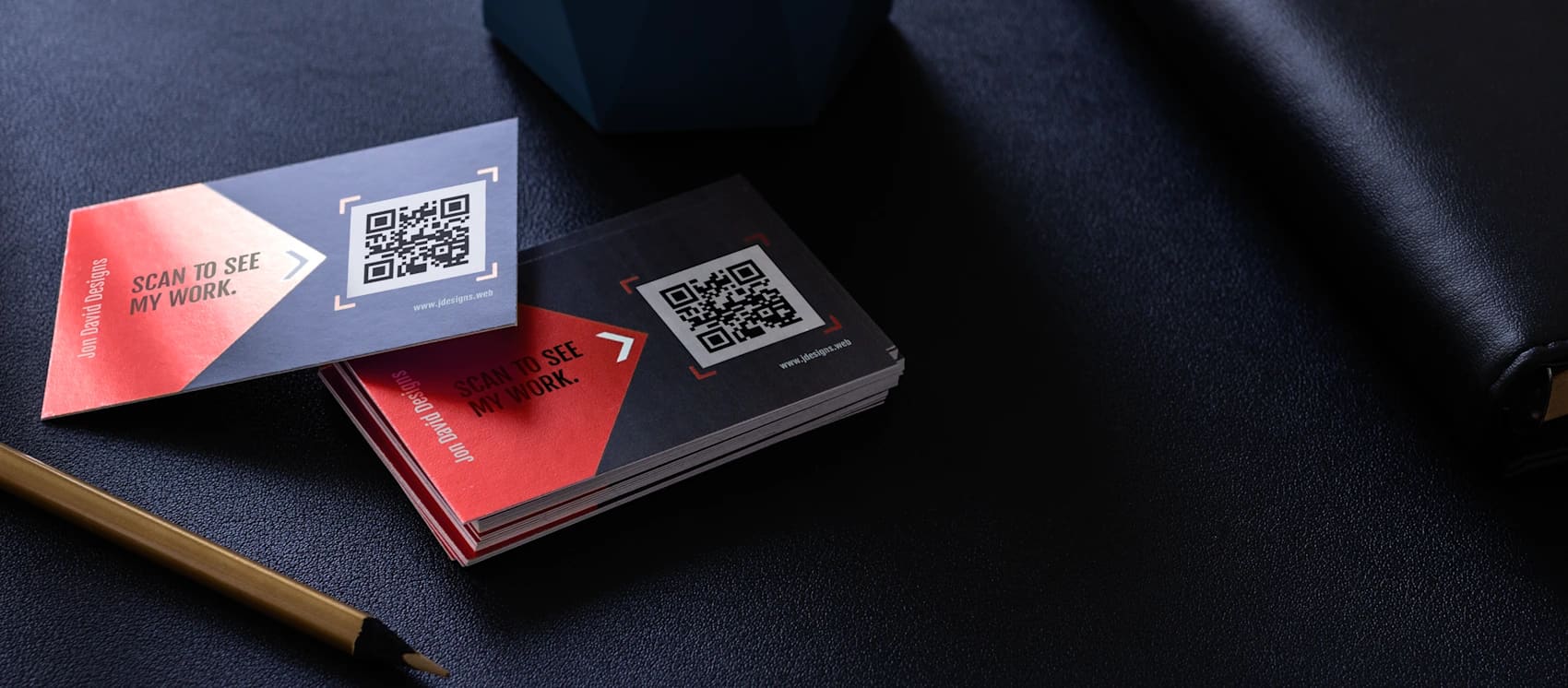 3. Leverage libraries and bookstores.
Your brand can target customers eager to learn more about topics related to your business. Some bookstores and libraries let you leave cards on-site or allow you to put some near the sections with relevant publications. Someone interested in a magazine on home design, for example, could be just the right audience for a landscaper, designer or contractor.
4. Be seen on bulletin boards.
It's essential that you increase your brand presence in high-traffic areas. Public bulletin boards are a great visibility opportunity for your business card. They're often in areas like your town hall, senior centers, banks and hotels. When wondering where to leave business cards, consider leaving a few on every bulletin board that allows it, and keep cards on hand to post one each time you come across them.
5. Explore opportunities with other businesses.
Initiate a business card exchange with other businesses that you work with. If people are regularly referring you business, make it easier for them by handing over a stack of business cards. Empower them to spread the word for you! For example, a coffee shop that often sends hungry guests to the restaurant next door would be a great place to highlight business cards.
6. Take action in waiting areas.
Laundromats, grocery store checkouts, salons and doctor's waiting rooms all have one thing in common: their customers often spend a good deal of time in dedicated waiting areas. Help customers reclaim their time by reaching them while they're idly waiting and stash business cards in nearby waiting areas.
7. Let food trucks spread the word.
Is there a food truck you love? Ask if you can leave some business cards. As they go about their rounds, your brand will be in front of a wide range of potential patrons as they enjoy top-notch food.
Magnetic business cards make it easy to leave them on metal surfaces and can be perfect for food trucks, coolers and refrigerators.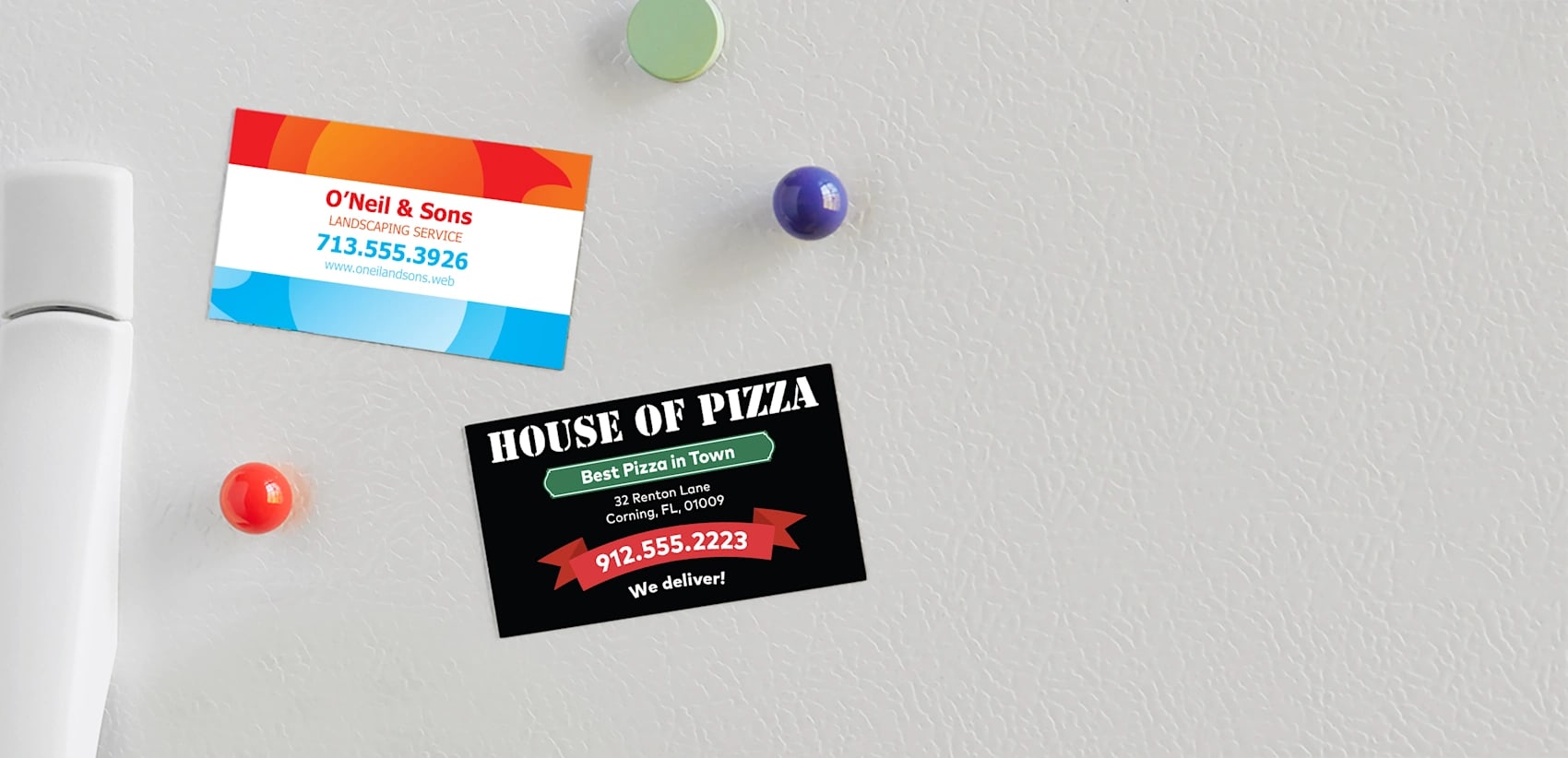 8. Partner up with HOAs and apartment complexes.
Get to the top of the list of local in-demand businesses. Partner with organizations that welcome people to your area to distribute business cards. If you're operating a local business like a handyman service or clothing boutique, many apartment companies and HOAs prepare welcome kits for new residents who are likely to remember your card when they're in the market for products or services you offer.
9. Tap into community and tourism centers.
Community and tourism welcome centers are high-volume locations that cater to very diverse customers. Leave business cards to bring your products, services or offerings to guests who may be visiting the area. Consider cards with a QR code for a discount or specialized information to encourage them to take action while they're in town.
10. Get active with scavenger hunts or geocaches.
Are you targeting local, active customers? Leaving a business card inside a geocache or as part of a scavenger hunt (which you could sponsor) is a creative way to engage with prospective customers and add an active twist to your marketing plans.
Your business cards are a powerful tool in your marketing arsenal. Getting creative about places to leave business cards can help you stand out and reach new audiences in your community. By getting your cards out there, you'll capture a greater return on your marketing investment and wow new customers in search of what you offer.