Estimated reading time: 4 minutes
Have you ever unboxed a product to find the brand's custom gold foil sticker adorning the inner packaging, giving you that "so luxe" feeling? Or, maybe the organic farmer you buy your produce from uses die-cut holographic stickers on her packaging — and seeing those shimmering pops of color never fails to make you smile.
Stickers might be small, but they can have a big impact on how customers feel about a brand. Best of all, they come in a range of sticker materials, giving you the flexibility to use custom stickers in creative ways. Take a look and see what different types of stickers might be able to do for your business.
1. Keep it simple with white paper stickers.
White paper stickers might feel a little old school — but retro is always in, and so is the old-fashioned paper sticker. Cost-effective and versatile, these simple white stickers are the perfect vehicle for your eye-catching brand designs and a subtle but powerful way to promote your brand identity.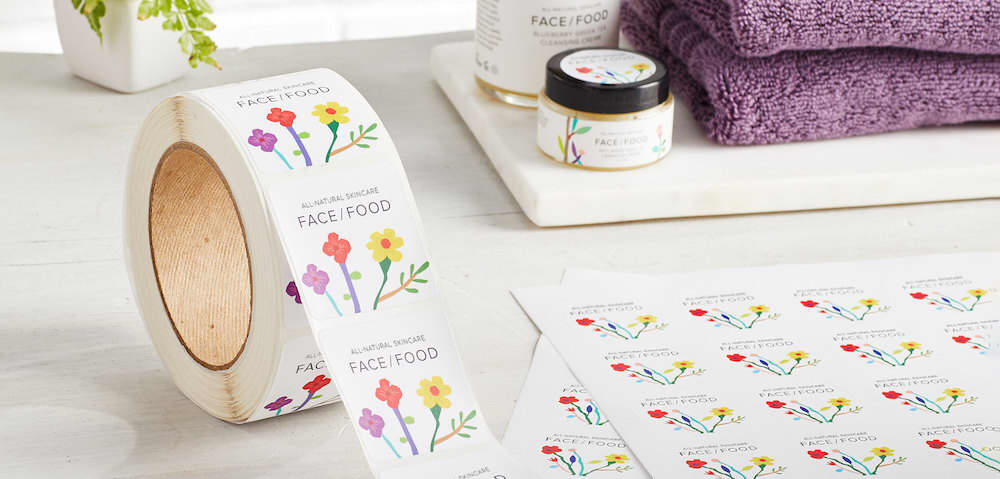 Trade show showstoppers. Sarah is an artisan soap maker determined to awe potential distributors at an upcoming trade show. She needed something attention-grabbing and memorable, without breaking her budget. So, she designed paper stickers featuring her logo paired with witty slogans ("Get sudsy with it!"). The result? People came to her booth just to grab a sticker, and many stayed to chat about her products.
2. Shine in style with foil paper stickers.
Want to add a bit of glitz or a touch of luxe to your brand? Silver or gold foil paper stickers — the king (or queen) of sticker materials — can take your look to the next level. Whether you sell boutique clothing or run a gourmet food store, using foil paper stickers can give your products and packaging that "wow" factor.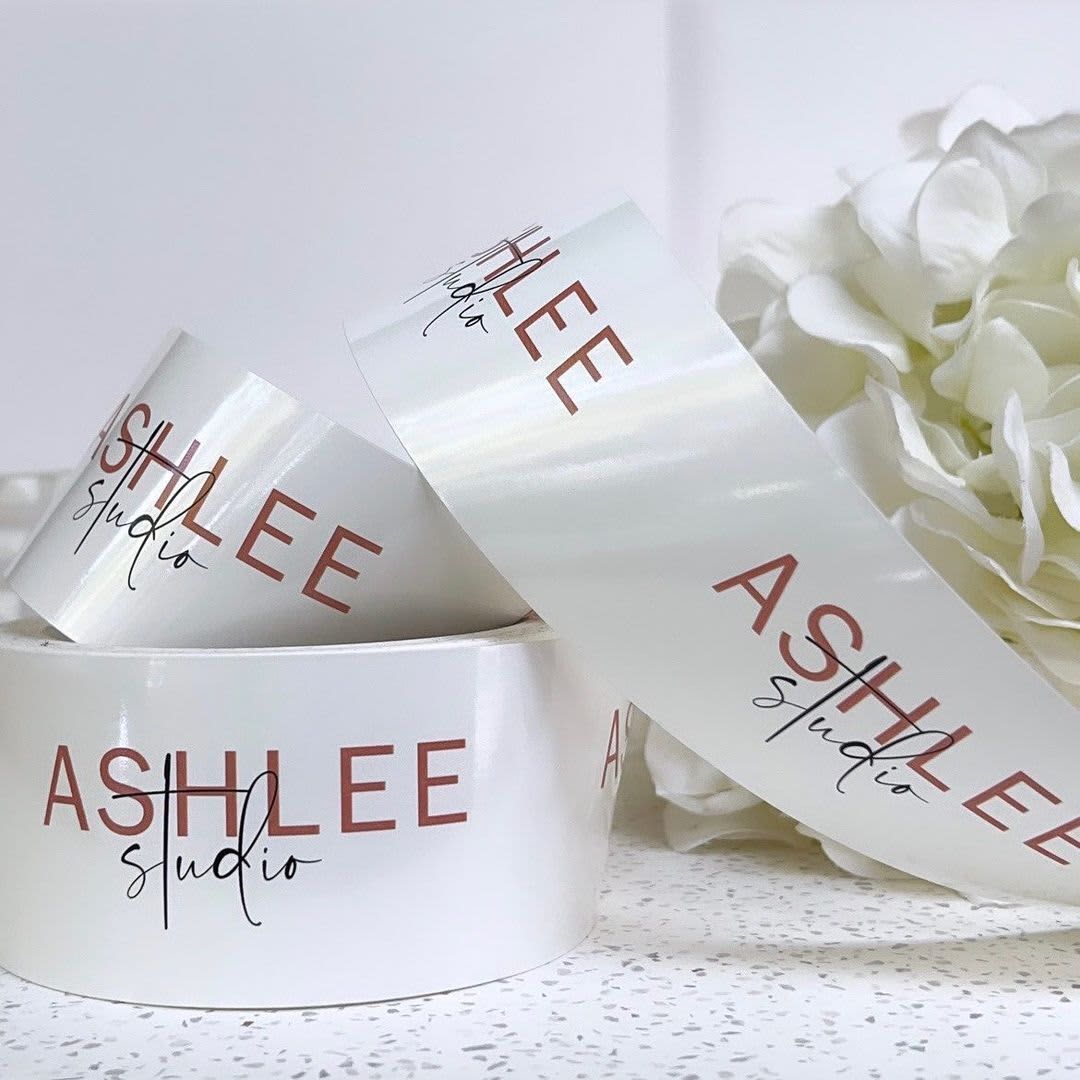 Source: @ashlee_studio on Instagram
Shimmer & sip. How do you make your coffee shop stand out in a sea of Starbucks? Anil, the owner of a specialty coffee bar, came up with a solution: He used foil paper stickers branded with his logo to add a dash of glamor and sophistication to his takeaway cups. His customers were soon leaving his coffee bar feeling like their morning commutes just got a bit more stylish.
No design skills? Collaborate with one of VistaPrint's designers to give your custom stickers a burst of personality.
3. Catch the eye with holographic stickers.
If you're looking to add some oomph to your brand, look no further than holographic stickers. These fun, iridescent stickers are a great way for your brand to stand out. Whether you're looking to add a playful touch to your packaging or generate some interest for a product launch, holographic stickers let you add just the right amount of pizazz.
Flex your style. A lifelong fitness enthusiast, Antonio wanted his new line of workout gear to stand out in the crowded workout world. Enter holographic stickers. With designs that shimmered on everything from kettlebells to water bottles, his gear became impossible to miss — and an instant hit with customers both in and out of the gym.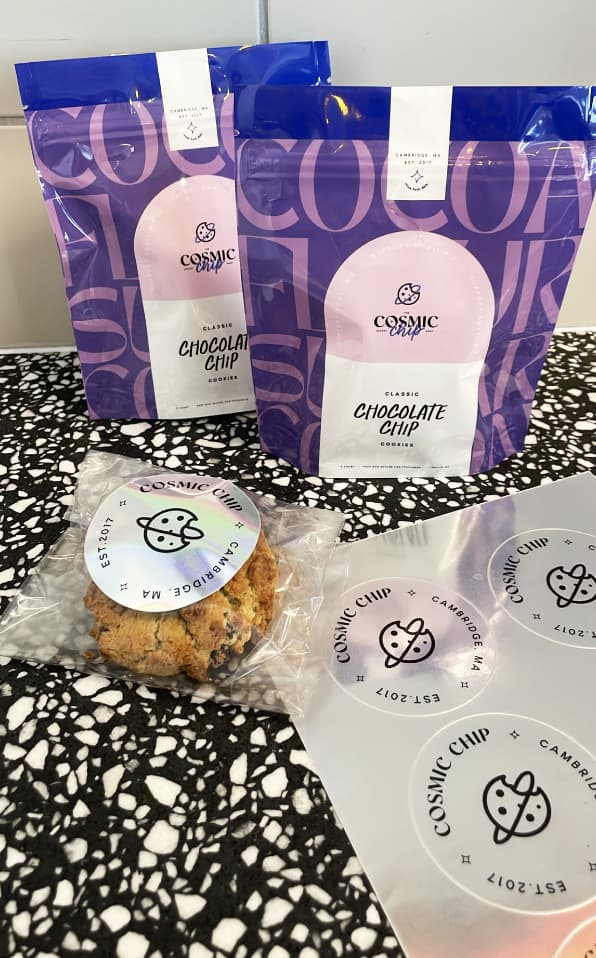 4. See it through with clear plastic stickers.
Picture this: your logo and an eye-grabbing catchphrase on plastic stickers adorning your storefront windows. Or, maybe you're going with clear plastic to subtly showcase your brand identity on your packaging. No matter how you use them, plastic stickers are the perfect way to make a statement while staying within budget.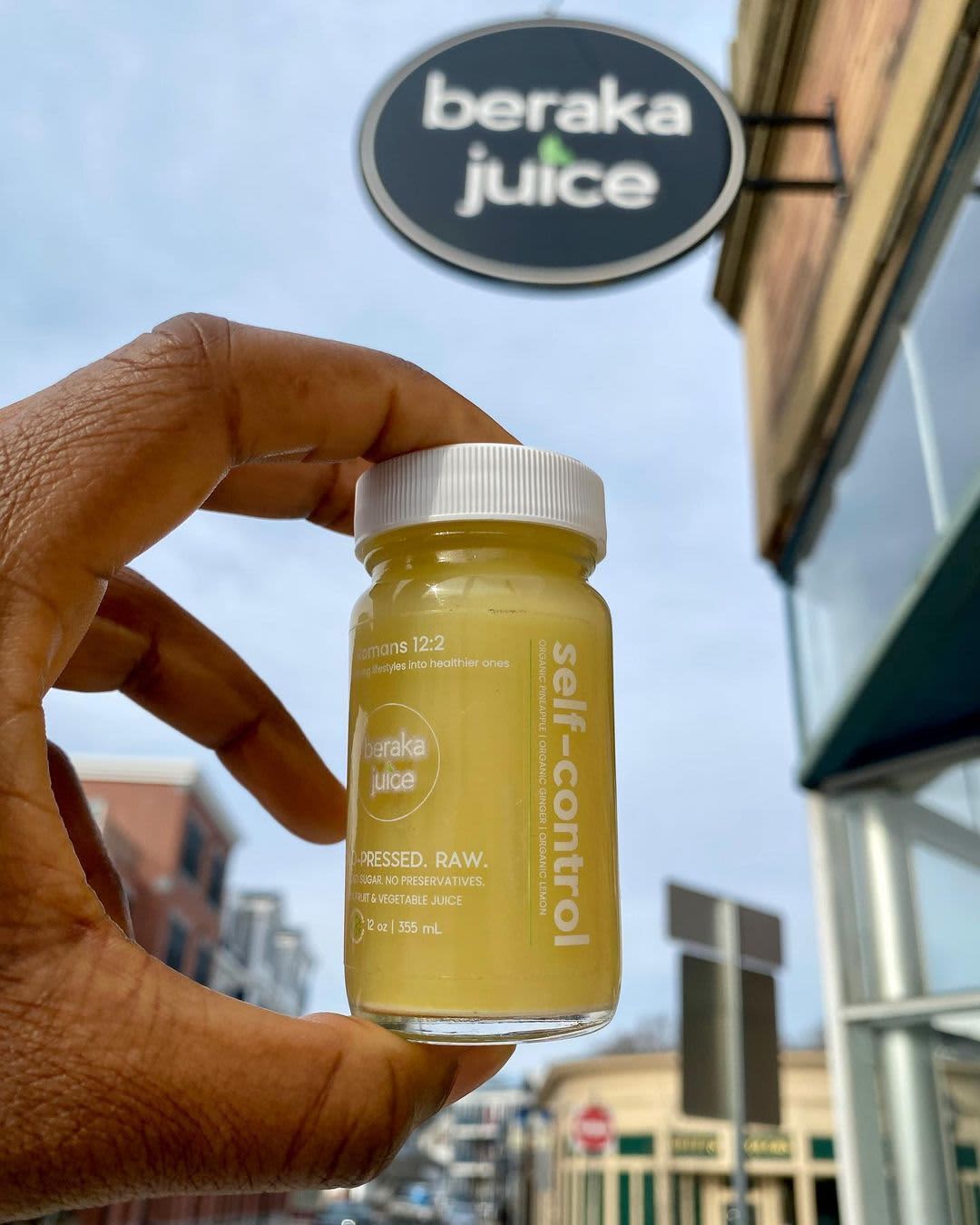 Source: @berakajuice on Instagram
Love is in the details. Wedding planner Yulia's secret weapon? Clear plastic stickers. Printed with the happy couple's names and wedding date, these clear stickers added a tasteful finishing touch to the couple's wedding invitations and RSVP cards. The polished, cohesive look delighted her clients — as did her gift of more stickers for them to use on their thank you notes after the wedding.
Add your logo to VistaPrint's kiss-cut stickers for distinctive giveaways your customers will love.
5. Stick it outside with waterproof stickers.
Stickers made from waterproof polypropylene film offer a great way to attract attention to your sales and product promotions. Whether you're advertising a store-wide sale or celebrating the launch of a new product line, these stickers can withstand rain, wind and sun exposure without losing their vibrancy. And a bonus: They're reusable, so you can peel them off and reuse them for later promotions.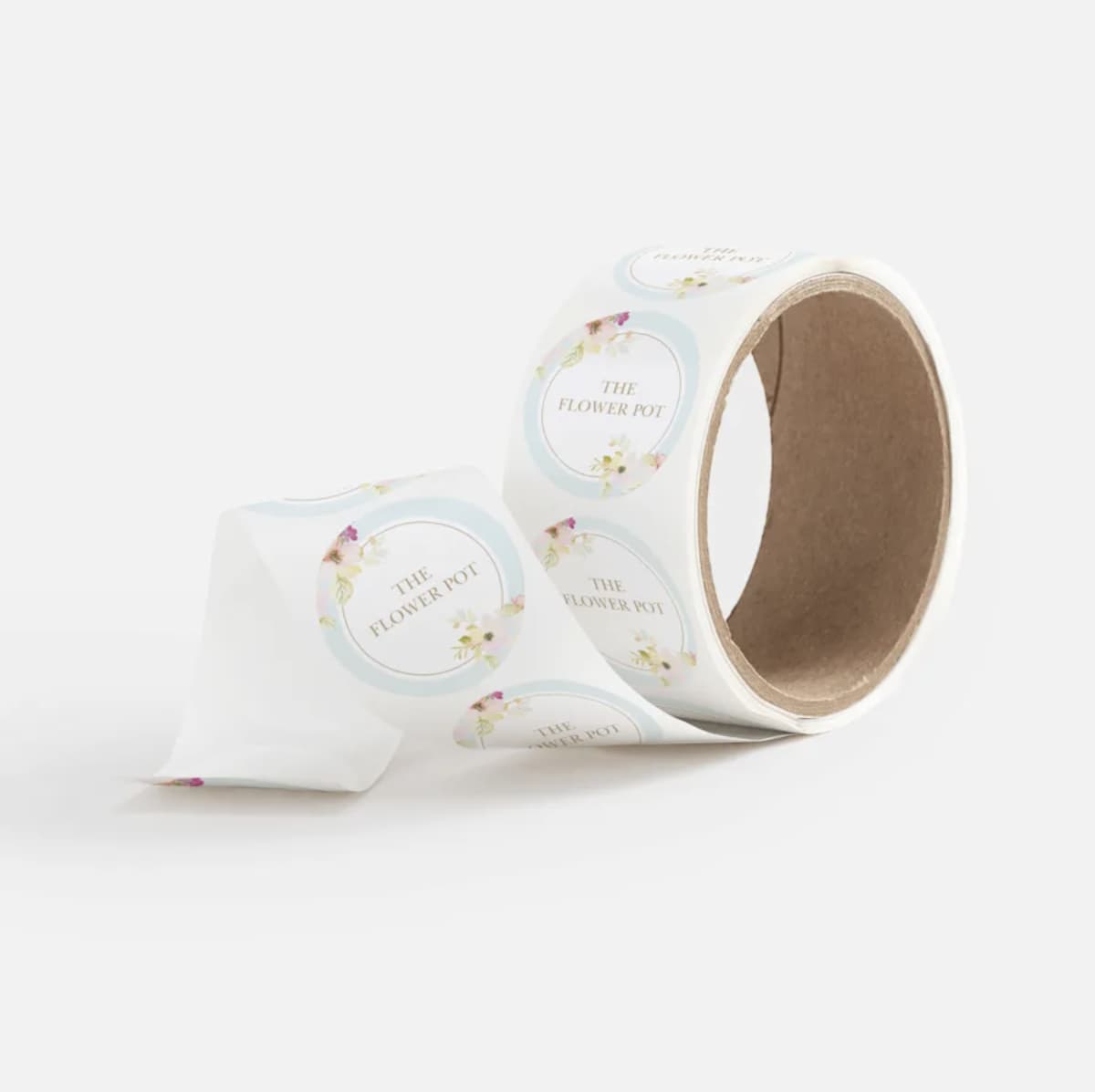 Eco-stick-able. Pepper's eco-friendly cleaning products were a big hit with customers from the start, but she wanted to take it a step further. So, she ordered stickers made with waterproof polypropylene film to put on her products' refillable containers. These stylish stickers did more than just showcase her brand: Their reusability also highlighted her company's commitment to sustainability.
Sticker marketing: Small investment, big impact
The versatility of stickers makes them the ultimate marketing multitasker when it comes to branding your business. And the types of stickers and range of sticker materials available give you endless options for customization. So, get creative and use stickers in new ways to create a lasting impression on your customers.