Estimated reading time: 3 minutes
Your bundle of joy has arrived! Now that you're settling in at home, we have a feeling you'll want to announce your new addition to everyone you know. And while you might share the news of your little one via social media, a traditional birth announcement is a fun (and more formal!) way to introduce them to the world. A baby announcement card also acts as an official first photo, which your loved ones are sure to hang on their fridge.
Read on to learn more about crafting the perfect baby announcement card, including answers to the following questions:
What do I include in a birth announcement?
Who should get one?
When should I send them out?
What kind of design should I choose?
1. What do I include in a birth announcement?
Your baby announcement should include some basic information about your new arrival – you can include as much or as little as you'd like. Including a photo of your newborn or (even a family shot) is a great addition to your announcement.
Here are some other things to consider including in your announcement:
Baby's full name
Birth date, along with time and location
Adoption date, if applicable
Weight
Length
Gender
Parents' names
Siblings' names
You shouldn't include a link to a baby gift registry, since this is a birth announcement and not a baby shower invitation. And don't worry about writing a personalized note on each card – this isn't at all expected, and you already have your hands full taking care of your new baby.
2. Who should I send a birth announcement to?
When it comes to baby announcements, you probably don't need to send one to your whole mailing list. You should send one to anyone who attended your baby shower, if you had one, and to any other family members, friends and close co-workers. Consider dropping an announcement into your neighbors' mailboxes, too, if you're close with them.
You might also send a birth announcement to anyone involved in your birth or pregnancy that you feel close to. Maybe a friend you made in your birthing class, or your OB/GYN, midwife or doula.
3. When should I send out my birth announcements?
The short answer: the sooner, the better. Though traditional etiquette allows until the 6-month mark to get your baby announcements in the mail, most people aim to send them within two months of the birth date. If you want to get out your announcement cards as quickly as possible, do some prep work while you're pregnant. Get your envelopes stamped and addressed, choose a template you like, decide what kind of message you want to include and fill it out with all the information you can (maybe you already have a name picked out!). Once you're home from the hospital, you can add the finishing touches to your design.
Many new parents plan newborn photo sessions for their new arrival. And if you want to include one of these images in your birth announcement, timing is everything. If you want those sleepy newborn poses, you'll need to plan your photo shoot 5-12 days after giving birth…and give the photographer a few weeks to get photos back to you.
Was your little one born within a few months of the holiday season? Consider creating a card that doubles as a Christmas card and birth announcement.
4. What kind of design should I choose?
Picking your announcement card template should be fun – choose a design that reflects your personality and values, or stick to a trend-forward option. Whether you already have a color scheme in mind or need help getting started, here are some baby announcement card ideas to help you get inspired:
Whatever design you choose, your baby announcement card will be adorable.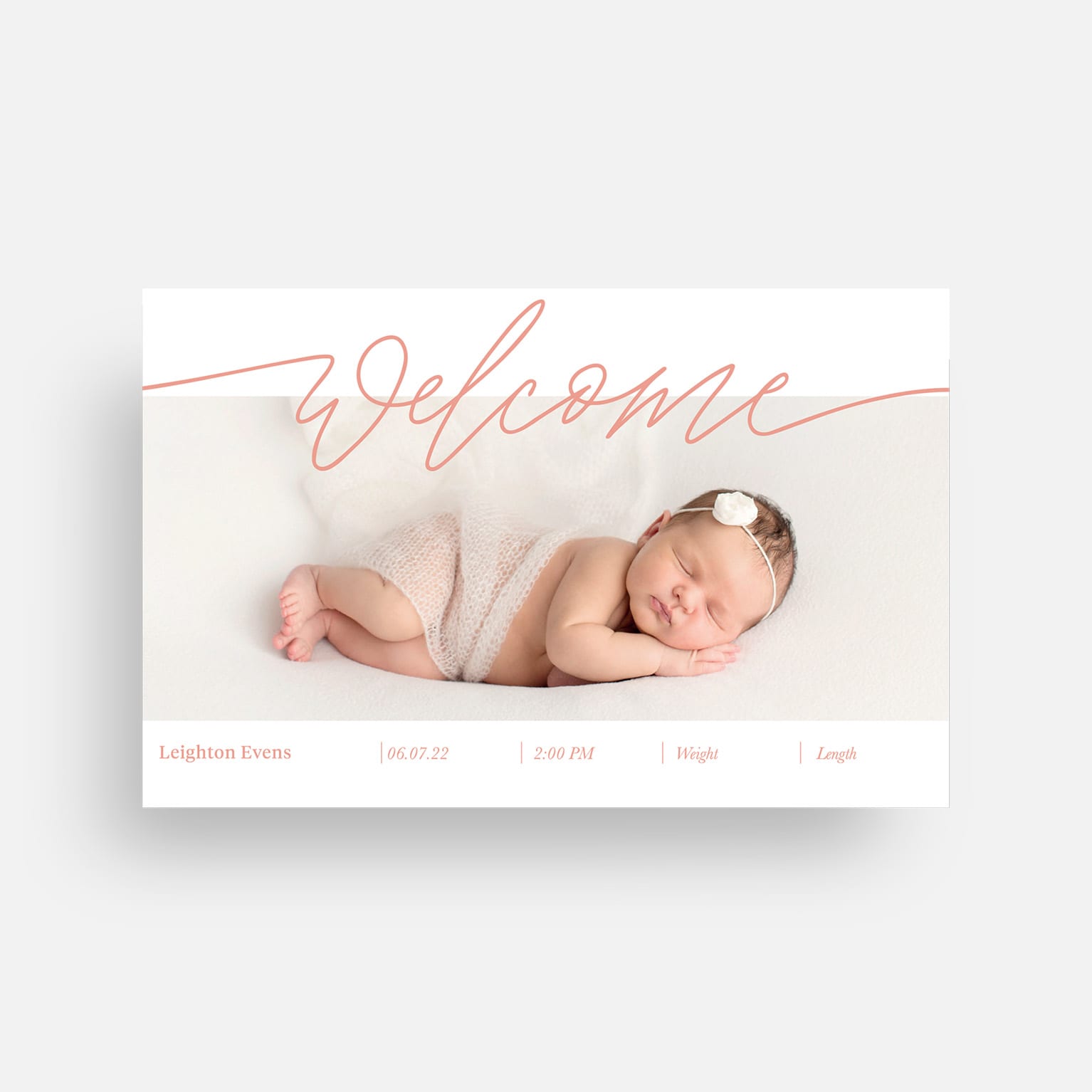 Traditional
A traditional, elegant design never goes out of style. A script-style font and muted colors allows people to focus on any photos you include.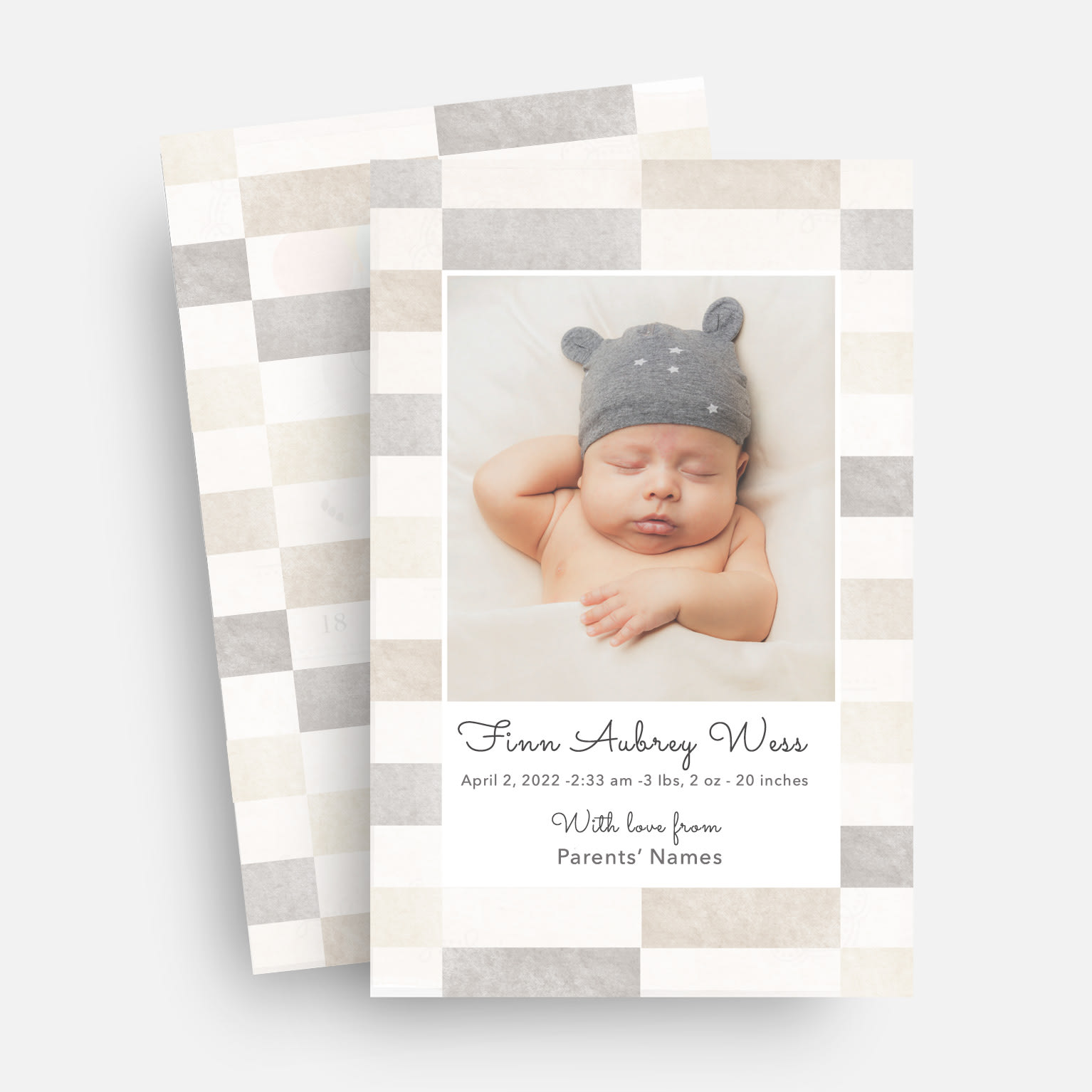 Minimal
Just because you're announcing a baby, it doesn't mean you can't be chic. A modern, minimal style can be achieved with light colors and minimal text.
---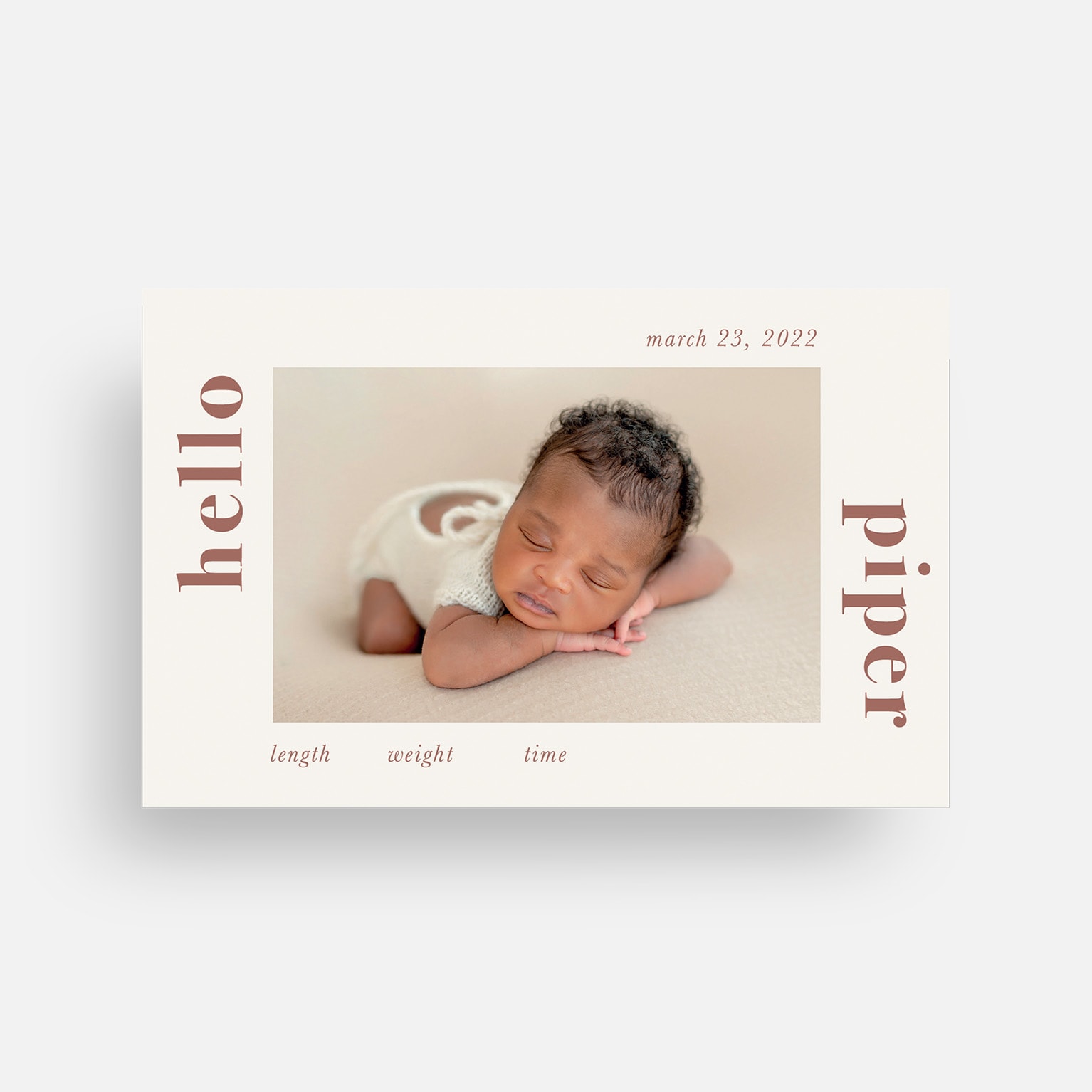 Typographic
Using a beautiful font can add a touch of elegance to your announcement. This style works especially well if you don't have photos of your baby just yet, and will put the focus on your newborn's name.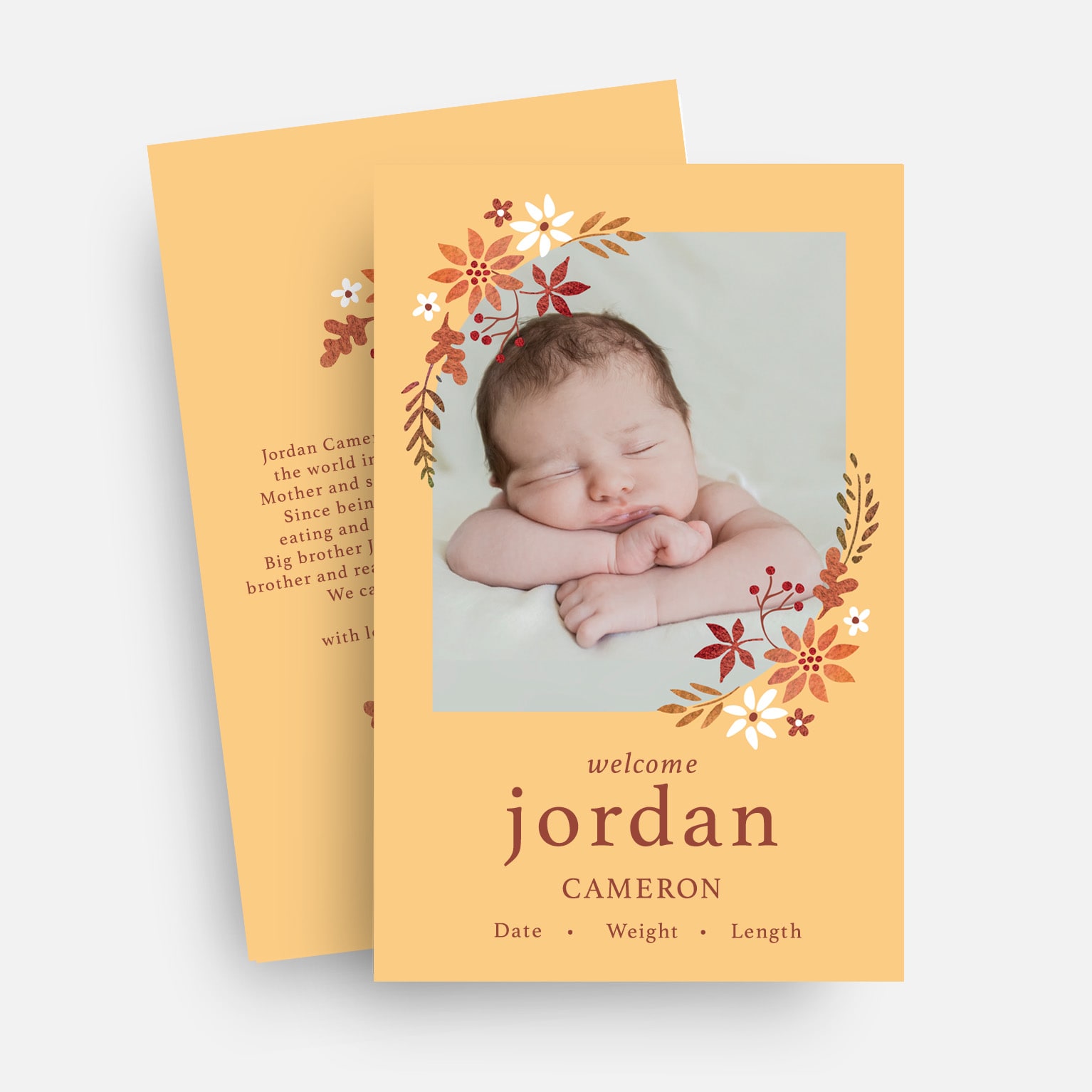 Greenery and florals
A floral design is especially perfect for spring and summer babies, and greenery is a gorgeous touch any time of year. Choose a floral design that reflects your new arrival's gender, or keep it neutral with a more rustic template.
---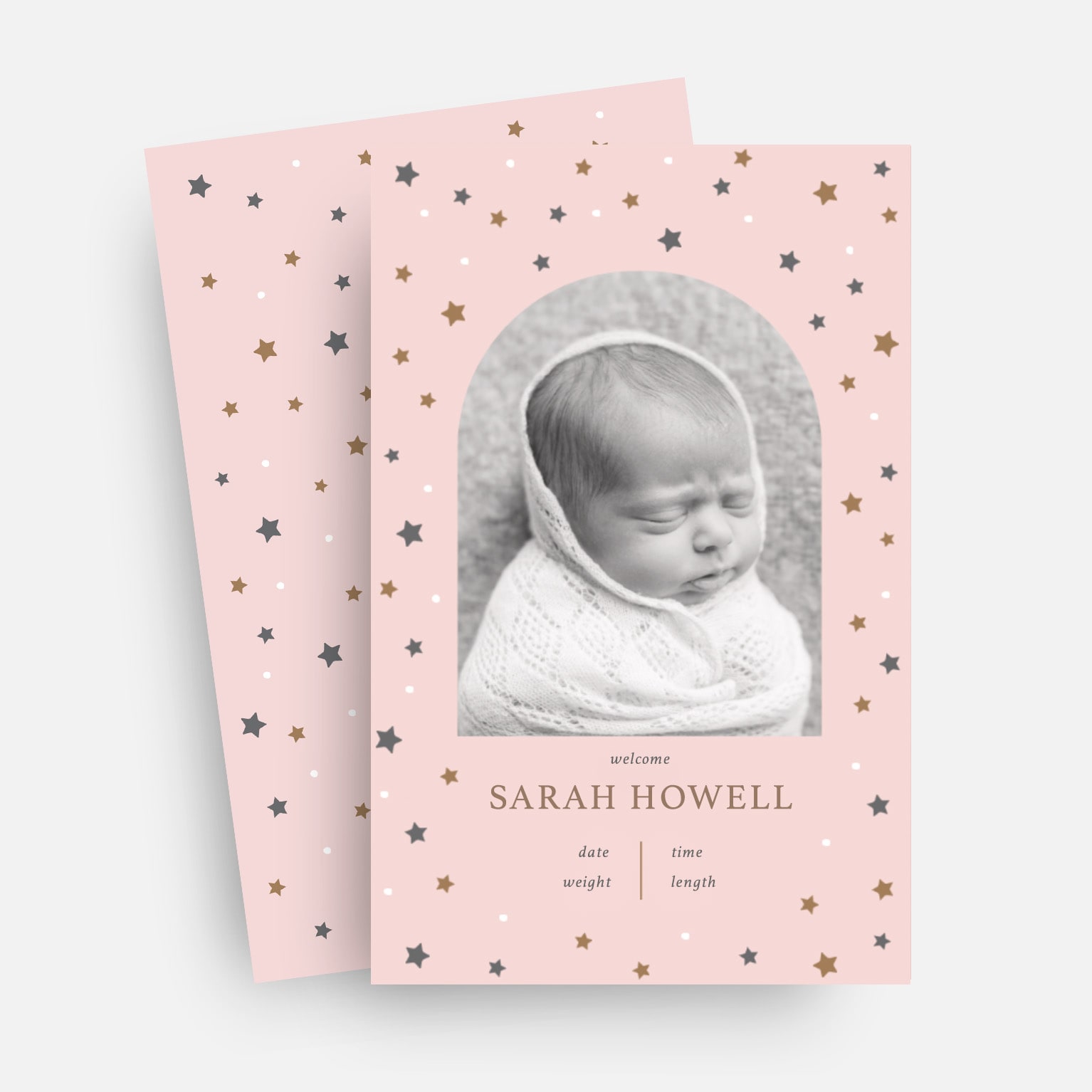 Celestial
Find a template in this on-trend style that uses moons, stars, clouds and other celestial-inspired motifs. It's an announcement card design idea that's almost as dreamy as your newborn.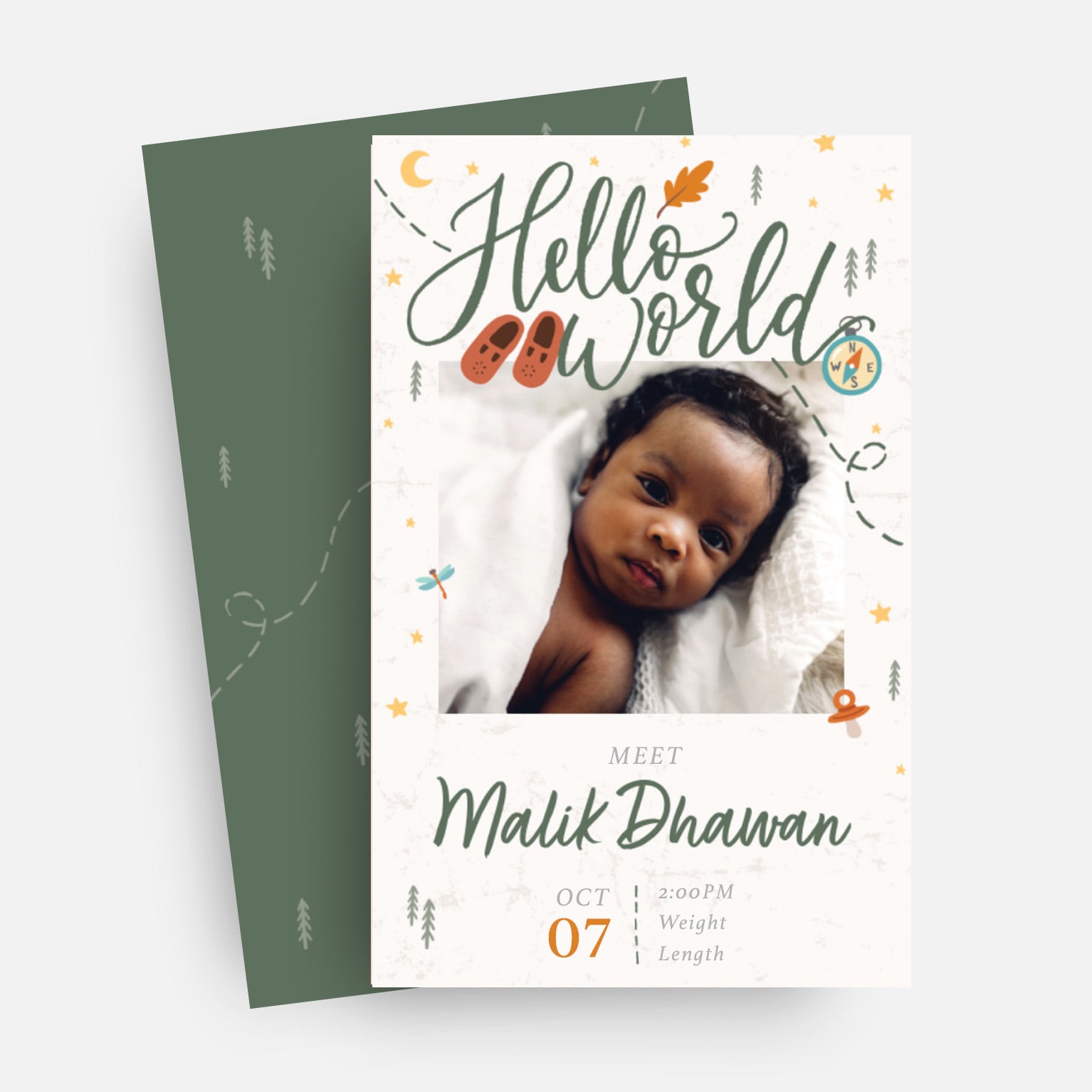 Adventure
If your family is known for globetrotting travels or weekend adventures, add a sense of adventure to your announcement. This is also the perfect card design to include a "Hello, world!" message.
---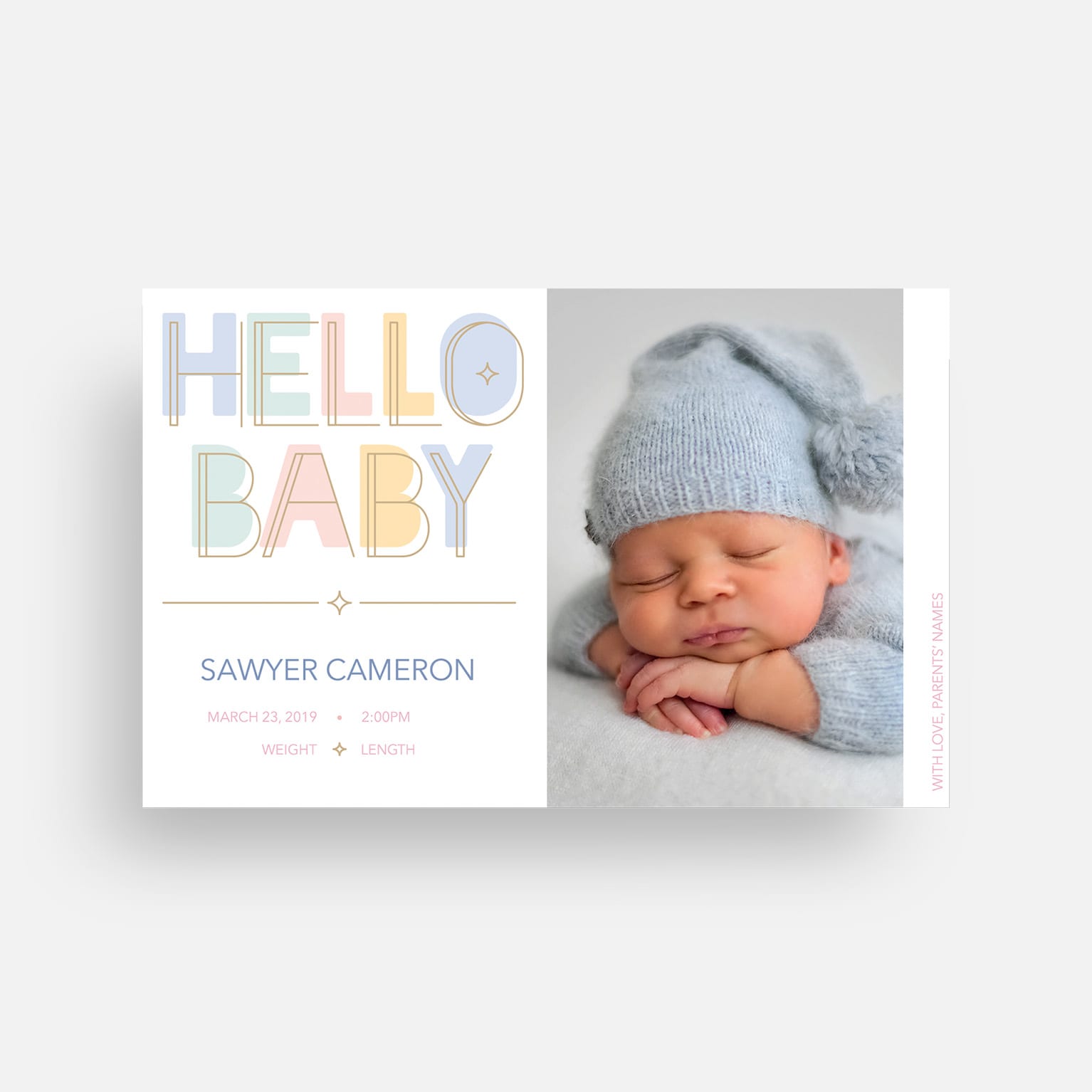 Colorful patterns
Like to be bold? A brightly-colored design can really stand out in the post, and nostalgic plaids and checks are very in style right now.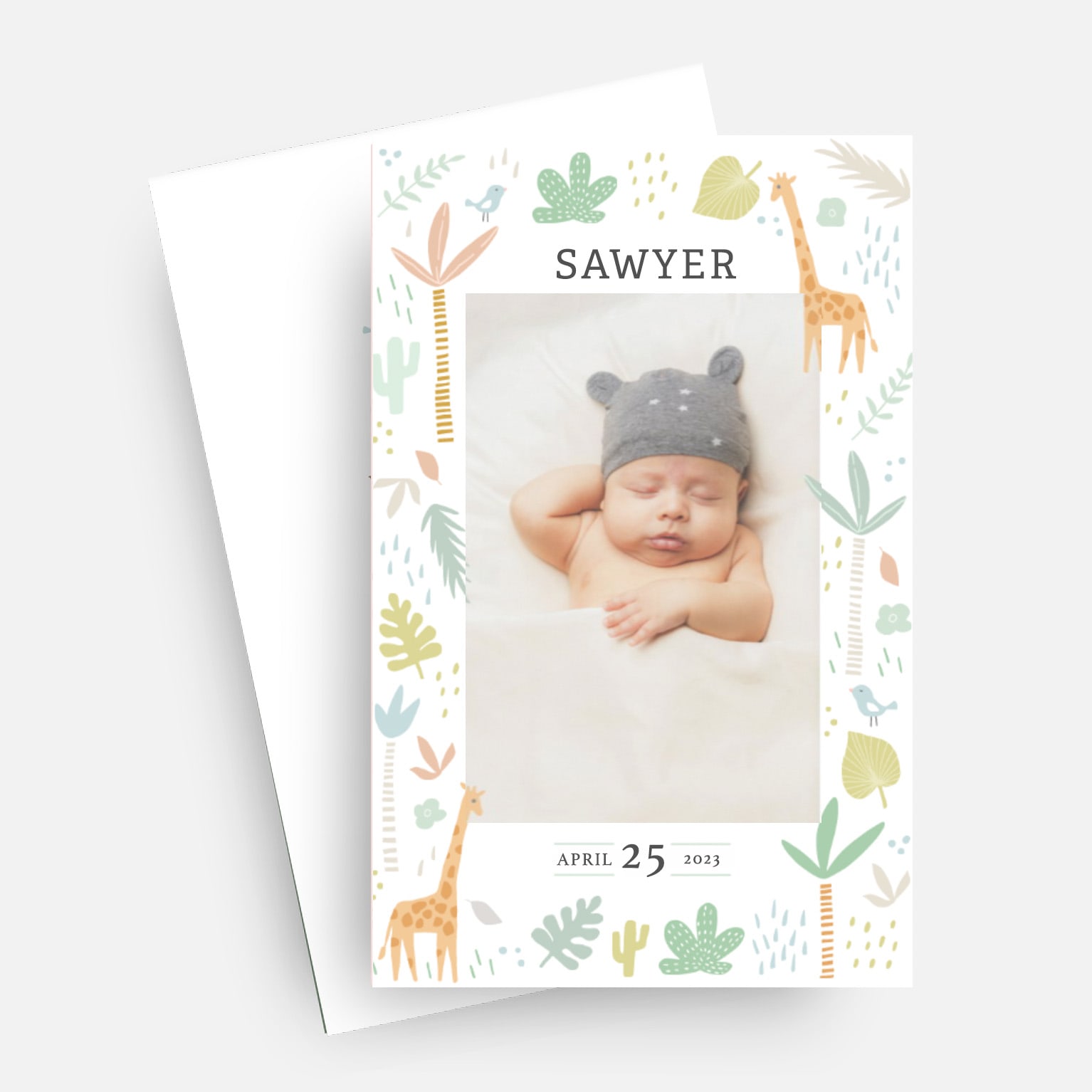 Animals
Whether a stork motif or elephant illustration, an animal-themed birth announcement will bring a touch of whimsy to any mailbox.