Estimated reading time: 5 minutes
One of the most important parts of starting a business is establishing a brand identity – it helps you build credibility as a business and stand out from the competition. Here, learn how Jody Merrill, founder and owner of btone FITNESS, has built a fitness brand with national recognition and a dedicated following.
Behind the business
After beginning her career as a speech therapist, Jody became more passionate about fitness when she lost her mother to cancer. She began signing up for marathons and triathlons, and then, 10 years ago, was looking for a lower-impact way to train when. Btone is a unique boutique fitness studio that emphasizes slow movements – Jody describes it as something that "looks like yoga, but feels like crossfit." At the time, she felt boutique fitness didn't really exist beyond yoga and spin – and moving back to Massachusetts was her opportunity to bring her fitness vision to life. She's since franchised and opened 9 additional locations…one a year since she started.
Like most small business owners, she did everything herself at the beginning. She put together a business plan and less than a year later, opened her first location. "Once I make up my mind, I just…go. There's no telling me 'no.' Everybody was like, 'You're crazy. What are you doing?' I'm like, 'Well, I'll figure it out.'"
Even though Jody had no formal business experience (she dropped the only business class she was enrolled in as a college student!), she's relied on mentors and her own instinct to grow btone into a thriving enterprise. At the beginning, "I had no expectations. I just want to be able to live my life. It had nothing to do with money to me…it was just this challenge. Can I do it? Can I build it?"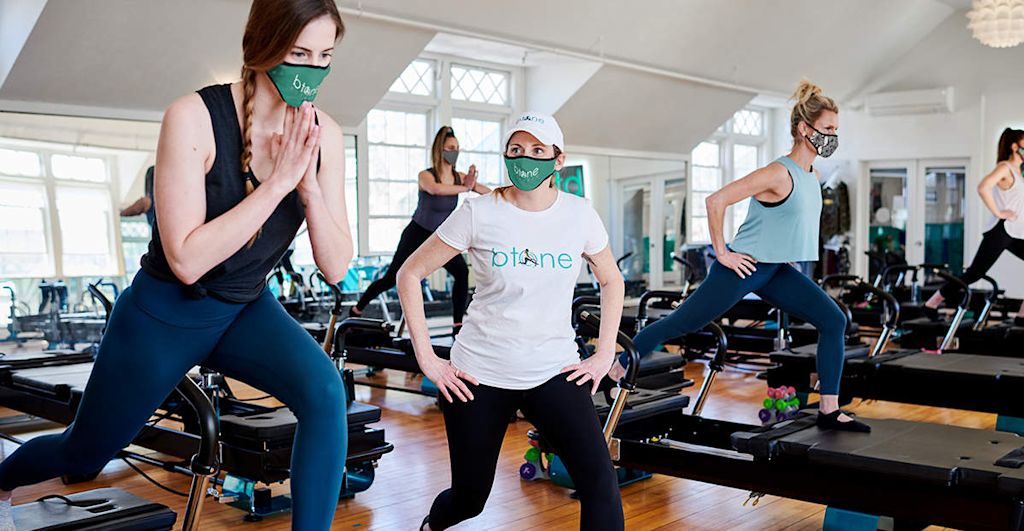 "I wish I had a little more experience being on the backside of a Yelp review and handling that. That's definitely the challenge because owning a business is so deeply personal…and social media can be so deeply impersonal." Her approach now? "Respond, don't react."
Building a brand
Creating a logo was one of the first things Jody did when she started btone – one of her friends designed it for her. "The circular part of my logo has always just been what I envisioned. That's always stayed there. Then it was more, we need people to understand what we are, because we were coming into a market where nobody knew what we were doing." So, they incorporated parts of the machine and a person within that circle to provide more context to potential customers.
"The voice and tone of our business has long stayed away from the calorie/bikini body/summer body type of narrative and instead encourages a self-love mentality. It's okay to have a little fun while getting healthier! And if this past year has taught us anything, it's that our health shouldn't be taken for granted."
Today, Jody's go-to branding tactic is creating unique connections. "We have always been 'us.' Everything now is so automated, but while you have the time, delve in and see what really works for people. That connection is what gets them motivated…and gives [me] so much motivation too. When I see someone respond to something I send, I'm so excited. You want that personal connection to someone, and to let them know you're there. You are a person. I am not a robot."
Jody capitalizes on how unique btone is, too. "People are gonna come back to you because there's no one else like you."
btone's marketing essentials
Postcards were the first marketing material that Jody purchased for btone. "I needed people to have something tangible…that has all of our information on it. It really hasn't changed much through the 10 years." The postcards have a picture of their unique machine, their website address, logo and an introductory offer.
And like most business owners, Jody always has a stack of business cards nearby – she prefers ones printed on heavy cardstock because they're easier to find and stand out more. On btone's business cards, she uses a dark background with a metallic font. She keeps the design simple with btone's logo, her name, email address and phone number.
Among her marketing essentials are water bottles – she gets creative with different colours and styles, but always includes btone's logo. "We like things that are going to be useful at the studio, but then there's a lot of value in the fact that they're likely going to use this elsewhere and other people are going to see it…maybe at their kid's soccer game, or the golf course. Then you have that brand recognition going even further."
Hats are another must-have ("Who doesn't love a hat to just cover it all up?"), especially for the summer. Jody likes hats because men and women can wear the same kind, and she doesn't have to worry about stocking a bunch of different sizes. She notes that her customers do love tank tops, sweatshirts and T-shirts, though. Another necessity for Jody are logo pens. "Everybody is always looking for a pen! We keep it short and sweet with just the logo. It's really all about building that brand recognition."
After she opened btone, Jody relied on word of mouth marketing to grow her business. "We were able to open a second studio within 6 months. At that point there were no Facebook Business pages. There was no real social media. I had a personal Facebook page, and I would friend people…that's what I used for marketing." Today, Jody still uses social media – she says it's the thing that's evolved most in btone's 10 years of business.
"The same algorithms that haunt me with every colour of joggers [pants] is the same algorithm that helps people find btone. Word of mouth is still the most effective, impactful, inexpensive type of marketing, but we rely on our team to continue interacting with potential members on Facebook and Instagram."
As for future marketing must-haves? Jody's planning to order umbrellas soon. "It's just those little random things that are useful and you need but you think, "Hey, if it's going to be someone's name on it, why not ours?"
Pursuing through a pandemic
"We're really unique especially with our equipment. You cannot do it at home – that really hurt us in the last year, and of course, we pivoted and did versions of it, but it wasn't the same. For small business owners, it's been a sobering year," Jody says.
During the COVID-19 pandemic, she had to cut a lot of costs and go back to a 'grassroots' way of doing things. Jody got back into the weeds of day-to-day studio operation, and btone started offering shorter, live Zoom classes so customers could interact with their regular instructor and classmates. Jody notes that these classes were more of a morale booster (for staff and clients who wanted to stay connected) than a profit centre.
And now that their studios have safely reopened, they've adjusted how they conduct class – instructors are still getting used to offering hands-off adjustments, and clients are adapting to wearing masks during class.
Looking to the future
As the world slowly returns to 'normal,' Jody says that btone has a handful of potential franchisees across the country and overseas. "On the homefront, we hope to continue to see more and more clients returning to their local studios. There is just nothing quite like working out with others, pushing yourself and getting the support and expertise of trainers." She also notes that before the shutdown, "we were preparing to start participating in expos for fitness and franchising," so some trade show gear is in her future.
Jody definitely loves owning a business – even with all the challenges. According to her, the best part about being a small business owner is "being in charge of your own time. It was a lightbulb moment when I could go out and meet someone for lunch during the day." And after 10 years in business, she's looking ahead for the next decade. "I just want to see the continued growth. I want to find the right people to keep building up the name and just reaching more people."
---
Each Small Business Story is unique…just like you and your business.
Learn more about Jody Merrill and btone FITNESS on Small Business Stories, Vistaprint's podcast.