Estimated reading time: 3 minutes
When it comes to communicating with customers, the right type of signage can make a world of difference. Potential customers pass by your storefront daily – so make sure you're grabbing their attention with the right outdoor signage.
Whether it's a wall decal in your boutique's fitting room or a poster on your coffee shop's windows, there are so many ways brick-and-mortar businesses can use signs to reach customers. Here, we'll cover how to make the most of indoor and outdoor signage at your business.
Where should you use outdoor signage?
Hanging a sign above your entryway door is a great place to start. You can also consider using a sidewalk sign, flag or retractable banner to grab pedestrian attention. Make sure to check with your town on local rules and regulations for outdoor signs for business, especially if it takes up part of the sidewalk.
Post your store hours, phone number and website with a custom window decal. You can use window decals on the inside or outside of your window glass.
If you have a designated curbside pickup zone or parking spots, mark them with a flag or A-frame sign so customers know where to pull in.
Encourage customers to shop local with a heart-felt message in your shop's window. Posters or foam boards work great for this.
Do you offer delivery, or provide in-home services? Promote your small business with a car magnet or door decal.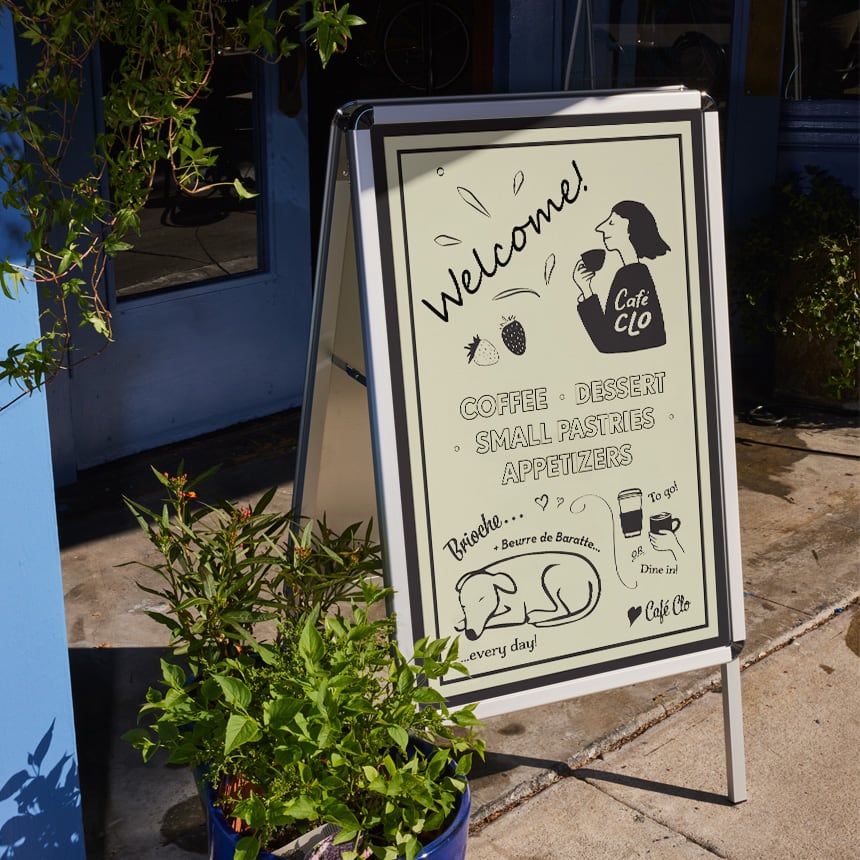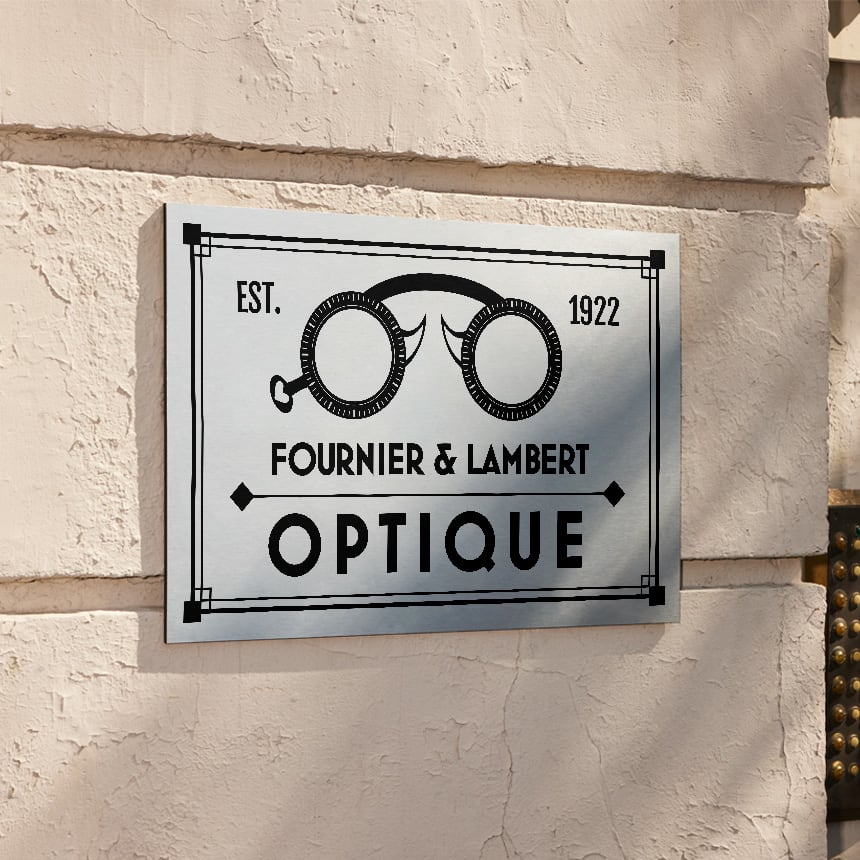 Add a QR code to get more out of your signage – you can use a QR code to accept touchless payments, encourage customers to subscribe to your mailing list or share more information about a special product.
Outdoor signage is also a great way to alert passersby to promotions or special events. Creating excitement about a special offer or product can attract new clientele and build loyalty with existing ones.
Do you have a timely special – like a latte of the day or product of the month? Use a chalkboard sign to easily adjust offers (and unleash some of your creativity!).
If you regularly offer a special – like a weeknight discount – remind customers with a custom poster hung in your window.
Hosting an in-store event or sale? Hang an easy-to-read vinyl banner or outdoor poster in your window to attract customers – or place a signicade outside your front door letting customers know the latest and greatest.
What about your indoor signage?
Inside your business, consider signage at all eye levels. Use a variety of signs, from floor to ceiling, that customers can see at a distance and when they get closer. Here are a few ways you can use interior signage:
Place a tabletop sign by the cash register that reiterates store policies and payment options.
If you have a cafe or restaurant, use a tabletop sign with a QR code to the menu or daily specials.
Use floor decals to encourage directional flow inside your store.
Place a floor standup or a foam board just inside your entrance to remind customers of current sales or promotions.
Designate displays of on-sale merchandise with posters or retractable banners.
Promote new services (like delivery options or rewards programs) with a poster or indoor banner.
Want to display a store policy or other 'permanent' message? Consider showcasing it on something sturdy, like a stylish acrylic sign or a sleek metal one.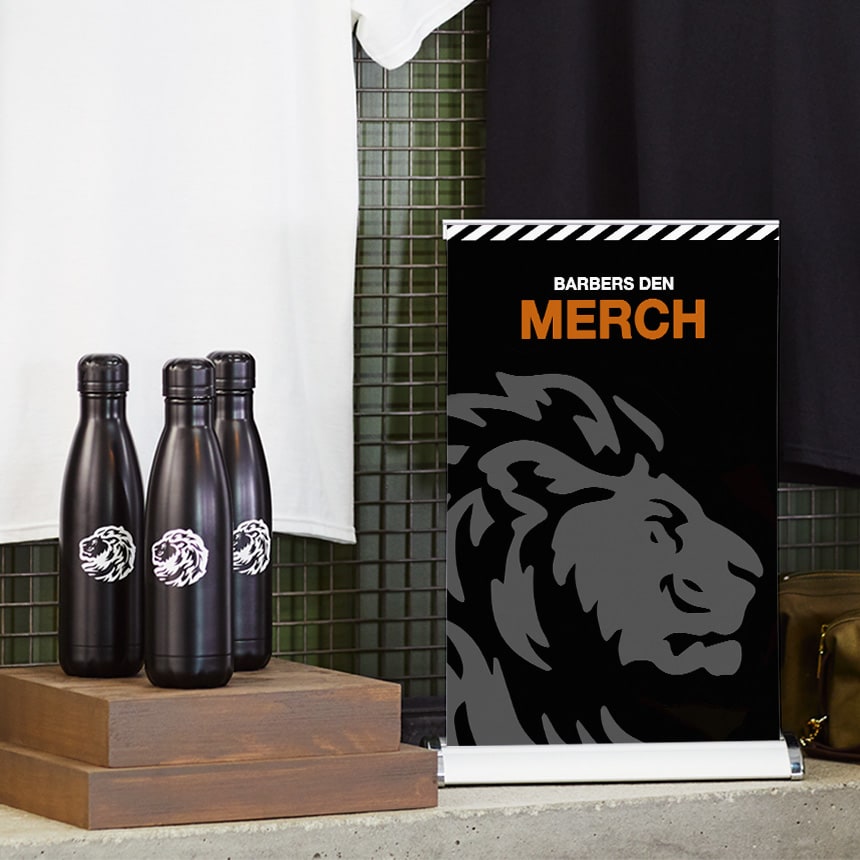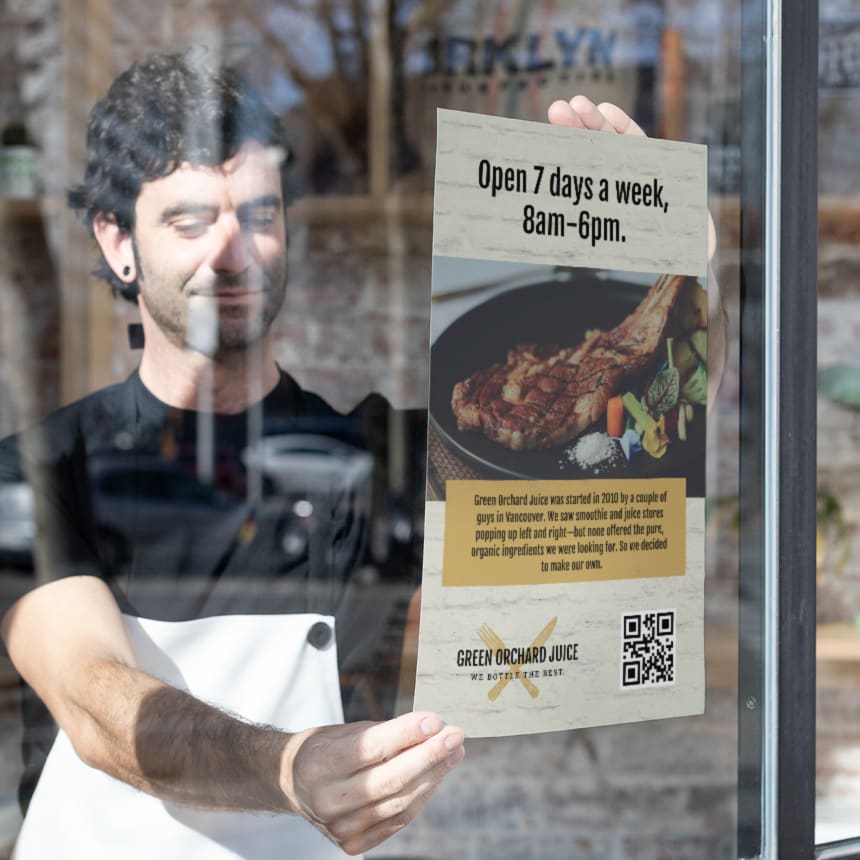 What's the best way to hang a poster?
There are a lot of different ways to hang posters, depending on the surface and location. When you're ordering a poster, you'll first select the perfect paper stock: choose matte for storefront displays; glossy if you're printing a photo or something with lots of colors; or a mounted poster for in-store displays.
Next, choose how you're going to hang your poster:
Poster rails. Slide your poster into these top and bottom tabs, then hang with hooks, rope or suction cups. This option is great for hanging in your shop's window.
Poster snap frames.  Add a lightweight aluminum frame to your poster order. It comes with a clear film for added protection. These snap frames are great for indoor signage, since they act like framed wall decor.
Command™ Strips.  These are perfect for easy indoor hanging and removal, so they're ideal for posters you're planning on displaying for a limited time…and you won't have to worry about damaging your walls.