Estimated reading time: 5 minutes
Think about the most high-profile logos or famous signs you see all the time. In most cases, the design and lettering are clean, easy to read and immediately conjure up the benefits of the brand. With a little imagination and creativity, you can achieve the same for your own small business.
What are famous brands doing?
You can learn a lot about the value of signage based on the many company brands and logos you see every day. Drawing design lessons from popular signs can help you make a leap forward in attracting new customers to your business. Let's explore a few examples.
Look at signs highlighting Nike's classic logo. Not only is the logo simple, but the "swoosh" design (vaguely resembling a check mark) reinforces the company's core message: "Just do it." The swoosh also suggests activity and movement, which can apply to basketball, tennis or any number of sports. Signs featuring this logo can be seen throughout Nike's retail stores, and their presence — inside and outside the store — helps attract active-minded customers.
Or take McDonald's signs with their world-famous "golden arches" logo. The bold combination of red and yellow colors catch the eye every time. Then there's the iconic image of the golden arches, with the brand name "McDonald's" neatly underneath. When customers enter a McDonald's franchise, these signs convey the famous brand's sense of familiarity and "home."
And, of course, there's the ever-present car decals seen on Amazon Prime delivery vehicles. The brand name is set in black against a white backdrop for greater visual effect. The arrow underneath — in addition to resembling a "smile" and suggesting a customer-friendly corporate culture — points from "A" to "Z" (as in all goods and services possible) in the Amazon name.
Signs with Amazon's logo and brand name reinforce the company's commitment to offering just about everything consumers might want. And again, by displaying consistent brand elements on all of their delivery vehicles, customers instantly get excited when they see an Amazon truck coming up their street with a special package.
Nike, McDonald's and many other famous brands show incredible consistency in their signage. Your small business, too, should aim to reinforce your brand at every customer touchpoint.
5 signage tips for small businesses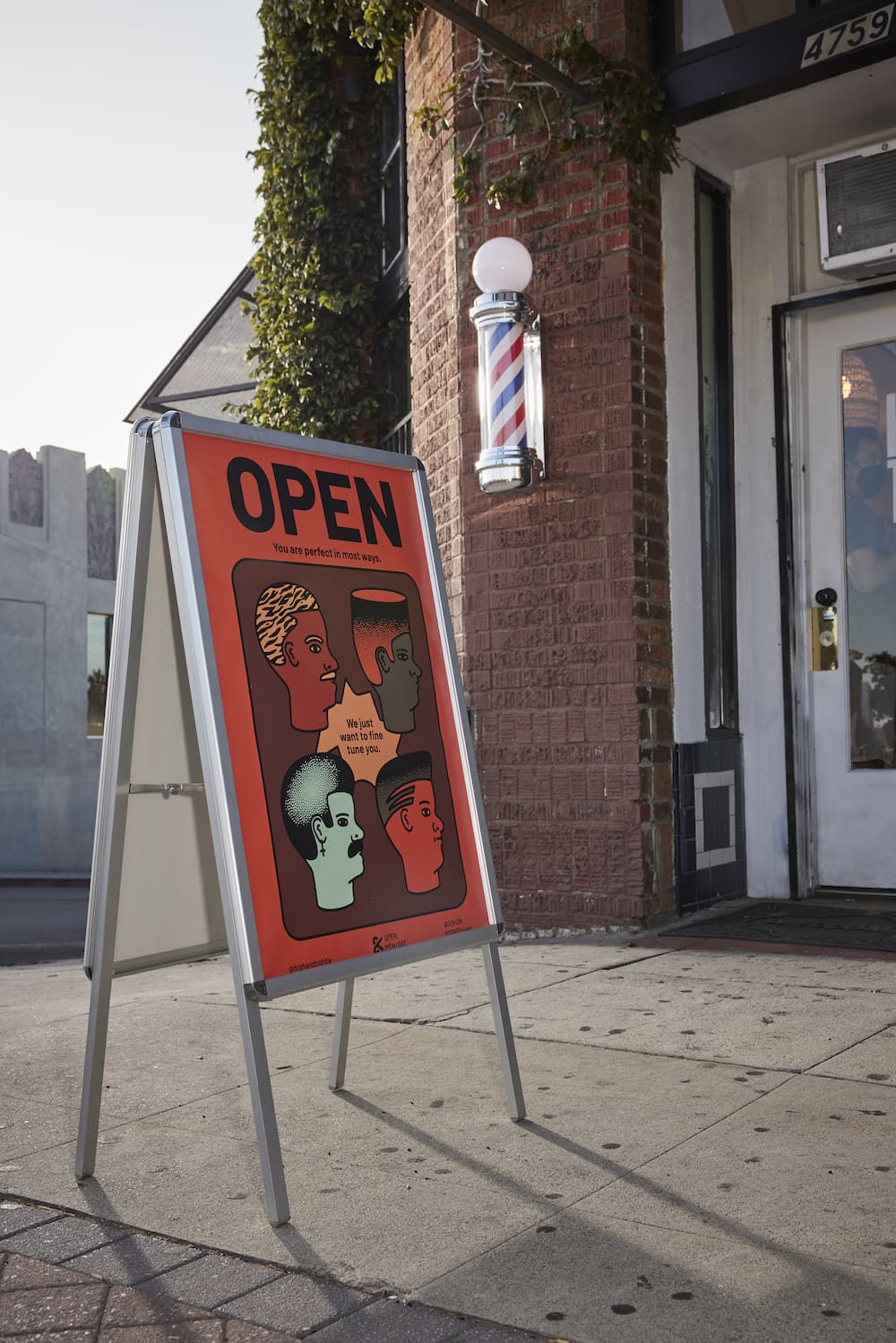 There are some clear takeaways and lessons from successful brands that you can implement in your small business signage. Consider the following:
Avoid clutter. Think about the simplest way to make your brand stand out in signage. Anything that clutters the image and brand name should be carefully considered. If anything seems to impede the main point, get rid of it.
Go big and bold on the font. High-visibility lettering is vital for getting your message across. A heavy typeface offers higher contrast to make your signs more readable and bold. Stay away from script fonts and designs that are too "busy" to read.
Experiment with eye-catching primary colors. Can you incorporate bold colors into the name or the image you've chosen to represent your business? Identifying one to two colors that stand out and align with your brand identity can help create an array of signage that resonates with your customer base.
Find the right image. Is there a design element or other image that captures the spirit of your business? For example, a silhouette of a dog or cat for a pet store, cutlery for a restaurant or a pair of scissors for a hair salon. Look for ways to incorporate an easily recognizable image or symbol that represents your brand in your signage.
Make it your own. Lessons like these can help you get a start on designing your own signage, but it's your individuality that will make your small business stand out and stick in customer's minds. Here's where your creativity and imagination can lead the way and put the right personal spin on your signage.
Deciding on sign purpose and placement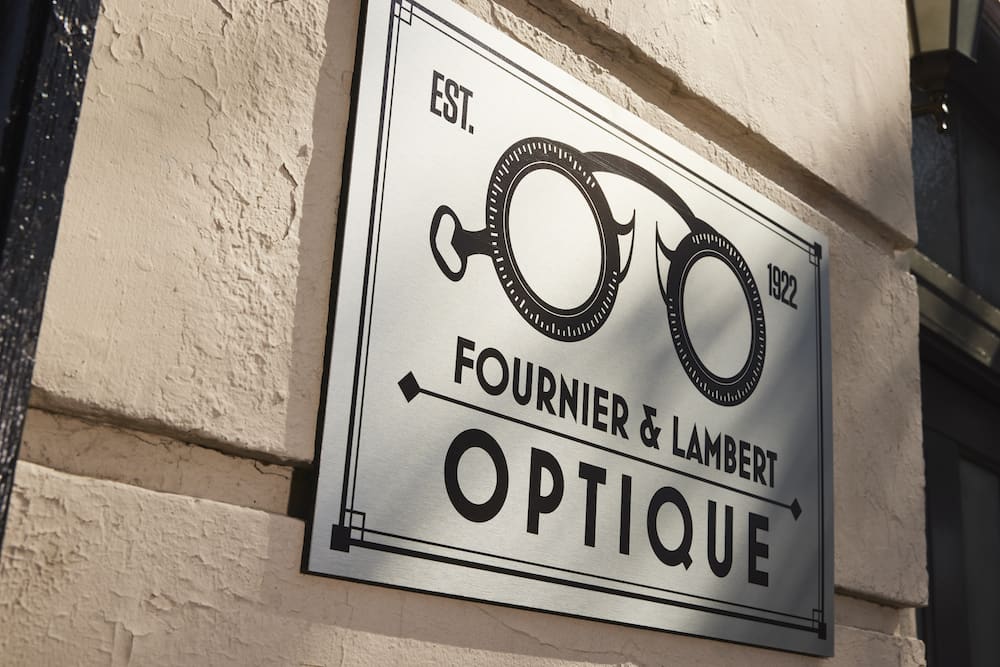 In addition to sign design, you'll want to think through what you want your sign, poster or banner to accomplish. You've probably noticed that successful brands utilize different types of signs for different purposes, so explore your options to find the best choice for your uses. Here are some tips to keep in mind while you shop around:
If you're showcasing a special sale, there are a range of affordable temporary options to select from, including posters, foam boards and tabletop signs.
Hang a permanent sign that shows you're here to stay above the entryway to your business. Opt for simplicity and professionalism with a rigid sign or weather-resistant banner.
Consider using an eye-catching A-frame sign, flag or retractable banner to grab the attention of passersby on the street.
Post your store's hours, phone number and website using a custom window decal on the inside or outside of your glass.
Inside your business, consider using a variety of signs, from floor decals to hanging ceiling signs, to direct people to products, checkout lanes or bathrooms.
At events and pop-ups, you could leverage retractable banners and flags that stand high for added visibility, as well as a tablecloth for your booth that proudly displays your brand logo and colors.
Chalkboard signs are ideal for small businesses looking to regularly switch up their signage to showcase different deals, upcoming events or fun slogans. Keep your brand name or drawn logo consistent at the top of the sign, then customize the rest!
Famous brands and signs have become a part of daily life. Draw on their design principles, use of a range of signage types and don't be shy about adding that personal touch only your business can offer. By combining these tips and focusing on placing your signage to entice, welcome and guide customers to your products or services, you can create memorable experiences that people will return to again and again.