Estimated reading time: 25 minutes
Tired of giving the same ol' boring corporate Christmas gifts to your employees? Time to step up your game and surprise them with creative and unique employee Christmas gifts they'll actually love!
Here's a whopping 34 corporate Christmas gift ideas for employees (or clients, for that matter) that'll blow their minds and go a long way toward building lasting relationships and spreading joy.
Corporate Christmas gift ideas for employees
It can be difficult to come up with corporate Christmas gifts for your employees and co-workers. To streamline the process, we've put together a comprehensive list of creative and useful employee Christmas gift ideas across 8 categories to draw inspiration from:
Personalized corporate Christmas gifts
1. Engraved desk name plates with the employee's name and job title
This holiday season, show your valued employees how much they mean to you with a gift that exudes elegance and personalization — engraved desk name plates.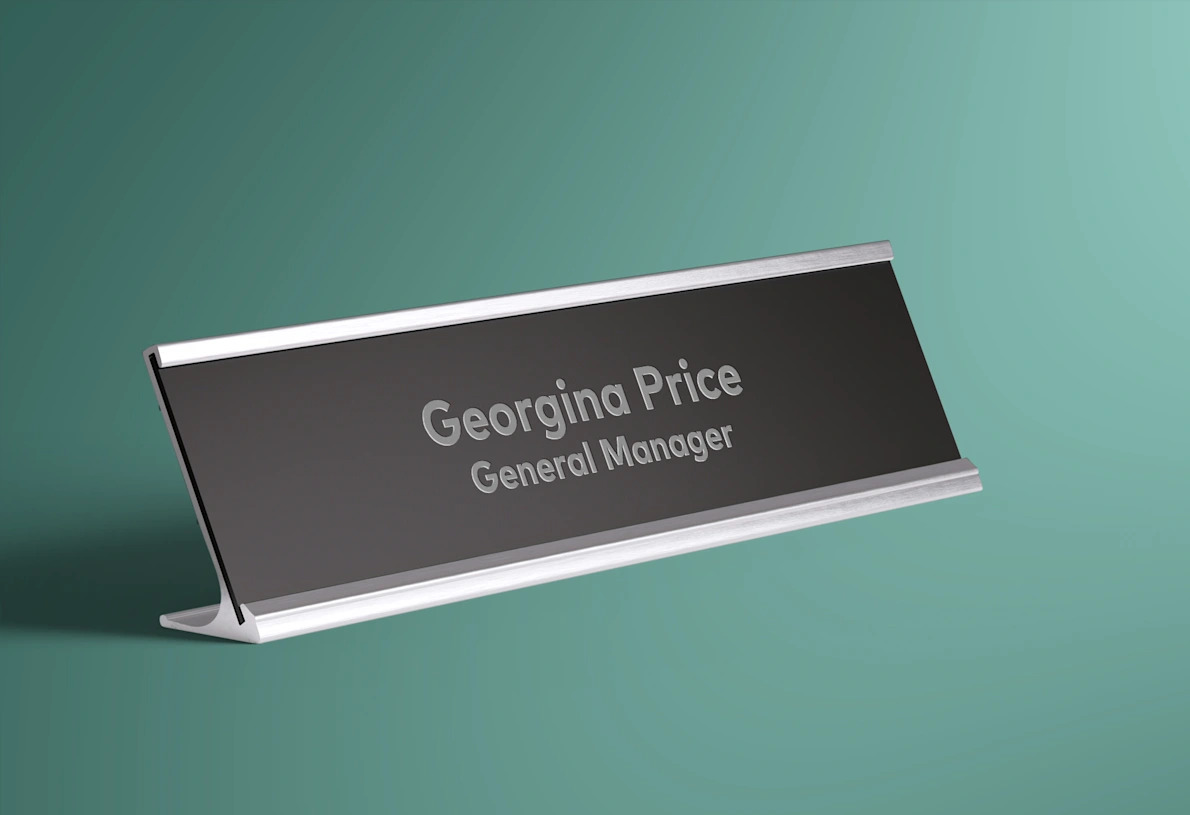 Engraved desk name plates with the employee's name and job title via VistaPrint
A corporate Christmas gift like that serves a multitude of different purposes. 
First, it instantly elevates your employees' workspaces, adding a polished and professional touch.
Not just a decoration, these personalized name plates become great conversation starters. If you choose an unconventional design, your employees' clients and visitors will definitely be intrigued. As a result, your employees will get a chance to break the ice more easily, proudly share their roles and expertise, showcasing your company's excellence.
2. Customized coffee mugs featuring the employee's name or a motivational message
What could be better than sipping your morning brew from a mug designed especially for you?
Personalized coffee mug with a custom photo via VistaPrint
Personalized mugs are the perfect way to make your team members feel valued and appreciated.
Practical, heartwarming, and with a dash of motivation, such mugs are sure to brighten up their workdays and add a touch of personalization to their office space (as well as outside of it).
Choose different mug styles for different employees to capture their unique characters and appeal to their preferences. VistaPrint offers a wide range of customisable mugs — different types, different volumes, different colors, and different styles. Shop away!
3. Personalized stationery sets including notepads, pens, and sticky notes with the employee's name or initials
Even in this digital age where notes are often taken on apps, stationery still holds its charm among employees.

But not just any stationery – we've got a fabulous holiday gift idea for you! Imagine personalized stationery sets featuring notepads, pens and pencils, and sticky notes, all emblazoned with the employee's name or initials.
Personalized stationery sets as holiday gifts for employees via VistaPrint
It's the perfect touch of class and individuality that adds a unique flair to their daily tasks. From jotting down creative ideas to leaving cute reminders, these bespoke sets are a delightful mix of practicality and style. So, step away from the screen, embrace the timeless allure of pen and paper, and gift your employees a touch of elegance and personalization they'll cherish!
To make your personalized stationery sets better associated with your business, don't forget to add branding elements to them. Your company logo, brand fonts and colors will look great!
4. Monogrammed tote bags for a touch of personalization to their daily commute
Personalized tote bags as corporate holiday gifts are sure to be a smashing hit among employees for several compelling reasons. Unlike regular bags that can be generic and uninspiring, personalized totes offer a delightful touch of individuality that sets them apart from the crowd.
In addition to their aesthetic allure, personalized tote bags cater to various needs and lifestyles. They're incredibly versatile, fitting seamlessly into both professional and casual settings. Whether it's carrying work essentials, gym gear, or weekend essentials, these totes become the go-to companions for all occasions.
Source: Tote bag design by InQueen via 99designs by Vista
5. Branded laptop sleeves to keep your employees' laptops protected at all times
Beyond the aesthetic charm, custom laptop sleeves are functional powerhouses, keeping laptops safe from scratches, bumps, and spills, so employees can focus on their work worry-free. The best part? Whenever they whip out their laptops, they'll proudly display your company's brand, spreading the word like enthusiastic brand ambassadors.
Source: Laptop sleeve design by Freshinnet via 99designs by Vista
Make sure you know everyone's laptop model so that every employee is happy with their holiday corporate gift and makes good use of it. Alternatively, opt for the biggest laptop sleeve size that will be a great fit for laptops of all calibers.
Tech gadgets as Christmas gifts for employees
6. Wireless earbuds with noise-cancellation features
Looking for the perfect corporate holiday gift to boost your employees' productivity and work-life balance? Look no further than wireless earbuds with noise-cancellation features! These little wonders work like magic in helping your team stay focused, whether they're in the office or working remotely.
Imagine this: with noise-cancellation technology, employees can easily block out distractions and get into the zone for crunching numbers, nailing virtual meetings, or unleashing their creativity. These earbuds create a peaceful oasis where productivity skyrockets!
Now, we won't sugarcoat it — wireless earbuds with noise-cancellation features can be a bit of an investment. But hey, if you're looking to make a lasting impression and show your employees how much you value them, this gift is worth every penny!
To make your holiday company gift truly corporate, place your brand logo on the case of the wireless earbuds.
7. Portable chargers with multiple USB ports for charging various devices simultaneously
Portable chargers with multiple USB ports for charging various devices simultaneously are a must-have in today's tech-savvy world, ensuring that your team members can charge their smartphones, tablets, and other gadgets all at once, without any fuss.
But it's not just about convenience at work — these chargers are a game-changer for employees on the move. Whether they're traveling, attending conferences, or working remotely, these portable power sources keep their devices charged and ready for action.
The best part? They're suitable for everyone, regardless of their tech preferences or devices, making it an inclusive and thoughtful gift. Plus, these chargers become loyal companions for personal adventures and everyday life, providing peace of mind that they'll never run out of battery power.
8. Smartphone stands with adjustable angles for hands-free use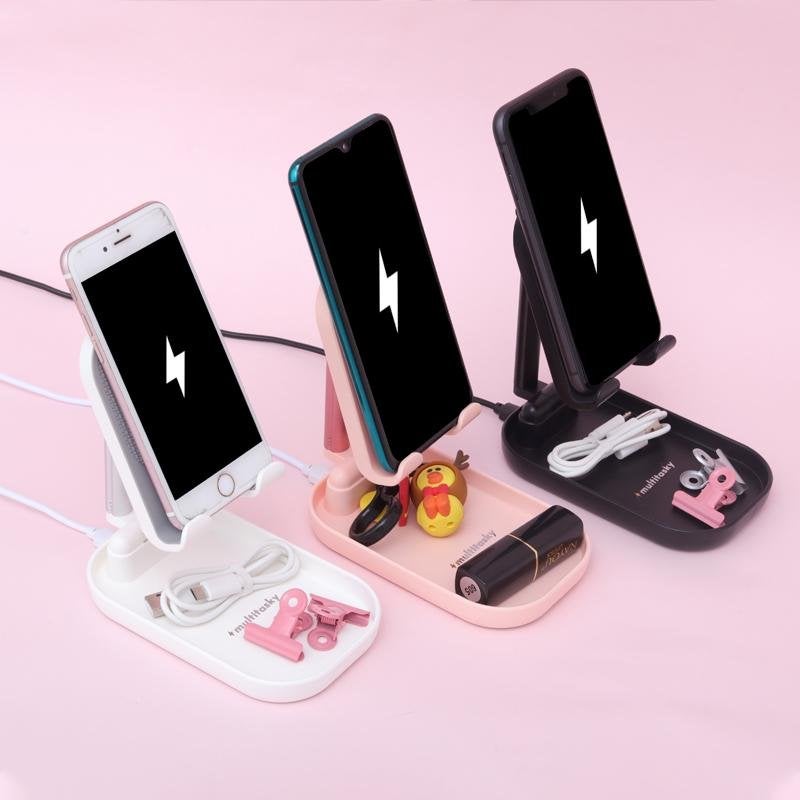 Source: Aesthetically pleasing smartphone stands with adjustable angles via Multitasky
In today's fast-paced world, employees rely on a range of gadgets beyond their laptops – tablets, computers, and smartphones are all part of the mix. With so much tech at hand, a thoughtful corporate Christmas gift like smartphone stands with adjustable angles becomes a desk game-changer! These versatile stands allow employees to prop up their phones at the perfect angle, providing a hands-free solution for video calls, referencing materials, and staying on top of notifications. Not only does this boost productivity, but it also eases strain on their neck and eyes during those marathon work hours.
The best part? These stands are adaptable to various phone sizes and cater to individual preferences, making it a customized and comfy viewing experience for everyone.
Corporate Christmas gifts for home and living
9. Cozy blankets or throws made from soft and warm materials
Cozy blankets or throws made from soft and warm materials are an absolute delight as employee Christmas gifts, especially during the winter holiday season. These snuggly wonders are not just gifts; they're a gesture of warmth and comfort that brings a sense of coziness and joy to the workplace.
Personalized cozy blankets as holiday gifts for employees via VistaPrint
Picture this: as the winter chill sets in, your employees can wrap themselves in the plush embrace of these blankets, creating a cozy oasis at their desks, or during breaks, or at home. It's a heartwarming reminder that you care about their well-being, ensuring they stay comfortable and snug while they work.
Take a look at VistaPrint's Zen Blanket, Slowtide® Throw Blanket, and Field & Co.® Chevron Striped Sherpa Blanket.
10. Scented candles gift set with various fragrances
Work-life balance is important, remember? It's vital to give your workers an opportunity to unwind — both at work and at home.
A delightful holiday gift idea for employees is a set of scented candles that offers a variety of captivating fragrances! Scented candles could create a calming and serene atmosphere at the workplace, offering a welcome escape from the daily hustle. Besides, your team members get to choose their favorite scents, making it a personalized experience for each individual.
Source: Customizable scented candles in gift wrapping via Can to Candle
Need another tip? Make your scented candles gift branded; put your logo on the packaging when ordering from VistaPrint.
11. Indoor plants or succulents that are easy to care for and add a touch of green to the workspace
Indoor plants or succulents are an excellent corporate holiday gift for employees. Firstly, these green wonders breathe life into the workplace, creating a refreshing and vibrant atmosphere that boosts morale and productivity.
Source: A collection of small indoor plants and succulents via Bouqs
Beyond aesthetics, indoor plants offer numerous health benefits. They improve air quality, reduce stress levels, and enhance overall well-being, contributing to a happier and healthier workforce.
Here are a few small and easy-to-look-after plants to consider:
Small Snake Plant (Sansevieria): Opt for a smaller variety of the snake plant that fits well on a desk or a small shelf.
Baby Spider Plant (Chlorophytum comosum): Choose a young spider plant, which is compact and perfect for smaller office spaces.
Miniature Aloe Vera: Look for a smaller-sized aloe vera plant that won't take up much space on a desk.
Dwarf ZZ Plant (Zamioculcas zamiifolia): Select a smaller version of the ZZ plant, which maintains its charm without overwhelming the office area.
Compact Pothos (Epipremnum aureum): Choose a smaller pothos variety, perfect for adding greenery to limited spaces.
Mini Jade Plant (Crassula ovata): Opt for a small or baby jade plant that won't outgrow its workspace.
Tiny Haworthia: Pick a small haworthia variety, which is great for small office setting.
Make sure to choose allergen-free plants so that you don't do any harm with your corporate Christmas gift.
12. Comfortable cushions
Who says you can have too many cushions? Spoiler alert: no one! So, if you're scratching your head for the perfect Christmas gifts for employees, play it safe and treat your awesome co-workers to some comfy branded cushions.
Personalized cushions as holiday gifts for employees via VistaPrint
These not only jazz up the workspace with style, but they also turn those boring office chairs into majestic thrones, fit for productivity royalty! Oh, and wait for it – they also boost posture power, so your team can conquer the day without a twinge of discomfort. It's all about that ergonomic magic!
But the awesomeness doesn't stop there! These cozy cushions are total MVPs at home too. Imagine your crew lounging on the couch, getting lost in a gripping novel, all while being embraced by the snug support of a branded cushion you gave them during the holiday season. Trust us, practical gifts are a hit with everyone!
When it comes to custom pillows, there's lots of room for branding and creativity. You can either print a personalized cushion for every member of your team, adding a different photo to each item, or stay low-key and opt for a reserved brand logo somewhere in the corner of the cushion. Experiment; VistaPrint will take care of the rest!
13. Personalized wine glasses and bottle opener set for wine enthusiasts
Branded wine glasses with company logo as holiday gifts for employees via VistaPrint
Personalized wine glasses could be a delightful choice of a holiday gift idea for your employees.
Picture your team, raising their own personalized glasses during office celebrations or virtual happy hours, toasting to shared moments and forging lasting connections. It's certainly a sight to see!
While personalized wine glasses are a hit with many, it's essential to remember that not all employees may drink alcohol or may prefer different beverages. To ensure inclusivity, consider other personalized options like cups, water bottles, or stylish tumblers that cater to various preferences.
Motivational corporate Christmas gifts: Books and subscriptions
14. Bestselling books related to personal development, leadership, or career growth
Bestselling books on personal development, leadership, and career growth are the gifts that keep on giving, igniting a fire within your employees!
These books will help your employees to…
Boosts self-awareness, builds resilience, and enhances overall well-being.
Develops essential leadership skills, fosters effective communication, and inspires confident decision-making.
Offers valuable insights for career planning, networking, and professional advancement.
Besides, picking a corporate holiday gift like this demonstrates your genuine interest in your employees' personal growth and encourages them to prioritize self-development.
Here are a few examples of books that will undoubtedly make a fantastic addition to your employees' bookshelves:
Atomic Habits: An Easy & Proven Way to Build Good Habits & Break Bad Ones by James Clear — A transformative book that explores the power of small habits and how they can lead to significant personal and professional growth.
Grit: The Power of Passion and Perseverance by Angela Duckworth — An exploration of the role of passion and determination in achieving long-term success in one's career and personal life.
Dare to Lead: Brave Work. Tough Conversations. Whole Hearts. by Brené Brown — An inspiring read on courageous leadership, embracing vulnerability, and fostering a culture of belonging in the workplace.
15. Magazine subscriptions tailored to individual interests, such as technology, fashion, or sports
Spread the holiday cheer and show how much you care with personalized Christmas gifts for employees that match their unique interests! It's the perfect way to let them know that you pay attention to what makes them tick.
Imagine the joy on their faces when they unwrap a subscription to their all-time favorite magazines or discover new ones that cover the topics they're passionate about. It's a thoughtful gesture that will make their hearts skip a beat and show them just how much you value their individuality.
16. Audiobook subscriptions to enjoy their favorite books on the go
In today's fast-paced world, finding time to cozy up with a physical book can be tough. But fear not, audiobooks are here to save the day! When you gift your employees a subscription to audiobook streaming services, you give them a chance to dive into captivating stories, gain valuable knowledge, and indulge in their favorite books while commuting, jogging, or even doing the dishes!
And that's not all — a corporate holiday gift like that is putting the power in their hands! With a range of books to choose from, your employees get to pick the ones that truly tickle their fancy. From thrilling adventures to self-improvement gems, there's something for everyone's taste!
Fun Corporate Christmas gifts: Games and entertainment
17. Board games for team-building fun and social interaction during breaks
Source: Board game design by random.art.creator via 99designs by Vista
During the holiday season, offices tend to wind down, and the festive spirit takes over. It's the perfect time for team-building activities and bonding, and what better way to do that than with board games! Essentially, by choosing board games as your Christmas gift for employees, you give the gift of entertainment and togetherness.
But there's more to the board games gift than making the workplace a better place!
As families come together during the holidays, people of all ages crave fun activities to enjoy together. From kids to grandparents, board games bridge generations, creating lasting memories and moments of pure joy.
Consider these board games if you don't want to stick to the classics and give your employees yet another set of Monopoly or UNO!:
Ticket to Ride: A strategic and easy-to-learn game where players build train routes across the country. Great for both board game enthusiasts and beginners.
Splendor: A quick and addictive game of gem trading and card collection. Ideal for those who enjoy strategic gameplay.
Pandemic: A cooperative game where players work together to stop the outbreak of deadly diseases. Perfect for encouraging teamwork and problem-solving.
Dixit: A creative and imaginative game where players use abstract artwork to tell stories. Ideal for sparking creativity and conversation.
18. Puzzles or brain teasers to stimulate creativity and problem-solving skills
Source: Puzzle design by Alexandra G Mocanu via 99designs by Vista
Puzzles are a versatile holiday gift idea that many will enjoy! From avid puzzlers to those trying it for the first time, this thoughtful present appeals to a wide range of interests and preferences. Whether your employees are seeking relaxation, mental stimulation, or a fun challenge, puzzles offer something for everyone.
To make puzzles more appealing of a holiday gift for your employees, opt for a personalized set. Add your team's picture or your brand logo! Order your custom puzzles on VistaPrint.
19. Streaming service gift cards for entertainment during downtime
In today's digital age, where entertainment is a vital part of relaxation and stress relief, streaming service gift cards provide employees with the freedom to explore a vast array of content tailored to their unique tastes.
Unlike traditional gifts, streaming service gift cards give your team the power of choice. With a wide range of streaming platforms available, employees can indulge in their favorite TV shows, movies, documentaries, or even discover new and exciting content they might have never encountered otherwise.
Speaking of gift cards…
20. Gift cards to buy virtually anything they need
Gift cards consistently rank as the top choice in corporate gifting ideas. They offer unparalleled flexibility, making them an ideal gift from employers to their valued employees.
One of the greatest advantages of giving gift cards as Christmas presents is that it empowers employees to decide how they wish to use them. All you need to do is acquire some well-suited gift cards and distribute them among your team members.

To make your present even more festive, pair the gift card with a holiday postcard. Create a unique design that would reflect your brand values and generally be on-brand for your business.
Source: Gift card design by Paresh Jadhav via 99designs by Vista
Food and beverage employee Christmas gifts
21. Gourmet chocolate gift basket featuring a variety of premium chocolates
A gourmet chocolate gift basket isn't one of your ordinary Christmas gifts for employees – it's a taste bud adventure that'll make your employees jump for joy! Indulgence, check! Sensory excitement, check! With a variety of premium chocolates, each bite is a journey to pure bliss.
Besides, chocolate is scientifically linked to stress relief and happiness, so your giftees can conquer the holiday hustle with a big smile!

Before gifting a chocolate gift basket to your employees, it's essential to ensure none of them are allergic to any of its ingredients. Regrettably, despite its delicious appeal, chocolate can be a potent allergen, and taking precautions is crucial for the well-being of all recipients. If you don't want to trigger any of the ex-chocolate lovers gone chocolate-free, opt for a healthier gourmet option.
22. Monthly snack subscription box to discover new and delicious treats
One-time snack boxes are undoubtedly a treat, but let me tell you about an even better delight – a monthly subscription to receive mouth watering snack boxes delivered straight to your doorstep every month!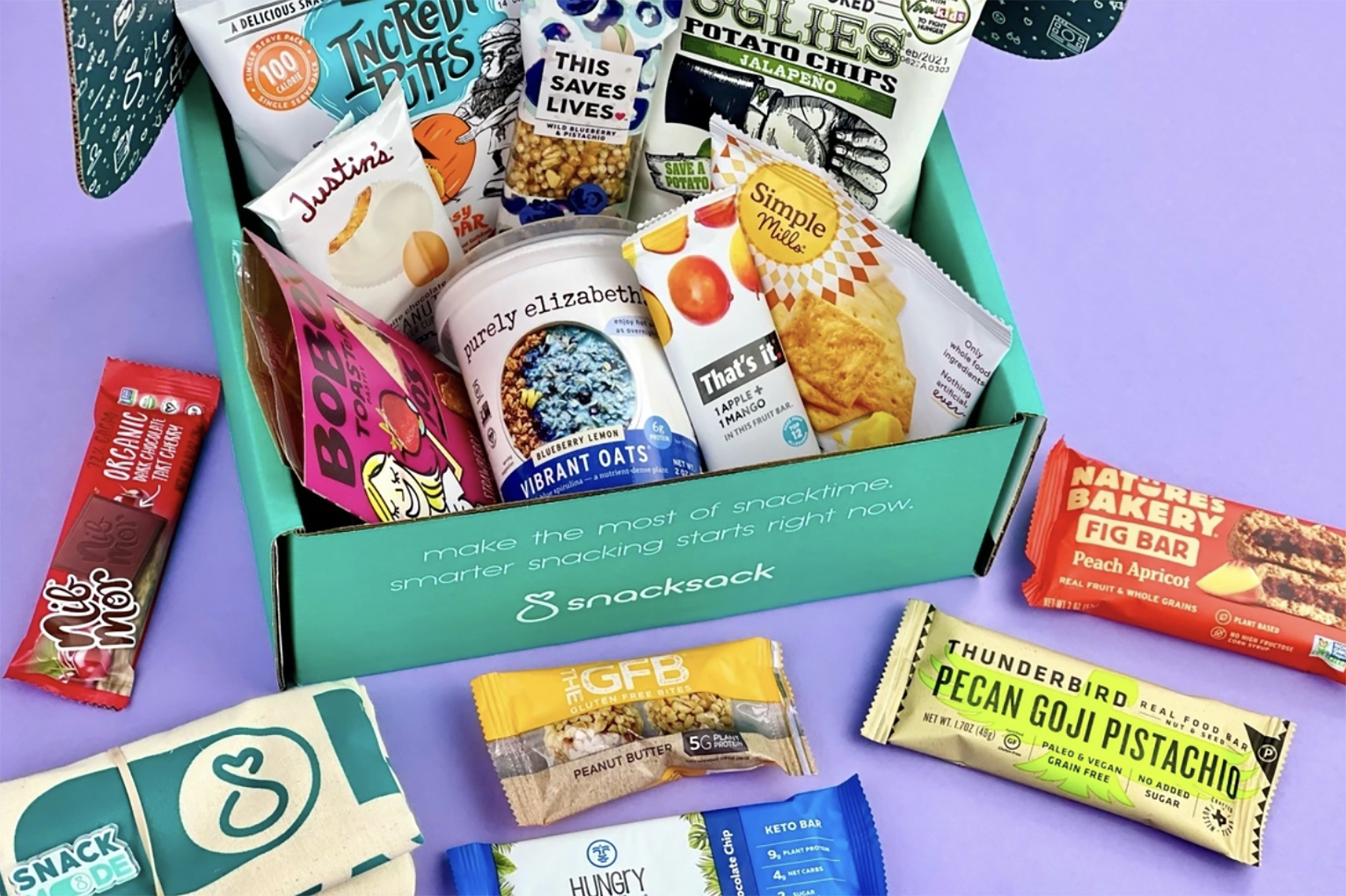 Source: SnackSack Classic snack box via CrateJoy
Imagine the joy your employees will experience as they unwrap a surprise assortment of delectable snacks each month. It's like having a culinary adventure delivered to their office or home, sparking excitement and anticipation.
But what sets this gift apart is the ongoing delight it brings. It's not just a single moment of indulgence; it's a lasting source of happiness throughout the year. Each month, your team gets to explore new flavors, try unique treats, and discover snacks they may have never encountered otherwise.
Bonus benefit? You can explore different types of snack subscription boxes to choose the one your employees would appreciate the most — nuts, chocolate, exotic fruit, or something else.
Office essentials as corporate Christmas gifts
23. Ergonomic desk accessories
In today's modern office life, employees often find themselves sitting for prolonged periods, which can lead to discomfort, neck pain, lower backaches, and reduced productivity. However, you can be the holiday hero by gifting them the perfect solution — ergonomic desk accessories!
With these thoughtful gifts, you're not only showing your team that their well-being matters, but you're also empowering them to create a workspace that loves their body back.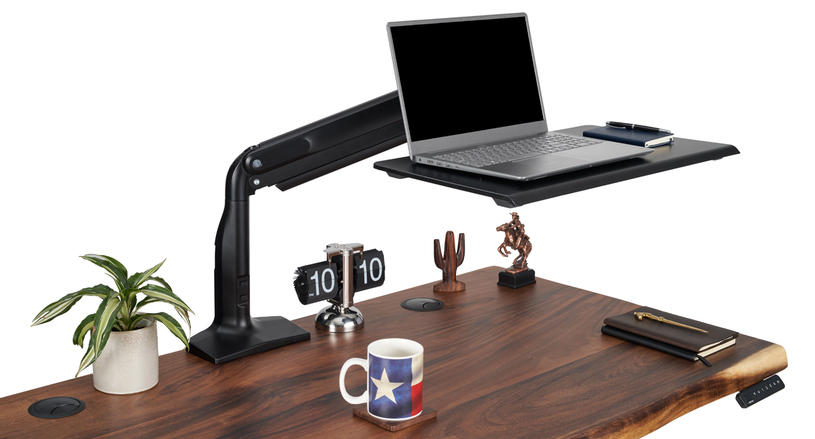 Source: An adjustable laptop tray via ArsTechnica
Here are a few examples of ergonomic desk accessories that can enhance comfort and promote better posture while working:
A comfortable mouse pad
A wrist rest to promote better posture
A keyboard tray to maintain a natural wrist position while typing
A Lumbar support cushion to reduce the risk of back pain
A height-adjustable monitor stand to reduce strain on the neck and eyes
24. High-quality pen set with smooth ink flow for a delightful writing experience
Personalized pens as holiday gifts for employees via VistaPrint
We know the world has gone digital, and our gadgets are practically glued to our hands. But hey, let's not forget the good ol' days of writing on actual paper with actual pens! Sometimes, those gadgets betray us, and we're left scrambling to jot down something important.
A high-quality pen set with smooth ink flow is the holiday gift your employees didn't know they needed. Sure, they might not use it every day, but when the moment strikes, they'll be thanking their lucky stars they have this sleek pen in hand.

To remind your employees who saved the day with a pen that glides across the paper like a dream, brand your holiday corporate gift. You can choose and order a custom pen for your employees here.
25. Professional notepads or notebooks with elegant designs for jotting down ideas
Source: Notepad design by Fran.illus via 99designs by Vista
Since we've already touched on the subject of digital-less writing, let's add another stationery wonder to our list of Christmas gift ideas for employees. A professional notepad — a classic, really.
Not only do these notepads exude sophistication, but they're also extremely practical! They offer ample space for doodling, scribbling, and taking down those brilliant ideas that strike at the most unexpected moments.
When it comes to elegant notepads and notebooks, there are several materials and fabrics that can add a touch of sophistication and style. Some popular choices include:
Leather
Faux Leather
Linen
Silk
Suede
Velvet
Satin
Hardcover with embossed designs
26. Desk calendars to keep track of days in style
Desk calendars as holiday gifts for employees via VistaPrint
Desk calendars are the perfect holiday corporate gift for employees because they offer a delightful blend of functionality and personalization. In today's fast-paced world, staying organized is essential, and a desk calendar provides a convenient way for employees to keep track of their schedules, deadlines, and important events.

But here's the fun part — desk calendars can be customized to reflect the company's branding, values, or even feature beautiful images and motivational quotes. By personalizing the calendars, you create a unique connection between the employees and the organization, fostering a sense of belonging and pride.
Fashionable employee Christmas gifts: apparel and accessories
27. Branded merch: T-shirts, hoodies, sweatshirts
Source: Hoodie design by noodlemie via 99designs by Vista
Alright, alright, we get it – branded merch might be a bit overdone, but who said it's a bad Christmas gift idea for your employees? Sure, they might have a closet full of T-shirts, hoodies, and sweatshirts, but trust us, they'll never say no to another one!
Come on, who could resist the allure of a plush hoodie that wraps you up like a warm winter hug? It's like snazzy comfort that's perfect for those chilly holiday days!
So, here's the deal — sure, branded merch might not be the most groundbreaking holiday corporate gift, but it's a safe bet that your employees will appreciate and actually use it.
Check out VistaPrint's vast collection of customizable clothes and accessories you can give your employees this holiday season.
28. Fashionable phone cases with unique designs to suit different personalities
An accessory of a kind (because, as we already said, people nowadays are rarely seen without their smartphones), we decided to add it to the list of Christmas gift ideas for employees as a separate option.
A cool-looking phone case. A definite hit, granted that you know exactly which phones your employees use. It would be awkward if you give a Samsung phone case to an iPhone user and vice versa.
Experiences as corporate Christmas gifts
29. Cooking class vouchers for employees who enjoy culinary adventures
Alright, let's get real about the holiday season — it's not just about gifts, it's about diving headfirst into a world of scrumptious delights and culinary adventures! So, why not spice things up and give your employees a cooking class voucher?
This voucher opens the door to a world of culinary wonders, where your team members can unleash their inner chefs and savor the flavors of something totally new.
30. Spa or wellness retreat gift certificates to indulge in relaxation and rejuvenation
Personalized gift certificates as holiday gifts for employees via VistaPrint
Let's face it, work can get hectic, and your employees deserve a break from the daily grind. A spa or wellness retreat gift certificate is like a passport to tranquility, offering them a chance to unwind, destress, and pamper themselves.
It's not just about physical relaxation; it's a mental and emotional recharge too! These retreats provide a peaceful sanctuary, allowing your employees to reset and come back to work with a fresh perspective and renewed energy.
31. Concert or theater tickets to attend live performances or shows
Concert tickets as holiday gifts for employees
The holiday season is the grand stage for performances, theater shows, and live concerts galore! So, why not play it smart and gift your employees tickets to one of these dazzling spectacles?
If you want to be the epitome of thoughtfulness, go the extra mile and show your employees that you care about their loved ones too. A sweet gesture would be to give several tickets so that your coworkers can share the joy of the show with someone special. It's a win-win, spreading happiness and making your team feel truly appreciated.
To make the gift well put-together and even more memorable, add a postcard to the tickets.
Donation and giving back as corporate holiday gifts
CSR (Corporate Social Responsibility) is the new black! While it may not fit the traditional gift category, giving back and making donations align perfectly with the spirit of the winter holidays. So, why not consider it as a gift or include it as part of your gifting sequence?
32. Allow employees to select a charity for a company donation to support a cause close to their hearts
Allowing employees to choose a charity for a company donation is a heartwarming and meaningful Christmas gift idea. It shows you genuinely care about their passions and causes close to their hearts. By giving them the power to select, you're fostering a sense of empowerment and engagement within your team.
Not only does this gesture create a positive impact on the chosen charities, but it also strengthens the bond between your company and your employees. It's a powerful way to build a sense of community and shared values, which ultimately reflects positively on your business's brand image and reputation.
33. Offer volunteer opportunities during work hours for employees to give back to the community as a team
It's a unique and thoughtful way to give back to the community while fostering teamwork and camaraderie among your employees.
By providing these opportunities, you're not only making a positive impact on the community but also showing your team that you value their time and efforts in contributing to meaningful causes. It creates a sense of pride and purpose in working for a company that cares about making a difference.
Moreover, volunteering as a team can strengthen relationships and improve communication among colleagues. It allows them to collaborate outside of the usual work environment, building a stronger sense of unity and shared values.
34. Support a community project as a company, such as participating in a local environmental cleanup or fundraising event
Finally, if you're a business that caters to a local community, you can encourage your employees to take care of the said local community during the festive season.
---
Congratulations, if you got this far, you've just unlocked the ultimate holiday gifting arsenal! With an impressive array of ideas, there's no excuse to leave your employees giftless this season. Start planning ahead and dazzle your team with thoughtful presents that show how much you appreciate them.
Don't settle for the ordinary – elevate your holiday gifting game with VistaPrint's custom options. From personalized goodies to unique tech gadgets and more, VistaPrint will help you deliver the best corporate gifts that leave a lasting impression.