3-Per-Page Checks
Stay organized with tearaway stubs on 3-to-a-page business checks. Customize templates for payroll, business expenses and more.
See details

100% satisfaction guaranteed

Side-tear section for payroll or expenses
Variety of colors available
Information protected by SSL encryption
For invoices, expenses & more
Make things easier for you (and your contacts) with 3-to-a-page business checks. They come with side-tear stubs that help you organize and manage expenses. You can track employee hours and wages with our payroll template, and the general purpose option works for almost any all expenses. The itemized invoice design actually has space to write a list of what you're paying for right on the check itself.
Information security
We never store any of your banking information, and we're committed to keeping your data secure. We use the industry standard of Secure Socket Layer (SSL) encryption to protect your private information.
Easy design process
When you select "Browse designs," you'll see different templates you can pick from. And you can choose from a variety of colors via the text below the pricing information. Once you pick a design, just enter some personal and banking information. Then you'll be able to customize fonts, the starting check number and your name.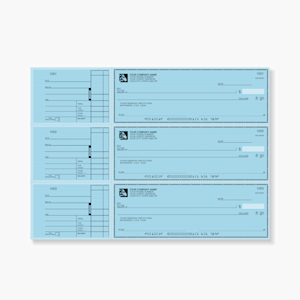 Our professional designers can help create the look you want.

Printed Product Design