Estimated reading time: 7 minutes
Everyone loves swag. You probably have some branded merch of your own that not only serves a functional purpose but reflects your personality and interests.
Small business promotional products are one of the most powerful ways to connect with your customers and drive lasting relationships. From T-shirts and tote bags to keychains and magnets, merch can form a quick bond between you and your customers and offer lasting exposure that drives sales and boosts brand exposure for years to come. This is true whether you're selling these items or giving them away as freebies.
But how do you find the products your customers will cherish while driving the maximum return for your business? It all comes down to having a solid strategy in place.
Get started with the following 5-step process to craft a promotional product strategy that drives business and brand loyalty with your audience.
1. Create your brand-product connection.
The foundation of a good promotional product strategy is a consistent brand presence. The look and feel of your brand should match that of any products you choose to represent your company. It's easy and fun to make this brand-product connection by asking two focused questions:
What are the top three words that describe your brand?
How should customers feel when they meet your brand?
When you have the answers to those questions, even if they're not clear-cut, you can combine them with your logo (and a style guide, if you have one) to create the first part of your strategy.
Say you're an upscale coffee shop at the heart of downtown with crisp, minimalist decor in hues of white and stainless steel. When customers enter your shop, it's usually rush hour or lunchtime. They expect precision, consistency and top-notch quality (your top three words). And you want your customers to feel respected. You respect their hustle, time and business.
In this case, you'll want your promotional product choices to match your brand's minimalist aesthetic — likely using white and silver tones — and appeal to your customer in some way. For example, you could start with a custom reusable coffee tumbler … one that's sleek and modern (maybe designed in those same white and silver tones) and features your logo front and center.
While not every promotional product will be a coffee tumbler, you now know the promise every product you choose has to fulfill. Defining your brand-product connection helps guide the selection of any promotional product you use for your company.
2. Define your where and who.
Next, it's time to consider your audience. Before buying any small business promotional products, answer these two questions:
Who is the audience for this product?
Where will they receive or use the product?
Your answers can help drive business, prevent logistical headaches and maximize your investment. For example, say you're sponsoring a breakfast at a local conference for educational professionals and the attendees will include everyone from teachers to educational book publishers. There will also be a well-known keynote speaker at breakfast — it's really a not-to-be-missed event.
In this instance, you need something that a wide variety of people can enjoy or use. Since the event is local, you won't have to worry about shipping, but you might have attendees from out of town. You won't want to choose a promotional product that's bulky or heavy because every time someone looks at it, they'll think of how your item made packing to go home more difficult (or they might opt to leave it behind).
Instead, you might consider other ways to promote your business, such as with snacks packed in branded bags/boxes or bottled water with branded labels. These products are easy to transport and do double duty: They help attendees stay nourished and/or hydrated, and keep your branding front and center. If you want them to take a more permanent piece of your brand home, consider relevant promotional items like can coolers, reusable water bottles or bottle openers.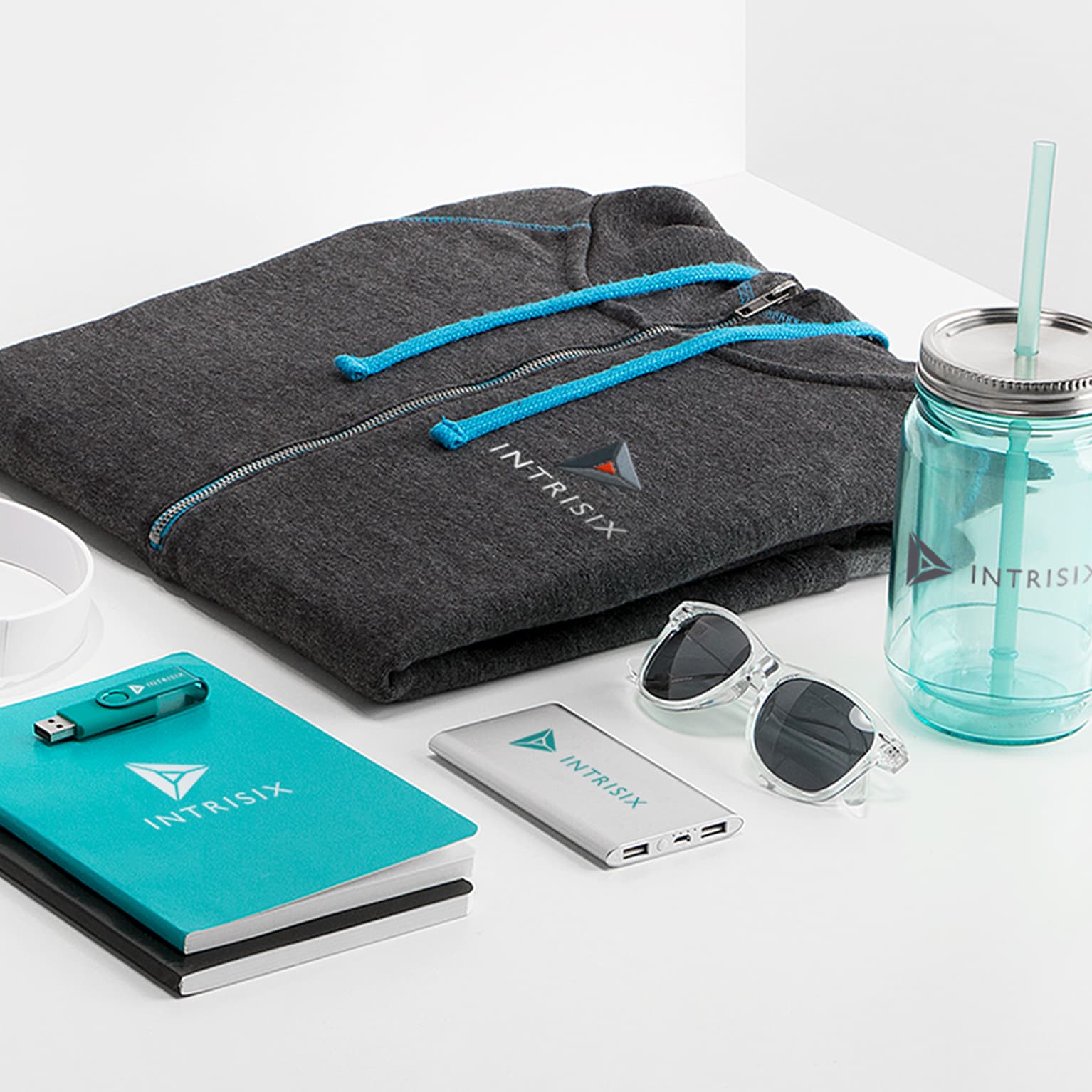 3. Set your budget.
If you're new to promotional products, the vast array of choices and prices can be a lot to digest. But those choices are a blessing, not a curse: They mean there's a solution for nearly every budget. So, befriend your budget and get excited about your options.
Custom pens and notebooks, for example, come in a wide variety of styles. If your breakfast has 500 attendees and you're on a modest budget, you can choose a plastic pen and a mini spiral notebook to make the most of your budget. On the other hand, say your breakfast has 25 attendees. Since you don't need to stretch your budget, you might pair a more sophisticated metal pen with a zippered padfolio.
When it comes to budget, don't be afraid to start small. You can test the waters with products that fit your budget today to find the ones that bring you the best results. Then, you can increase your budget as sales increase, investing in more upscale or additional products that complement your current ones.
4. Start with useful items.
Studies show that the number one reason people keep promotional products is that they're useful — and most people keep them for an average of five years. So if you're not quite sure which products would best kick off your branded marketing strategy, stick with something you know will be useful.
Here are some ideas to get you inspired:
The more useful your promotional items are, the better your chance of making a strong first and lasting impression.
5. Evaluate and expand.
The best strategies grow with your business, which is why it's essential to regularly evaluate your promotional items, budget and how both benefit your business.
For example, say you're that minimalist coffee shop that invested in that sleek white coffee tumbler. Six months later, and they're a hot commodity. If your drinkware is taking off, you might introduce a new cup style, size or colorway to keep your mug-craving customers engaged.
If your business is on the newer side, regular evaluations of your promotional merch can also help your marketing mature alongside your brand. Brands tend to become more clear on who they are and who they serve as time progresses. So, your swag strategy can adapt, whether you're rebranding, mixing up your brand colors or shifting your personality from whimsical to wry.
And don't forget to include your entire team in your evaluation strategy. Cashiers, customer service reps, salespeople and servers are all on the front lines with your customers. Invite open and honest feedback about what they hear and what customers want and use that information to guide future swag ideas — or end those that aren't getting the results you want.
You don't have to get lost in the sea of small business promotional products when looking for ways to promote your business. With this 5-step process in hand, you can craft a strategy that guides every scenario where you want your brand to make a lasting impression.