Estimated reading time: 7 minutes
The wedding planning process is full of decisions — and, naturally, some are bigger than others. For example, choosing a wedding venue requires more consideration than deciding between two similar shades of table linens. Then, there are choices that appear small at first but can have a significant impact, like selecting your wedding invitation size and design.
While it may seem like your invite dimensions, shape, style and orientation have little bearing on your event, the opposite is true. All of these factors will affect the way the design looks and feels, the amount of information you can include, how much your invitations will cost and how your guests will perceive your invitations.
To make the right choice for your wants, needs and budget, here's everything you need to know — starting with why size and design matter in the first place.
The importance of wedding invitation size and design
With so many pressing items on your lengthy to-do list, putting extra time and effort into invites might seem unnecessary. After all, so long as your invitations communicate when and where the wedding will take place, do dimensions and designs really matter?
The short answer is yes. Fortunately, there are some tips to make the process much easier.
Here are a few reasons it's essential to be thoughtful when choosing your invite size and style:
First impressions
Aside from your save-the-dates, your wedding invitations are the first impression your friends and family will have of your wedding. And, as any marketer will tell you, how you present a message is just as important as the message itself.
In other words, your invites are your first opportunity to get friends and family excited about your wedding, and often, people begin forming their impressions based on factors like color and design elements before they even read a single word. The design and size you choose will help set the tone for the rest of the wedding experience.
Clarity of information
In addition to your wedding date and location, you'll also need to include RSVP instructions, as well as details about your registry, reception and reserved lodging for out-of-town guests. The size and style of your invite will determine how much information you can include. If there's too much text or too many design elements for the size of the invite, people can miss vital details.
Practicality and cost
Remember that invite size affects the cost of your invites as well as the cost of postage. Additionally, keep in mind that many people attach invites to their refrigerators or bulletin boards as a visual reminder, so you don't want anything too cumbersome or oversized.
In other words, you must strike a balance between ensuring invites are small enough to handle but large enough to convey all the details and instructions your guests need to know.
Creating beautiful and memorable wedding invitations doesn't have to be challenging. Check out customizable wedding invitations created by professional designers.
How to choose the right wedding invitation size
"What size are wedding invitations?" This is one of the most common questions people ask when evaluating their invite options.
While there is no standard, most couples choose invitations that are 6″ x 9″ or smaller.
Here are three questions to help you determine the right size for your invite:
1. What information do you need to include?
Take a moment to consider everything your guests will need to know. For example, if you're having a destination wedding, you may need to provide information about flights and hotel accommodations. Or, if the ceremony and reception are held at different locations, you'll need to clarify whether or not guests are responsible for their transportation.
In addition to the invite and RSVP card, many couples include other cards with details about accommodations, requests and other wedding events (like welcome parties, cocktail hours or a day-after brunch). This additional real estate helps prevent your invite from becoming too crowded with text.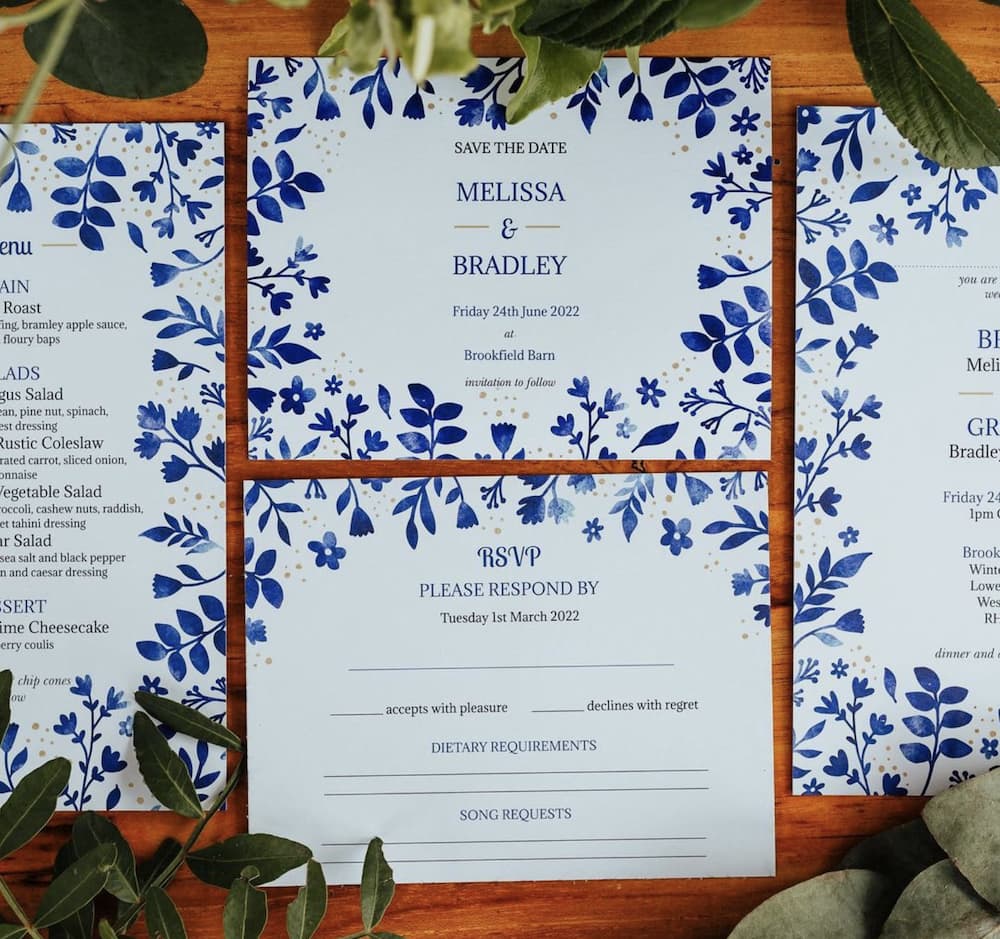 Source: @melissalrpaterson on Instagram
It's also a good idea to create a wedding website and share the URL so guests can access details that may not fit on the invitation.
2. What aesthetic are you hoping to achieve?
If you want your invite to feel clean and uncluttered, choosing a larger size can ensure more white space. Or, if you want scalloped edges, you'll likely want to select a smaller size. Additionally, you can choose different sizes for each card. For example, some couples prefer a 6″ x 9″ card for the invite and a 5.5″ x 4″ card for the RSVP, reception details, menu cards and other enclosures. It all comes down to your visual preference.
3. What is your budget?
You can find invites to fit almost any budget, but larger invites are typically more expensive than smaller ones. (For example, in most cases, a 4.6″ x 7.2″ invite costs less than a 6″ x 9″ invite.) And envelopes larger than 6.125″ high x 11.5″ long or 0.25″ thick will require additional postage.
Of course, size isn't the only factor impacting price, but it's still worth keeping in mind.
Other design elements for consideration
In addition to selecting your invite size, there are a few more decisions that will impact the look, feel, cost and overall experience of your wedding invitations.
1. Paper stock
Invites can be printed on a variety of paper thicknesses, finishes and textures. For example, some paper stock options have a glossy or pearlescent sheen, whereas others have a matte finish. Additionally, invitations can be printed onto smooth and crisp paper or textured and soft linen stock.
2. Embossing and trim
Embossing and trim options are another way to set your wedding invites apart. Invitations can also be embossed with foil, giving them a rich and luxurious look and feel. Or, they may be trimmed with scalloped or rounded edges for a distinctive touch.
3. Orientation
Orientation simply refers to whether your design is printed vertically, which is more traditional, or horizontally, which is more modern. Both are excellent options and typically the design dictates the orientation.
4. Style and theme
Your wedding invitation should reflect the aesthetic of your wedding. For example, if you're having a spring wedding in the countryside, you might opt for a floral-style invite, while couples throwing a more casual outdoor affair might like something more bohemian. If you're planning an upscale wedding at a contemporary urban venue, you might choose a modern theme, while a couple getting married in a historic inn might opt for a vintage-style invite.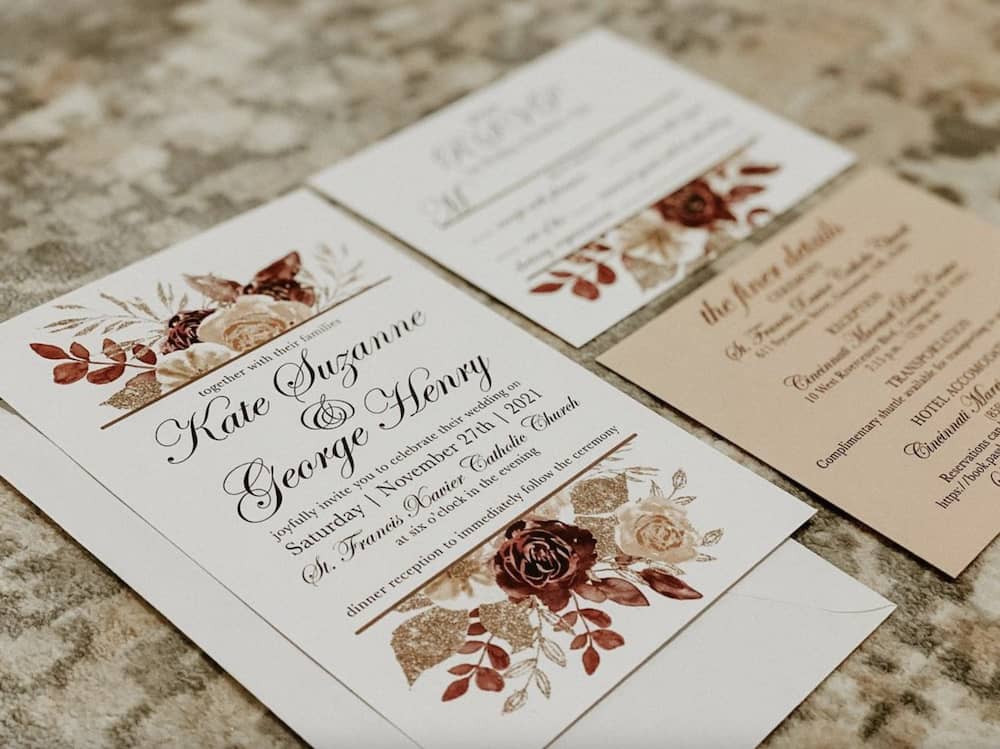 Source: @ciera.w.design on Instagram
Remember, there are no hard-and-fast rules, but your wedding invitation style gives recipients a good idea of what vibe to expect.
5. Colors
Similar to style, ensure your invite colors reflect your wedding colors. Consider your florals, decor and the colors your attendants are wearing, and choose an invite palette that best reflects those hues.
Not sure which paper stock or finishes you want? Order a free wedding sample kit to see and feel stationery in real life before you decide.
Further opportunities to incorporate invitation design
After you've decided on your wedding invitation size and design, consider leveraging invite elements in other ways. Here are some ideas for how you can carry your invite theme and style into additional printed materials:
1. Wedding signage
From welcome and wayfinding signs to displays for guestbook stands, gift tables, photo booths, buffets and more, there are plenty of opportunities to echo your invite design in wedding signage.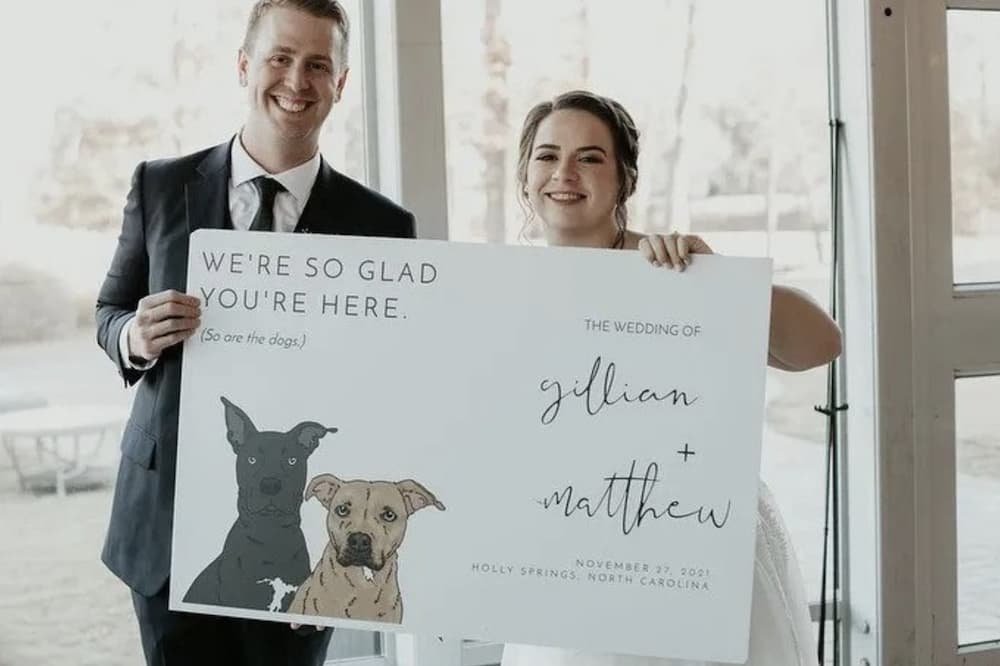 Source: @mrs.bri.hines via @vistaprint on Instagram
2. Place cards and menus
Your tablescape is another opportunity to bring in your custom wedding branding. Use your invitation design when creating table numbers, place cards, menus and more.
3. Thank you cards
After you've finished the celebrations, unpacked your gifts and settled into married life, it's time to thank your gracious guests for helping you create lasting memories. Custom thank you cards offer a final opportunity to leverage your invite design.
Crafting the perfect invitation
Selecting your wedding invitations is just one of many important decisions you'll make throughout the wedding planning process, but it doesn't have to be stressful. By following these tips, you can craft a design that speaks to you and your significant other and builds guests' excitement for your big day.