Wedding Programs
Create a stylish guide for you and your beloved's ceremony with one of our custom wedding programs.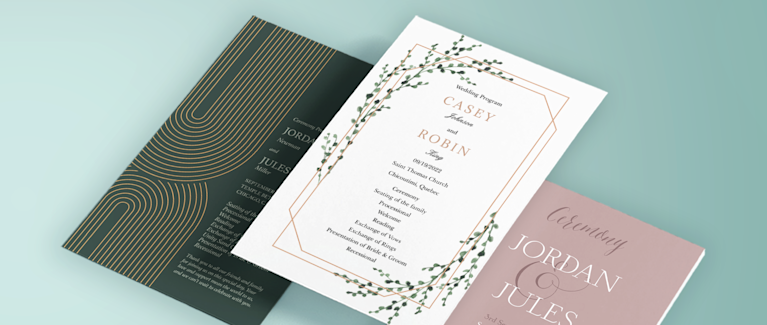 Let guests know what to expect on this special day with wedding programs.
If you're like us, you think wedding ceremonies are as unique as the couples who host them. With custom wedding programs, you can highlight all those personal touches you're including in your big day, from the members of your wedding party to selected readings or songs. Having an interfaith or multicultural ceremony? Wedding ceremony programs can help introduce guests to traditions they might not be familiar with, such as communion or Saptapadi. And with our design process, it's easy to customize one of our wedding program templates with everything you'd like to share with guests. Start here in our gallery to find a style that fits your wedding theme. Then add text and place your order. We'll do the rest – we'll professionally print, package and ship the final creations to your home. Your wedding programs will arrive looking fresh and ready for the big day.
Frequently Asked Questions
We most likely do – many of our templates for wedding ceremony programs and wedding reception programs are designed to match or complement our wedding invitations. This makes it easy to create a signature style that you can weave throughout your wedding, from the invitations through to programs and other wedding day items, like place cards, menus and more.
Yes. With our Graphic Design Services, you can work with a professional designer to update one of our existing templates – color changes, design elements and more. If you're interested in taking the design process to the next level with a bespoke program, we're excited to help.
Yes. Proofs are essential when you design and print wedding programs. In our online studio, you'll be able to download a free digital proof. Throughout the printing process, you can create as many proofs as you'd like. This is an easy way to share your ideas for programs with someone else - your partner, a friend or wedding planner. We want you to love the finished product!
We don't offer custom samples at this time – but you can order a small batch of 10 wedding programs. This is a cost-effective way to see and feel your programs in person before you fully commit. After reviewing the color and paper, reordering a higher quantity is quick and easy. If you want to make any updates, you'll be able to edit your design in our studio. Either way, your order – and satisfaction – is absolutely guaranteed.
We've got you covered. Scroll down to "Product Options" and click "Product Specs & Templates." There you'll find design specs and downloadable templates for each size option for your product. Using these guidelines will allow you to gauge how much you'll need to adjust the size of your design for it to fit on the product – and avoid white spaces or gaps. If you have more questions about designing your product, visit our help center to get in touch with one of our experts.