Estimated reading time: 7 minutes
It's not uncommon for small business success stories in the bridal world to center on mass-produced gown designs. But for Loulette Bride, success stems from a truly bespoke experience, delivered one bride at a time and primarily to those living in New York City.
But before you think "small," this brand has a big message of integrity, responsibility and inclusivity. And that message has built an enduring and ever-growing community of brides and other businesses that flock to what founder and owner Marteal Mayer and her proud bridal shop have to offer.
The early days
Marteal's fashion career aspirations didn't always include wedding bells. Straight out of fashion school, her first few jobs were in mass-market fashion for big box stores — an experience that quickly made her miss the art and care of fashion design.
"The focus was on making things as cheaply as possible, with no regard to sustainability," says Marteal. "And that broke my heart a little bit."
Looking for alternatives to fast-and-cheap practices, she made the leap into evening wear and, eventually, bridal for a larger designer. And that switch planted the seed for a company Marteal could get behind.
"In bridal, you only make what you need, so it's more sustainable," she says.
By day, she designed for brides everywhere. Then, after hours, she designed her own first collection. And those nine dresses caused a bit of trouble — in the best possible way.
From side hustle to full-time small business
When Marteal's bosses at the bridal company caught wind of her first collection, they immediately saw her as competition. Then came the ultimatum: Marteal could quit her designs or the company. That turned out to be exactly the push she needed to leave the corporate world and launch her own bridal design business.
"I didn't intend to have a storefront and have brides come into the business," says Marteal. Instead, she planned on running a wholesale business to sell her dresses to other retailers. She'd get her dresses into a couple of stores, and that would be a business that could sustain her.
But as time passed, more and more people began coming into her studio to try things on. This growing direct-to-consumer approach improved her margins and changed Marteal's vision for what would ultimately become Loulette Bride. She added a "book an appointment" button to her website and a dressing room to the studio she shared with two florists and a wedding planner. Marteal also invested in ways for people to find her business, including through Instagram and some basic SEO efforts to raise her visibility in the local Brooklyn and greater NYC area.
But, by making her side hustle into her main hustle, Marteal discovered that neither art nor business school had truly taught her how to be a successful business owner in this space.
"Taxes, licenses — no one covers that, even when you're doing an MBA," says Marteal. So, with an entrepreneurial spirit, she learned all about the financial and legal logistics of running a business. By gaining, improving and eventually delegating these skills, Marteal was able to better grasp every nuance. And over time, those business skills would meld with an undeniable brand that makes Loulette Bride one of the most inspiring small business success stories.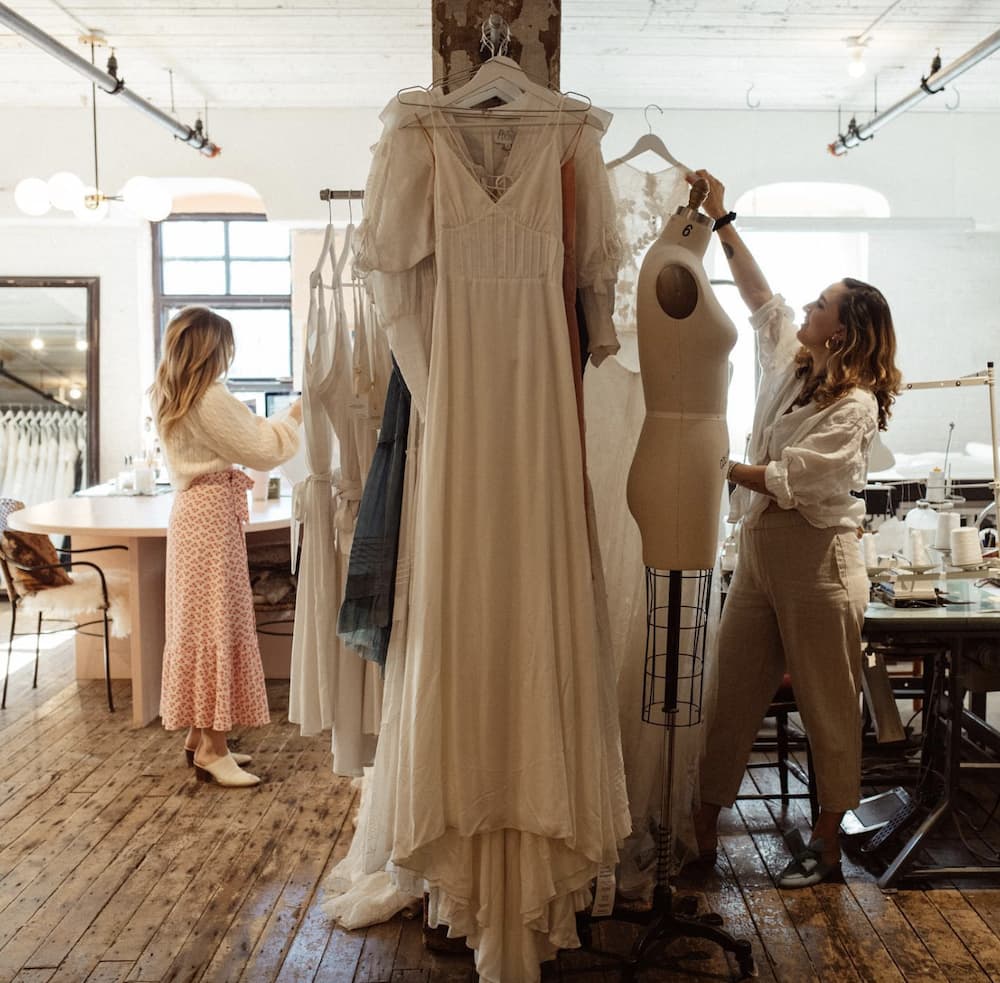 Source: @loulettebride on Instagram
Defining the brand
If you look at the Loulette Bride website today, you'll find a funky, fun and fierce brand with an unapologetic voice. It's certainly not for everyone, and that's how Marteal likes it. But in her early days of business ownership dating back to 2015, Marteal didn't want to be polarizing or too vocal. After all, being too outspoken could drive away the very brides she needed to make the company a success.
But as 2020 rolled around — along with the early days of the pandemic and a long-overdue social justice awakening rippling through the country — Marteal realized that she couldn't just say nothing. So, she decided to say everything about what she and her company believe, who it's for and how they do business.
With a brand tagline of "bridal for everybody," Loulette Bride is all about body, gender, identity and racial equity. If that's not your jam, there's a better place for you to fulfill your wedding dreams. Because in this shop, you'll find a wide range of sample sizes so all "to-be's" can easily try styles. A new genderless collection helps anyone embrace the exact pieces and styles that make them feel confident on their big day — and yes, with customizations galore. And from open and vocal support of the LGBTQ+ community to business practices that are "sustainable AF," Loulette Bride has evolved into a proud brand with a big voice and no regrets.
"I design it. I'm steering the ship, so naturally, the brand reflects a lot of my values," says Marteal, which includes a heavy emphasis on philanthropy. A portion of the proceeds from each sale — whether a wedding dress or one of Loulette Bride's signature "I f***ing do" mugs or sweatshirts — gets donated to a social justice or women-centric nonprofit.
"We're making this product, so if we don't fuse those ideas into what we're making, why are we even doing this?"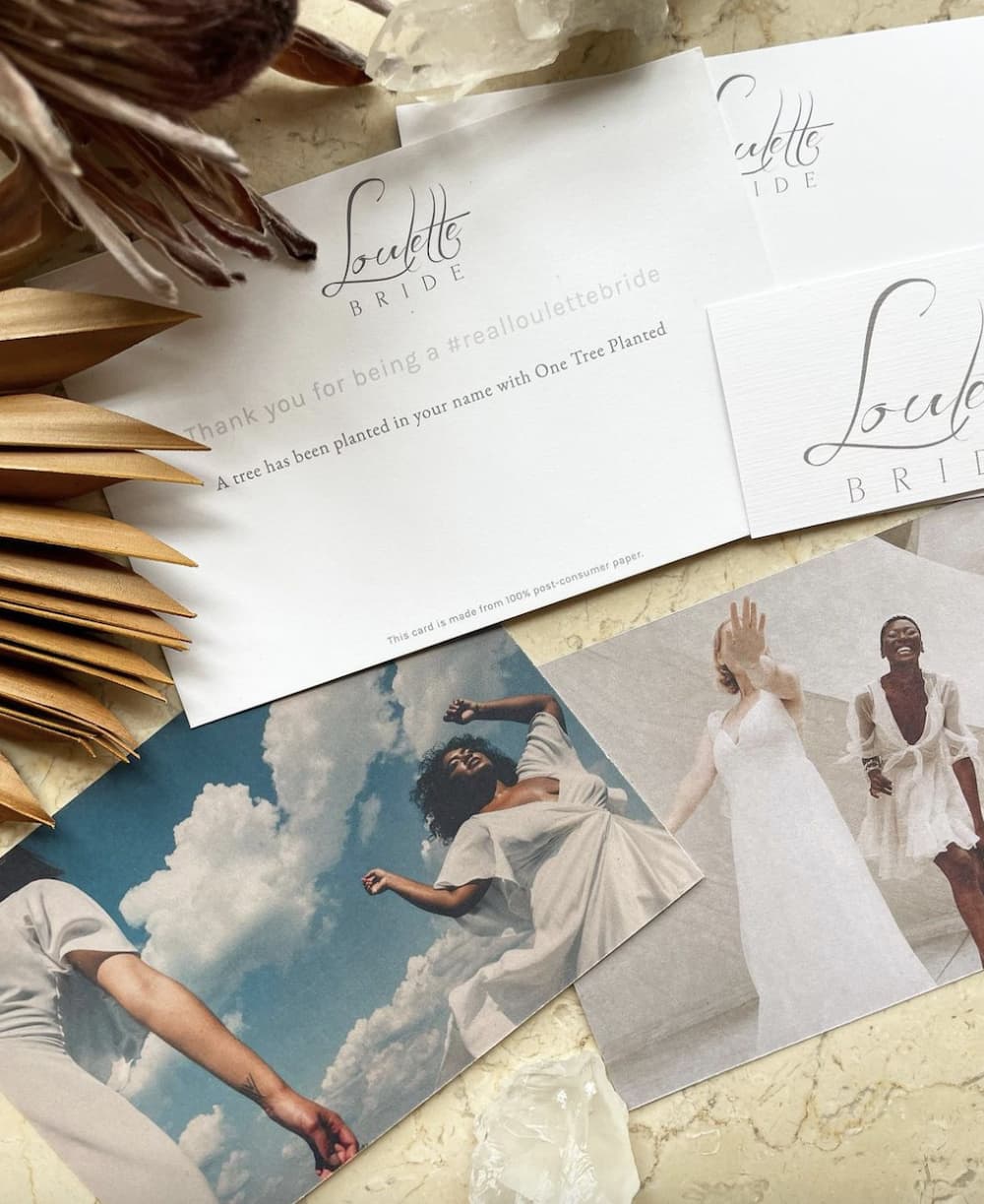 Source: @loulettebride on Instagram
Cultivating growth
The power of Loulette Bride's message carries far, attracting people from all over New York City. But what's grown the business and made it a standout among small business success stories is Marteal's investment in her community. Every bride, family and friend who steps into the shop becomes the star.
"We only do one bride at a time, so we don't have 10 fitting rooms," says Marteal. "I could add another one, but don't want to."
Every aspect of a Loulette Bride dress is conceived and created in-house, from the first spark to the final fitting.
"We can change patterns and customize sizes, styles and fabrics," Marteal adds. "The bride is part of the process, and we also get to know the families because we see them multiple times."
In fact, the shop often reworks vintage dresses that have been in families for generations — creating something unique and personal that's simultaneously modern and steeped in family history. Marteal knows that this personal touch helps build relationships and referrals. But, it also takes out the middle man at a crucial stage of a dress fitting: alterations.
"Something unique to bridal is that we do all our alterations in-house. That lets us do a lot more customizing than a bigger designer can."
And ultimately, this personal touch at every stage of the bridal journey has built a supportive and engaged community of followers.
"We make everyone feel calm. After all, we're just playing dress-up."
The power of partnership
At every stage of Loulette Bride's evolution, Marteal's relied on tried-and-true ways to spread her brand's message — and many have come from VistaPrint.
"I've used Vista's postcards forever," she says. But there's one unlikely product that's made Loulette Bride a well-known brand: their window stickers. Beneath an earth-toned rainbow, you'll find the words, "We support your love. This business is proudly LGBTQ+ friendly, feminist & anti-racist."
"We hand these out at bridal markets and shows and to shops in our neighborhood."
And when anyone asks where the sticker came from, the answer is undeniably Loulette Bride.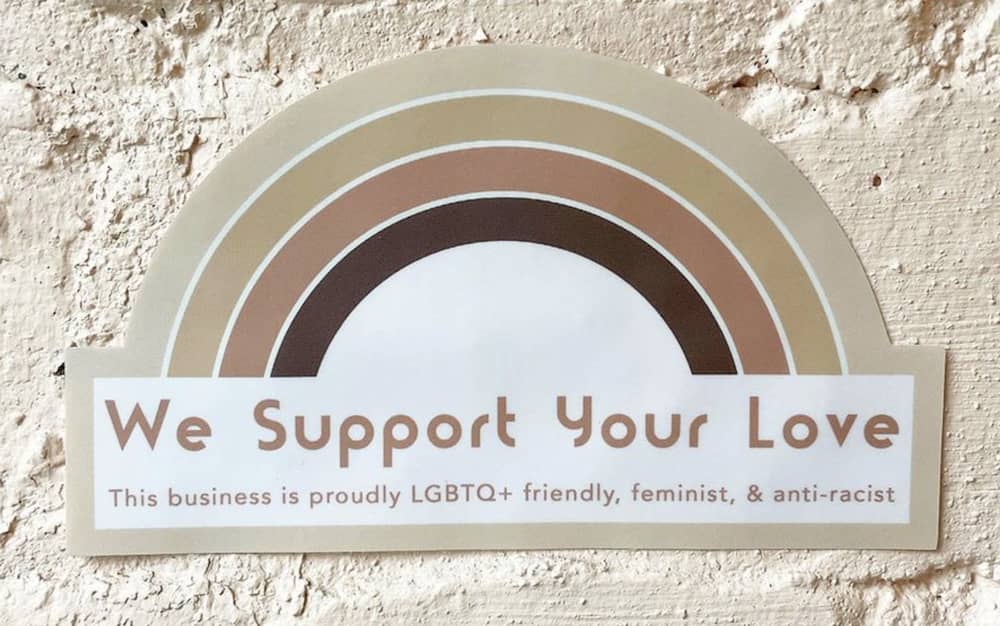 Marteal also orders their signature brazen-message mugs from VistaPrint, plus various posters with social justice messages when the need arises.
"Vista's been there for us from the beginning, making whatever we need to share our message."
With a company like VistaPrint, Marteal knows she has a partner that can move at the speed she needs — like when she redesigned her logo last month. Whether it's a simple logo change or a bold message she can't wait to share with the world, it's incredibly valuable to have a partner who makes it easy to share the look, feel and values of Marteal's bridal shop.
Taking that leap
Marteal knows that every small business owner won't have the do-or-die moment she faced with her former bosses. There's an art to balancing the timing and finances necessary to dive in and fully embrace a side hustle. But, one thing can help you make that leap with more confidence: community.
"Make sure you have people in your corner who can support you — your partner, your parents," she says. And if you're scared to make the jump, Marteal offers these on-brand parting words of advice: "I think there comes a point where you're either half-assing it constantly or putting your all into it. I don't think you can see what something can be until you devote a good amount of time to it."