Estimated reading time: 6 minutes
As summer days give way to back-to-school prep, you and your kids may feel a flurry of emotions. It's an exciting time, but the transition can also be stressful. Lean into the excitement and help your little ones prepare by personalizing their back-to-school supplies. Whether you embroider your children's names on their backpacks or customize their folders and pencil cases with kids school labels, you can help bolster their spirits and support them for the coming year.
Plus, this little project could make back-to-school shopping more fun for you, too! Why not put all your school supplies on the kitchen table and gather your kiddos for a labeling party? As you apply labels together, put out snacks and listen to your family's favorite music or talk about all the good things to come.
3 benefits of personalizing back-to-school items
When your family goes into a gift or souvenir shop, are your kids immediately drawn to the keychains, magnets and other trinkets labeled with individual names? Most are! Kids love to see their names on products, and it's an even sweeter experience if they have a unique name that's hard to find. Make your kids' dreams come true by personalizing their school supplies this year.
Read on for three more reasons why personalization makes sense.
1. Cultivates a sense of ownership.
Don't be surprised if your kids cherish their memory of opening their school supplies box and seeing their name on everything. They'll be proud to unpack their backpack at school, too! Having their name on their school supplies isn't just fun for kids; it also gives them a sense of independence and ownership.
2. Helps keep track of belongings.
School supplies are an investment, and when kids get them out at school, it can be hard to keep track of who owns what. Empower your kids to keep track of their things, even when they share them with friends. Supply labels may become your best friend — especially if you don't want to buy new supplies every month.
3. Makes the return to school more fun and memorable.
The first day of school each year is the perfect time to make and capture memories, both for kids and parents. If you love taking back-to-school pictures of your kids each year, consider investing in a first day of school sign that you can use again and again. As you look back on these memories, you'll be able to see how much your kids have grown against the size of your first day sign.
Get a photo memento from your first and last day of school each year with a reusable double-sided vinyl banner. Just print a design with "First Day" on one side and "Last Day" on the other.
9 personalized school supplies to perk up your child
Get your kiddo pumped for school by personalizing these essential back-to-school supplies. Depending on how you do it, you can customize the items below with your child's name, favorite colors and even favorite animals, sports or other special interests. Space-theme "Charlie" backpack, anyone?
Whether you customize each item or simply use your kids' school labels, the following products are perfect for the trend:
1. Backpacks.
Backpacks are an essential back-to-school item and one your child will wear and use every day. This makes personalized backpacks the perfect school supply to customize as you or your child see fit!
2. Lunch boxes.
Like backpacks, your kids will use their lunch boxes again and again, and this item is all too easy to misplace. Make sure your kid's lost lunch box or food container ends up back in their cubby by adding their name.
3. Water bottles.
Proper hydration is essential. That's why many schools ask parents to send a water bottle with their children every day. Avoid plastic waste with a durable reusable water bottle — one your child can bring to the playground, lunch and PE class. Because water bottles tend to travel around the school building with your kiddo, they're yet another item that's easy to lose.
Protect your investment and make sure your kids' water bottle has their name on it!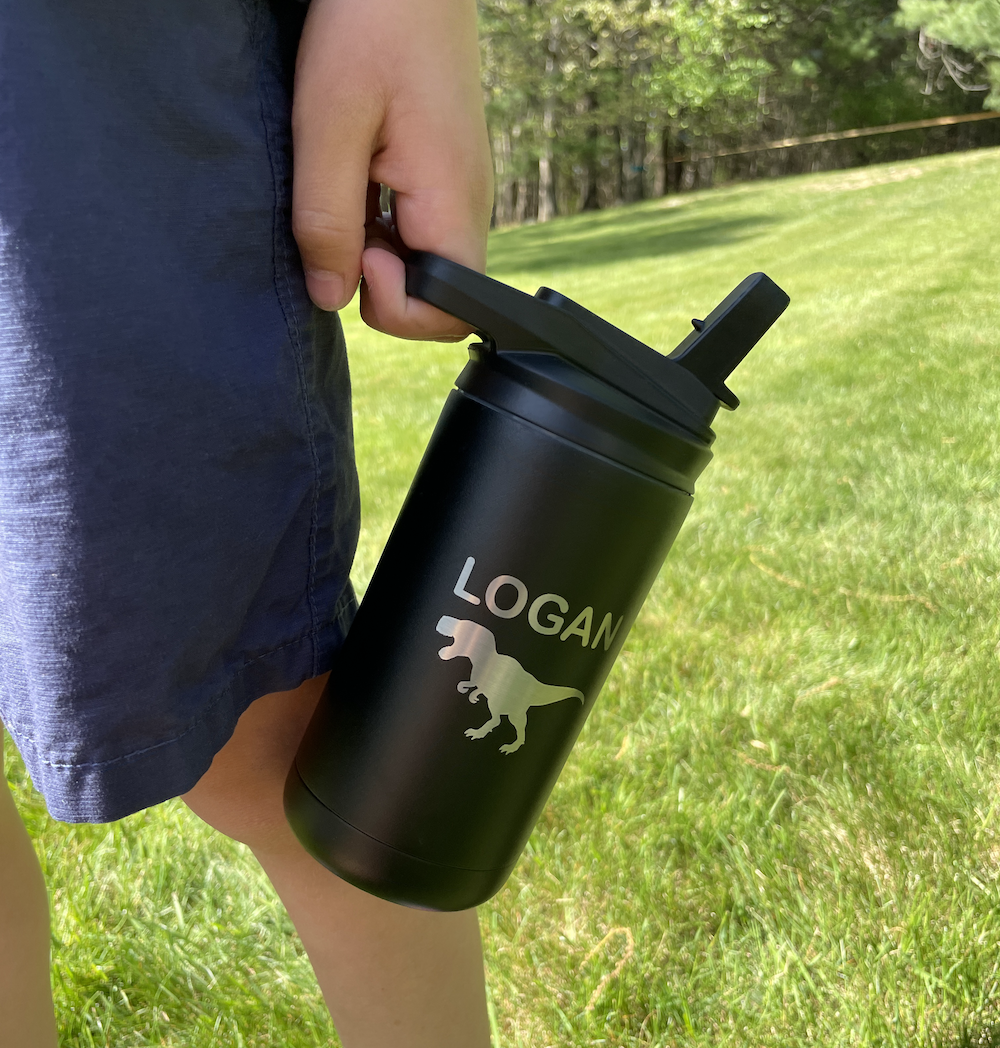 Inked-on names tend to rub off on water bottles. Consider getting a custom kids water bottle with their name on the side or label your child's bottle with a durable waterproof sticker.
4. Pencils and pens.
Ask any teacher, and they'll confirm: Kids go through pencils and pens like babies go through diapers. Help them hold onto their supplies by making each one special. Custom pens and pencils will help your kiddo keep track.
5. Notebooks, binders and stationery.
Your child's teacher is bound to ask for notebooks and binders, and your kid may enjoy some extra special stationery or sticky notes to help them remember important info. Consider ordering notebooks with their name on the front. If you want to personalize their binders, try getting ones with the "window" cover that allows you to slide in your own cover. Work on a design together, either on the computer or with art supplies. Then, simply slide it in. Voila!
6. Stickers and labels.
Customizing sticky labels gives you the flexibility to personalize your kids' back-to-school items and any fresh school supplies you purchase later in the school year. Plus, the options are endless.
Consider getting them custom kids labels with their names and favorite colors. They can put their stickers on all their favorite supplies, from binders to water bottles. You might even work with your kiddo to design their very own die-cut sticker as a super fun way to prep for the school year. They could even share some with their buddies as a mark of friendship.
Get a few sheets of kids school labels to use throughout the year. Psst! Customized return address labels and packaging labels offer a convenient, cost-effective way to label every one of your kids' school supplies.
7. Pencil cases.
These cases help your kids to keep their desks organized and protect their most-used school supplies. They're also a great item to personalize, either by ordering a custom case or by sticking on printed kids school labels.
8. Folders.
Depending on your kid's grade level and teacher, they may have folders galore! Get out your handy kids school labels and slap them on. Now, your kid can keep track of each subject in style.
9. Banners and signs.
Personalized signs and banners are the perfect way to capture annual back-to-school memories. If you invest in a quality chalkboard sign early, you could use it for years to come and add fun facts about your child each year. To accompany traditional first day of school signs, many parents get together on special years to organize custom yard signs for milestones (e.g., excited kindergarteners as well as soon-to-be middle schoolers, high schoolers and school athletes).
Starting on the right foot
Back-to-school can be an emotional time for kids and parents alike. And you both likely want to start the year off on the right foot. Make it a positive, lasting memory with special first day of school traditions and photos. Exciting customized school supplies won't hurt either. Now get ready, get set and go enjoy the year ahead!