Estimated reading time: 4 minutes
It's that special time of year again – time to prep for the holiday rush! As a small business owner, part of this seasonal prep probably includes writing and sending holiday cards to clients, customers and employees.
Writing holiday greetings for business contacts year after year means getting creative, but this season we've made it simple. Below are a few ideas to help you connect with customers and show appreciation for employees. With the right combination of an eye-catching card design and a carefully-crafted holiday greeting, your business holiday card is sure to stand out.
Here, we'll give you some ideas for:
Business holiday card messages
Festive card messages for clients
Holiday card messages for employees
Copy and paste, customize or simply find inspiration in these business holiday card messages. And of course, we've got the perfect card design templates to use for each one. Happy designing!
Holiday card messages for clients and customers
Holiday cards are an easy and thoughtful way to say 'thank you' to clients and customers who've stuck with you through the last year. When writing holiday greetings for your business, aim for an uplifting tone. Put sincerity and appreciation front and center. If you don't know what holiday your customers celebrate, stick with generic end-of-year messages such as "Season's Greetings," "Happy Holidays" or "Happy New Year."
Here are some sample holiday messages you can send to clients as you welcome 2023, along with a couple of tips and templates you can update to match.
Pair festive design with wording to match
Choose a holiday card design that nods to the type of business you're in, or use language that complements the design you choose. Here are some examples to spark your creativity for a few different types of businesses.
Season's Greetings / Your business helped keep us blooming.
Happy Holidays 2022/ You make our business blossom / just by being you.
Making spirits shiny, clean & bright this holiday season. / Happy Holidays from [cleaning company name].
Season's Eatings! Here's to a delicious 2023. / From all of us at [restaurant name]
Eat, drink & be merry! / Warmest wishes, [eatery name]
Thanks for standing by us, looking forward to serving you in the new year! Happy Holidays from [bar or restaurant name]
Wishing you a holiday season of sheer joy! From all of us at [hair salon name]
Here's to a happy new year in your new home. Warmest wishes, [realtor name]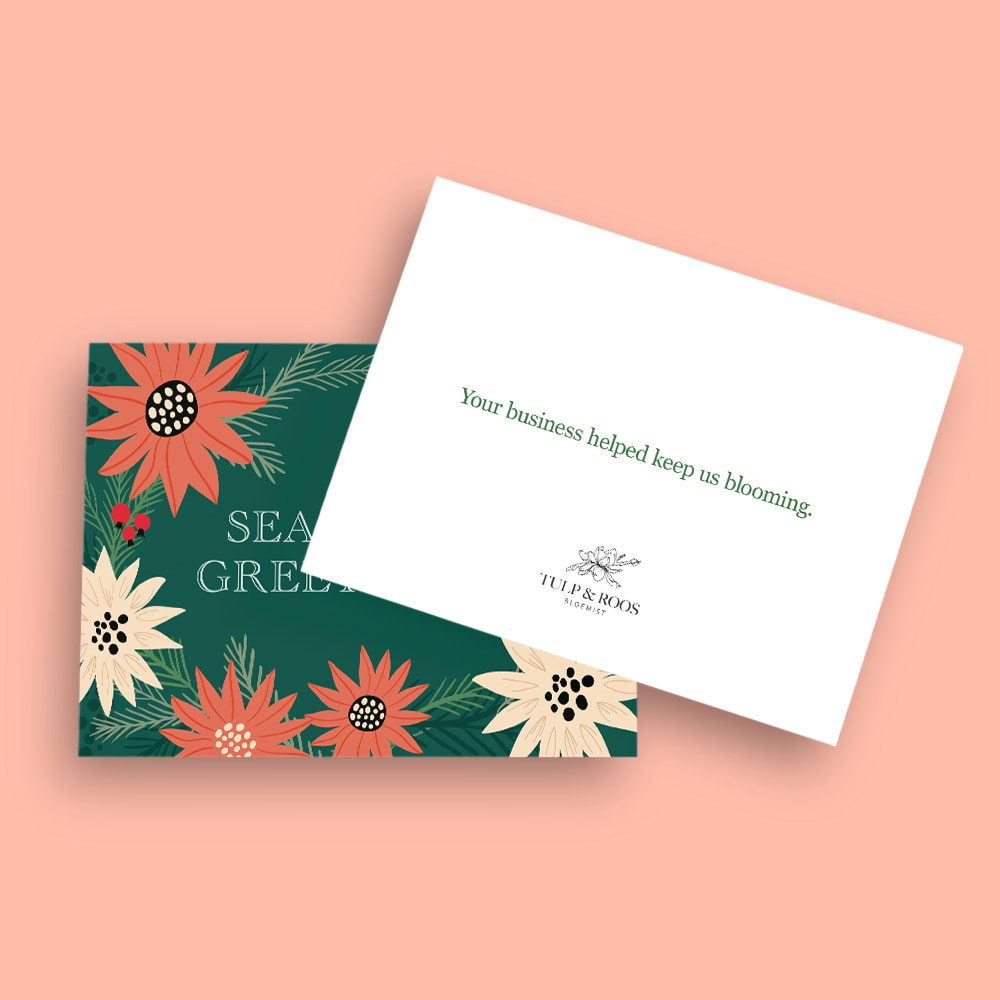 Get creative with formatting
Capitalization and line breaks can add personality and warmth to an otherwise generic message. Play around with formatting based on the template that best suits your business. Here are some messages to consider when experimenting with tone and typeface:
peace & joy to you and yours / happy holidays from us to you / [company name]
HOLIDAY HAPPINESS / season's greetings from everyone at [company name]
YOU + US = JOY / Happy Holidays / From all of us at [company name]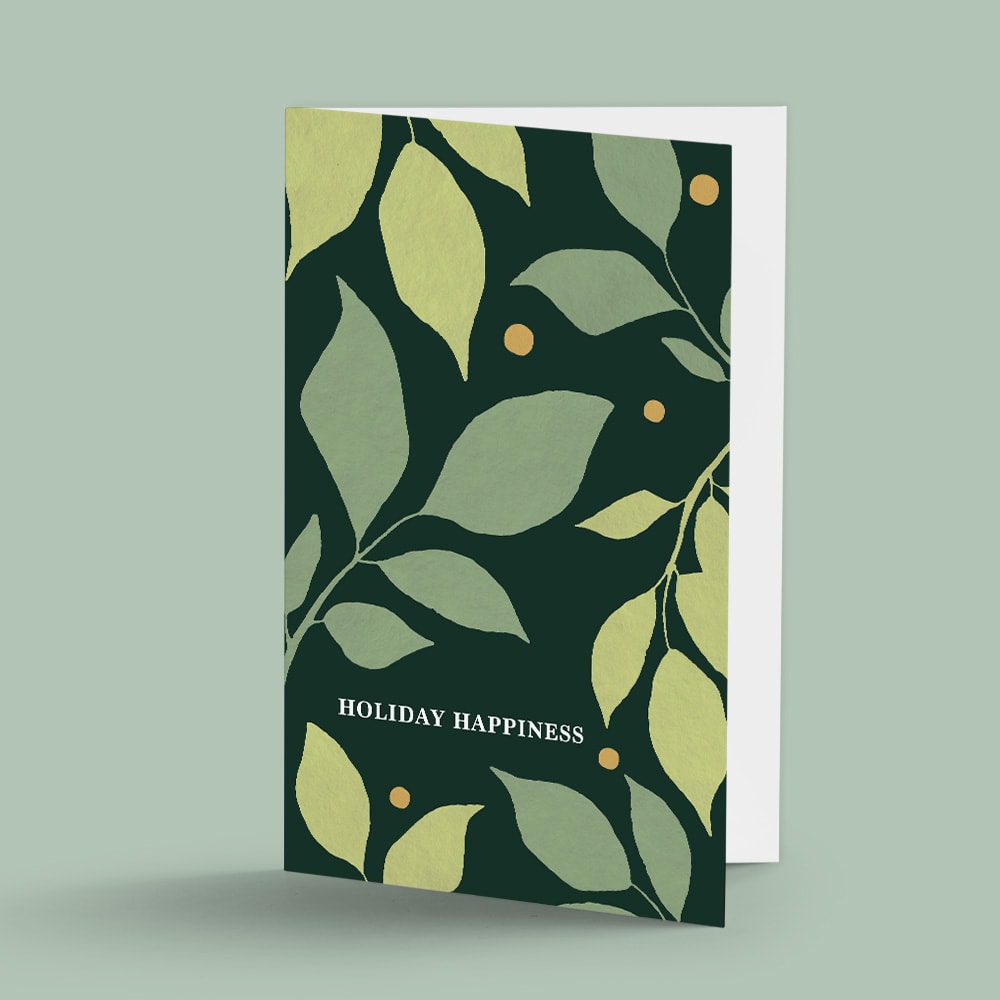 Make it personal
Try composing longer messages that include a personal touch. This encourages recipients to take a few moments to read your card. Here are a few examples:
Season's Greetings / Collaborating with you this year has been a joy and a privilege. Wishing you and yours the happiest of holidays and much prosperity in the New Year.
From the [company name] family to yours, sending wishes of warmth, joy and tranquility this holiday season. / Our thanks to you for sticking with us through this difficult year. We couldn't have done it without you.
It's the most wonderful time of the year / And you are the most wonderful part of our business. Thank you for making this and every time of year brighter for us. We wish you the happiest of holidays. / [company name]
Happy Holidays / In a year filled with challenges, we're grateful for your support. / Wishing you happiness & health in 2023.
Season's Greetings / Here's to a cheerful holiday and a fresh 2023. / Warmest wishes, [company name]
Cheers to the New Year / Best wishes for a wonderful holiday and a happy 2023.
Sending thanks this holiday season (and always) / Your friends at [company name]
Wishing you a happy & healthy holiday / Warmest wishes, [company name]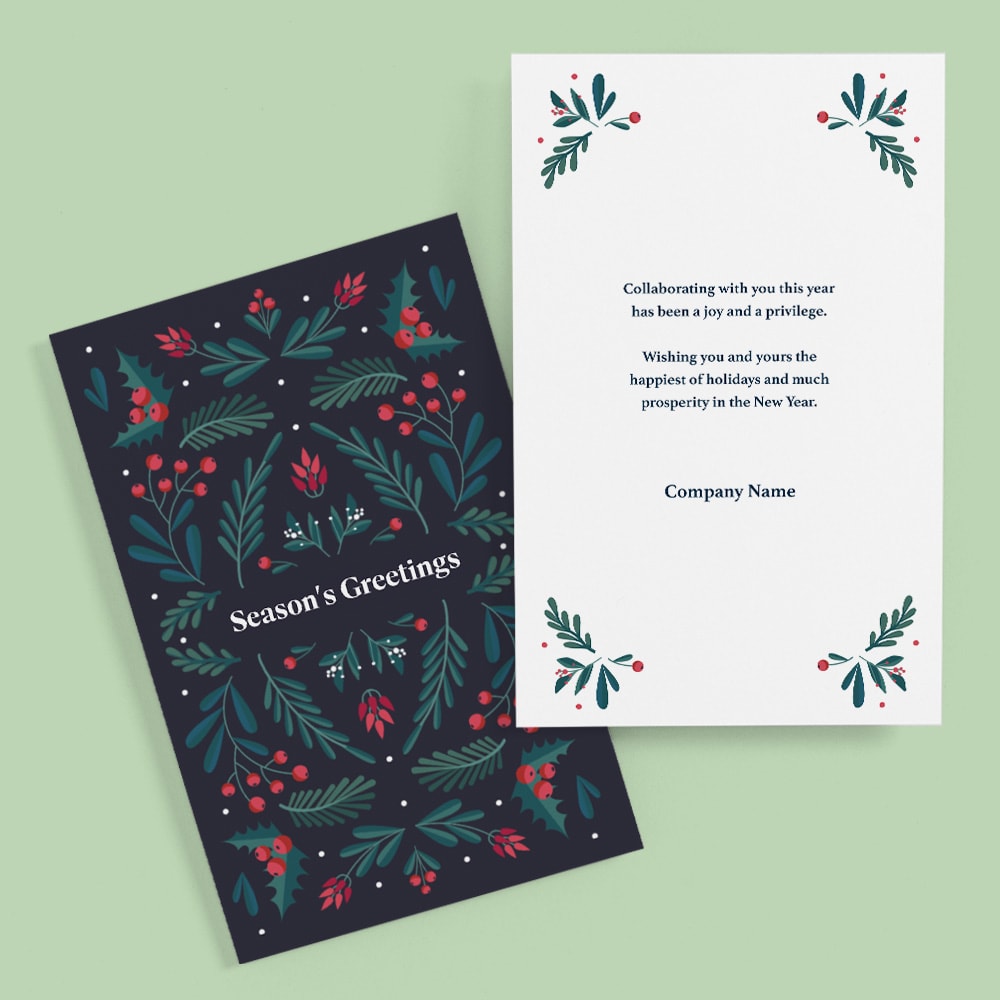 Business Christmas card messages
Sometimes, you know that everyone on your list of recipients celebrates the same holiday. If it's Christmas, here are a few business Christmas greetings to consider:
Merry Christmas / 'Tis the season for us to tell you how much you mean to us. (Spoiler: It's a lot.) / All the best, / [company name]
You are a joy to us all. / Have a fun-filled Christmas
Merry + Blessed / Merry Christmas to you and yours. / Your business is a blessing all year round. / [company name]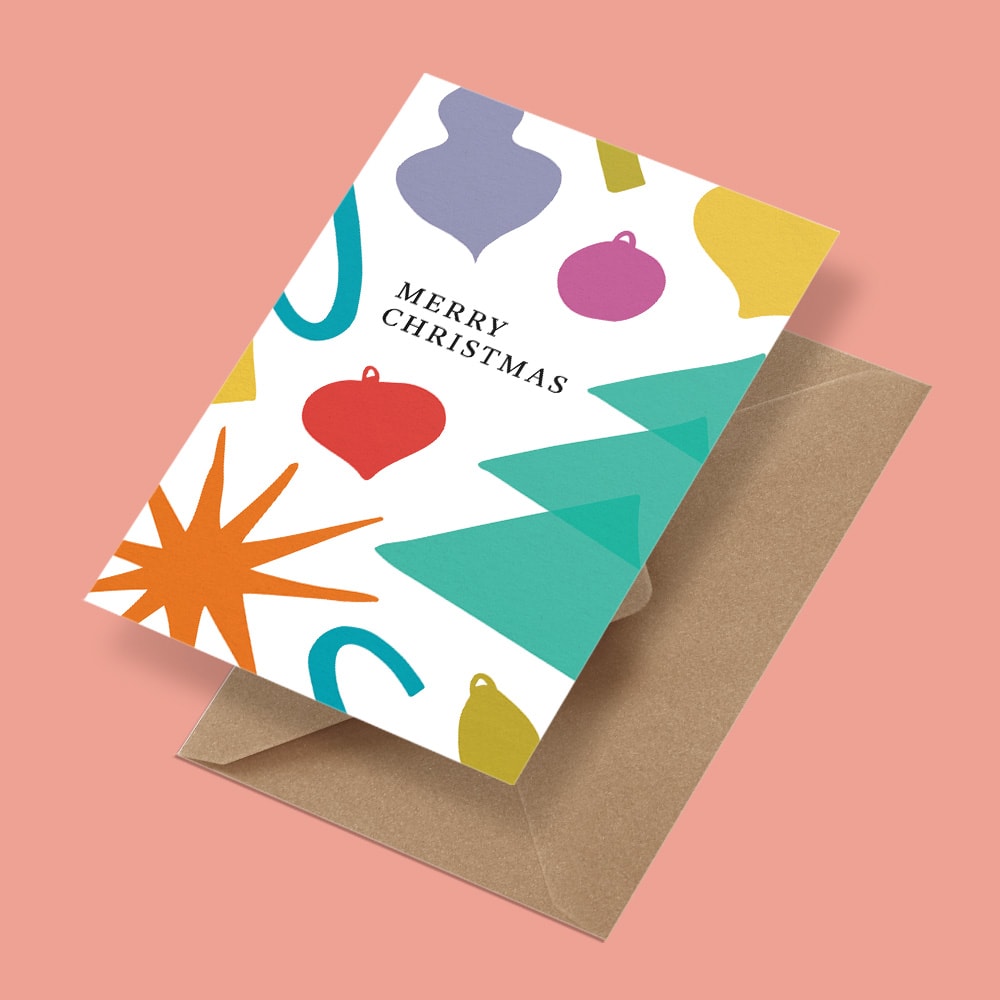 Holiday card messages for employees
Employees are the lifeblood of your small business. Along with a gift, a personal, meaningful card is an opportunity to show colleagues you recognize their hard work. Aim for a genuine and appreciative tone – here are a few holiday messages employees will cherish:
Happy Holidays & many thanks / We couldn't do it without you. / This year and always, you're a valued member of our team.
Happiest of Holidays / You keep us afloat. And we are grateful. / Thanks for all you do for us, this time of year and beyond. / Your friends and colleagues at [company name]
From your team members at [company name] / You make our business merry. We're grateful for all you do. Wishing you peace and prosperity this holiday season!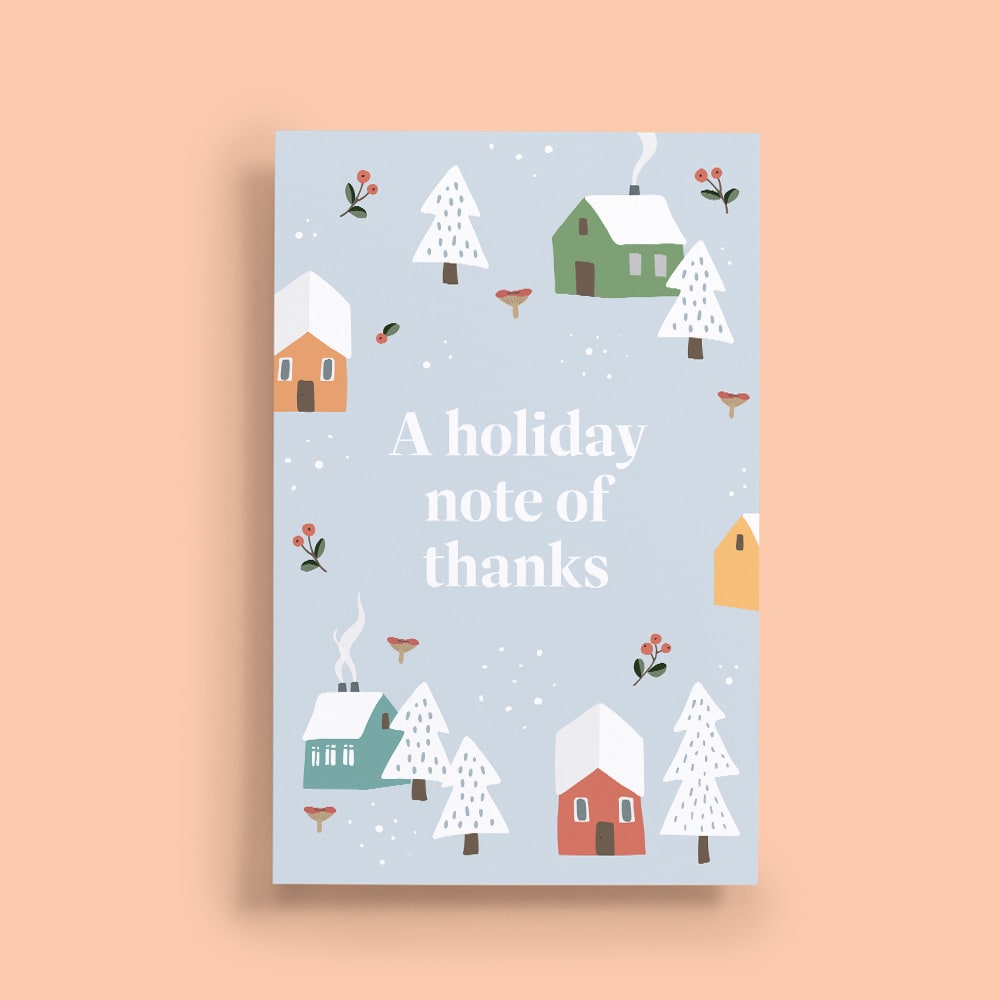 Whether for customers, clients, employees or others who play a special role in your company's success, these holiday greetings for business will show your recipients just how much you care.